A hotel credit card can be an invaluable tool for frequent travelers who wish to earn bonus rewards from travel purchases and obtain special benefits as a result. As part of the Radisson Rewards Premier Visa Signature Card, you will be able to stay at Radisson hotels for free each year and receive complimentary elite status at more than 1,100 Radisson properties worldwide.
The following Radisson Rewards Premier Visa Signature card review will assist you in determining whether this card is right for you.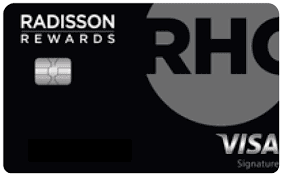 Who Should Get This Credit Card?
If you are interested in hotel rewards, the Radisson Rewards Premier Visa Signature is a good choice. In particular, if you are a frequent Radisson guest, this card is worth considering.
When you use this card to make purchases, you will earn Radisson Rewards points, which are most valuable when redeemed for stays at Radisson hotels. Radisson hotels are located all around the world, so it should not be difficult for you to locate one while on holiday.
Radisson Rewards Premier Visa Signature offers valuable benefits to cardholders, including bonus points every anniversary year, complimentary elite hotel status, and travel insurance.
Radisson Rewards Premier Visa Signature Card Advantages And Benefits
There are several benefits and perks associated with the Radisson Rewards Premier Visa Signature card, including:
There is a generous welcome offer of up to 85,000 points. You will earn 50,000 points after your first purchase, and an additional 35,000 points after spending $2,500 within the first 90 days for a total of 85,000 points.
In addition to earning 10X points at eligible Radisson hotels, you will also earn 5X points on all other purchases.
For every $10,000 (up to $30,000) you spend on purchases in a given year, you will receive 40,000 renewal points every year. In addition, you will receive three free nights on your cardmember anniversary.
After activating and using your Radisson Rewards card, you will receive complimentary Radisson Rewards Gold status. If you already have Gold or Platinum elite status, you will receive 15 qualifying nights toward obtaining or maintaining Platinum status.
A travel insurance policy provides coverage for travel accidents, lost luggage reimbursement, and collision damage waivers for auto rentals.
There are a variety of ways to redeem your points, including award nights, charitable contributions, airline miles, gift cards, TSA PreCheck, and Priority Pass memberships.
Radisson Rewards Premier Visa Signature Card Drawbacks
Despite the fact that the Radisson Rewards Visa card has a $75 annual fee, which is lower than many travel credit card annual fees, it is still less desirable to many consumers. Nevertheless, you can easily offset the cost of the card by taking advantage of the annual renewal points and everyday points earned.
There is a foreign transaction fee associated with this card. If you do not use this card for purchases abroad, you will not be charged this fee.
Award nights at Radisson properties begin at just 9,000 points per night, however, availability is somewhat limited. Don't expect to find this type of availability at Radisson properties in prime locations.
Radisson Rewards Points
Potential Earnings In The First Two Years
Using a point valuation of 0.004, here is how your points can add up with the Radisson Rewards Premier Visa Signature Card.
It should be noted that this is an estimate. The actual value will be determined by the amount and in which categories you spend your money.
Earnings for the first year: $935
Earnings for the second year: $595
Assuming travel expenses include purchases outside the Radisson portfolio, you may gain greater value from this card if you make most of your travel purchases at Radisson properties.
The Best Ways To Earn
If you wish to earn points with the Radisson Rewards Premier Visa Signature, you should book with Radisson hotels and stay at Radisson properties frequently. You may earn up to 10X points for purchases at Radisson hotels, including hotel stays. For all other eligible purchases, you may earn up to 5X points.
Maximize Your Redemptions
It is important to note that Radisson Rewards offers many different redemption options, but the most valuable and straightforward option will usually be award nights at Radisson hotels.
Depending on the hotel category, award nights will cost between 9,000 and 70,000 points for a standard room. If you can redeem an award night for 9,000 points, you will be able to earn four free stays each year from the 40,000 renewal points.
Additionally, Radisson Rewards members can redeem points for gift cards, TSA PreCheck membership, Priority Pass membership, and airline miles from over 35 airline partners. As these redemptions are unlikely to provide as much value as an award night at a Radisson property, it is best to avoid them unless other options are unavailable.
With 125,000 Radisson Rewards points, you can purchase a Priority Pass Standard Plus Membership worth $249, which provides 10 free visits to Priority Pass airport lounges per year. Alternatively, you could spend the same amount of points on eight nights at a 5-star hotel, for example, the Radisson Blu Resort in El Quseir, Egypt, which normally costs at least $480.
FAQs
Is The Radisson Premier Visa Signature A Good Card?
It may be a good idea to apply for the Radisson Rewards Premier Visa Signature if you would like to receive free nights at Radisson hotels. There are several popular hotel chains within the Radisson collection, including Park Plaza, Radisson Red, Radisson Blu, Park Inn by Radisson, and Country Inn & Suites. This card may not be suitable if you are not interested in hotel stays or earning hotel rewards.
What Credit Score Do You Need For This Credit Card?
It is likely that you will need a good or excellent credit score to qualify for the Radisson Rewards Premier Visa Signature card. Good FICO scores begin at 670; excellent scores begin at 800. Ultimately, however, U.S. Bank determines whether or not you are approved for the card.
Do Radisson Rewards Points Become Invalid?
The points in your Radisson Rewards account will expire after 24 months if there has been no activity (earnings or redemptions).
What Is The Value Of 85,000 Radisson Rewards Points?
If you use Radisson Rewards points for certain hotels, such as the Radisson Blu in Cairo, Egypt, for 9,000 points per night, you can use 85,000 points to stay nine nights. A similar stay would cost at least $720 in cash if you were to pay cash.
Does This Credit Card Help Your Credit Score?
When used correctly, credit cards can help improve your credit rating. FICO credit scores are calculated based on factors such as payment history, credit utilization, length of credit history, new credit, and various types of credit. Your credit score should improve if you make your payments on time, maintain a low balance, and maintain an open account for a number of years.
Here Are Other Cards To Consider
Radisson Rewards Premier Visa Signature is an excellent card for travelers who enjoy staying at Radisson hotels. If you would prefer a more flexible travel credit card with helpful features, the Chase Sapphire Preferred® Card might be of interest to you. In addition to the no foreign transaction fees and Chase purchase protection, this card offers 1:1 point transfers to 13 Chase Ultimate Rewards transfer partners, including JetBlue, United Airlines, Marriott Bonvoy, and Hyatt.
For those seeking a card with unique travel benefits and generous earning potential, the American Express® Green Card may be a good choice. This card provides up to $189 in annual credit for CLEAR membership as well as $100 in annual credit for airport lounge access through LoungeBuddy. There are also a number of bonus categories you can earn points in, such as 3X points on eligible travel and transit purchases, 1X points on all other eligible purchases, as well as 3X points at restaurants worldwide, including takeout and delivery in the U.S.
Comments Rating
( reviews)