In the realm of debt settlement services, Advantage Law has established itself as a law firm specializing in assisting individuals with their debts. This unbiased review aims to provide an objective evaluation of Advantage Law's services, examining various aspects such as effectiveness, transparency, customer satisfaction, and overall reputation.

If you're struggling with debt and are considering working with a debt consolidation company, you've likely come across Advantage Law. While the company claims to offer debt relief services, there are many concerns about its legitimacy and reputation. In this review, we'll take a closer look at Advantage Law and provide you with all the information you need to make an informed decision.
Advantage Law offers a range of services aimed at helping individuals regain financial stability. Their primary focus is on debt settlement, where they negotiate with creditors on behalf of their clients to potentially reduce the total amount owed. They also offer legal advice and guidance throughout the process to ensure clients are well-informed about their rights and available options.
Advantage Law offers debt settlement services that help consumers settle their outstanding debts with their lending institutions and creditors. The company works with consumers to negotiate a settlement agreement with their creditors, which may involve reducing the total amount owed, lowering interest rates, and creating a payment plan that is more manageable for the consumer.
Advantage Law Business Model
Advantage Law business model is not very transparent. In fact, we find their process confusing. You must read their FAQ page to really understand what is going on.
Advantage Law is not a lender. There are many other personal finance companies with the name "Advantage Law" in related industries. This Advantage Law (www.advantage.law) should not be confused with Advantage Law Group, Advantage Solicitors or Advantage Legal.
BBB Rating
We were not able to find any Better Business Bureau Profile of Advantage Law. However, according to their website, Advantage Law Firm is a DBA (Doing Business As) of The Law Firm of Higbee & Associates.

The Law Firm of Higbee & Associates has an A rating on the BBB, with an average of 4.5-star rating based on 8 customer reviews. Is important to note that they have over 31 complaints on their profile. Here's what we found: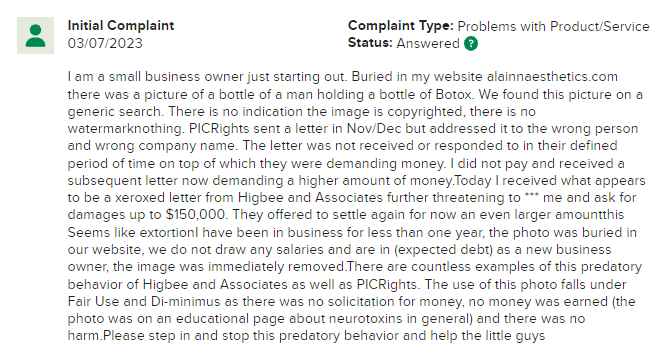 Conclusion
Advantage Law is one of the more unique debt settlement companies we have ever reviewed. While we find their website to lack transparency and be misleading, they do seem to have some positive reviews. We have not uncovered any evidence that these reviews are fabricated or not genuine in any way.
There are a few things to consider before taking out a loan or debt relief services. It's important to compare rates from different lenders to ensure you're getting the best deal possible. You should also read customer reviews to get an idea of what you're getting into. Taking out a loan or doing debt relief can be a big responsibility, so it's important to make sure you can afford it.
Have you had any experience with Advantage Law? We'd love to hear about it in the comments below.
Thank you for reading!
Advantage Law
Advantage Law Review
Advantage Law stands out as an unusual player in the debt settlement industry. While their online presence raises questions due to a lack of clarity and potential misleading information, they have received some commendable reviews, which appear to be authentic based on my findings.
The company does not have a specific profile on the Better Business Bureau (BBB). However, it operates under the alias of The Law Firm of Higbee & Associates, according to information on their website. This parent firm holds an 'A' rating with the BBB and maintains an average 4.5-star rating from 8 customer reviews. Notably, there are more than 31 complaints lodged against them on their profile.
Please note that it's crucial to conduct thorough research and consider multiple sources before making a decision about a debt settlement company
Comments Rating
( reviews)