Navigating the world of financial services can often feel like walking through a minefield, especially when it comes to debt relief companies. One of the companies that you might come across on your financial journey is Alliance One Funding. But how do you ascertain if this company is a legitimate source of debt relief or simply another scam? In this review, we critically examine Alliance One Funding, providing insights into its operations, reputation, and credibility to help you make an informed decision.

What is Alliance One Funding?
Alliance One Funding claims to be a financial service company that specializes in offering debt relief solutions to individuals and businesses. They provide a range of services, including credit card debt consolidation programs, personal loans for debt consolidation, financial consultation services, and a smooth enrollment process that leads to a finalized payment plan.
They employ finance managers that state that their main goal is to help clients reduce their debt, improve their credit, and achieve financial freedom. Alliance One Funding also maintains that they work with a team of professional debt experts who assess their clients' financial situation and create a personalized plan to address their specific needs and goals.
How does Alliance One Funding work?
According to the company's website, Alliance One Funding works by providing financial solutions to individuals struggling with high-interest unsecured debt. These solutions often involve debt consolidation or debt settlement programs. The process begins with a free consultation where a professional evaluates the client's financial situation and discusses suitable options.
If the client decides to proceed with the recommended debt relief program, Alliance One Funding negotiates with creditors on behalf of the client, aiming to reduce the total amount owed or to consolidate multiple debts into a single, more manageable monthly payment. It's important to note that while these programs can ease financial strain, they may also impact the client's credit score.
Alliance One Funding Reviews
BBB Reviews
We were unable to locate a BBB file on Alliance One Funding. That is not a positive sign.
Trustpilot Reviews
Trustpilot features customer reviews of Alliance One Funding, a loan agency. There are a total of 12 reviews, with an average rating of 3.5 stars. Some reviews express skepticism about the authenticity of the positive reviews, noting similarities in writing style and the lack of previous reviews from the accounts.
One reviewer had a negative experience, mentioning issues with communication, discrepancies in credit reports, and the negative impact on their credit score. Several positive reviews highlight the professionalism, cooperation, and helpfulness of Alliance One Funding in providing loans and debt relief services. Below are the two most recent reviews from Alliance One Funding: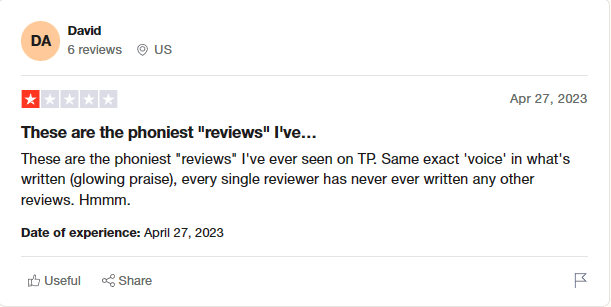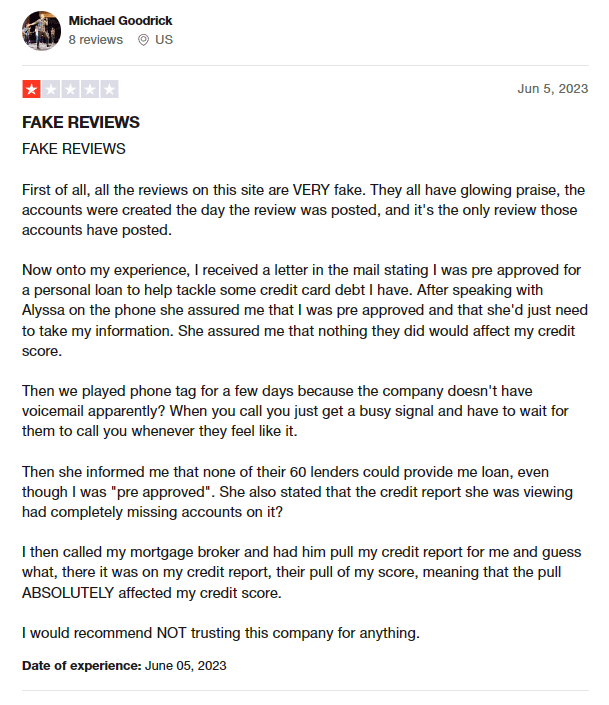 FAQs
How long does Alliance One Funding take to approve?
Approval for a loan may take longer depending on how many additional documents are requested. Loan terms and conditions will be based on creditworthiness and state law.
How much does Alliance One Funding charge?
It's not entirely clear how Alliance One Funding makes money. There are no mentions of fees anywhere on the site. It's possible that they make money through referral fees, but that's not explicitly stated.
How does Alliance One Funding affect your credit?
Credit scores can be a major source of stress for many people seeking loans. However, it's important to remember that simply getting a consultation from a lender will not have any impact on your credit score. The only way your score could potentially be lowered is by actually taking out the loan and having the lender check your credit history as part of the process.
How to cancel Alliance One Funding services?
Before you decide to take out a personal loan, be aware that you will not be able to cancel or reverse the loan once the funds have been deposited. Be sure that you really need the loan and are comfortable with the terms and conditions before accepting.