Ad Disclosure: We receive referral fees from advertisers. Learn More.
Since 1998, BadCreditLoans.com has connected people with bad credit to loans tailored specifically to their current credit situation. BadCreditLoans.com acts as an advocate for consumers and matches them with an extensive network of lenders willing to provide no-obligation offers.

BadCreditLoans.com Fast Facts
Loan Amounts: $500 to $5,000
APR: 5.99% to 35.99%
Minimum Credit Score: Any
Loan Type: Short-term loans
Repayment Terms: 3 to 36 Months
Direct Lender or Marketplace: Marketplace
Turnaround Time: Varies by Lender
Best For: People with poor credit, scouring for a loan offer to suit their needs
BadCreditLoans.com Pros & Cons
Pros
Simple form and quick funding
No loan request fee
Multiple services
Helping those with bad credit since 1998
Cons
Reviews are mainly negative
Not a direct lender
Lacks BBB accreditation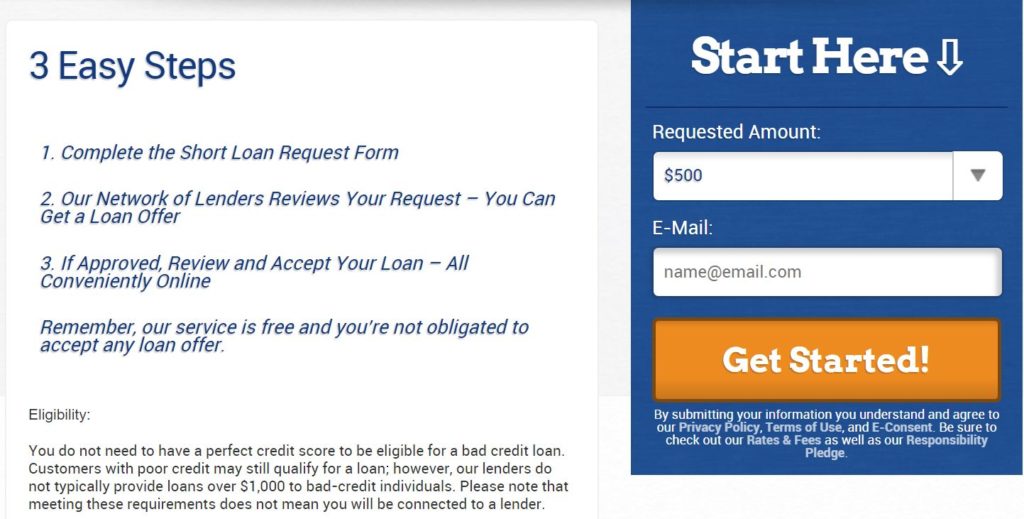 BadCreditLoans.com Cost of Loan
BadCreditLoans.com offers flexible short-terms loans ranging from $500 to $5,000, APRs from 5.99% – 35.99%, and repayment options ranging from 3 days up to 36 months. All loans are unsecured and do not require any collateral.
BadCreditLoans.com Qualification
To get started, there is a list of criteria you need to meet:
Be a US citizen or Permanent Resident
You must be at least 18 years of age
Bank account information
Social Security Number
To apply for BadCreditLoans.com you need to have access to the following information as well:
A government-issued ID
Income or employment information
Proof of residence
Provide a valid email address
After you've met all the qualifications, you can get started with them by following these few steps:
Select your requested loan amount and enter your email, then click Get Started
Select your general credit range and the reason for your loan
Enter basic personal information as wells as employment details and bank account information. Click Continue to Step 3
Read over the privacy policy, terms of use, and e-consent documents. Click Submit Information.
They will connect you with lenders in their network, select the one that best suits your needs. After making your decision, they will then redirect you to the lender's website where you can complete a full application. If you choose to follow through, you can sign your loan agreement with an electronic signature and your funds will be directly deposited into your checking account in as little as one business day
BadCreditLoans.com Reviews and Ratings
BadCreditLoans.com's BBB Rating is F
They are not accredited with the BBB and is rated F for reasons that include Failure to respond to 4 complaint(s) filed against business. Reviews on Trustpilot are also discouraging as well, it scores an average rating of 2.3 stars out of 5. Numerous users said they received emails soliciting short-term loans after submitting an application.
Things to remember
BadCreditLoans.com is an online short-term loan marketplace and does not fund loans. It instead exists to aid you in searching and deciding on a suitable lender, as well as helping you compare loans.
They are not responsible for the actual loan agreement but rather the lender you choose.
They offer additional services aside from personal loans by helping consumers find credit cards, business loans, car loans, student loans, and mortgages.
They will not affect your credit; however, you should expect your lender to eventually do a credit check, which will temporarily lower your credit score.
Make sure to keep in contact with your lender when you have any questions
In conclusion
BadCreditLoans.com offers a convenient way for millions of Americans to have access to the funds they need. Its marketplace is unique in the fact that they do not have a minimum credit score requirement and they specifically offer loan products to consumers with bad credit.
So, when financial emergency situations arise, they can connect you to the reputable help you need.