Ad Disclosure: We receive referral fees from advertisers. Learn More.
Many debt settlement companies impose minimums of $10,000, but with Countrywide Debt Relief, you can enroll $5000 of unsecured debt. Even though this company is not a member of the IAPDA, consumer opinion is favorable, and the company has a documented track record of helping consumers reduce payments for unsecured debt.

Highlights
No fees if your debt is not reduced by at least 20%
Transparent pricing with flat fees
California residents can arrange for in-person debt relief counseling
Trade-Offs
Not a member of the International Association of Professional Debt Arbitrators
Customer service is patchy
What Is CountryWide Debt Relief?
CountryWide Debt Relief's primary area of expertise is debt settlement. Using a company like this is not something you choose to do as much as something you might be forced to consider if your unsecured debt is spiraling out of control.
CountryWide Debt Relief helps thousands of consumers from the headache of mounting interest, late fees, and aggressive creditors.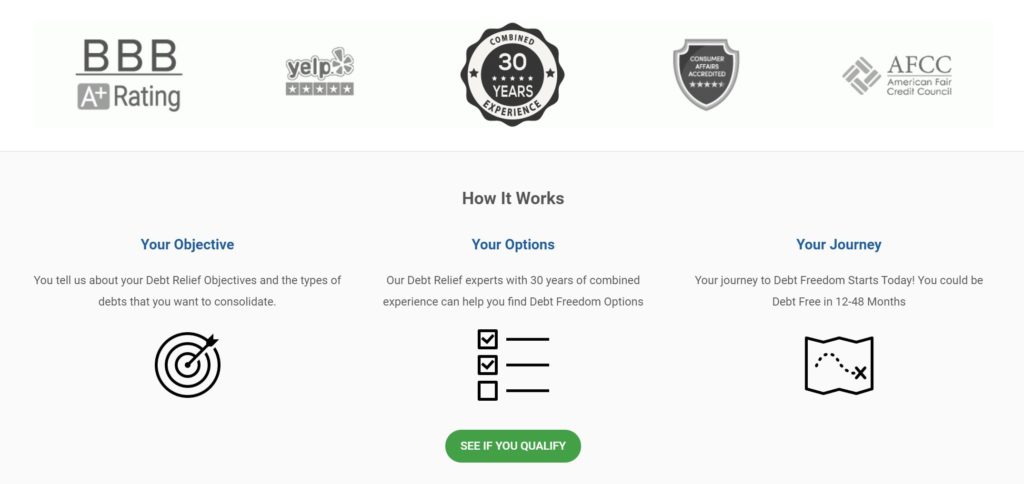 How Does CountryWide Debt Relief Work?
CountryWide Debt Relief utilizes a form of debt relief known as debt settlement. They negotiate with your creditors in the hope of reducing the debt for making a single payment in full and final settlement of the account.
Assuming that CountryWide Debt Relief agrees on a settlement with your creditors, you make monthly payments into a savings account instead of making payments to your creditors. CountryWide take these monthly payments with all fees rolled into them.
CountryWide Debt Relief Summary
Accreditation: American Fair Credit Council, Better Business Bureau, Consumer Affairs
Consultation: Free phone consultation after completing online form
Costs: Flat fee of 18% of debt when enrolled Fees vary between states
Customer Service: Phone
Debts accepted: Unsecured debt. Minimum debt considered is $5,000
Free resources offered: None
Restrictions: Available in all states
Service offered: Debt settlement, legal aid, debt consolidation loans
Trust ratings: BBB rating of A+ and 9.6 Trustpilot score
Turnaround time: 24 to 48 months or more
How Much Does It Cost To Use CountryWide Debt Relief?
You won't need to pay any fees in advance with CountryWide Debt Relief.
Fees are transparent and flat. You'll pay 18% of your debt at the time of enrollment rather than at the time of settlement.
What Could You Save With CountryWide Debt Relief?
There are not much hard data available on how much the average CountryWide Debt Relief customer saves on their overall debt repayments.
Typical savings for similar debt settlement companies tend to start at around 15% or 20%.
How To Sign Up
Find out if you qualify for the program offered by CountryWide Debt Relief online by taking the following simple steps:
Visit the CountryWide Debt Relief website
Click See if you qualify
Select how much debt you want to enroll then click Continue
Select how far behind you are with payments then click Continue
Select your credit score then click Continue
Enter all relevant contact details including your state of residence then click See your results
What's Next?
Once you've signed up online as above, you'll get a message instructing you to call them at 800-594-3362 for a free consultation.
During this initial consultation, you'll have a chance to outline your circumstances to the customer service rep.
Following this phone call, you'll get an email with an application form and a list of documents you'll need to provide, assuming you're eligible for the program.
If you're ineligible, they could still be of assistance. They can refer you to partners offering debt consolidation loans to achieve the same end goal of streamlining debt repayments while also reducing the total amount repaid.
They also provide legal services if you establish that bankruptcy is the best course of action.
Verdict
If you've been faced with an extreme and unexpected financial hardship you hadn't prepared for, CountryWide Debt Relief could be a resource worth exploring.
One of the key selling points of CountryWide is the breadth of services they offer. For anyone unable to enroll in the regular debt settlement program, partner companies can potentially offer debt consolidation loans. You can also take advantage of in-house legal services if necessary. If you're in drastic financial trouble, it pays to take professional advice.
If you choose to proceed with CountryWide Debt Relief's program, you can deal confidently with this reputable company. Although they're lacking IAPDA accreditation, customer opinion is overwhelmingly positive and the company has a proven track record of helping those in duress pay less for unsecured debt repayments.