If you're finding it difficult to keep up with your debts, Crestridge Funding could be of assistance. They provide personal loans and debt consolidation loans that may help you become financially stable again.
The company advertises its services at crestridgefunding.com.
Review Summary
As consumers, we should always be aware of the businesses we support. We thoroughly researched Crestridge Funding and decided to give them a 2.5-star rating.

If you're one of the many Americans who have received a direct mail offer from Crestridge Funding, you may be wondering if it's worth considering. With low-interest rates and large loan amounts available, it can be tempting to take them up on their offer. But before you do, it's important to do your research and make sure you understand what you're getting into. So we decided to take a closer look at this company and see what they're all about.
When we take a closer look at their website and mail offer, we found some interesting facts.
Crestridge Funding does not lend money directly to consumers. Instead, they have established relationships with a number of independent lenders who may be able to provide you with the credit you need.
The amount you can borrow, and the terms of your loan, will be determined by your credit history and the laws of the state you live in. The minimum loan amount varies from state to state.
Approval for a loan may take longer if more documentation is needed. Loan terms will be based on creditworthiness and state law.
We found some extremely valuable information as well.
Annual Percentage Rates (APR) range from 2.92% (AAA) to 24.99%.
These products/services are not offered to all state residents.
To qualify for AAA Crestridge Funding, you must have excellent credit and meet other conditions.
If you no longer meet the criteria after submitting your application, any of the lenders have the right to decline extending credit to you.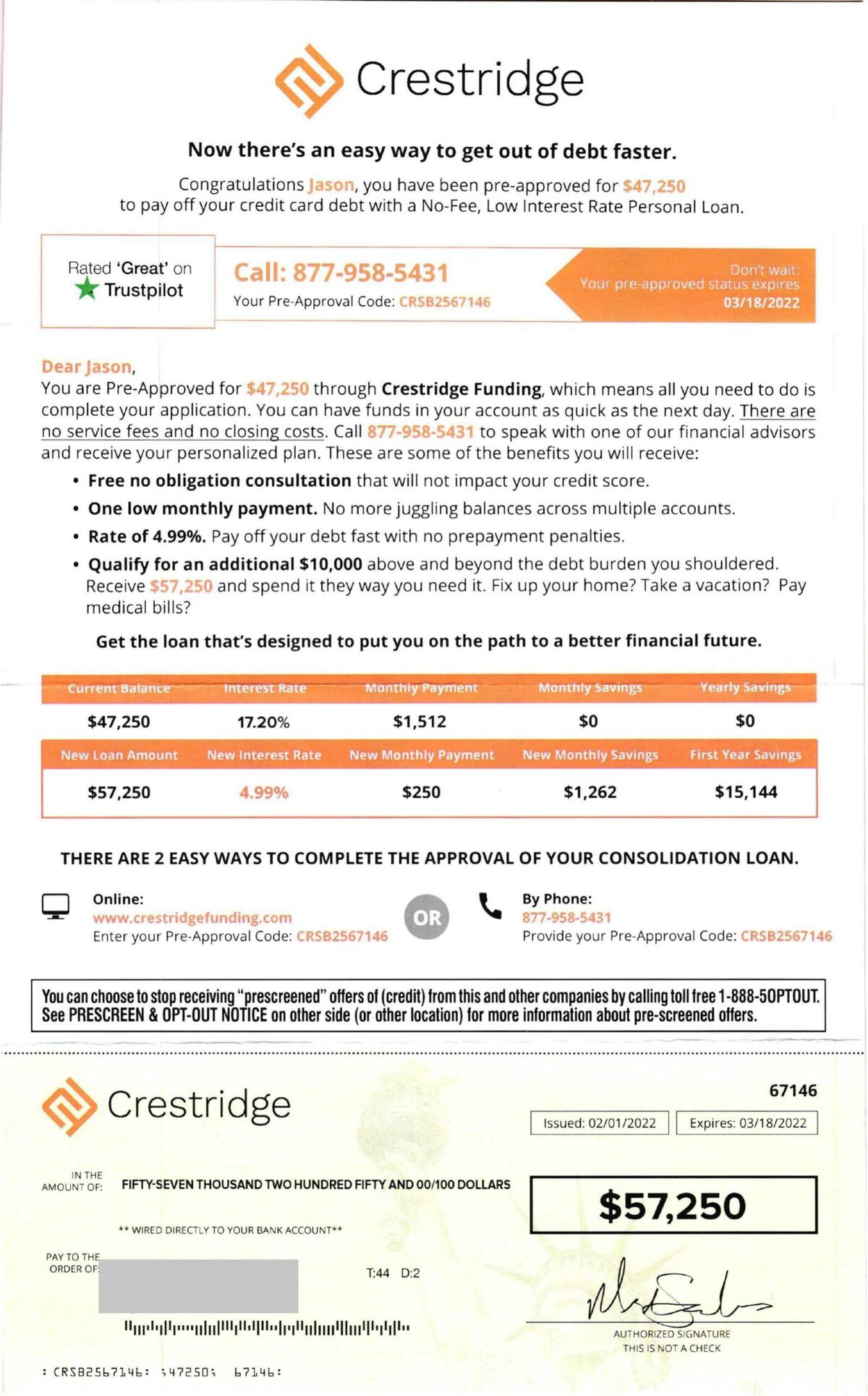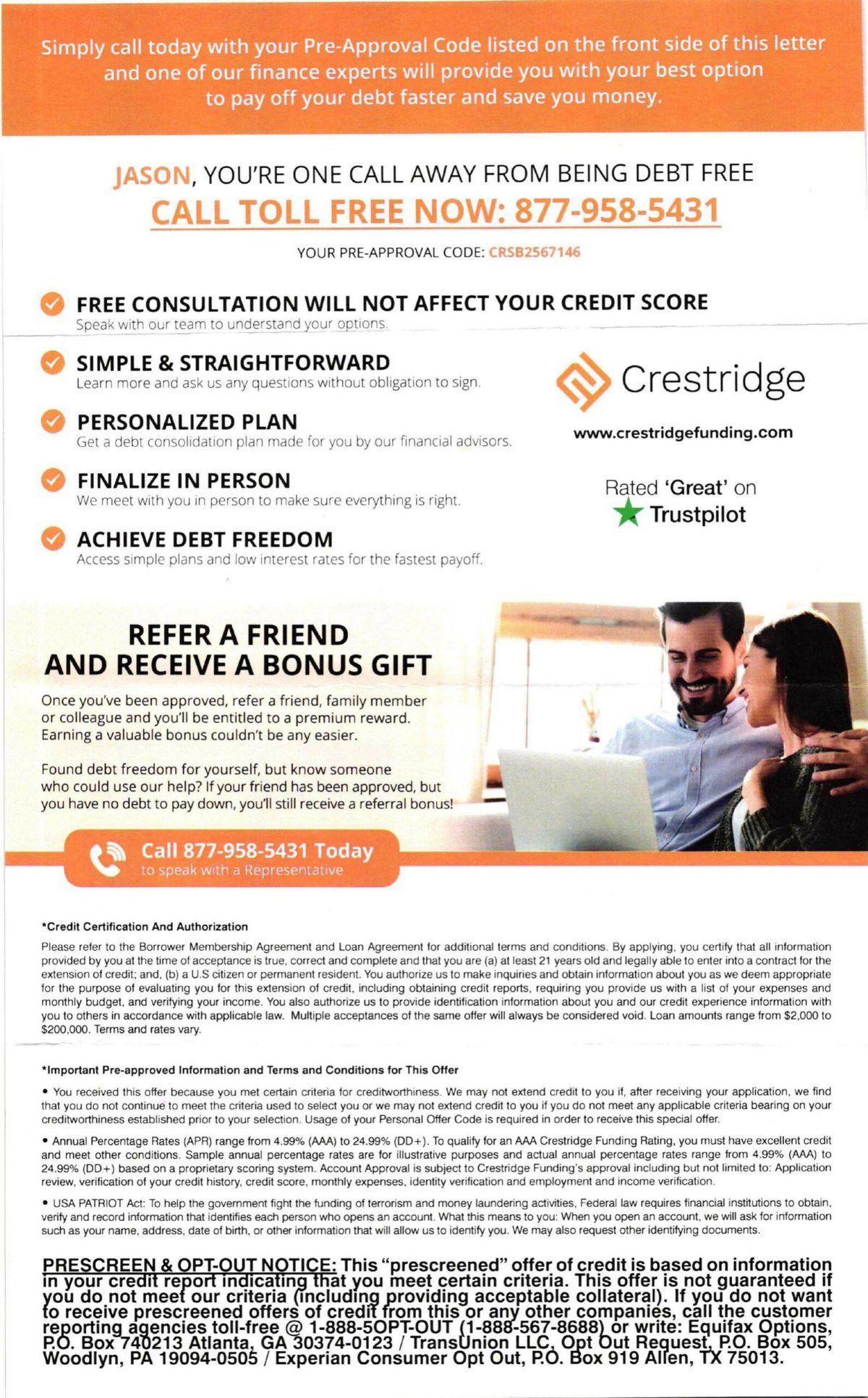 What is Crestridge Funding?
Crestridge Funding can help connect you with independent lenders who may be able to provide the credit you need. They don't lend money directly, but by working with a network of trusted lenders, they can help get you the financing you require.
Crestridge Funding is not rated by the Better Business Bureau, but they are verified by Trustpilot and have a 4-star rating. The company is located at 2300 Main Street, on the 9th floor, in Kansas City, Missouri. Their phone number is (877) 958-5431.
How does Crestridge funding work?
Crestridge Funding offers different Annual Percentage Rates (APR) depending on your credit score. The APR can range from as low as 2.92% for those with excellent credit, to 24.99% for those with less than perfect credit. To take advantage of their offer, you'll need to use your Personal Offer Code. Other conditions may apply to qualify for the lowest rate.
Crestridge Funding's approval process is just one of the many factors that can affect the APR you see on their offer. Your credit score, monthly expenses, identity verification, and employment and income verification are all important factors that can impact the rate you receive.
If approved, the lender will be the originating Lender and not Crestridge Funding. The APR you see on their offer is just an example – actual rates may be higher or lower depending on various factors such as your credit score.
Signing up on their website for the first time, you will agree to have your information sent to various lenders. You must agree to the following conditions on their site:
"I request that my information be provided to their partners, lenders, and financial services partners to provide me with financial recommendations, which may also include debt relief, credit repair, credit monitoring, or other related services. I agree to be contacted by Even Financial and/or Crestridge Funding its partners and their affiliated companies and financial institutions via email, postal mail service, and/or at the telephone number(s) I have provided above to explore various financial products and services I inquired about, including contact through automatic dialing systems, artificial or pre-recorded voice message, or text message. "
How much does Crestridge Funding cost?
There are no charges for the company's services. However, you may be charged fees by lenders for different products in different amounts. These fees are set by the lender and will vary depending on the product and location.
Crestridge Funding Reviews
Although Crestridge Funding is not registered with the Better Business Bureau, they are verified by Trustpilot and have a 4 star out of 5 rating.
Hee are some Trustpilot Reviews:
Yaz Kensington 2/21/2022
I saw Crestridge online and I inquired about it. I took advantage of their loan offer, especially since I was in a little bind. A woman from Crestridge was kind enough to call me but I was in my car that time and I told her I'll look at it once again on my laptop. Then my wife and the representative helped me with the application process. The representative was legit and very knowledgeable and I like the way she helped me through the application.
this is a solution for who had multiple loan/debt comitment and focus just for one lender with a lower rate of interest after consolidated all your loan/debt with cristridge funding.
Alexina Fuentes Feb 12, 2022
They were so helpful and made sure that I knew what I was doing and that I understood everything that I was doing. They made sure I knew what the interest was and when my payments were due. The application process was very simple and the staff was very helpful. They made sure that I knew what to put and where to put it at. They had very fair rates and the terms were very easy to understand. I also understood when my payments were due and how to process the payments. They gave me lots of information to use when I was approved for my application and they also made sure that I knew what to do to get tools online and how to use them.
Crestridge Funding FAQs
How does Crestridge Funding affect your credit?
If you're considering taking out a loan with Crestridge Funding, your credit history will be reviewed as part of the application process. This is known as a soft inquiry, and it usually won't have an impact on your credit score. Soft inquiries are often used to determine whether someone qualifies for pre-approval for a credit offer.
What should you do if Crestridge Funding asks for your personal information?
By sharing your personal information with Crestridge, you're authorizing them to provide your information to their partners, lenders, and other financial service providers. These entities may then offer you recommendations for debt relief, credit repair, or credit monitoring services.
How to cancel Crestridge Funding
There's no going back once you've taken out a loan. Once the money is in your account (or you have a check in your hand), you're committed to repaying the loan according to the terms you agreed to.
What do you need to know about consolidating your credit card debt?
Debt consolidation can be a great way to simplify your monthly payments and make it easier to pay off your debt. But there are a few things you should consider before taking out a debt consolidation loan.
For one, a debt consolidation loan does not erase your debt. You will still owe the same amount of money, but it will be rolled into one monthly payment. Additionally, you may end up paying more in interest with a debt consolidation loan than you would by making separate payments on each of your debts.
So, before deciding if a debt consolidation loan is right for you, make sure to weigh the pros and cons. If done correctly, consolidating your debt can save you time and money. But if not done carefully, it could end up costing you more in the long run.
Before taking out a consolidation loan
1) If you're considering a consolidation loan, seek out free support from a nonprofit credit counselor first. These organizations can provide guidance on how to manage your finances and pay off debt, helping you avoid potential problems down the road.
2) It's important to get to the bottom of why you're in debt. If you don't understand why you're in debt, it will be difficult to get out. A debt consolidation loan may not be the best solution unless you are able to reduce your spending or increase your income. Take a look at your budget and see where you can make changes.
3) Making a budget is the first step to getting out of debt. By evaluating your spending habits and making some adjustments, you can free up money to pay off what you owe. Give yourself some breathing room by following these tips.
4) If you're struggling to make your monthly credit card payments, it may be worth reaching out to your creditors to see if they're willing to work with you. Some creditors may be willing to lower your minimum monthly payment, waive certain fees, or reduce your interest rate. Others may be willing to change your monthly due date to match up better with when you get paid, which can help you pay back your debt.
Is Crestridge Funding Legit?
We have conducted extensive research and have concluded that Crestridge Funding is legitimate. They do not engage in lending themselves, but have working relationships with a network of independent lenders who may be able to provide you with credit.
Although they are not accredited by the Better Business Bureau, they do have a high rating on Trustpilot.
If you're looking to compare lenders rates and find out what's available, this company can be a great resource. We suggest that readers do their own research and read as many reviews as possible to get the most accurate information.
Thank you for reading!