Ad Disclosure: We earn referral fees from advertisers. Learn More
Debthunch: Debt Consolidation Loans
Who is DebtHunch? They aren't a lender. They appear to be a lead generator selling to companies like Gold West Financial. They are primarily selling to debt settlement companies.
You probably received a mailer with a personalized debt consolidation analysis offering savings of $167 per month with a 0% interest rate and promising to save you $17,887. They are claiming your monthly payment can be reduced from $400 to $233 per month.
Seems a little good to be true?
And off you go looking for reviews.
Is Debthunch Legit or a Scam?
Crixeo.com awarded Debthunch a 2-star rating (data collected and updated as of October 6, 2021). We hope the information below will help you make an educated decision on whether to do business with Debthunch.
Debthunch is not a lender.
It appears that Debthunch is operating a typical bait and switch scheme – but not for themselves – for their lead buyers. They lure you in by sending you direct mail with a offering a ridiculous 0% interest rate to consolidate your high-interest credit card debt.
Debthunch doesn't tell you that you need excellent credit to qualify for a loan with that low-interest rate (which you have been supposedly pre-approved for).
While the Debthunch mailer offers incredibly low rates, the licensing information on their site discloses that they are only licensed in California with a Finance Lenders License.
Their disclosure clearly states INFORMATION FROM YOUR CREDIT REPORT WAS USED FOR THIS OFFER. WE WILL WITHDRAW THIS OFFER IF YOU NO LONGER MEET THIS CRITERIA.
We are curious to find out how many of the consumers that were mailed this offer actually qualify for 0% interest.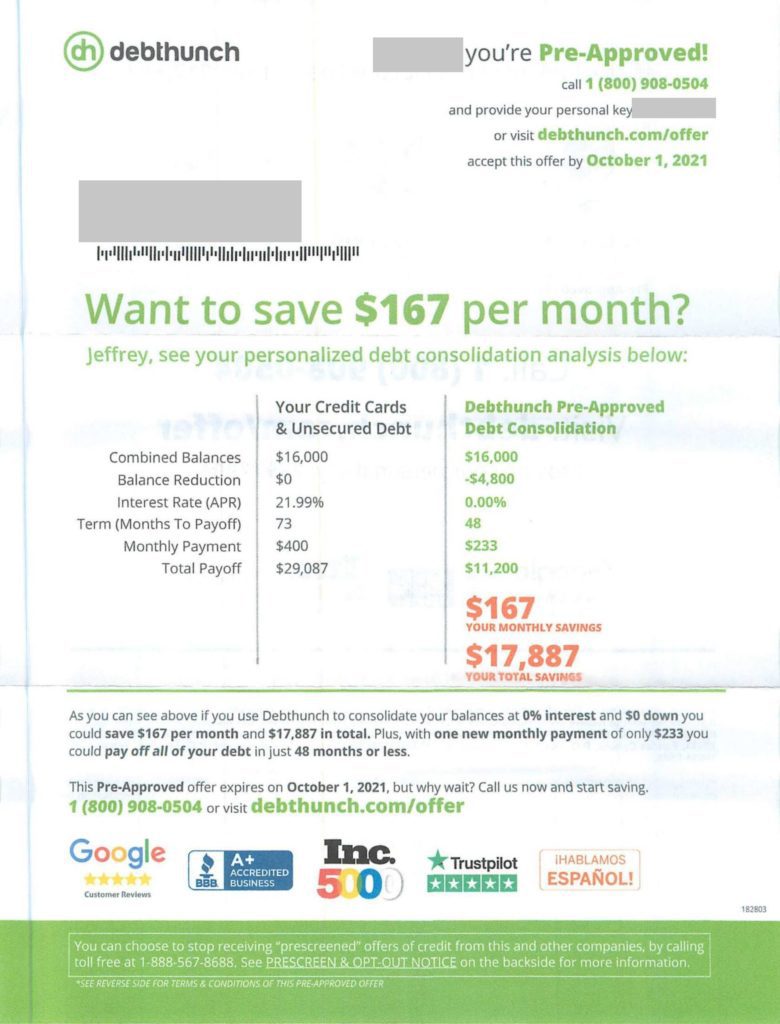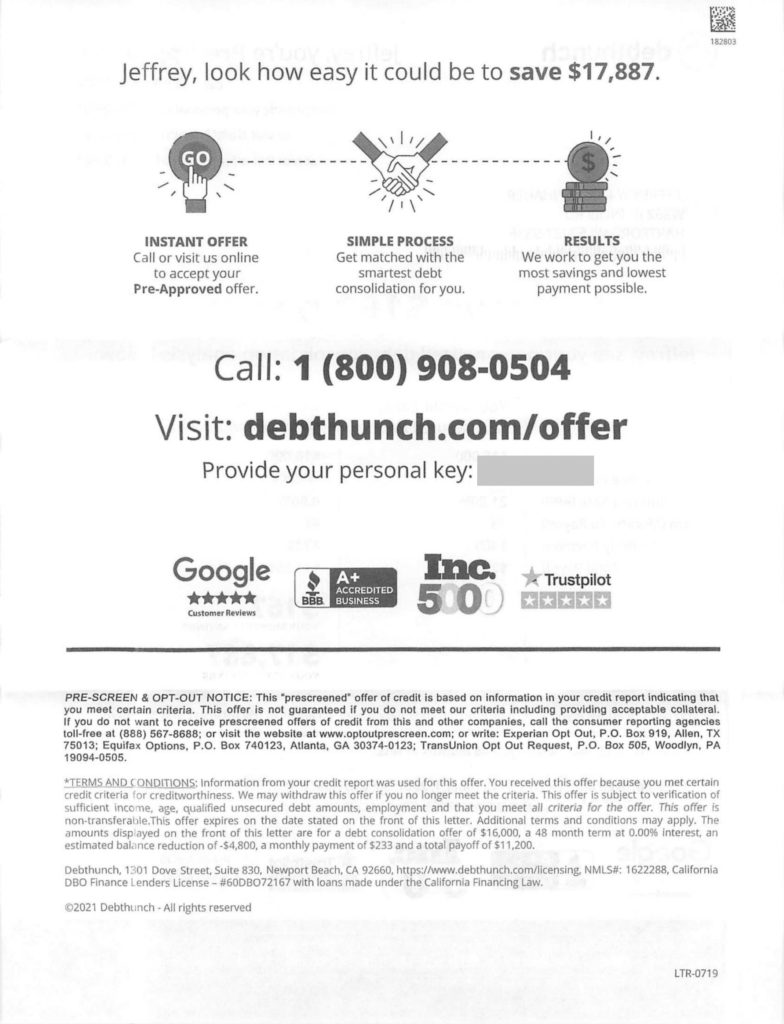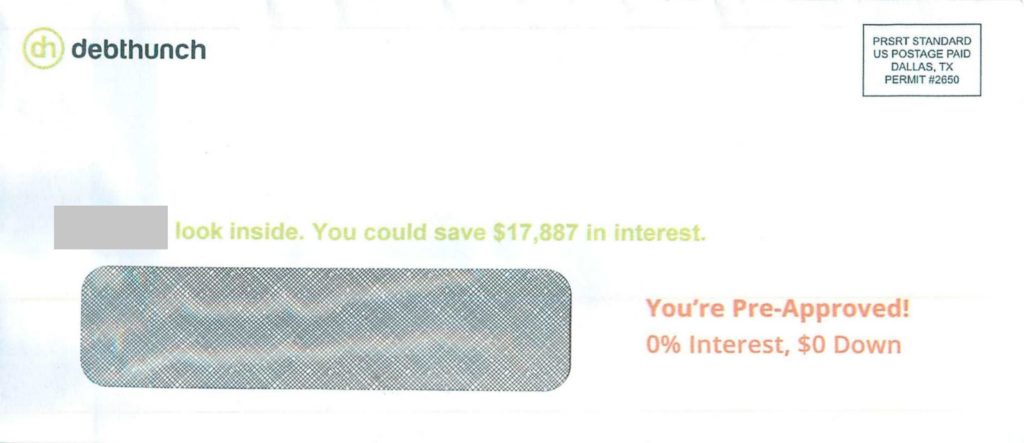 Debthunch Reviews and Ratings
Debthunch does have an A+ rating with the BBB but something doesn't feel right. Debthunch appears to collect their reviews very early in the process before bad news is delivered to the consumer from the lead buyer. If you read some of the negative reviews on Trustpilot, you will get a different picture.
Debthunch Trustpilot Reviews
Find below some of the very recent Debthunch Bad Reviews on Trustpilot:
TheCounterTopGuy –

This is a company that is fishing For Customers that are drowning in debt. Coming To them as a customer With Decent credit And unsecured debt But no credit card debt I was lied to And then ignored. They didn't even have the decency to tell me No They just simply stop returning my phone calls because I didn't meet their criteria. This company is a scam And Buyers should be ware.
Pamela on March 15, 2021 –
ITS A TOTAL SCAM! Fraudulent company!! And now, also add BULLIES to the list.

Updated 3/15/2021 6:53pm

Look man, this is going to be my last reply to you, I'm not going to keep wasting my time. If you're backed up by all these grandiose reviews and things you claim to have accomplished why are you concerned with the one star review from this one "untruthful" person that you keep calling me to be? Like, enough, I already said my opinion it's not going to change, I may just review you in other places as well, now move on with you life, and keep shining!
GIVEN THAT YOU HAVE TAKEN THE TIME TO LITERALLY BERATE ME ON THIS REPLY, NOW I AM REALLY GOING TO KEEP IT AS IS, I SAID IN OUR PHONE CALL THAT I WOULD CONSIDER CHANGING THE REVIEW BUT NOT THE RATING WHICH THEN LED YOU TO TRY AND BRIBE ME WITH A $100 GIFT CARD TO "COMPENSATE" ME FOR MY TIME AND TO THINK ABOUT CHANGING THE RATING!! And you know DAMN well the rating is because it had been over a month and I had not received a phone call back from Gold West Financial which is/was a company you work with, until you contacted me due to the review, so don't you dare say that it was for no receiving a phone call within 24 hours, why don't you try 5 weeks!!! And although you are not directly dealing or "helping" people with debt consolidation it is still a company you employ and therefor the responsibility falls on you! Which you admitted yourself! And you are very much incorrect; DebtHunch DID NOT help me consolidate anything! I was able to get a loan through an entire different company! All you've actually done is be a pain in A*** calling me two days in a row to persuade me and change the rating and the review!! And you are also lying saying i agreed that you're not a fraudulent company!! I said I wasn't sure and at this point I didn't care to know if it was or not because it had left a really bad impression on me! Now leave me alone! Stop berating me just because I refused your freaking $100 dollar gift card to change it! Now eat it! I won't change it!!!! How childish you have to be do this?! Unbelievable.
Timothy D. on December 3, 2020 –

NOT AS IT SEEMS
It was unclear based on the flyer I received in the mail that debthunch was not a loan provider; but is a debt settlement company. It was also unclear that I was being matched to some other company by debthunch. Eventually, with a few questions, I was about to figure this out; but I feel it was the company trying to use a loan offer as a hook for debt settlement. I didn't want to trash my credit…I just wanted a decent loan.
Cheryl on January 28, 2020 –
I'm just starting my journey. Not sure.
Why Do We Focus On Debthunch's Negative Reviews?
We urge you to do your own research and due diligence on any company, especially when dealing with your personal finances. The positive reviews seemed a little bit too generic. We do not imply that Debtbunch's Reviews are fake. We have no information to suggest that. However, we do urge you to pay attention to what consumers are saying in their very detailed complaints and reviews and put them side by side with the positive ones to evaluate the quality of authenticity for yourself.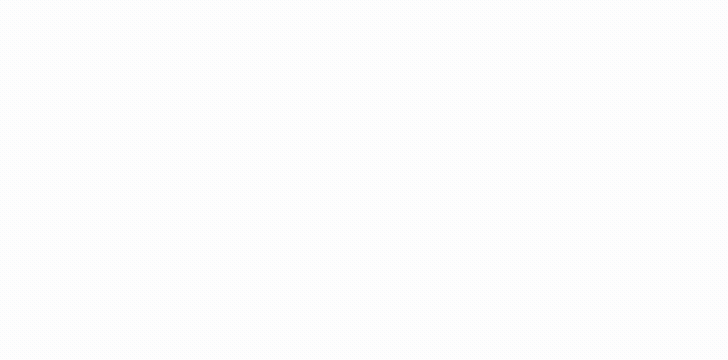 We wish you luck and invite you to take a look at Crixeo's Best Debt Consolidation Reviews of 2022.
---
Debthunch Review
Debthunch Review - Advise Caution
Debthunch is representative of what is plaguing the debt consolidation industry. Direct mail with low rates, selling leads for loans and bait and switch tactics to turn the customer into a debt settlement customer. We highly recommend doing your own due diligence on Debthunch's lead buyers before entering into any financial relationship with the company.