Ad Disclosure: We receive referral fees from advertisers. Learn More.
GRT Financial, like most debt settlement companies, offers to help you negotiate reductions on consumer debt. You won't pay any fees until you have an agreement in place for a reduced settlement. Despite short-term effects on your credit score, you could see monthly payments decrease and you could settle your unsecured debts quicker without taking the extreme measure of bankruptcy.
Highlights
Transparent website and fee structure
Company also offers loans
You'll pay nothing until your debts are settled
Trade-Offs
Your credit score will fall as you stop paying creditors
Customer care could be more consistent
What Is GRT Financial?
Founded in 2015, GRT Financial is one of many companies offering debt relief services among a suite of other financial products.
By negotiating directly with your creditors, the company can achieve reductions in unsecured debt for full and final settlement. You'll no longer need the headache of dealing with irate creditors and you could pay less each month as a result of debt settlement.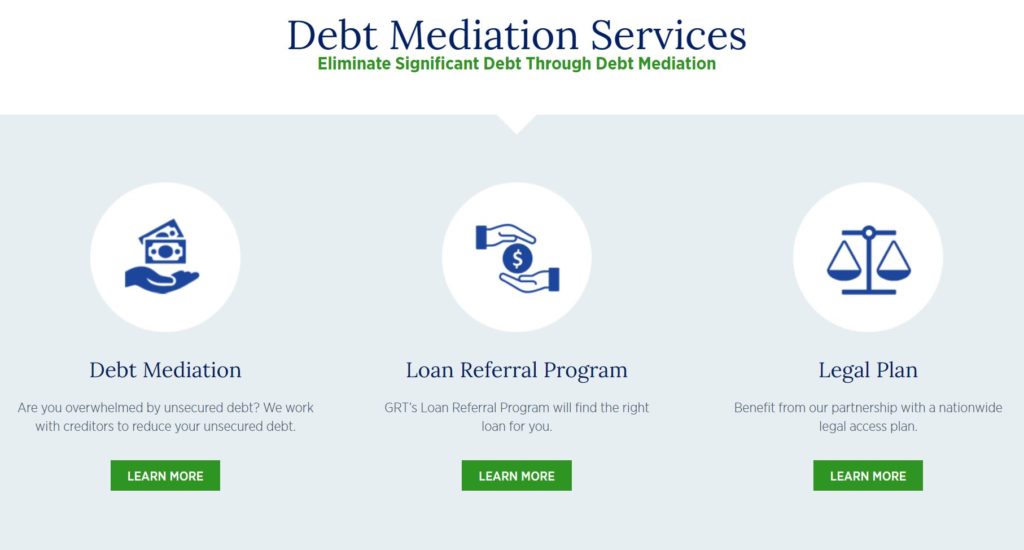 How Does GRT Financial Work?
Once you authorize GRT Financial to negotiate with creditors on your behalf, you could see a sharp reduction in your monthly payments. Instead of multiple payments to creditors with the constant plague of high interest, you'll make a single payment into an account GR Financial can draw on.
GRT Financial Summary
Accreditation: American Fair Credit Council, Better Business Bureau, Consumer Affairs, International Association of Professional Debt Arbitrators
Consultation: Free phone consultation you can arrange online or by phone
Costs: Fees start at 20% of the debt enrolled. Speak with customer service rep for more specifics
Customer Service: Phone and email
Debts accepted: Most unsecured debt including consumer finance loans, credit cards, store cards, and payday loans. Minimum debt of $10,000 to qualify
Free resources offered: None
Restrictions: Not available in all states
Service offered: Debt settlement via direct negotiation
Trust ratings: BBB rating of A+ and 9.0 Trustpilot score
Turnaround time: 24 to 60 months
How Much Does It Cost To Use GRT Financial?
There are no upfront fees with any reputable debt settlement company and GRT Financial won't charge you until your debts are settles.
Costs are in line with the industry average. These start at 20% of the total of debt enrolled.
Rather than making separate payments, all costs are bundled into a single monthly fee to streamline your finances.
What Could You Save With GRT Financial?
If you use debt settlement to pay off unsecured debt using a company like GRT Financial, average savings after all fees should be in the region of 20%.
Check if any settled debt attracts tax so you don't end up unwittingly in further financial trouble.
How To Sign Up With GRT Financial
If you want to speak with a GRT Financial consultant about restructuring your unsecured debt, do the following:
Go to the GRT Financial website
Click Get a quote
Input all your contact details
Select the amount of debt
Select your state of residence
Choose whether or not you are current on payments then click Get relief today
What's Next?
If GRT Financial is able to settle debt in your state of residence, you should be called by the agent as arranged when you scheduled the consultation.
As well as offering debt relief, GRT Financial also has a loan referral program if your credit score is still strong enough to qualify. During your consultation, you'll have the opportunity to explore all viable options to settle your debts as expediently as possible.
If you opt for debt settlement, you'll authorize the company to speak with your creditors asking for a reduced settlement. If this is successful, you'll then set up a FDIC-insured non-interest bank account. Each month, you'll make a single payment into this account for GRT Financial.
Verdict
Even if your debts have escalated to the point you can't cope with repayments and you need to take urgent decisive action, don't rush into anything. Seek professional guidance if at all possible. At a minimum, thoroughly research your situation, including the option of bankruptcy.
For many consumers, traditional debt settlement using companies like GRT Financial is the swiftest and most practical way of seizing control back over their finances. While the company has only been in business for 5 years, consumer feedback is mainly positive while potential savings of 20% on the amount you owe make their debt settlement services attractive in some extreme situations.