In the complex world of finance, it's crucial to have a reliable partner that can provide expert legal guidance. Holland Law Group is a common name in the industry, renowned for its comprehensive range of financial services. In this article, we will conduct an in-depth review of Holland Law Group, examining their services, expertise, reputation, and client satisfaction. By the end, you'll have a clear understanding of whether Holland Law Group is the right choice for your financial needs.

About Holland Law Group
Holland Law Group is a law firm specializing in various areas of financial law. With decades of experience, they have built a solid reputation for providing legal services to individuals, businesses, and organizations.
Services Offered by Holland Law Group
Debt Settlement and Negotiation: One of the key services provided by Holland Law Group is debt settlement and negotiation. They assist clients in negotiating with creditors to reduce outstanding debts, develop manageable repayment plans, and alleviate financial burdens.
Bankruptcy Representation: Holland Law Group has a team of experienced bankruptcy attorneys who guide clients through the complex process of filing for bankruptcy. They provide personalized strategies to help individuals and businesses navigate financial challenges and achieve a fresh start.
Foreclosure Defense: Holland Law Group offers assistance to homeowners facing foreclosure. Their skilled attorneys work diligently to protect clients' rights and explore alternatives to foreclosure, such as loan modifications or short sales.
Estate Planning and Asset Protection: Recognizing the importance of securing one's assets, Holland Law Group provides comprehensive estate planning services. They assist clients in creating wills, trusts, and other legal documents to protect their assets and ensure a smooth transfer of wealth to future generations.
Business Law: Holland Law Group also has a dedicated team of business lawyers who offer legal guidance on various aspects of business operations. From business formation to contract drafting and dispute resolution, their expertise covers a wide range of corporate and commercial matters.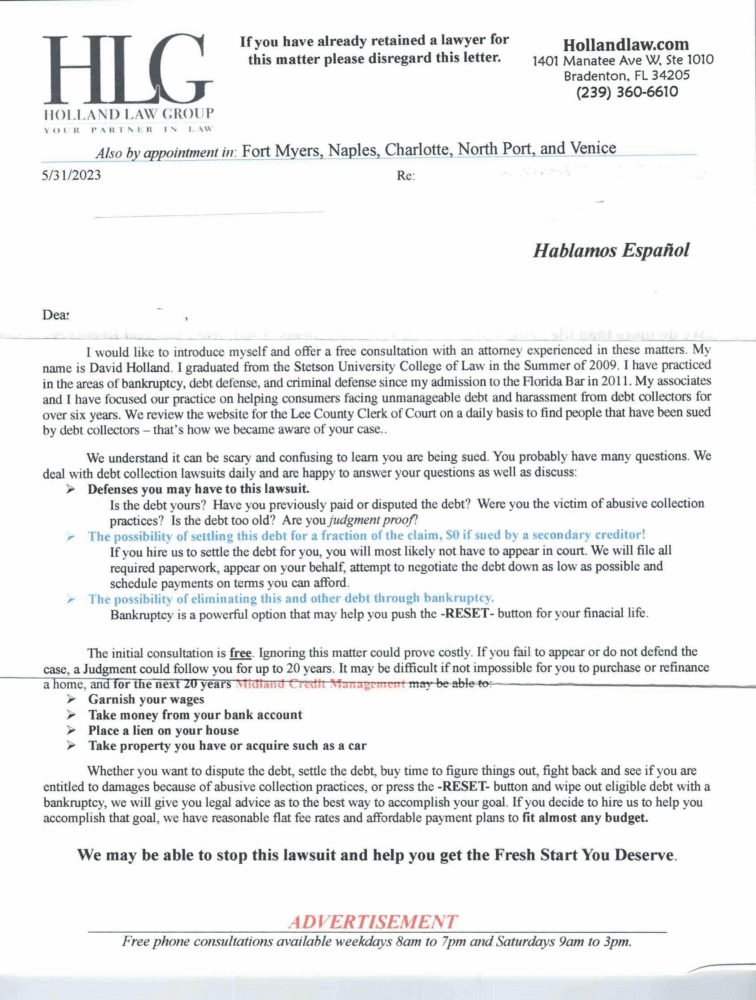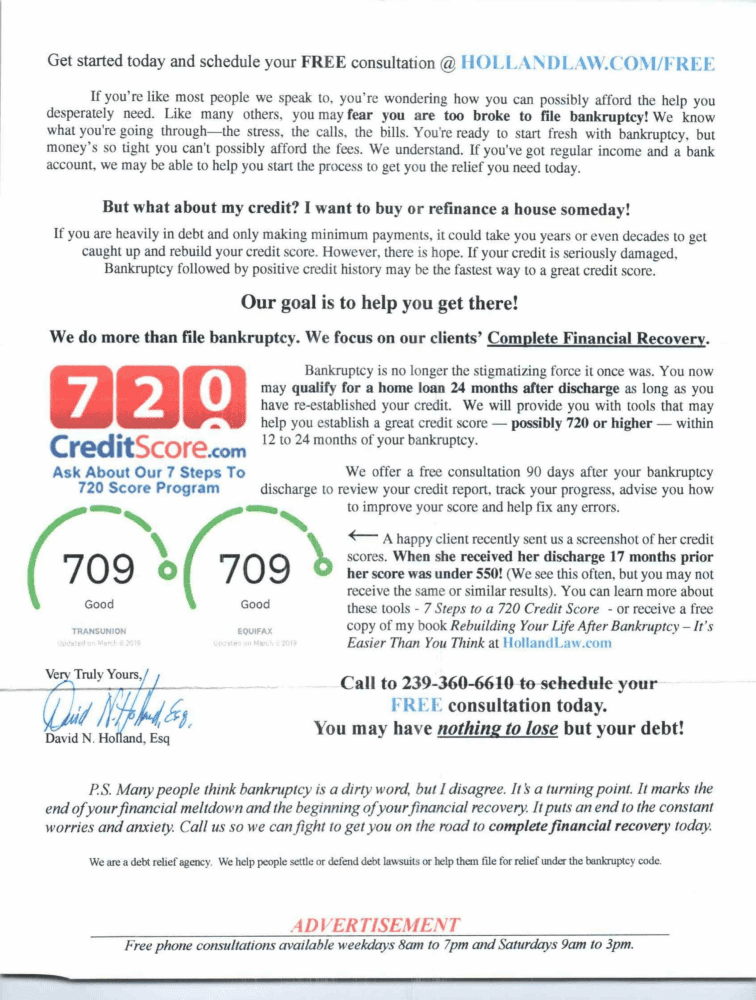 Reputation and Client Satisfaction
Assessing a company's reputation and client satisfaction is crucial in any review. Holland Law Group has received mixed feedback from clients. While some clients have reported positive experiences, praising the firm's professionalism, expertise, and dedication, others have expressed concerns regarding communication and responsiveness.
Positive reviews highlight Holland Law Group's knowledgeable attorneys, who provide personalized attention and strive for favorable outcomes. Clients appreciate the firm's ability to navigate complex financial situations and assist in finding appropriate solutions.
However, negative reviews indicate that some clients have faced challenges in terms of communication and responsiveness. It's important to note that experiences may vary, and prospective clients should exercise due diligence in assessing their individual needs and expectations.
Pros
When assessing the positives of Holland Law Group, it's important to consider various perspectives and sources. Here are some potential positive aspects:
Experience and Expertise: Holland Law Group boasts a team of experienced attorneys who specialize in various legal areas. They have extensive knowledge and expertise in their respective fields, allowing them to provide valuable insights and guidance to their clients.
Wide Range of Legal Services: Holland Law Group offers a diverse range of legal services, catering to different needs and situations. They handle cases in areas such as personal injury, family law, estate planning, business law, and more, providing comprehensive assistance to their clients.
Personalized Approach: According to client feedback, Holland Law Group takes a personalized approach to each case. They strive to understand their clients' unique circumstances, tailor their strategies accordingly, and provide individualized attention to address specific needs.
Cons
When examining the negative aspects of Holland Law Group, it's important to consider various perspectives and sources. Here are some potential concerns that have been raised:
Communication and Responsiveness: Some clients have expressed dissatisfaction with Holland Law Group's communication and responsiveness. They have mentioned delays in receiving updates on their cases and difficulties in reaching attorneys or support staff.
Workload and Volume: According to reviews from employees, the workload at Holland Law Group can be demanding and overwhelming at times. The volume of cases might make employees feel like they have a lot on their plate, potentially affecting work-life balance.
Limited Customer Reviews: As per the search results, there is a lack of detailed customer reviews available for Holland Law Group. This limited feedback may make it challenging for potential clients to gauge the overall satisfaction and experiences of others who have utilized their services.
It's crucial to remember that experiences can vary, and these concerns should be considered alongside positive aspects and individual circumstances. It is advisable to conduct thorough research, consult multiple sources, and potentially seek personal recommendations when evaluating the suitability of any legal service provider.
BBB Rating
Holland Law Group's Better Business Bureau (BBB) profile reflects an A+ rating, indicating a positive assessment by the BBB. It's important to note that while the firm has received a favorable rating, they are not BBB accredited. Additionally, there are no customer reviews available on their BBB profile as of today's date.
The BBB provides consumers with valuable information about businesses and charities, helping them make informed decisions based on trust and reliability. Although Holland Law Group does not have BBB accreditation, it's worth noting that accreditation is voluntary and does not necessarily impact the quality of services provided.
While the absence of customer reviews on the BBB profile may limit the availability of specific feedback, it's important to consider other sources of information and conduct further research when evaluating a business.
Expertise and Accreditations
Holland Law Group boasts a team of experienced attorneys with expertise in financial law. Many of their attorneys have relevant qualifications, certifications, and memberships in professional organizations such as the American Bar Association (ABA) and the National Association of Consumer Advocates (NACA).
These affiliations demonstrate Holland Law Group's commitment to maintaining professional standards and staying updated with industry best practices.
Conclusion
In conclusion, Holland Law Group is a law firm offering a range of financial services. Their expertise in debt settlement, bankruptcy representation, foreclosure defense, estate planning, and business law makes them a viable choice for individuals and businesses seeking legal guidance.
Holland Law Group
Review
While some clients have reported positive experiences with Holland Law Group, it's important to consider the mixed feedback regarding communication and responsiveness. Prospective clients are encouraged to thoroughly assess their individual needs and expectations before engaging their services.
Comments Rating
( reviews)