Did you receive a mailer from mytploffer.com (TriPoint Lending) offering you an interest rate of 5.95% along with a check for $26,000?

Read the Fine Print:
APR ranges from 5.49% APR to 30.00% APR for first-time borrowers.

The company is not a banking or financial institution.

The company has also been accused of engaging in bait and switch tactics where customers end up paying for expensive debt relief programs.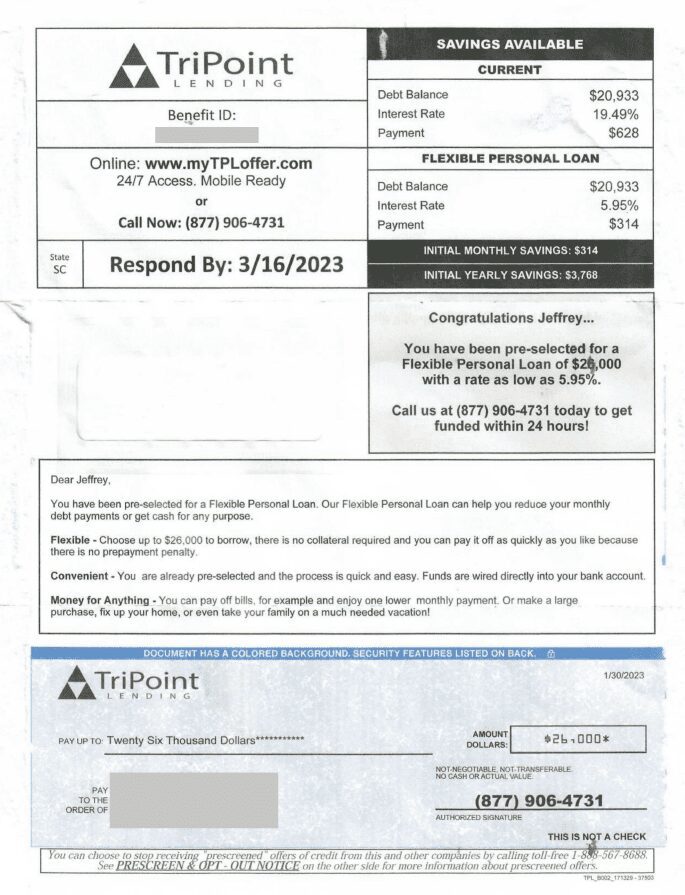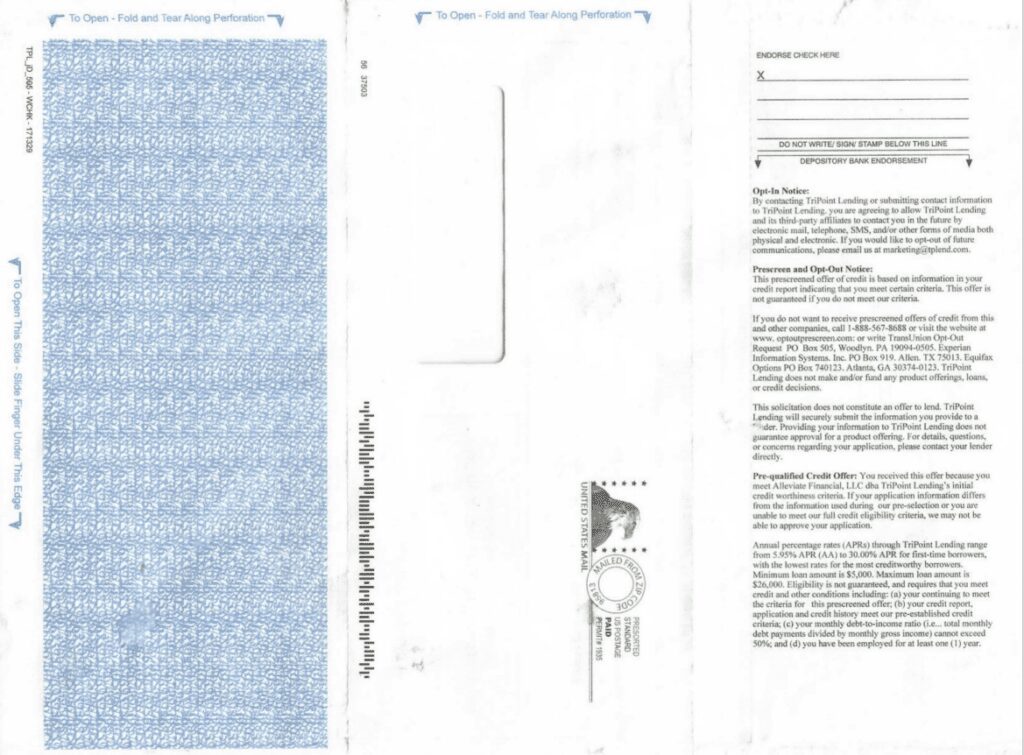 Tripoint Lending Review Summary
If you're struggling with debt and are considering working with a debt consolidation company, you've likely come across TriPoint Lending. While the company claims to offer personal loans and debt relief services, there are many concerns about its legitimacy and reputation. In this review, we'll take a closer look at TriPoint Lending and provide you with all the information you need to make an informed decision.
Tripoint Lending claims to provide personal loans, business loans, and debt consolidation loans to help customers meet their financial needs. Tripoint Lending has a simple and streamlined loan application process, which allows customers to apply online and receive a decision quickly. The company advertises competitive interest rates and flexible repayment terms to make borrowing affordable and convenient.
Personal Loans
Tripoint Lending offers personal loans to borrowers who need quick access to funds for various purposes such as debt consolidation, home improvement, or emergency expenses. The application process is easy and can be completed online in minutes. Tripoint Lending advertises flexible loan amounts and repayment terms to fit each borrower's unique financial situation. The advertised interest rates are competitive and fixed.
Debt Consolidation Loan
Tripoint Lending offers a debt consolidation loan that can help individuals consolidate their high-interest debts, such as credit card balances, into one manageable monthly payment. This loan can help individuals simplify their finances and reduce their overall interest rates, potentially saving them money over time. Tripoint Lending's debt consolidation loan comes with fixed interest rates and repayment terms, making it easier for borrowers to budget their payments and pay off their debts on time. Additionally, Tripoint Lending offers a quick and easy online application process, making it convenient for borrowers to apply and receive their funds. Overall, Tripoint Lending's debt consolidation loan can be a helpful solution for those looking to simplify their debts and improve their financial situation.
Debt Settlement
Tripoint Lending offers debt settlement services that help consumers settle their outstanding debts with their lending institutions and creditors. The company works with consumers to negotiate a settlement agreement with their creditors, which may involve reducing the total amount owed, lowering interest rates, and creating a payment plan that is more manageable for the consumer. Tripoint Lending also provides clients with financial education and resources to help them manage their finances and avoid future debt problems. The goal of Tripoint Lending is to help consumers become debt-free and achieve financial stability.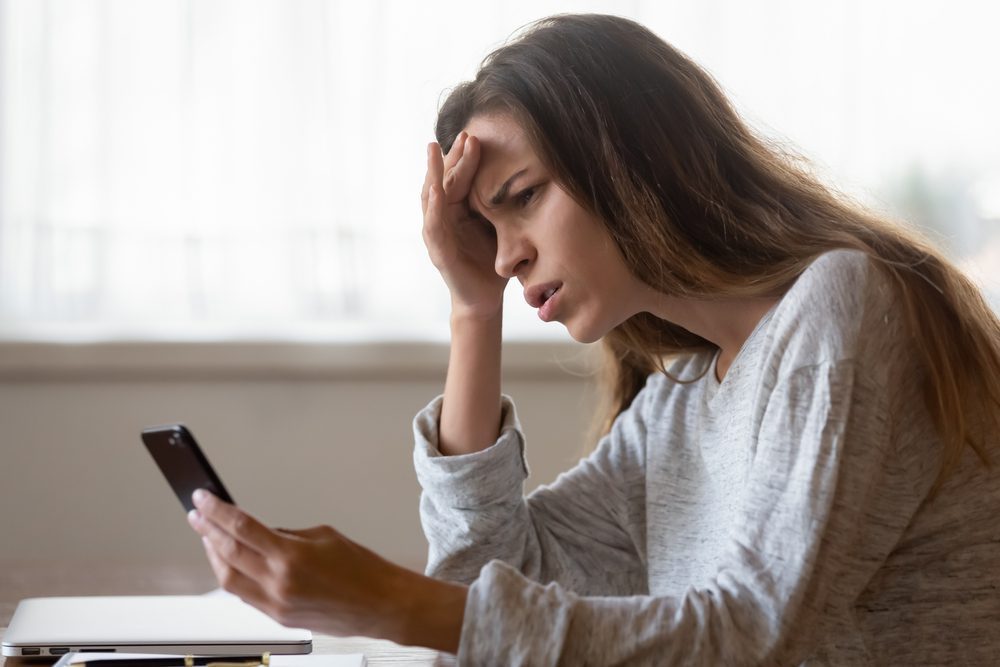 How much does TriPoint Lending cost?
Tripoint claims the annual percentage rates are from 5.49% APR to 30.00% APR for first-time borrowers. Based on that range, the monthly payments will vary.
Tripoint Lending Complaints
There have been many complaints recently suggesting Tripoint Lending is a bait and switch. The common accusation is that the company lures you in with a low advertised interest rate on a personal loan and then flips you to an expensive debt relief program.
Tripoint Lending Reviews
Tripoint Lending BBB Reviews

This place is a scam. They say you are preapproved but they simply submit your credit to actual lenders. If you have bad credit, you will not get approved. They are a scam company that doesn't care about you.

This is a scam. I called and went through the process, because they said I was pre-selected in the offer. Went through the process, and they said I was denied, for all their lending institutions. Its true, they are not a banking or financial institution. They are acting as a broker similar to a mortgage broker company. They then turn you down, after they ask you for all your personal information. This is a true Bait and switch scam. Why? Because they say: you've been pre-selected for a Flexible personal loan of X amount at X rate percentage. That by definition is a Bait and switch mainly because you're selected the representative, stated it's not a bait and switch because you're not pre-approved However, you're pre-selected based upon your public profile. That implies I am able to get up to said amount, but not guaranteed full amount. However pre-selected means an amount to be qualified for, whether it's 100, 300, or even 1k. I was pre- selected, which implies I am guaranteed some amount of money, whether I take it or not. As I said to him, I practice law in my state, not business law, but criminal and this is a bait and switch practice and semantics of words, that your company used, is pre-selected the representative stated: *********** didn't use the wording pre-approved which then would be a bait and switch. We are with the triple B and accredited. That doesn't mean anything at all, because they don't endorse you, nor does the Triple B, fight for the rights of the consumer. They are a private institution, which doesn't do anything, but sell your company a rating for a monthly price. I will be calling the **************** Secretary, and will be making a formal complaint, and states Attorney General about your company in the next couple of days. Watch this review will be deleted of this site asap, this I guaranteed. ************, of ***********, **

Everything on their website paints them AS A LENDER of money. They say thing like "No collateral is required or accepted for a loan through TriPoint Lending." and "With loans through TriPoint Lending, your interest rate is FIXED." and "A personal loan through TriPoint Lending can help you take control of your finances today!" They even call them selves a "Lender." So this is where they cause people to be weary of them and think they are being scammed. They should be made to call themselves a brokerage and say IN PLAIN BOLD PRINT that they DO NOT LEND MONEY! They merely help hook you up with lenders that lend you money for a fee. Also people should learn to read the fine print because this is where you will find most of the information that I found. Still, most people do not and companies like this know it! It is very bad representation on the companies part, very bad, indeed!

From what I am seeing, this is a big a** scam. All the 5-star reviews look like robot responses. The mailer I got in the mail even says personal loan. If it were real, then I would have gone for it, but now there is no way I'm taking a risk like this with my credit.

All 5 Star ratings must be from people that work for or know someone that works for Tripoint. I get letters in the mail almost monthly, with my pre-qualified amount getting larger every month. When I called in to speak to someone, I made it a point to tell them it was a loan that I would use to pay off other debt and use some for-home improvements.
Like others have said, they try and get you to agree to a debt consolidation loan which is not what they advertise in the letter they send out. when talking to "***," he stated, "it only looks like a consolidation loan, but it was not." I asked to speak to a supervisor, and the supervisor said the same when I told them I was not interested. The supervisor used a few choice words and told me that if I didn't know what I wanted, I would quit wasting their time.
I wouldn't recommend this company to anyone. Use the resources you have to find a better company to work with. I hope they get fined or sewed for false advertisement and try to take advantage of people in the hard times and act like they are better than the people they claim to help. Please do yourself a favor and find another company. there are plenty out there.

********* is an awesome guy who handled everything precisely as you should, explained everything you needed to know, and made the process painless! Thank you ********

I had a fantastic experience with TriPoint Lending. In particular, the Client Advocate, ******************, was outstanding and is honestly deserving of huge corporate advancement. ******* was well within all professional courtesies for all our scheduled appointments, was extremely knowledgeable and understanding, and explained and answered all my questions in detail.
It was apparent she had my best interest at heart! In the end, though, I decided to forgo the assistance that included a fully approved loan that ******* worked to put together and get approved. Still, ******* was right there to say she fully understood my decision (after all her hard work and time consumed) and wanted me to reach out to her if I needed any credit/debt assistance in the future. I will go nowhere else if I pursue assistance in the future. Thank you, TriPoint, for putting such a great advocate on your staff, and thank you, *******, for all your help. It made a huge and lasting impression on me!!
The Tripoint Lending BBB rating is A+. They have been accredited since 2018 and have been in business for five years. They have a customer review rating of 3.8 out of 5 with an average of 220 customer reviews. They have 8 complaints closed in the last 3 years and 3 closed in the last 12 months. According to the Better Business Bureau, Tripoint is connected to Alleviate Financial LLC, Tripoint Funding, Alleviate Financial Solutions LLC. The business was incorporated on October 30, 2017.
TriPoint Lending FAQs
Who Owns Tripoint Lending?
TriPoint Lending is a privately held company that was founded in 2017. The company is headquartered in Irvine, California. The company's CEO is Michael F. Barsoum.
Is Tripoint Lending a Scam Company?
It appears that Tripoint Lending is not a scam but rather a marketing lead generator that offers loans at a low interest rate to pre qualified in a financial hardship. Customers have accused the company of running a bait and switch operation. Overall, TriPoint has received mixed reviews from customers. Some customers have praised the company for its quick and easy application process and its competitive interest rates. However, other customers have complained about the company's high interest rates and its aggressive sales tactics.
Does Tripoint Lending check my credit report?
It is common for lenders to run a credit report on potential borrowers before approving a loan. This helps them assess the borrower's creditworthiness and determine the interest rate and other terms of the loan.
What is the Tripoint Lending Range?
According to Tripoint, annual percentage rates (APRs) through from 5.99% APR to 35.99% APR, with the lowest rates for the most creditworthy borrowers. Rates are subject to change daily. Minimum loan amount is $5,000.00. Maximum loan amount is $100,000.00. Eligibility is not guaranteed and requires that you meet credit and other conditions including….
How does TriPoint Lending affect your credit?
When you're looking to take out a personal loan, one thing to be aware of is that lenders will usually make a hard inquiry into your credit history. This can potentially lower your credit score by around five points.
Will Tripoint Lending Hurt My Credit?
When you take out a loan, your credit score may be affected in both positive and negative ways. On the one hand, having an installment loan on your credit report can help to improve your score because it shows that you can handle debt responsibly. However, if you miss payments or default on a loan, this could have a negative impact on your credit score.
Does pre-approved mean that you are guaranteed approval?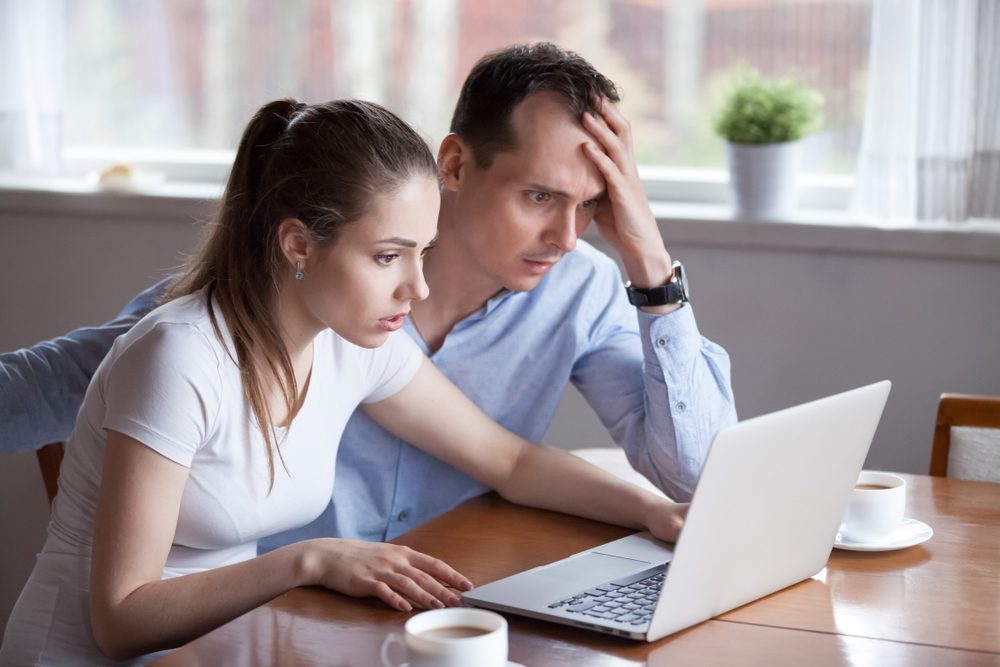 If you respond to TriPoint Lending's offer and it turns out that you no longer meet the criteria for creditworthiness, your loan application may be denied. This can happen if your credit score has gone down recently. They also won't have your income information until you apply for a loan, so if you don't make enough money to support your loan payments, your application could be rejected for that reason.