Have You Received a Memphis Associates Check?
THANK YOU KELLY FOR SENDING IN A COPY OF YOUR MEMPHIS ASSOCIATES CHECK!
TALK TO A DEBT COUNSELOR TOLL FREE
(888) 492-6145
If you have been keeping up with this story, you would have remembered that the scam artists behind Memphis Associates have threatened Crixeo with legal action for printing the truth.
And now they have to ruin my weekend by pulling a new scam so I have to work.
Memphis Associates Scam: Offering Debt Relief Loans
Memphis Associates, Plymouth Associates, Safe Path Advisors, Silvertail Associates, Malloy Lending, Polo Funding, Jackson Funding, Dune Ventures, Braidwood Capital, Tiffany Funding, Nickel Advisors – and the scam goes on…and the list gets longer…
The new website is the Memphis Associates Scam. They are back it again. For those that are reading my articles for the first time, you will see that I have been following Memphis Associates and its collection of web sites for several months. This group continues to send out unrealistic and low interest-rate debt consolidation offers that very few could possibly qualify for.

1.0 out of 5.0 stars1.0
Find below some of my past articles:
October 20, 2020 – Tate Advisors
October 18, 2020 – Plymouth Associates
October 3, 2020 – Safe Path Advisors
September 28, 2020 – Silvertail Associates
September 23, 2020 – Malloy Lending Review
September 5, 2020 – Polo Funding Review
August 25, 2020 – Jackson Funding Review
August 18, 2020 – Dune Ventures Review
August 11, 2020 – Braidwood Capital Review
July 26, 2020 – Tiffany Funding Review
July 16, 2020 – Nickel Advisors Review
July 3, 2020 – Coral Funding Review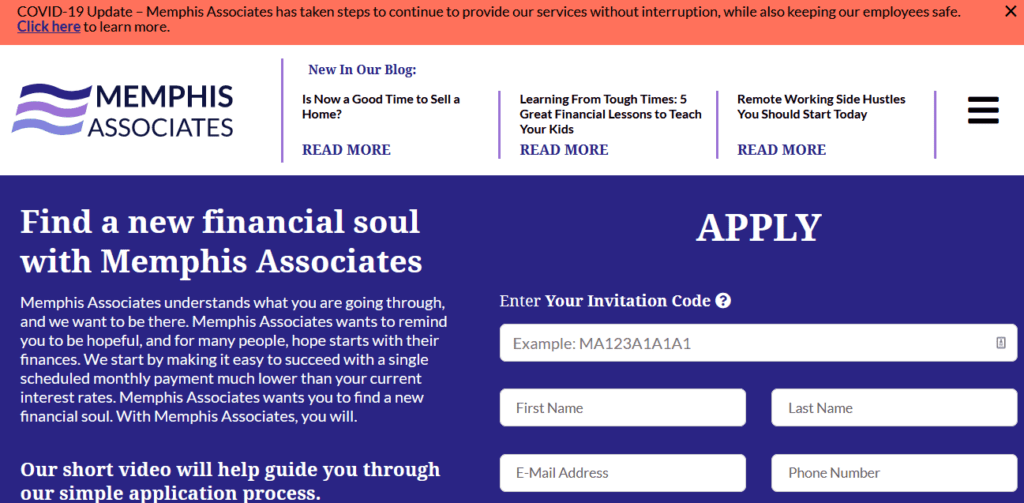 Memphis Associates Debt Consolidation Reviews Legal Update
Sinew Management Group, LLC, a tribally-owned company of the MHA Nation tribe, has retained a big time lawyer at intellectual property law firm of Cowan, Liebowitz and Latman in an attempt to intimidate Crixeo from exposing the truth about this predatory scam that preys on consumers.
I have to be honest. I got scared when I heard about this. Sometimes it happens even when you are trying to do the right thing. I'm not a rich guy. I don't want to be sued. So I took it up the chain to our publisher.
We discussed the issue and my publisher is 100% behind me. He said this is a big story. I was sent additional research today that shows that the MHA Nation is also fronting for some really rich payday lenders that are having problems now.
In the last big payday lending case, the Modoc tribe forfeited $2 million to the federal government and the Santee Sioux Tribe forfeited $1 million. I'm not sure why the MHA Nation thinks they don't have to play by the same rules as the rest of us.
Check out these articles below:
U.S. Pay Day Lender Faces RICO Suit in Rent-A-Tribe Class Action
Cane Bay Partners Faces Class-Action Suit Over Payday Lending
Here is a quote from the RICO class action lawsuit filed on April 13, 2020 against the payday lenders dealing with the MHA Nation:
Rather than complying with state lending and licensing requirements, Defendants entered into a tribal lending scheme with the Mandan, Hidatsa, and Arikara Nations (collectively,
the "MHA Nation" or the "Tribe").

The Mandan, Hidatsa, and Arikara are three Native American tribes located on the Fort Berthold Reservation in a remote area of North Dakota. MHA Nation holds itself out as the tribal lender through its tribal company…"

The MHA Nation has little meaningful involvement in the business

Discovery will show that the MHA Nation receives little financial benefit from the lending scheme.
I also want to once again thank all those who have emailed me and continue to keep me in the loop. They are continuing to change websites and are even trying to shut me down. We have to stay strong.
In my last article, I offered $50 to anybody who would send me any new direct mail with a suspicious offer so I can review it before too much damage was done.
The response continues to be overwhelming. I still can not believe how many people responded. I have never had such a hard time giving away $50.
Keep on the lookout for new direct mail pieces and send them in. The election is coming up. None of us know what will happen next. It's a scary time. We are all waiting for a vaccine.
Please stay in touch with me. If you don't have a mailer to send, just drop me a note and let me know my work has helped you out. That's enough for me. I can't thank you enough for your help.
If anybody receives a debt relief offer in the mail and they want to know if it legitimate, send an email to:
I will pay $50 for any debt relief offer junk mail that I haven't seen and ends up being published. So please contact me quickly and beat the rush!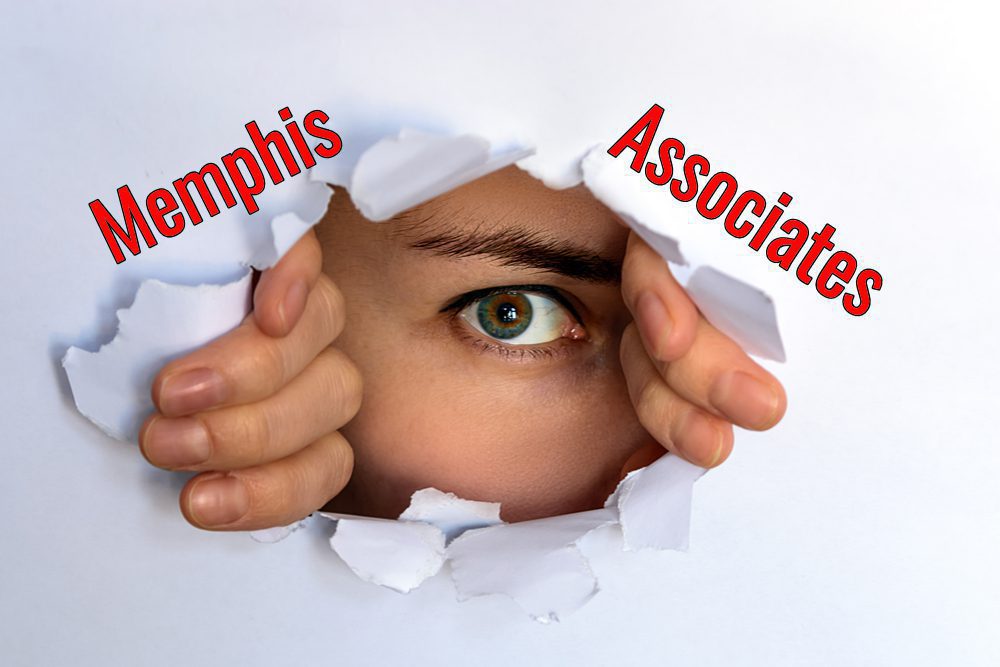 Memphis Associates is the newest bait and switch trap brought to you by none other than the same devil that brought you Tate Advisors, Plymouth Associates, Safe Path Advisors, Silvertail Associates, Malloy Lending, Polo Funding, Jackson Funding, Dune Ventures, Braidwood Capital, Tiffany Funding, Nickel Advisors, and Coral Funding, and about 50 other debt consolidation and personal loan web sites.
The story is the same. They lure you in by sending you direct mail with a "personalized invitation code" and a low 3%-4% interest rate to consolidate your high-interest credit card debt. You will be directed to MemphisAssociates. com or myMemphis Associates.com. More than likely you will not qualify for one of their credit card consolidation loans and they will try and flip you into a more expensive debt settlement product.
The Memphis Associates website says:
"find a new financial soul with memphis associates"
I suspect the group behind Memphis Associates




doesn't have a soul
Memphis Associates wants you to keep quiet and not email me. They only need you to be quiet for one week until they launch the next website. Don't let them win!
This is nothing new. Many unscrupulous debt marketing companies have been using this as a business model for years. They lure you in with the low-interest rate, string you along for a week, and then let you know that you don't qualify for a loan. They then offer you some very expensive alternative debt options.
Is Memphis Associates Legit or a Scam?
Crixeo awarded Memphis Associates a 1-star rating (data collected and updated as of October 20, 2020). We hope the information below will help you make an educated decision on whether to do business with Safe Path Advisors.
Memphis Associates operates two websites, Memphis Associates.com & myMemphis Associates.com.
Memphis Associates is part of a collection of almost 50 web sites that we have discovered. All of which are affiliated and listed below.
Our belief is that Memphis Associates operates so many different web sites in order to escape the tremendous amount of negative complaints and articles on the internet.
We advise caution when working with Memphis Associates. The affiliated web sites have multiple negative reviews and scam complaints.
Memphis Associates operates under the sovereign protection of the Mandan, Hidatsa and Arikara Nation (a/k/ MHA Nation), a Native American Tribe.
The MHA Nation is heavily involved in the business of internet payday lending.
Who Is Memphis Associates Affiliated With?
Memphis Associates may likely be affiliated with the following web sites:
Tate Advisors
Plymouth Associates
Safe Path Advisors
Silvertail Associates
Malloy Lending
Polo Funding
Jackson Funding
Dune Ventures
Braidwood Capital
Tiffany Funding
Nickel Advisors
Coral Funding
Neon Funding
Cobalt Advisors
Saxton Associates
Hornet Partners
Colony Associates
First State Associates
Polk Partners
Ladder Advisors
Corey Advisors
Pennon Partners
Jayhawk Advisors
Clay Advisors
Great Lake Associates
Pine Advisors
Alamo Associates
Punch Associates
Steele Advisors
Grand Canyon Advisors
Glider Lending
Lucky Marketing
Golden State Partners
Pine Advisors
Derby Advisors
Graylock Advisors
Tuck Associates
Punch Associates
Keel Associates
Ballast Associates
Tweed Lending
Concourse Lending
Graphite Funding
August Funding
Broadstar Financial
Salvation Funding
Stallion Lending
Pebblestone Financial
Sussex Funding
Lafayette Funding
Guardian Angel Funding
Bridgeline Funding
Memphis Associates Reviews and Ratings
Memphis Associates and its affiliated web sites are not accredited by the BBB and have been the subject of numerous complaints and negative press under different names.
Sinew Management LLC BBB Reviews & Complaints
Now Memphis Associates is apparently operating under the name Sinew Management Group LLC
Here is what the BBB has to say about Sinew Management LLC:
Pattern of Complaint: BBB files indicate that this business has a pattern of complaints concerning consumers received information, called and received different information and debt consolidation was agreed upon/changed to another or not fulfilled. On 2/8/19, BBB submitted a written request to the company encouraging them to address the pattern of complaints. As of 3/6/19, BBB has had no response
Complaint Type: Problems with Product/Service
Status: Unanswered
Date: 01/22/2019
On September 21, 2018 I applied for a loan with TWEED LENDING, I was contacted by Michael M. and offered a debt consolidation offer instead, I was promised all my credit card debt and loans will be taking care in a couple months if I pay them 723.91 monthly; I signed a contract and I was asked to cancel all my automatic payments, Michael promised he will contact the companies and settle with them after they receive the first payment; 4 months have passed and no settlement have been agreed, the credit card companies keep calling me daily threatening me with taking me to collection,
I tried to reach Michael for the past 2 months but he is not picking his phone or returning my calls; I tried to call TWEED LENDING directly and they put me on hold for a couple minutes then hang out, at this point, I'm desperate and don't know what to do, my credit is ruined already and I don't think I will recover soon, I just want them to fullfil their contract so I can start rebuilding it
Complaint Type: Problems with Product/Service
Status: Unanswered
Date: 01/22/2019
I was lured into Concourse Lending to do a debt consolidation loan. In which changed to another type of program. I have been promised a number of different things and to no avail neither has been done or even happened.
Complaint Type: Problems with Product/Service
Status: Unanswered
Date: 8/07/2018
I received a mail advertisement for a debt consolidation loan stating I was preapproved for up to 70,500 with 3.99% interest. The letter included a reservation number and directed me to call or proceed online I went to the website, put in my code, and got a pop up saying that a loan consultant would be in touch with me in 1-2 business days The next morning (8/15/18) at 10:30am EST, I received a call from Brandt * with "Finance Solutions," asking me to return his call regarding my loan request.
I called him back – and we spoke for about 10-15 minutes. I gave him lots of sensitive personal information – and gave him authorization to run my credit. He said he would call me back before end of business and let me know what they could offer me. No call back. I waited until about noon the following day (8/16/18) – and called Brandt * again. Of course he didn't answer, so I left a message. I asked him to please return my call by the end of the day. Even if he had bad news, I really wanted a call back. I explained that I had given him lots of sensitive information – and now I was growing concerned to whom did I just divulge all of this information to… No call back.
That evening, I called the number on the letter that I was mailed – of course it is a call center, and they had no way of transferring me to the "loan center" but the man I spoke with said he would email the finance department and request someone call me ASAP No call back. The following morning (8/17/18) I called the call center again – and begged to speak to a supervisor.
They put me in touch with a supervisor at the CALL CENTER – who said that she had no way of reaching anyone in the "loan center" except via email (which had already been done). I again explained my concern to her. She listened, but couldn't really do anything. She sent another email to the "loan center" requesting someone call me. I STILL have not heard from anyone. WHO DID I JUST GIVE ALL MY PERSONAL INFO TO???
Complaint Type: Problems with Product/Service
Status: Unanswered
Date: 6/26/2018
I received an offer for debt consolidation when I researched the business on the internet the contact information was different than the letter contact information. The 1800 number was different on the mailing than the website listed. The website did not come up on a google search I had to use the .com address provided on the letter. When I called the contact number on the website and questioned the customer service representative she had no answer and became snarky on the phone.
She would not do anything other than say "May I begin your intake now". I informed her I considered this company fraudulent due to the inconsistency and lack of professionalism on her part. She responded "okay Maam if that is what you want" and hung up on me. I am concerned this company is not a legitimate business, I would have liked a debt consolidation but I must be reassured in some way that a company is not fraudulent.
MEC Distribution LLC
At one time, Memphis Associates and its affiliated web site operated under the name MEC Distribution, LLC. The Better Business Bureau put out its first alert about this enterprise in February 2018:
In February 2018, BBB staff visited the Fargo ND addresses provided by MEC Distribution and found that all locations were vacant and the building management explained that although the rent was paid by MEC Distribution, the office spaces were not used. MEC Distribution LLC provided BBB with a mailing address for complaint handling in Bloomfield Township Michigan. BBB's mail to that address has been returned as 'not deliverable as addressed- unable to forward'. At this time, BBB does not have a physical location for this business.
BBB has confirmed with the North Dakota Department of Financial Institutions that Lafayette Funding is not licensed in North Dakota as a debt settlement firm. Furthermore, BBB has contacted building management at the address Lafayette Funding claims in Bismarck, North Dakota, and learned that Lafayette is not located at that address. BBB advises extreme caution when dealing with this entity.
In February 2018, BBB staff visited the Fargo ND addresses provided by MEC Distribution and found that all locations were vacant and the building management explained that although the rent was paid by MEC Distribution, the office spaces were not used. MEC Distribution LLC provided BBB with a mailing address for complaint handling in Bloomfield Township Michigan. BBB's mail to that address has been returned as 'not deliverable as addressed- unable to forward'. At this time, BBB does not have a physical location for this business.
Memphis Associates BBB Reviews
You won't find a BBB file on Memphis Associates because the complaints haven't started rolling in yet. However, we examined some complaints from its affiliated web sites:
Cathy M. – 1 Star Review
They have changed their name to Salvation Funding. After seeing this rating I see why. I don't know how they got my info but they need to he stopped.
Terry W. – 1 Star Review
Beware of bait and switch mailer. Terms are "extremely different" than advertised! It's a waste of time.
My purpose is to help others realize this is a waste of time! Pebblestone Financial advertising is definitely deceptive in my opinion. After my conversation with Fred, his response was, "we can definitely help… I will call you tomorrow morning with the details…have pen and paper ready to write down the numbers." The mailer does include in fine print…This notice is not guaranteed if you do not meet select criteria."
It also further states: "This notice is based on information in your credit report indicating that you meet certain criteria." In my case, I am not late on any payments, nor will I be. I am current on all outstanding debt and my credit history demonstrates this. When Fred call the next morning…his terms were totally ridiculous and in my opinion "predatory lending".
When I ask Fred… are these the terms of the Pebblestone offer, he replied yes. I replied, I'm not interested in those terms and he hung up the phone immediately without further conversation.
The reason I responded to the Pebblestone Financial offer was to consolidate and simplify with one payment and take advantage of the low pre-approved rate averaging 3.67%. While I'm currently paying between 10.9% and 12.9% to the credit card companies…this offer was attractive. The mailer stated in LARGE BOLD PRINT: You have been pre-approved for a Debt Consolidation Loan with a rate as low as 3.67%. The pre-approved loan amount was actually $11,500 more than my total debt consolidation.
In summary…this is definitely a "Bait and Switch" scheme in my opinion. I checked BBB comments before responding to this offer and did not see negative feedback. Now I'm seeing other very similar responses with the same "Bait and Switch" experience. Hopefully, this will help others avoid the wasted time in discovering these unethical practices of Pebblestone Financial.
8006947917: Beware Of Memphis Associates
The Rent-A-Tribe Scheme
In recent years, hiding behind the protection of a Native American tribe was made popular by internet payday lenders. In July 2018, Charles Hallinan, "the godfather of payday lending" was sentenced to 14 years in prison for issuing payday loans through the Mowachaht/Muchalaht First Nation in British Columbia. In January 2018, Scott Tucker was sentenced to more than 16 years in prison for running a $3.5 billion unlawful internet payday lending enterprise while operating under the "sovereign immunity" of the Modoc Tribe of Oklahoma and the Santee Sioux Tribe of Nebraska.
Why Do We Focus On Memphis Associates Negative Reviews?
We urge you to do your own research and due diligence on any company, especially when dealing with your personal finances. We urge you to pay attention to what you find on the internet. Compare the good vs. the bad and make an educated decision. From our experience, where there is smoke…there is fire. But you make the call.