Monevo is a personal loan marketplace headquartered in San Diego, California. It is the largest personal loan marketplace and platform in Europe. The large choice of lenders enables Monevo to deliver low rates in just a few minutes.
Monevo Loan Fast Facts
Loan Amounts: $500 to $100,000
APR: 3.49% to 35.99%
Minimum Credit Score: None
Loan type: Fixed rate unsecured personal loans
Repayment terms: 3 months to 7 years
Direct lender or marketplace: Marketplace
Turnaround Time: Varies by Lender
Best For: Anyone looking for a loan with good terms
Monevo Pros & Cons
Pros
Wide range of loan amounts
Quick online form
Monevo's online form does not negatively affect the consumer's credit score
Transparent and upfront about their partners
Awarded The Sunday Times Tech Track 100 in 2013 for Fastest Growing Financial Technology business in the UK & The Queen's Awards for Enterprise in Innovation in 2017
Cons
Limited to the lending partners in their network
Expect to get a lot of phone calls and emails from lenders.
Manual and/or automatic underwriting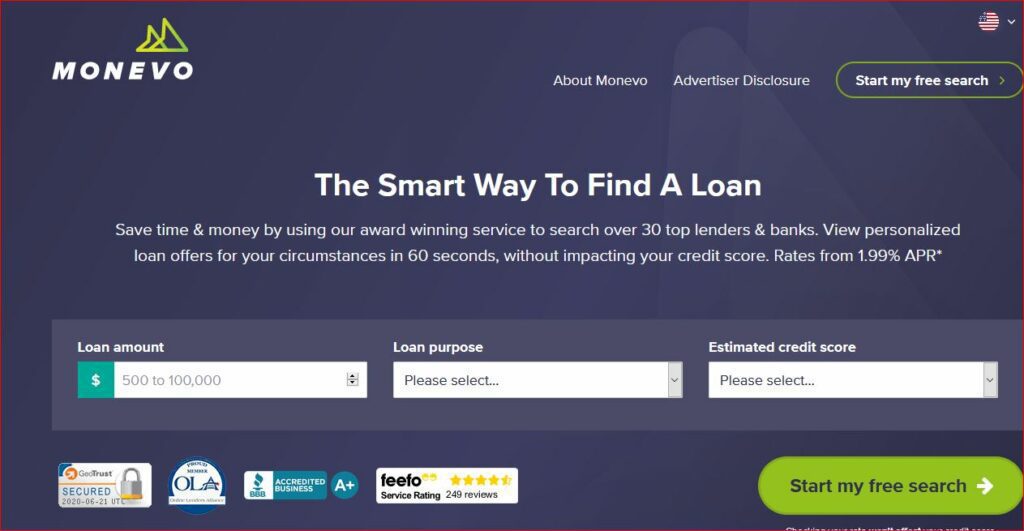 Monevo Cost of Loan
The cost of the loan, interest rates, penalties, and fees is ultimately determined by Monevo's lender partners. Consumers should be communicating with the lender directly to determine the actual cost of the loan. Due to the multiple lenders on the loan platform, Monevo has advised that rates will fall between 3.49% and 35.99% subject to the lender's credit requirements.
Monevo Qualification
To get started with Monevo, there is a list of criteria you need to meet:
Age 18 years or older
Bank account required
US citizenship or residency
450 minimum credit score
To apply for Monevo you need to have access to the following information as well:
Your annual income before taxes
Your social security numbers
Your credit score
After you've met all the qualifications, you can get started with Monevo by following these few steps:
Enter in your credit score, loan amount, and loan purpose.
Enter your social security number, annual income, etc.
Read and accept Monevo's terms
Press "Get Your Results" to submit your form.
After filling in the form, Monevo will find a suitable partner within their network that works for you. If you decide to go through with the service, you can be approved in one day and be given your funds within 7 days.
Monevo Reviews and Ratings
Monevo's BBB Rating is A+
Monevo's customer reviews are generally positive. It is a Gold Trusted Service Award Winner on Feefo. Based on 249 verified reviews on Feefo, it was awarded a very respectable 4.5 out of 5 stars. Monevo's negative reviews are usually due to the fact that some weren't able to get in contact with a lender or, in some cases, people were matched with lenders but weren't able to find anything that fit their needs
Is Monevo Legit? Remember This…
Monevo will not affect your credit, however, you should expect your lender to eventually do a credit check, which will temporarily lower your credit score. Remember that using Monevo to connect with lenders will not have any sort of effect on your credit score.
Monevo shares your submitted personal information with their partnered lender, but this is nothing to worry about. If you are worried about this, however, you should consider going directly to a lender of your choice to apply.

Monevo

is an online personal loan marketplace and does not fund loans. It instead exists to aid you in searching and deciding on a suitable lender, as well as helping you compare loans.
Getting your funds does not take too long. Depending on the lender it can be as fast as one business day, but sometimes it can take longer. If approved, you can expect to see money in your account within 7 days.
Repayments with Monevo will be detailed on a repayment schedule by your lender, as well as any additional fees you might need to pay will be outlined in your loan agreement.
Of course, remember to keep in contact with Monevo and your lender when you have any questions.
Monevo is based in the UK and has major tech partners around the globe.
Clearone Advantage, Credit Associates, Credit 9, Americor Funding, Tripoint Lending, Lendvia, Simple Path Financial, New Start Capital, Point Break Financial, Sagemore Financial, Money Ladder, Advantage Preferred Financial, LoanQuo, Apply.Credit9, Mobilend