New Fidelity Funding Review: Debt Relief Consolidation Loans
First things first!
Thank you JOHN for sending me a copy of New Fidelity Funding's new mailer!
Remember – if I post a copy of any direct mail piece you email to [email protected], I will send you $50. I am looking for direct mail offers with suspiciously low-interest rates. Just remember – I have to post the exact image you send me and I can only pay out the $50 to the first person who sends me a copy. I want to thank all of those who have been emailing me to keep the $50 and just continue with my good work.
Is New Fidelity Funding a legitimate company? You probably received a mailer with a photo of a credit card with your name on it offering you a pre-approved loan of between $72,000 and $82,000. You were probably given a"PRE-APPROVAL CODE" with an expiration date. You may have been directed to call a toll free number or visit newfidelityfunding.com to claim your loan at an excellent low rate of 2.92%.
And off you go looking for reviews.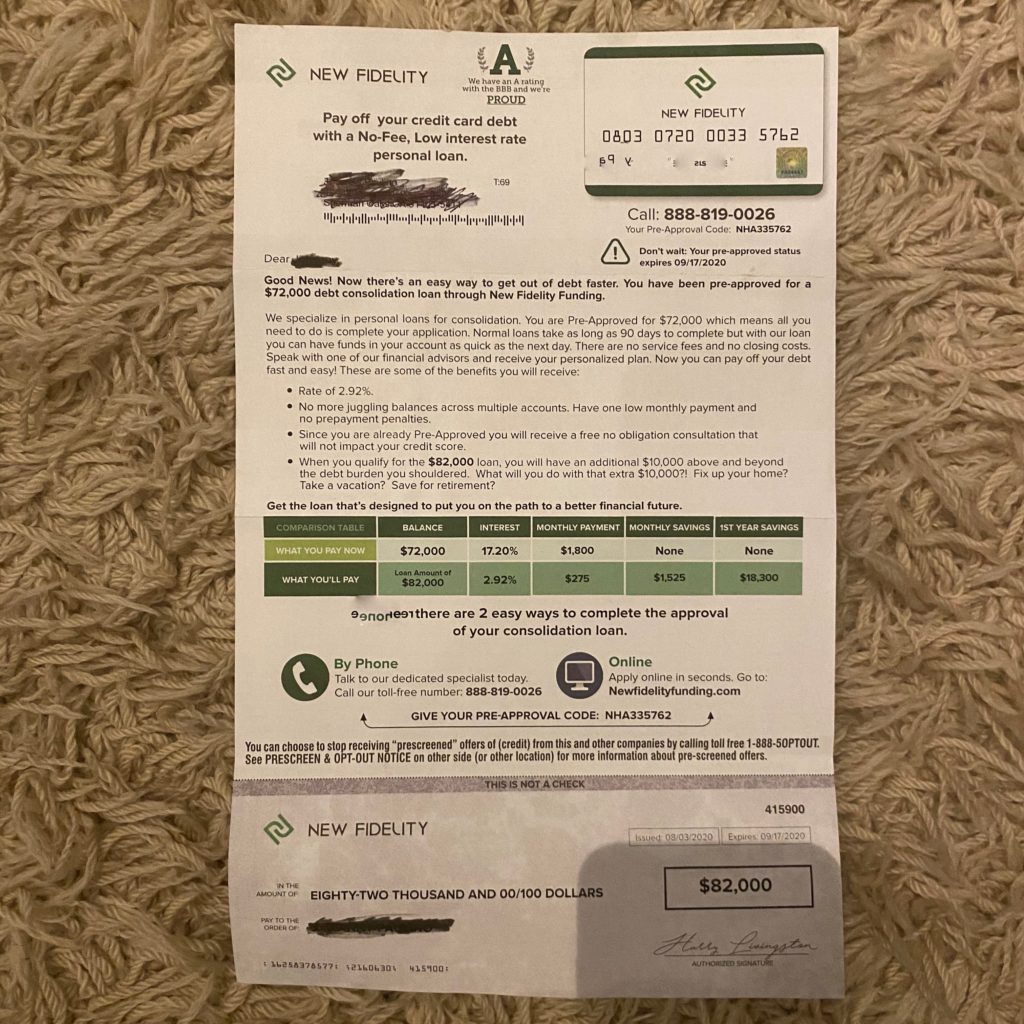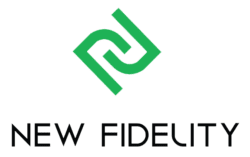 Is New Fidelity Funding Legit or a Scam?
Crixeo.com awarded New Fidelity Funding a 1-star rating (data collected and updated as of September 13, 2020). We hope the information below will help you make an educated decision on whether to do business with New Fidelity Funding.
New Fidelity is not a lender.
The fine print at the bottom of the New Fidelity Funding website states, "You received this offer because you met certain criteria for creditworthiness. Although New Fidelity Funding is not a lender and does not engage in the business of lending, we have working relationships and contacts with a network of independent lenders ("Lenders") who may be able to provide you with credit.
It appears that New Fidelity Funding is operating a typical bait and switch scheme. They lure you in by sending you direct mail with a "personalized reservation code" and a low 2.5%-4.5% interest rate to consolidate your high-interest credit card debt.
It isn't too evident that you need excellent credit to qualify for a loan with that low 2.92% interest rate (which you have been supposedly pre-approved for).
The fine print at the bottom of the New Fidelity Funding web sites states, "To qualify for an AAA New Fidelity Rating, you must have excellent credit and meet other conditions. Sample annual percentage rates are for illustrative purposes and actual annual percentage rates range from 2.92% (AAA) to 4.99% (DD+) based on a proprietary scoring system."
What is New Fidelity Funding's proprietary scoring system? What does that even mean?
What percentage of consumers that received the personalized offers qualify for the AAA New Fidelity Rating?
New Fidelity Funding BBB Reviews and Ratings
New Fidelity Funding does have an A rating with the BBB but something doesn't feel right. Their file was opened on 4/24/19 and there are no reviews or complaints.
New Fidelity Funding Yelp Reviews
Find below some of the very recent New Fidelity Funding Yelp reviews and complaints:
Read Alicia S.'s review of New Fidelity Funding on Yelp
Read John S.'s review of New Fidelity Funding on Yelp
Read John S.'s review of New Fidelity Funding on Yelp
New Fidelity Funding Trustpilot Reviews & Complaints
New Fidelity has a 4.2 Star rating on Trustpilot but again, something does not seem right. The negative review listed below is quite detailed. The positive reviews all seem very generic and represent optimistic views of a new customer that does not have a final result. Most of the reviews discuss being "excited," "can't wait to start the program," and "looking forward to working through getting rid of my debt."
John on August 4, 2020 –
Bait and switch. I got a "pre-approved" flyer in the mail talking about how they specialize in personal loans for consolidation, and my rate would be between 2.92 and 4.99. When I called and gave them basic info (like how I already have a primary mortgage and home equity loan) I was told someone would call me back. I got a call back from a company called Century Services, where they only wanted to push me into a "debt settlement" situation. For those who don't know what this is, it involves stopping payments on all of your credit cards and paying money to the debt settlement company, so they have something to "offer" the credit companies after about six months.
In the meantime, your credit gets hammered, you run the risk of getting sued, and you will probably be called and harassed by creditors a thousand times. At the end they tack on a 25% fee of all of the debt settled. No thank you! I wanted a loan to consolidate at a lower rate, not to default on all my credit. Throw the flyer away!
Why Do We Focus On New Fidelity Funding's Negative Reviews?
We urge you to do your own research and due diligence on any company, especially when dealing with your personal finances. The positive reviews seemed a little bit too generic. We do not imply that New Fidelity Funding's reviews are fake. We have no information to suggest that. However, we do urge you to pay attention to what consumers are saying in their very detailed complaints and reviews and put them side by side with the positive ones to evaluate the quality of authenticity for yourself.
We wish you luck and invite you to take a look at Crixeo's Best Debt Consolidation Reviews of 2020.
New Fidelity Funding Review
New Fidelity Funding Review - Advise Caution

New Fidelity Funding is representative of what is plaguing the debt consolidation industry. Direct mail with low rates and bait and switch tactics. We highly recommend doing your own due diligence on New Fidelity Funding before entering into any financial relationship with the company.