Ad Disclosure: We receive referral fees from advertisers. Learn More.
Pacific Debt Inc could be a practical solution if you have large piles of debt pushing you toward bankruptcy. There's no upfront fee and you'll qualify for a free consultation. On the flipside, brace yourself for persistent staff and reasonably low potential savings. As a last-ditch resort, Pacific Debt can is an effective way to relieve the pressure of mounting debt.
Highlights
Free consultation and no upfront costs
You could save up to 35% after fees
Easy to monitor your account online
Trade-Offs
Pushy staff prone to rushing you into making a decision
Some consumers save as little as 15% after fees
What Is Pacific Debt Inc.?
Pacific Debt Inc. is an innovative debt settlement company formed back in 2002. PDI sprang to life when a wave of consumer credit card debt created the need for alternative solutions to bankruptcy or traditional debt consolidation.
PDI settles millions of dollars each month in consumer debt and helps save thousands of consumers from the time, money, and stress of dealing with creditors.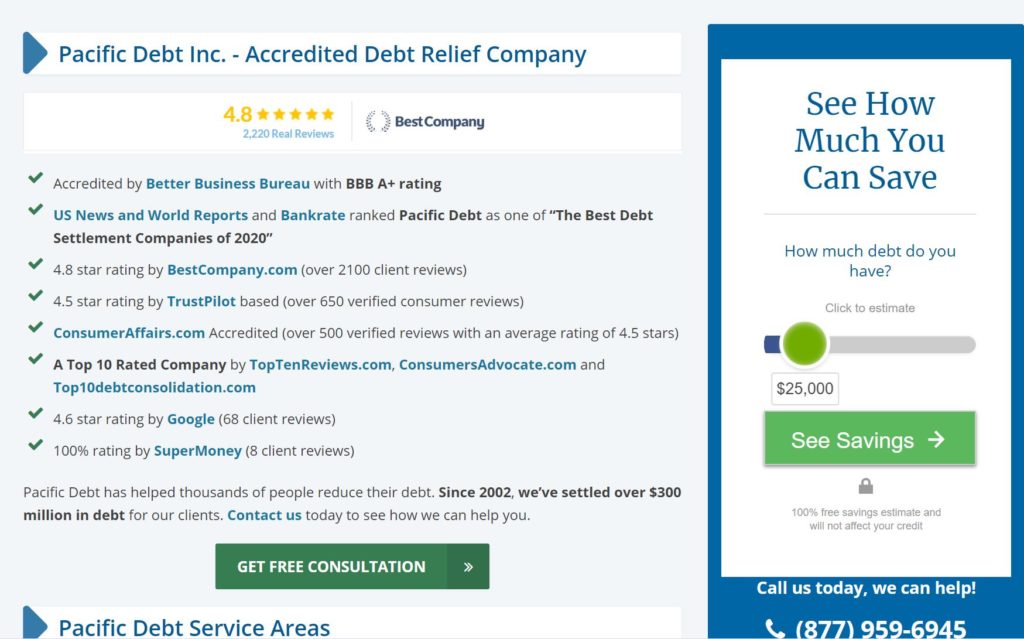 Pacific Debt Works in the Same Way as all Similar Debt Relief Companies.
By liaising with your creditors and brokering a reduction in what you owe for full and final settlement with one payment, you can defray your debts without resorting to bankruptcy or other extreme measures.
Pacific Debt Summary
Accreditation: American Fair Credit Council, Better Business Bureau, Consumer Affairs, International Association of Professional Debt Arbitrators
Consultation: Free phone or online consultation with customer services rep
Costs: 15% to 25% of the total debt enrolled. Fees vary from state to state
Customer Service: Phone or email
Debts accepted: All unsecured debt except consumer finance loans, payday loans, legal judgments, and medical debts not already in collections. Minimum debts considered are typically $10,000
Free resources offered: Informative debt management blog
Restrictions: Pacific Debt services are only available in 25 states
Service offered: Debt settlement through direct negotiations
Trust ratings: BBB rating of A+ and 9.3 Trustpilot score
Turnaround time: 24 to 48 months or more
How Much Does It Cost To Use Pacific Debt?
Like most debt relief companies, Pacific Debt charges no upfront fees.
Fees charged are factored into your monthly repayment. These range from 15% to 25% of the enrolled debt.
By the time the debt is ready to be settled, the amount you owe will have grown. This is taken into account when calculating the above fees.
What Could You Save With Pacific Debt Inc.?
In the past, Pacific Debt boasted of settlements saving consumers up to 70%, but these savings are no longer achievable.
The average saving for Pacific Debt customers is now 50%, but this is before considering fees. Take fees into account and average savings are 15% to 35% on the amount owed.
How To Sign Up With Pacific Debt
You can arrange a free consultation with a Pacific Debt rep online by doing the following:
Head to the Pacific Debt Inc. website
Click Free Consultation
Select the amount of your debt then click See Savings
Select how far behind you are with payments
Choose your state of residence
Enter all relevant contact details then hit Submit
What's Next?
A Pacific representative should call you as scheduled to analyze your circumstances and to outline your debt relief options.
Assuming you qualify for the debt settlement program, you'll receive enrollment documents by email.
Return these forms and you'll get a welcome call shortly after. From this point, you can speak with the client care team every few weeks. A team member will call periodically to monitor your progress. They'll also help direct you through setting up your FDIC-insured account into which you'll make monthly deposits for repayment. As soon as you start doing this, you can stop making repayments to your creditors.
For the remainder of your dealings with Pacific Debt, you're assigned a personal account manager to ensure things run smoothly.
Verdict
There's little to differentiate Pacific Debt from scores of other debt relief companies. One serious drawback is the fact that they serve only half of the states nationwide. Beyond this, you might not get the most competitive deal.
If you're in a serious financial pinch and you want to avoid bankruptcy at all costs, it's worth at least speaking with PDI through the free consultation. For anyone approaching this phone call uncertain about whether to proceed with debt relief, we would reiterate that Pacific Debt staff are often pushy. Stand your ground and you might find yourself saving anywhere from 15% and upward on unsecured debt repayments.