Ad Disclosure: We receive referral fees from advertisers. Learn More.
Payoff is invested in helping borrowers escape from debt and improve their financial well-being simultaneously. It was designed to eliminate or lower your credit card balances by combining them into one monthly payment at a fixed rate and term. They are very dedicated to helping you improve your financial state. 

Payoff Fast Facts
Loan Amounts: $5,000 to $35,000
APR: 5.99% to 24.99%
Minimum Credit Score: 640 score
Loan Type: Multi-purpose personal loans
Repayment Terms: 24 to 60 Months
Direct Lender or Marketplace: Marketplace
Turnaround Time: 2 to 5 days
Best For: Anyone looking to improve their financial state
Payoff Pros & Cons
Pros
No prepayment fees
Monthly FICO score updates
Wealth of educational resources
No late fees
Cons
No joint applications
0% – 5% origination fee
For credit card debt consolidation only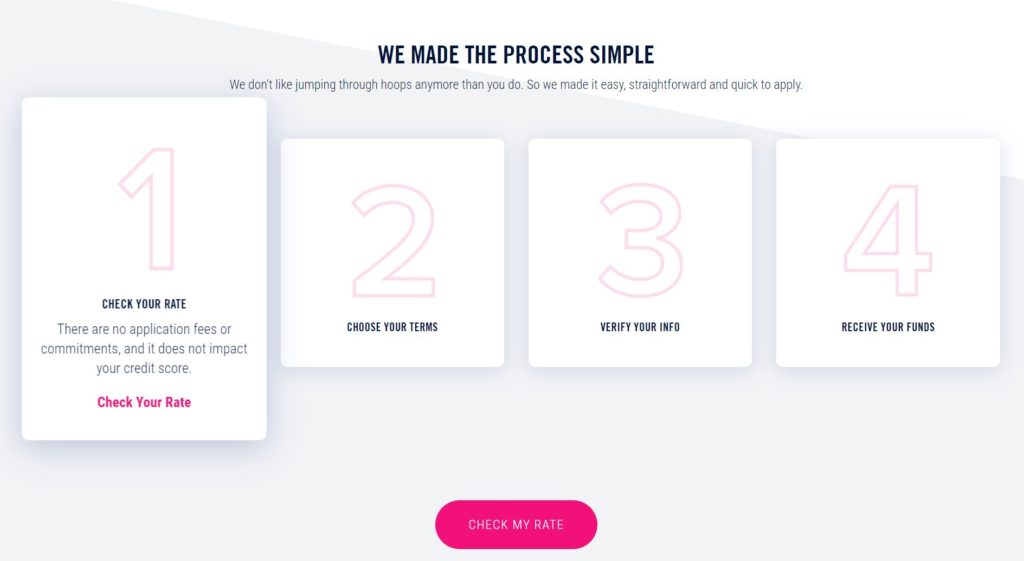 Cost of Loan
With Payoff, customers can consolidate up to $35,000 in credit card debt. They also offer extremely competitive rates ranging from 5.99% – 24.99%, and repayment options ranging from 24 to 60 months. However, they may charge an origination fee to process the loan. This fee can be between 0% and 5% and depends on things like your credit history and the loan amount.
Qualifications
To get started, there is a list of criteria you need to meet:
Be a US citizen or Permanent Resident
You must be at least 18 years of age
Valid bank account
Minimum credit score of 640
To apply for Payoff you need to have access to the following information as well:
A government-issued ID
Debt-to income ratio of 50% or less
No delinquencies on any outstanding credit
At least three years of credit history
After you have met all the qualifications, you can get started by following these few steps:
Go to Payoff's website
Click Check My Rate. If you have an invitation code, you can enter it now.
Fill out basic personal information including your contact and financial information
Create an account and read Payoff's disclosures to submit your application
After you submit your application, they will get in contact with you. If you are approved and like one of your offers, select it, and verify your information. Make sure to double-check all your information before e-signing your loan documents. Once it receives your documents, your funds should be in your account within two to five business days.
If you aren't approved, you can reapply after 30 days.
Payoff Reviews and Ratings
Payoff's BBB Rating is A+
Payoff is accredited with the BBB and has an outstanding rate of A+. Reviews are positive; however, some customers were not satisfied with their customer service and slow processing times. On Trustpilot, it scores a good average rating of 3.4 stars out of 5. Most customers were expressing how happy they were to see their credit go up 20 to 30 points within 30 days.
Things to remember
Payoff processes loans, they do not directly fund them. They work with five different lenders to fund loans: Alliant Credit Union, First Electronic Bank, First Tech Federal Credit Union, Teachers Federal Credit Union, and Technology Credit Union.
Their personal loans are only for people who want to consolidate credit card debt. It does not offer loans for any other purpose.
They do not charge you for paying off your loan ahead of schedule, and they don't charge a fee for late payments.
It features a series of quizzes and assessments that enable you to determine the state of your financial health.
Their Life portal includes articles related to credit and personal finances, the science behind the lending process, and other useful insights that can help you better understand loans and their impact on your finances.
Make sure to keep in contact with Payoff when you have any questions
In conclusion
Payoff is a great choice, as it helps consumers get the funding they need and improve their financial health at the same time. Even though their personal loans are only for people who want to consolidate credit card debt, they offer services with excellent educational resources and transparent lending models, designed to help your credit and financial status. The bottom line is, Payoff is great for anyone looking for a personal loan with great terms.