Ad Disclosure: We receive referral fees from advertisers. Learn More.

Since 2011, SoFi has worked hard to set itself apart and offer a fresh and innovative approach to lending. They offer a variety of technology-driven financial lending and money management solutions that help young professionals who are looking to build their credit through responsible borrowing, as well as aspiring homeowners or those seeking to refinance loans.
SoFi was under investigation by the Federal Trade Commission (FTC) in October 2018 for making false statements about its student loan refinancing program. The FTC alleged that they misrepresented how much borrowers could save by refinancing their student loans with the lender.
Sofi Fast Facts
Loan Amounts: $5,000 to $100,000
APR: 5.88% to 18.72%
Minimum Credit Score: 680
Loan Type: Multipurpose personal loans
Repayment Terms: 3 to 7 Years
Direct Lender or Marketplace: Lender
Turnaround Time: 24 Hours
Best For: Low cost personal loans
Sofi Pros & Cons
Pros
Preapproval without affecting credit score
No origination fee, prepayment fees, or late fees
Unemployment protection
Variety of personal loan types including student loan refinancing
Cons
Can take up to 30 days to get funded after approval
Good or Excellent credit score needed to apply
Approval can take longer than some competitors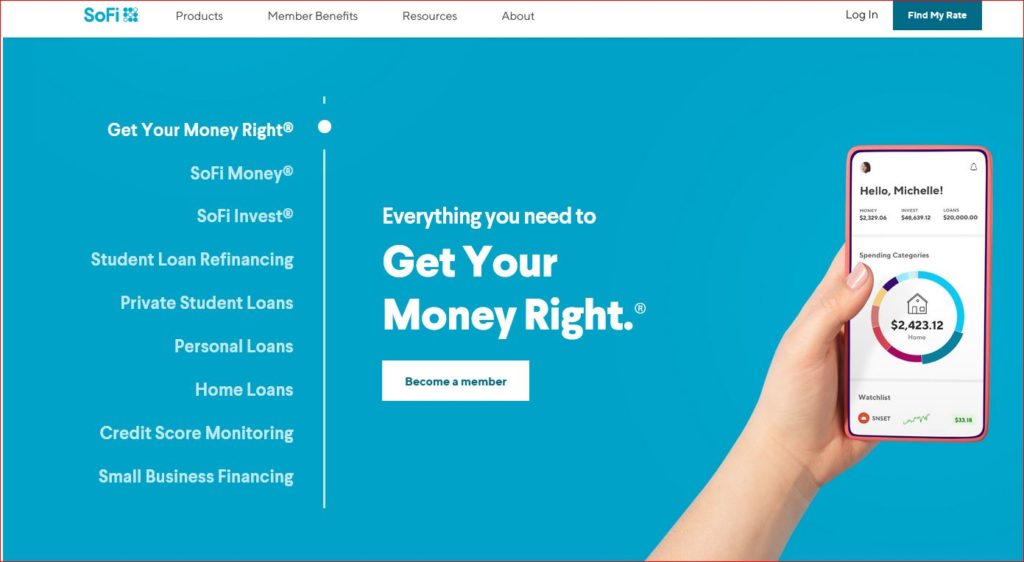 Sofi Cost of Loan
They offer flexible multipurpose personal loans ranging from $5,000 to $100,000, and competitive rates that range from 5.99% to 17.53%. Sofi's repayment options are ranging from 2 years up to 7 years. And they do not charge any fees of any kind, including late and overdraft fees – what you see if what you get.
Sofi Qualification
US citizen or permanent resident
You must be at least 18 years of age
Not a resident of Mississippi
Minimum credit score of 680
To apply for SoFi you need to have access to the following information as well:
A government-issued ID
Income or employment information
Proof of residence
Valid bank account
After you've met all the qualifications, you can get started by following these few steps:
Click the Check my rate button on this page
Enter your full name, email, and create a password. Click Continue
Enter your loan amount and loan purpose, then enter your preferred monthly payment. Click Next
Enter your basic personal information. Click Next.
Select your current living arrangement and your annual income. Click Next
Select if you would like to apply with a co-applicant. If yes, enter their information. Click Check My Rate
Once your application is processed, they will conduct a soft pull on your credit report, which will not impact your credit score. It may take several days to fund your loan, some borrowers complained of having to wait up to 30 days for their application to be approved, however, most loans are funded within a week.
Sofi Reviews and Ratings
SoFi's BBB Rating is A
SoFi's reviews are mostly positive than negative. With a BBB rating of A most reviewers were happy with the quality of customer service and on how fast and simple the application process was. On the other hand, reviews on Trustpilot are a little bit of a mix, it scores an average rating of 3.7 stars out of 5 with frequent complaints about glitches that customer service was unable to resolve.
Is Sofi Legit? Remember This…
SoFi is an online multipurpose personal loan marketplace and does not fund loans. It instead exists to aid you in searching and deciding on a suitable lender, as well as helping you compare loans.
SoFi was under investigation by the Federal Trade Commission (FTC) in October 2018 for making false statements about its student loan refinancing program. The FTC alleged that they misrepresented how much borrowers could save by refinancing their student loans with the lender.
They are a lending platform with an encryption system to help safeguard your personal and financial information. Its privacy policy covers how your information is collected. Though it might share your information with third parties— you can opt-out by calling its customer service line at 855-456-7634.
Completing the website form will not affect your credit; however, you should expect them to eventually do a credit check, which will temporarily lower your credit score.
If you become unemployed over the course of your loan, you can enter the Unemployment Protection Program. They will pause your loan payments for three months.
Make sure to keep in contact with them when you have any questions.