United Debt Counselors, formerly known as United Debt Services, is an online debt settlement company providing a variety of debt relief services across 19 states. Based in Plano, Texas, UDC has a checkered past and its share of recent consumer complaints.
On March 17, 2017, United Debt Counselors reached a settlement with the Federal Trade Commission. According to the FTC's complaint, United Debt Counselors LLC exaggerated how much money people would save using its services. The company's direct mail ads, which reached up to 100,000 consumers per week, looked like official documents from a bank or attorney and claimed that typical customers would have their credit card debt cut in half and become debt-free within 36 months.
2.0 out of 5.0 stars2.0
Highlights
You can meet an agent face-to-face
Benefit from reduced monthly payments
Trade-Offs
Settled with FTC in 2017 and were banned from making misrepresentations about debt relief and other financial products or services. According to the complaints, consumers were misled and were charged illegal advance fees.
Not available nationwide
The company pays off creditors one at a time
No BBB or IAPDA accreditation
What Is United Debt Counselors?
United Debt Counselors has a variety of debt relief programs ideal for anyone with large outstanding balances on credit cards or consumer loans.
If you're in financial turmoil but you don't want to declare bankruptcy, United Debt Counselors can negotiate with creditors on your behalf. While there will still be a negative impact on your credit score, you should pay less each month and you could clear your debts more rapidly.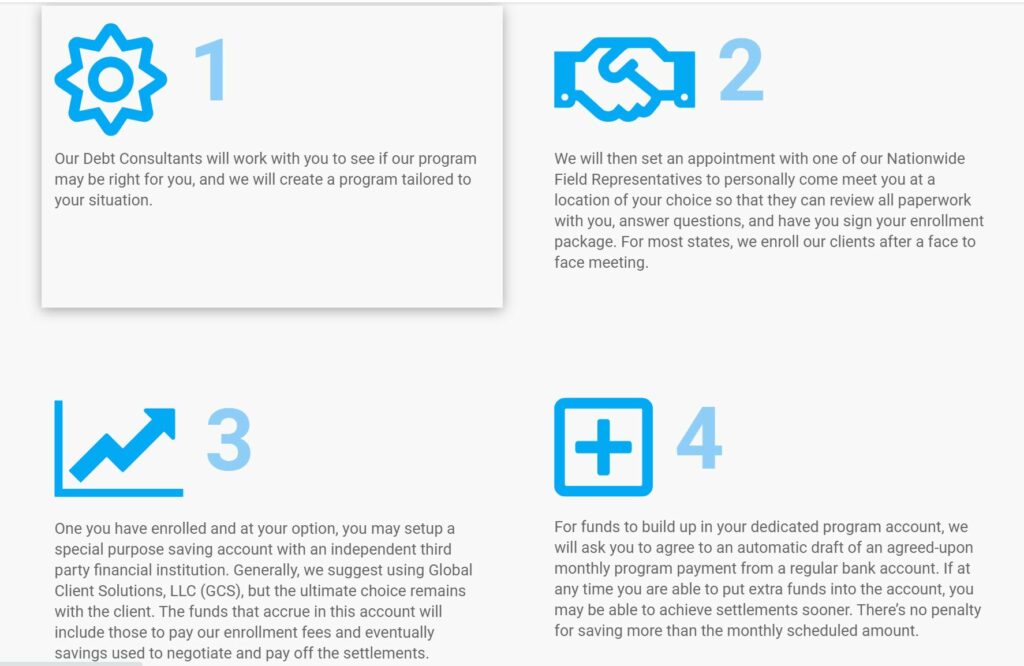 How Does United Debt Counselors Work?
United Debt Counselors will speak with each of your creditors in turn. They attempt to negotiate a reduced settlement with the creditor. If this is successful, you will then make payments to UDC instead of your creditors.
United Debt Counselors Summary
Accreditation: None
Consultation: Free phone consultation with customer services rep
Costs: Starts at 20% of your enrolled debt
Customer Service: Phone or email
Debts accepted: Most unsecured debts credit cards, consumer loans, store cards, medical bills
Free resources offered: Face-to-face meeting upon enrollment
Restrictions: United Debt Counselors only operate in 19 states
Service offered: Debt settlement through direct negotiation
Trust ratings: and 7.2 Trustpilot score
Turnaround time: 24 to 48 months
How Much Does It Cost To Use United Debt Counselors?
Costs, as with most debt relief companies, vary from case to case. You can expect to pay fees starting at 20% of the total debt you enroll with United Debt Counselors.
These costs are not paid in advance. You'll pay nothing out of pocket. Instead, all fees are factored into a single monthly payment. This means you could not only pay less each month and clear your debts quicker, but you'll also avoid a great deal of hassle since you won't be making payments to multiple creditors.
What Could You Save With United Debt Counselors?
The company speaks about potential savings in the range of 30% to 40%.
We would suggest that these calculations are probably made before fees. Typically, debt settlement companies can reduce the amount you repay by roughly 20% once fees have been paid.
Remember, settled debt is often taxable. Make sure you explore the implications of any tax burden you might face as a result of clearing your debts in this way.
How To Sign Up With United Debt Counselors
To get your free consultation with a United Debt Counselors customer services rep, perform the following steps:
Visit the United Debt Counselors website
Click Get a free quote
Complete the amount you owe
Choose your state of residence
Enter your personal details then click Submit
What's Next?
Assuming you live in one of the 19 states that United Debt Counselors service and your unsecured debt meet UDC criteria – there is no stated minimum debt considered ­– you can expect a call as scheduled from the customer service representative.
During this free consultation, you can investigate your debt settlement options and ask any questions you might have. Be prepared for this call. Write down anything you need to know so you don't forget.
Once you have returned the agreement and enrolled your debt with UDC, they will negotiate with your creditors seeking a reduction in the amount owed. If these negotiations are fruitful, you then make a single monthly payment into a savings account UDC will help you set up. You no longer need to make payments to your creditors, nor do you need to communicate with them.
Verdict
Debt settlement in general terms is simply one solution to rampant unsecured debt that may or may not be appropriate for your circumstances. You should always seek professional advice so you are clear on the implications, positive and negative, of settling your debts using a company like United Debt Counselors.
Assuming you do your due diligence, United Debt Counselors has a checkered history with the FTC and too many consumer complaints for us to recommend.