In addition to research tools, educational content, expert analysis, and more, StockRover offers investors access to high-quality tools for stock analysis and screening. One of the most comprehensive screening criteria and research qualifications we've seen on Stock Rover goes far beyond standard analysis tools. With Premium Plus access, users can, for example, filter investment opportunities based on over 650 metrics.
StockRover has four different plan levels, confusing new investors who aren't sure which tools they'll use. In addition, free accounts provide users with a free Premium Plus functionality trial, enabling them to better understand Stock Rover's setup. In less than 60 seconds, we could open a free account with Stock Rover.

Who should use Stock Rover?
The Stock Rover app is a great tool for hands-on investors who want to manage their stock portfolio in their way. Even though it has so many features, you can start with a lower price tier and work your way up as you learn more about managing your portfolio.
A frequent trader will love StockRover because it provides up-to-date alerts and real-time data comparison tools. StockRover provides tools and data to help investors make more informed decisions, even though day trading is risky.
Who should not use Stock Rover?
Those who prefer auto-pilot. If you're a "set it and forget it" investor, StockRover's tools and data might interest you, but you won't use them much. Stock Rover isn't a good fit for people who prefer to keep their investments on autopilot and do not see themselves changing course because of their level of caution.
The tool may not be suitable for people with only a 401k. If you only have a 401k or similar retirement plan, you may not want to play around with it. While the free trial could be useful for helping you choose from a few different managed portfolios, if your employer does not give you much power over the mix of stocks, ETFs, and bonds in your retirement account, you may wind up just becoming annoyed at them after exploring what else is out there via Stock Rover.
How does Stock Rover work?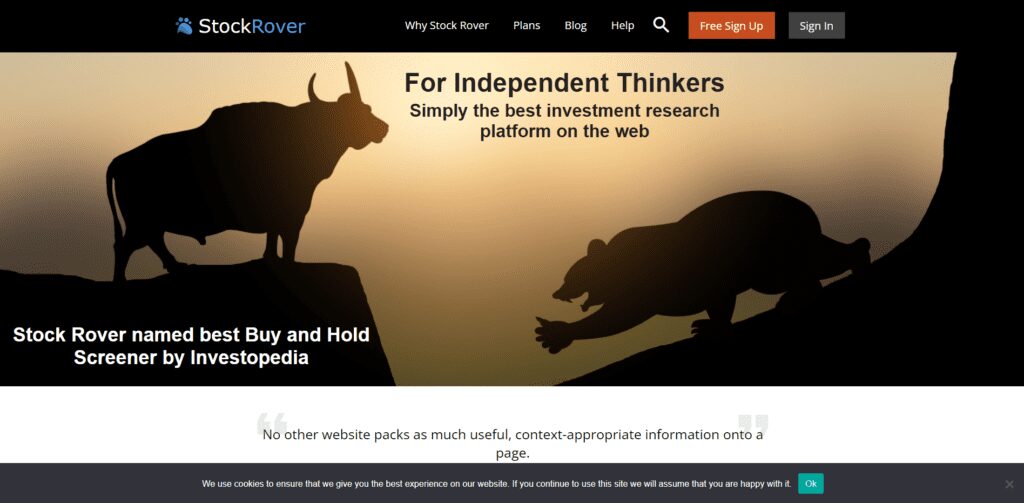 It's easy to start by registering and learning about different stocks. To create an account for free, you must provide an email address, username, and password. Stock Rover says that no account information will be sold or distributed.
A brief questionnaire will help the system better understand you as an investor before you get access to your 14-day free trial of Stock Rover Premium Plus! Once you share your investment expertise and where you heard about the platform, you're in!
The Charts, Panels, and Numbers on your screen might overwhelm you when you first open StockRover. As it may seem overwhelming at first, you can decipher what information is being presented and what you should take away from the various stocks you're exploring if you focus on one window at a time.
Pros
Tools for investment analysis that are comprehensive
Premium Plus plans include more than 650 screening criteria
Linking your brokerage account and opening an account is simple.
Cons
Initially overwhelming.
Currently not free.
It is better to use a desktop.
What is the cost of Stock Rover?
The price varies depending on which version you choose (there are three subscription options) and how frequently you use StockRover. StockRover offers three pricing levels: essentials, premium, and premium plus. The free plan is just a 14-day trial of the premium plus plan. Read more about each plan below.
Stock Rover Essentials Plan
$7.99/month, $79.99/year, or $139.99/2 years
Stock Rover Premium Plan
$17.99/month, $179.99/year, or $319.99/2 years
Stock Rover Premium Plus Plan
A monthly fee of $17.99, a yearly fee of $279.99, or a two-year fee of $319.99
FAQs

Does Stock Rover Only Work On Desktops?
In 2014, it launched its mobile app. Although it's not as powerful as a desktop client, the mobile app is still an excellent tool for conducting research and analysis on the go.
Is stock research necessary?
To determine if you have long-term use, you should look at the free plan to see what it can do for you in 14 days. It depends on how actively you are interested in your investments. It is crucial to decide if you will use it long-term.
Does Stock Rover require any software download?
In the first instance, Stock Rover is a web-based client. You will have to download the mobile app if you wish to use it; however, Stock Rover is supported for PCs and Macs, Androids and iOS, and across Chrome, Firefox, Safari, Internet Explorer and Microsoft Edge.
Stock Rover Review
Stock Rover Review
Using Stock Rover, you can analyze, research, and screen stocks based on over 650 analysis criteria and screening tools. In addition, you will be able to create your custom screens.
Stock Rover's platform might be overwhelming for beginner investors, but experts and those looking for a more cohesive way to take in data will likely love it. We hope Stock Rover will expand its mobile and customer service offerings. 
Comments Rating
( reviews)