Who Started Legal Zoom?
In 2001, Robert Shapiro founded LegalZoom. Robert Shapiro is considered one of America's most brilliant and influential attorneys. He put together the legal team that successfully defended OJ Simpson of murder.
So, it's about time to get yourself set up as a Limited Liability Company with LegalZoom.
In some cases, small businesses are best advised to form an LLC. This can widen your taxation options and protect your personal assets like your house and car.
Unless you know the legal process intimately, you should pay a professional to do it for you. It doesn't cost a huge amount and can save you throwing good money after bad on pricey attorneys.
An LLC setup firm streamlines the process. They've got a system that works well and works quickly.
Some companies provide a better service than others. And some companies have such shocking customer service, it can prove more hassle than it's worth.
We've done the hard work so that you don't have to, then. Based on customer satisfaction, standards of customer service, cost-effectiveness, and value for money we've assessed pretty much most of the LLC set up providers in the US.
Here's what we found about LegalZoom…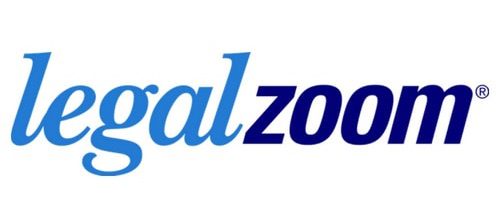 What Is LegalZoom?
LegalZoom is an online legal service that's been going since 1999.
The company's mission is to provide legal help for all average Americans.
The bulk of the company's customers are small businesses that need legal assistance with estate planning, business formation, and intellectual property protection.
A 100% satisfaction guarantee is offered for customers who aren't happy with LegalZoom's service.
The company has continued to expand and has now reached over 4 million customers. Now that's a big company.
It's often the case that when a company gets so big, it can get too big. Standards of customer service drop, they start providing less personalized service and mistakes are more likely to happen.
So is this case with LegalZoom? Are their prices competitive? Do they care about their customers as they claim on their website?
Let's check them out.
LegalZoom Packages
Annoyingly, to learn about LegalZoom's pricing structure you've got a long-winded step-by-step data entry task to perform before you get even a whiff of a price.
You must first enter your desired company name, then state.
We're not impressed that you must offer your personal details (which most likely are being sold off to "partners"). This is intrusive, sneaky, and tedious.
It then asks for your phone number and email address with a note saying they may contact you. No thanks, we don't want your spam.
It's not going well so far.
A few clicks on – aha! A price! It says $249 a year for a registered agent which is a legal requirement.
Next clicks there are for essential documents, business services, and legal protection, all of which are optional (we think, but we're not sure)
You can select or proceed with "No thanks."
You're finally invited to a free 10-day trial which then becomes a recurring monthly payment of $39.99.
The next stage is another 10 days free trial for total compliance. This spirals into a yearly payment of $280.
At the end of these steps, we are presented with 3 packages: Economy, Standard, and Express Gold.
Economy ($79 excluding state fees)
The Economy package is priced in line with the market average.
For $79, you can expect your setup within 30 days.
All communications with Secretary of State
Association preparation / "certificate of organization"
A 30-day trial of ClientBooks online bookkeeping platform
Comprehensive LLC welcome packet
Digital Tracker
Federal name availability search
1-2-1 customer support
LLC filing
LLC Next Steps Guide
LegalZoom Peace of Mind Review
Processing all final paperwork
Tax Savings Analysis phone consultation for 30 minutes
Standard ($329 excluding state fees)
For an extra $250, you get the Economy package with:
Founder's kit (a professionally produced printout of your documents)
Business Newsletter
You'll also have your LLC set up within 15 days.
Express Gold ($349 excluding state fees)
For an extra 20 bucks, you'll get everything in the Standard package along with:
Exclusive LegalZoom discounts
Express shipping fastest delivery
7 days a week, lifetime customer support
LegalZoom VIP Processing
Priority filing (within 7 to 10 days)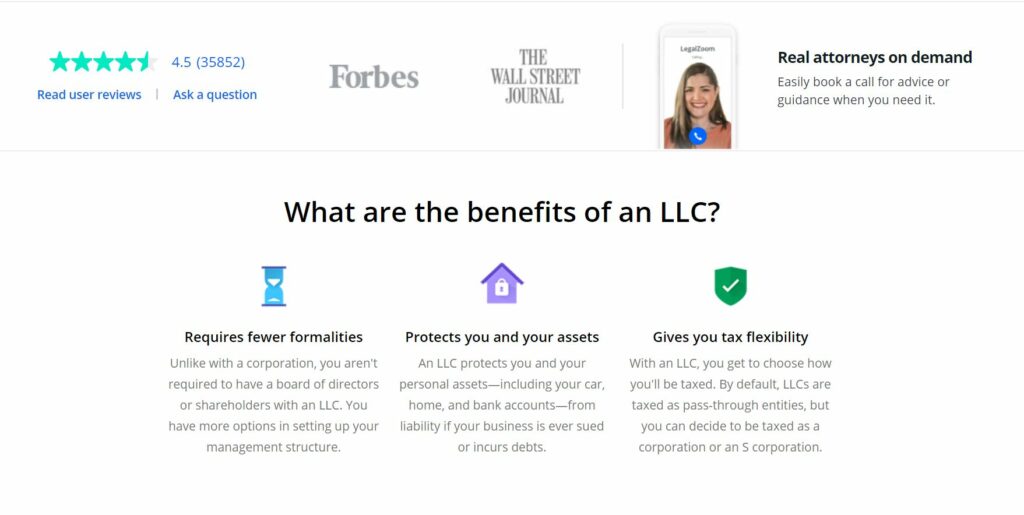 LegalZoom Pros:
Been in operation since 1999
Money-back guarantee
Order tracking available
LegalZoom Cons:
Confusing online ordering system
What Is LegalZoom Customer Service Like?
Judging by the Trust Pilot reviews, LegalZoom customer service can be patchy. While the company does receive good reviews, some negative feedback is enough to put you off.
Their customer care phone lines are open from 7 am to 5 pm Monday to Friday and Weekends 7 am to 4 pm PT.
LegalZoom: Customer Opinion
We sieved through Trust Pilot customer reviews of Legal Zoom to see if they're worth any salt. Here's what we found.
David, 6/11/2020
1.0 out of 5.0 stars
Legalzoom is the solicitors that my buyers are currently using for conveyancing and can honestly say I'm astonished at their complete lack of customer service, sense of urgency, and decency. It seems to take at least a week to do what other solicitors would expect to have done in a few hours and they have constantly ignored emails from various people asking for updates. They're responsible for at least a month of delays already. Obviously not coping with their workload, either incompetent or ignorant. I'd avoid at all costs."
Kate Elizabeth Bell 5/19/2020
1.0 out of 5.0 stars
"Would not recommend this company. Completion was agreed Friday 15th May and still, no completion has gone through. No return phone calls can never speak to file handler, 1-hour hold to try and speak to someone, numerous excuses regarding delayed completion. No correspondence with other side solicitors regarding update for delayed completion. Should not have to tell a company how to do their jobs. I would give zero stars if I could!"
Catherine 3/17/2020
1.0 out of 5.0 stars
"My experience with this firm has been painful. They have delayed the entire process of my application. Some of the legal papers presented by them had numerous errors. In one instance I got placed on hold for over 15 mins with not so much as an intermittent check in until I hung up. The main case worker avoided contacting me despite my numerous calls and messages. The process unfortunately is still ongoing and has heightened my anxiety and stress levels. What was meant to be the start of an exciting journey for my husband and I, has turned into a living nightmare by some of the most unprofessional of staff I have ever met."
Mia 3/7/2020
1.0 out of 5.0 stars
We have has a very negative experience with this company, the communication was lacking causing a number of problems along the way. Case handlers were inexperiences and lacked knowledge, we were told to provide information that was needed, but upon talking to another solicitor this information was not needed and in fact impossible to acquire! Staff were rude on the phone and not at all helpful. Important signed documents were lost.
After finally completing we received the letter from our new mortgage provider with the incorrect details on!
We would not recommend this company to anyone else, avoid the stress and go elsewhere."
7/13/2020
Appalling customer service, and very expensive. They were recommended by my estate agent for the sale of my property, during the first week they sent details to me that were incorrect twice. The portal they require you to use is poorly designed and very unclear, the information they request is the type that any "real" solicitors will do for you. When I tried to call for clarification on issues the call is answered by a call centre who have no legal knowledge. I made one call to a local solicitor and within 30 minutes he made more progress on my sale than Legalzoom had in a week and he charged 20% less."
Leila Mazuroniene 11/27/2020
1.0 out of 5.0 stars
"Really BAD service from Legalzoom!
My really bad journey with Legalzoom continuous after I have purchased the flat with their assistance. I have paid the final two ! bills which were issued to me by Legalzoom including service charge upfront up to March 2019 and now to find out a month later that I have to pay all over again as my money have never reach the local council and payments are outstanding! Have contacted the council and been told that it is to do with my solicitors. Have contacted Legalzoom 2 weeks ago to sort it out but so far no issue was resolved and only promises to get back to me so far…"
FAQ
1) How long do I wait for my LLC to be setup?
to 5 weeks, depending on which state.
2) How much does it cost to set up an LLC?
It's $99 to incorporate, but you then pay a membership subscription of $39.99 a month after the free month trial ends.
3) Is the pricing structure any good?
To find the pricing information you must enter your business details which we find a little intrusive. You then click through a number of add-on options before you get to the main package info. The package information is clear.
The Verdict
LegalZoom's standard of customer service leaves plenty to be desired.
When it's your money at stake, you don't want to take any chances on shoddy service. Some customers have lost money by using LegalZoom.
You may want to look elsewhere. We really cannot recommend doing business with this company.
Compare LegalZoom to the Best LLC Registration Companies of 2020
Clearone Advantage
,
Credit Associates
,
Credit 9
,
Americor Funding
,
Tripoint Lending
,
Lendvia
,
Simple Path Financial
,
New Start Capital
,
Point Break Financial
,
Sagemore Financial
,
Money Ladder
,
Advantage Preferred Financial
,
LoanQuo
,
Apply.Credit9
,
Mobilend
LegalZoom
LegalZoom Review
Legal Zoom's standard of customer service leaves plenty to be desired. When it's your money at stake, you don't want to take any chances on shoddy service. Some customers have lost money by using Legal Zoom. You may want to look elsewhere. We really cannot recommend doing business with this company.
Comments Rating
( reviews)