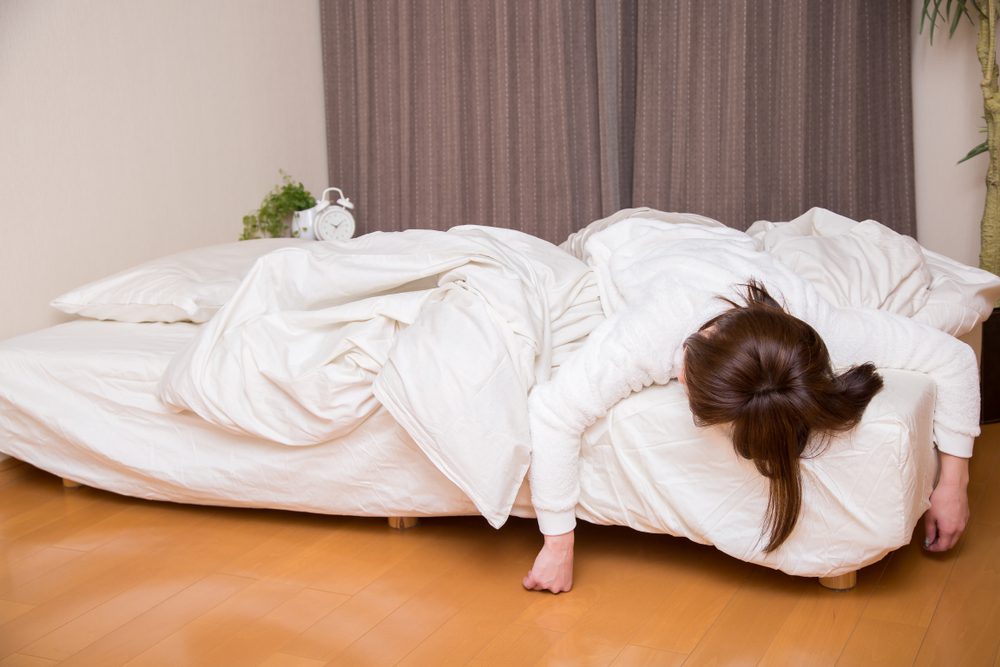 Ad Disclosure: We earn referral fees from advertisers. Learn More

Amerisleep has been producing mattresses since 2007 and they have a deep product bench.
The 5 Amerisleep mattresses are available in hybrid and all-foam variants. Firmness levels vary from soft to firm, so there's something for everyone in this line.
Smack in the middle comes the Amerisleep AS3, the core focus of today's Amerisleep mattress review.
Before outlining how this mattress is made and how it feels, who should buy the Amerisleep and who should give it a swerve?


Who Should Buy The Amerisleep
Couples will find the Amerisleep AS3 a smart choice. Motion is efficiently isolated so you shouldn't disturb your partner in the night even if you toss and turn frequently. This particular model is close to whisper-quiet when bearing weight
Are you fit and active? Are you a professional athlete? If so, the time your body spends in bed can be put to even better use. The Celliant material used on this mattress is reputed to help boost circulation. This can help you to recover more rapidly after strenuous exercise
Lightweight and average sleepers will find this mattress conforms closely to the body while offering a medium level of firmness
Who Should Avoid The Amerisleep
Anyone who tends to sleep hot is likely to find the Amerisleep absorbs a bit too much body heat. You could opt for the hybrid version of this mattress is you need a helping hand staying cool at night
You won't get the spring and bounce of a hybrid or latex mattress. The AS3 is all-foam so conforms closely. If you're hoping for an exceptionally responsive mattress with the Amerisleep, you'll come up short
We'll double down on how this mattress is made next…
Amerisleep Complaints
John Shoemaker, VA – May 13, 2020
I think the mattress might be good, finally received it today but their customer service is deplorable. Had to call several times to get status even though I signed up for their notification (my status still shows "fulfillment ") and of course each time you get a different story. One gave me a tracking number for a customer in Oklahoma, another told me my warranty would be voided if I didn't use their foundation, a third told me my mattress was held up in manufacturing and the last person gave me another tracking number that showed my mattress was held up at FedEx, not manufacturing.
All of there answers were proven to be incorrect with apparently no accountability. Here's to hoping the mattress was worth all the aggravation getting it.

Jodie Head Boullon – July 24, 2020
STAY AWAY! NO CUSTOMER SERVICE! DO NOT HONOR WARRANTY! We ordered a mattress from them in July of 2018. Within months the mattress started developing indentations on each side where my husband and I sleep. We contacted customer service and followed their instructions, only to be told they couldn't tell by photos that anything was wrong with our mattress. We got frustrated and didn't contact them again until the mattress finally got so bad that we can't sleep in it. Once again we sent new photos, taken per their instructions, waited two weeks for a reply, called back and were told only one picture would open and that it was taken incorrectly. Also given the excuse that Covid has then backlogged.
There were 3 different women in the call center, laughing and talking so loud that it was almost impossible to carry on a conversation with Lisa, their CSR. Clearly no social distancing going on in the call center to go along with the Covid excuse we were given. They have absolutely NO customer service!
They do not email or call as promised! We aren't talking cheap mattresses here! Please do not purchase from them unless you can afford to just trash your defective mattress! The superior warranty they promise is a complete lie! I will now be filing a complaint with the BBB against their company! What a true letdown to a hardworking American family who trusted the promises this company made!
Josh Alperin, NH – February 28, 2020
This is quite possibly the worst company I have ever dealt with. I ordered a queen size AS3hybrid and mattress protector. Both items were to ship the next day. I quickly realized their mattress protector was over priced and called the next day to cancel that and request a refund (2/18). I was told it would be processed immediately because it has not shipped yet. Today (2/28) it still has not been processed and I still do not have my refund.
The mattress took over a week to ship, not "next day" as advertised and now I find out the mattress is the incorrect model. I ordered a queen, they charged me for a queen, and they sent me a full. I sent them pictures of the dimensions to prove this and apparently that wasn't good enough for them. I decided to just ask for a refund and to return the mattress. During this conversation it was discovered that they still haven't even processed the refund for the mattress protector (10 days after I requested the refund). This company is garbage, their customer service is worse. Do not go through the headache.
Construction
Cover
Comfort Layers
Transitional Layer
Support Layers
Cover
Regardless of whether you opt for the Amerisleep AS3 or the hybrid iteration of this mattress, they both feature the same cover. The soft and stretchy material feels great and has plenty of give. Composition is 77% polyester, 21% Celliant, and 2% Spandex.
Celliant material is engineered to retain body heat. This is then converted into infrared energy before being transmitted back into the body as energy. Real-world effects are improved circulation, better temperature regulation, and reduced aches and pains.
Comfort Layers
The 3" comfort layer is made from Bio-Pur. This is the company's proprietary memory foam blended from polyurethane and plant-based matter. This material has a medium feel and conforms closely to the body.
The mid-density open-cell foam retains less body heat so you should sleep slightly cooler.
Transitional Layer
Both this mattress and the hybrid share a 2" transitional layer of high-density polyfoam. This material is dense and firm and will stop you from sinking down too far into the mattress.
Support Layers
7" of high-density polyfoam at the core of this mattress offers plenty of support for most body types.
The foam is dense and firm so mitigates excessive sagging. Edge support, however, is disappointing. Bear this in mind if you sleep near the edges of the bed.
Pocketed coils give great stability. These coils are divided into 3 zones with thicker coils under the hips and lower back. Your shoulders, legs, head, and neck will be supported by thinner coils with a higher gauge.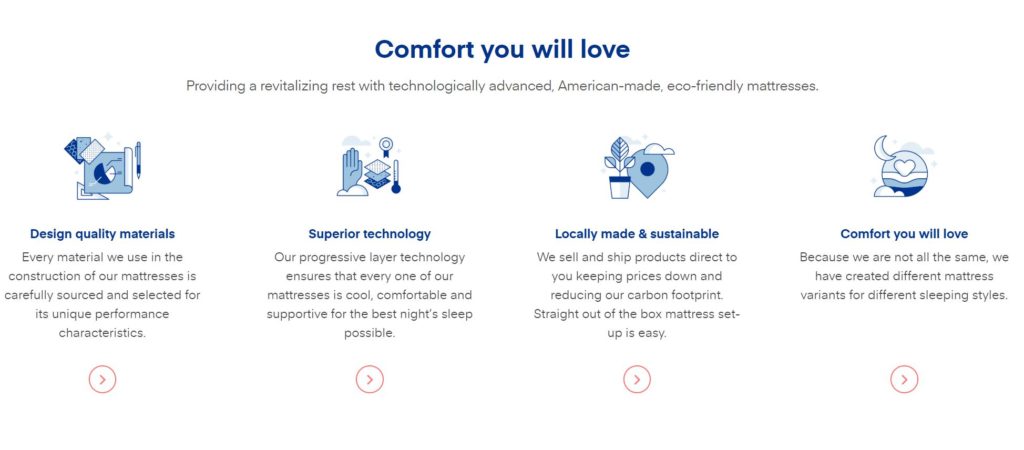 Firmness and Feel
The Amerisleep AS3 has a medium feel.
The thick layer of memory foam means the mattress responds quite slowly. The Amerisleep conforms closely, so you'll experience that cocooning cradle that can help to reduce pressure points.
If you're looking for more support and increased responsiveness in your mattress, the Amerisleep hybrid would make a worthy substitute.
Mattress Height
Both the AS3 and the hybrid mattress from Amerisleep stand 12 inches tall. This means they are each classified as high-profile mattresses.
The extra height means there's space for a thick comfort layer without impacting on the support layer.
Verdict
If you choose an Amerisleep mattress, you'll have multiple models at your disposal. You can also deal with a company that's been in business for over a decade. When you're looking to buy a bed-in-a-box, brand heritage counts for a lot.
The medium feel of this mattress should appeal to most sleeping positions. Couples prone to disturbing one another moving around in the night will find the motion isolation leads to no noise and no disturbances.
If you want a supportive mattress that doesn't feel uncomfortable, the Amerisleep AS3 is well worth popping on your shortlist. We would also suggest you take a look at the hybrid version, so see which takes your fancy.
Amerisleep
Amerisleep Review
The medium feel of this mattress should appeal to most sleeping positions. Couples prone to disturbing one another moving around in the night will find the motion isolation leads to no noise and no disturbances. If you want a supportive mattress that doesn't feel uncomfortable, the Amerisleep AS3 is well worth popping on your shortlist. We would also strongly recommend the hybrid version, so see which takes your fancy.
Comments Rating
( reviews)