Ad Disclosure: We receive referral fees from advertisers. Learn More.
Casper is a highly reputable US-based manufacturer specializing in mattresses, bedding, and accessories. The brand was founded back in 2014.
With 5 mattresses in the line, our focus today is on the flagship Casper Mattress. This is sometimes known as the Casper Original or plain Casper.
Categorized as a mixed-foam mattress, who should buy the Casper and who should look elsewhere?

Who Should Buy The Casper
Fantastic isolation of motion transfer means the mattress should appeal to couples. If the movements of your sleep partner often wake you in the night, you should find this happening less with the super-quiet mattress.
Are you looking for that sweet spot of support and balance? This mattress provides pressure relief to the most sensitive areas without feeling too firm as a result
The degree of firmness and the close-conforming nature of the mattress means it's best suited for sleepers under 230 pounds
If you typically sleep hot in all-foam beds, you should find some relief with this mattress. Sure, somebody heat is absorbed, but compared to most all-foam alternatives, you'll benefit from a relatively cool night's sleep
Who Should Avoid The Casper
Larger users are liable to find this mattress too unsupportive
If you're looking for an extremely responsive mattress, the mattress comes up short. You might get a touch more responsiveness than all-foam alternatives, but you won't get that trademark bounce you expect from hybrid or innerspring mattresses either
That should give you an accurate idea of whether the Casper is one for the shortlist or one to avoid.
We'll highlight the way this mattress is built next so you can see how this will impact the way you sleep.
Construction
Cover
Comfort Layers
Support Layers
Cover
If you're concerned about the environment, you'll love the eco-friendly cover to this mattress. Every cover uses up to 45 recycled plastic bottles with the blend of recycled polyester and upcycled cotton complementing polyester, rayon, and Lycra.
You cannot remove the cover so spot clean with mild detergent in the event of any staining.
Comfort Layers
You get a pair of comfort layers with the Casper Mattress.
The top layer is 1.5" of polyfoam. This material is highly responsive, more so than memory foam. The result is a light but noticeable bounce to this mattress.
The secondary memory foam comfort layer is zoned. This means different body parts can receive varying levels of support.
Overall feel is soft. You also get a fair balance of pressure-relief and contouring without losing out on support.
Support Layers
The core of this mattress is composed of 7" of high-density polyfoam. This support layer stops the softer layers above from sagging too much, and at the same time adds stability.
The support layer also stops sinkage when you're getting in and out of bed.
Now you can see how the Casper Mattress is made, how does it feel when you settle in to sleep?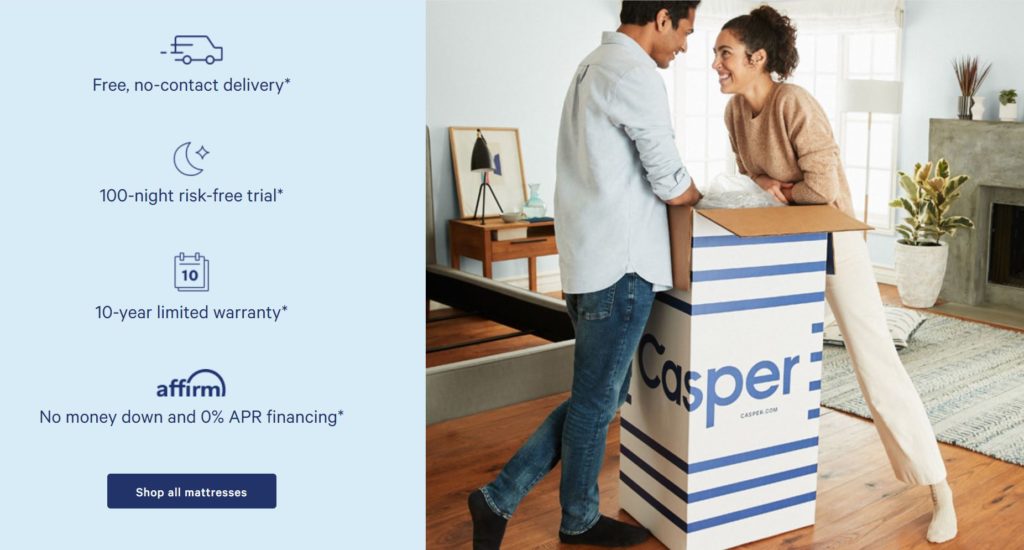 Firmness and Feel
This mattress has a medium feel.
If you opted for a memory foam bed with a similar firmness rating of 5, you might find it conforms too closely to your body. At the same time, you could feel support is lacking. You'll benefit from more cushioning and more support with the Casper thanks to the polyfoam layered over the memory foam.
The overall feel and firmness means this mattress is ideally suited to lightweight and average weight sleepers. Anyone weighing over 230 pounds is likely to find the Casper will sag too much while potentially impairing spinal alignment.
Mattress Height
The Casper Original is 11" thick making the mattress just slightly above average height for its class.
Packing a thicker than average base layer, the result is a super-supportive mattress for most body types and sleeping positions.
Verdict
As outlined at length, the Casper is best for lighter sleepers who should find the medium-firm mixed foam mattress is comfy and supportive while also not running too hot.
The expected lifespan of this bed is 7 years, above average for a mixed foam mattress. We feel this makes the Casper Original a smart bet if you're looking for quality without spending a fortune.
All-foam mattresses normally boast excellent motion isolation. Even by these standards, the Casper is impressive so you shouldn't disturb your partner in the night.
There is little else we can find to knock this model. Enjoy a dream-filled sleep every night for years if you treat yourself to the Casper when you need an upgrade.