DreamCloud is specialist manufacturing just one mattress, a hybrid model packing 6 layers of foam and memory foam. The company has poured all their expertise into this single mattress and it shows.
In addition to the DreamCloud mattress, the company also produces a wide range of bedding along with striking bed frames.
This medium-firm hybrid is particularly supportive if you're a heavyweight sleeper. You'll enjoy a firmer feel with spinal alignment encouraged.
We'll kick off by summarizing who should buy the DreamCloud and who should consider a different mattress.

4.0 out of 5.0 stars4.0
Who Should Buy The DreamCloud
Back sleepers will appreciate the firmness of this mattress as well as the lumbar support it offers as a result
If you suffer from chronic back pain, the DreamCloud occupies that sweet spot between providing enough firmness without sacrificing the give and feel completely. With the pressure between your hips and shoulders relieved, you should find your spine is able to align itself naturally
For anyone struggling to get in and out of bed due to chronic pain, the robust edge support means the mattress won't buckle if you put your weight on the edges
All heavier users would benefit from this mattress. The thick comfort layers and the efficient transitional layers give you all the support you need where conventional mattresses might let you down
Who Should Avoid The DreamCloud
Just as this mattress suits heavyweight sleepers, so lighter users under 130 pounds might find the feel too firm for comfort
Side sleepers might not get the comfiest positioning with this mattress
Anyone looking for a mattress that hugs and cradles the body will be disappointed with the DreamCloud
How is the DreamCloud made, then?
Construction
Cover
Comfort Layers
Transitional Layer
Support Layers
Cover
You get a top and bottom cover with the DreamCloud. Up above is the luxury of Mongolian cashmere. Highly breathable, this cover ensures that moisture is nicely wicked away. The lower cover stops the bottom of the mattress shifting around as you sleep.
Comfort Layers
Here's where the DreamCloud comes into its own. The 1.5" Euro top sees all the comfort layers bundled together with quilted polyester. 1" of polyfill gives immaculate cushioning. This is strengthened with 0.5" of padded polyfoam for added firmness.
Beneath this, there's a gel-infused layer of memory foam. This provides extra support for all high-pressure areas.
The memory foam on the DreamCloud is slow-responding while delivering a touch of contouring for good measure. You can expect some pressure absorbed, but you won't get the same cradling feel as you would with an all-foam mattress.
Transitional Layer
2.5" of polyfoam acts as a buffer between the supportive core and those softer comfort layers.
Support Layers
You get 2 support layers on this mattress containing 8" of innerspring coils and 1.5" of polyfoam
The pocketed coils are supportive and responsive. They promote airflow while also keeping motion transfer to a minimum.
Edge support is amply provided by higher-gauge coils where it counts. This attention to detail is impressive.
As outlined above, the DreamCloud is a great mattress for anyone suffering from back pain or chronic pain.
How does the overall feel and firmness shape up, then?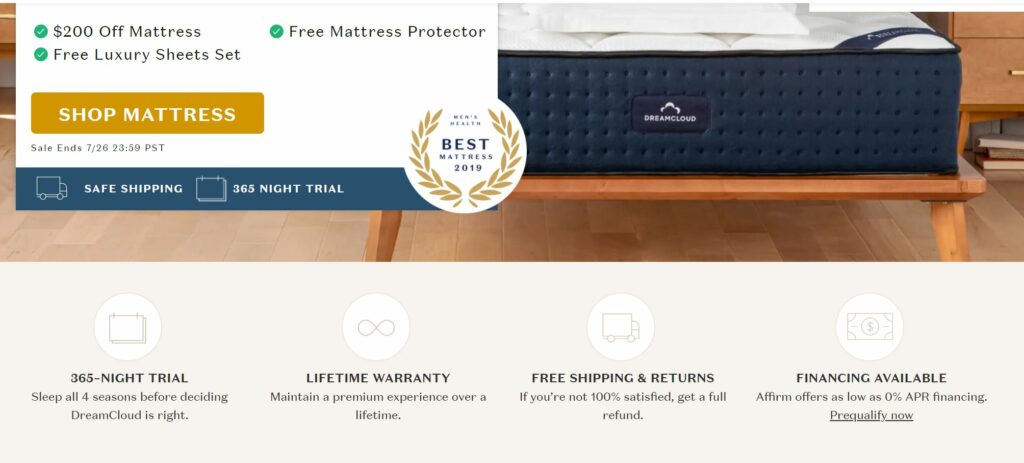 Firmness and Feel
There is a single firmness option with this mattress and it's medium-firm. The manufacturer rates it at 6.5/10 on the firmness scale.
No mattress works for everyone, but the DreamCloud comes pretty close to achieving universal appeal.
Support is outstanding for anyone struggling with aches and pains. You might not get that body-hugging you would with all-foam, but you'll do wonders for your posture and spinal alignment.
Mattress Height
At 15" high, the DreamCloud is substantially thicker than the average 10-incher.
The primary advantage of this added height is how easy you'll find getting in and out of bed.
Verdict
Most sleepers will find the DreamCloud delivers a comfortable night's sleep while ensuring that pressure points are relieved and your back gets the support it needs.
Where many mattresses exhibit too much sinkage for larger users, heavy sleepers won't find any such issues with the DreamCloud. Throw in impressive edge support and this model is ideal if you find regular mattresses leave you wallowing.
Lighter users are not ruled out either, although anyone weighing less than 130 pounds might find the mattress too firm. The same applies to side sleepers.
Overall, we feel the DreamCloud represents exceptional value and creates a sleeping environment that's both remarkably supportive and surprisingly comfortable: what's not to love?
Clearone Advantage
,
Credit Associates
, Credit 9,
Americor Funding
,
Tripoint Lending
,
Lendvia
,
Simple Path Financial
,
New Start Capital
,
Point Break Financial
,
Sagemore Financial
,
Money Ladder
,
Advantage Preferred Financial
,
LoanQuo
,
Apply.Credit9
,
Mobilend
DreamCloud
Comments Rating
( reviews)