Ad Disclosure: We receive referral fees from advertisers. Learn More.
Helix Sleep, sometimes simply referred to as Helix, is a US-based company specializing in mattresses, bedding, and accessories.
If you head to the manufacturer's website, you can complete a sleep quiz. Results will determine which Helix mattress would make the best fit for your weight, sleeping position, and comfort preferences.
Today, we'll take a broad view of the 6 different hybrid mattresses in the deep line of products. Each is designed for a type of sleeper so you should get a personalized sleeping environment with relatively little fuss.
Before we probe construction, firmness, and feel, who should buy this mattress and who should avoid it?

Who Should Buy The Helix
Anyone uncertain about which type of mattress to buy would be well-served by completing the quick online quiz with Helix. Even if you don't choose to buy a mattress, you should develop a better understanding of the type you need
Do you sleep hot? If so, you'll find Helix mattresses offer a particularly cool sleeping environment. Robust airflow through the layers of coils ensures you won't get overheated
Are you looking for a bargain? Who isn't, right? Despite impressive performance and build, you Helix mattresses are priced very competitively
Who Should Avoid The Helix
If you're a dyed-in-the-wool fan of memory foam, this mattress will leave you disappointed. You don't get that same close-conforming feel with the hybrid
Now, before we look at how this mattress is made, a few words about the different types of this hybrid.
Types of Helix Hybrid Mattress
There are 6 variants of the Helix hybrid:
Sunset (soft)
Midnight (medium)
Twilight (firm)
Moonlight (soft)
Dusk (medium)
Dawn (firm)
These can be roughly cleaved into two groups. With the first 3 mattresses on the list, you get memory foam comfort layers along with a polyfoam transitional layer. The core is made from pocketed coils.
The second group of 3 mattresses have proprietary Helix Dynamic Foam in place of memory foam. This is a polyfoam.
A bit more about the way these mattresses are built, then…
Construction
Cover
Comfort Layers
Transitional Layer
Support Layers
Cover
All regular Helix mattresses have a twin-layered polyester cover. This gives the mattress a soft and stretchy feel.
You cannot remove covers on a Helix mattress. In the case of any staining, try spot-cleaning with gentle detergent.
Comfort Layers
Materials of the comfort layers vary from model to model.
The Sunset, Twilight, and Midnight models come with a 2" layer of gel-infused memory foam. This is low-density and absorbs body heat efficiently.
The Moonlight, Dawn, and Dusk mattresses have a 1" comfort layer of Helix Dynamic Foam, a proprietary polyfoam.
Transitional Layer
A further layer of Helix Dynamic Foam serves as a transitional layer. This stops you from sinking into the pocketed coils below…
Support Layers
The core of all variants of this mattress are packed with 8" pocketed coils. These are laid over a layer of latex base foam.
This powerful base layer helps to prevent sagging while providing an even sleeping plane with reinforced edges.
So much for how the mattress is made, how does it feel?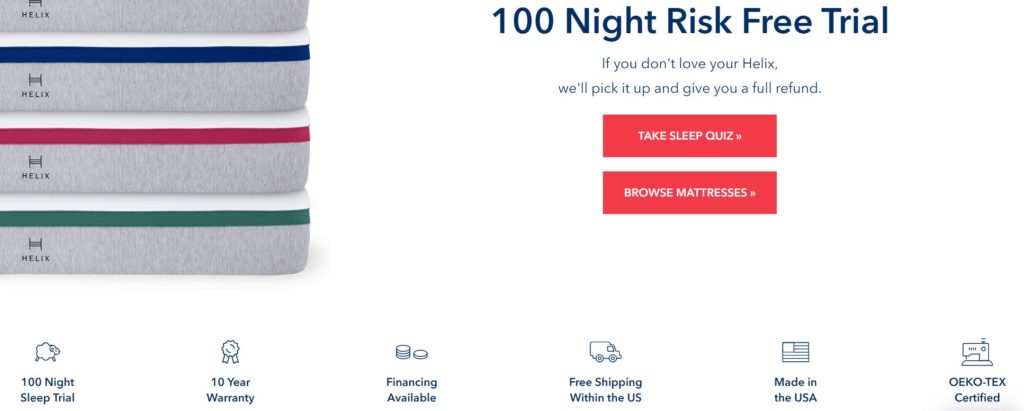 Firmness and Feel
Again, we'll refer you to the 6 models in this line:
Sunset (soft)
Midnight (medium)
Twilight (firm)
Moonlight (soft)
Dusk (medium)
Dawn (firm)
The first 3 mattresses have a memory foam comfort layer. The Sunlight is soft and ideal for lightweight sleepers with its close-conforming nature. The medium Midnight gives a nice balance between support and body-contouring. The firm Twilight doesn't conform much at all and is best suited to heavyweight sleepers.
With the second group of mattresses, you get the proprietary polyfoam in place of memory foam. This results in more responsiveness and less conforming. Again, the mattresses are rated soft, medium, and firm meaning there's something for everyone.
Across all variants, the pocketed coils give this mattress a decent amount of springiness.
Mattress Height
All Helix mattresses are 12" thick which qualifies as high-profile. This comes in handy if you find it hard getting in and out of bed.
The other advantage to this added height is space for more material in those all-important comfort layers.
Verdict
Helix mattresses offer you a great deal of choice with different materials and different firmness levels to suit all body types and sleeping positions.
So, whether you're a lightweight stomach sleeper looking or a soft sleeping surface, or you weigh over 230 pounds and need a bit more support, you should have no problem finding a suitable Helix mattress.