Many bed-in-a-box manufacturers have a very narrow product line, but Lucid has a deep bench of mattresses ensuring there's something for everyone.
For the purposes of today, we'll be focusing on the most popular Lucid mattress, a 10" model infused with memory foam. Of course, if after reading today's review this model doesn't seem like the best fit, there are plenty of other options in the range.
Lucid makes mattresses from 6" to 14" thick and from soft right through to firm. The 10" model we'll be highlighting today is rated at medium-firm.
Before we double down on how this mattress is made and how it feels, a few words on who should buy the Lucid memory foam mattress and who should look elsewhere.
2.0 out of 5.0 stars2.0
Who Should Buy The Lucid
All bargain hunters will appreciate the attractive price/performance ratio of this mattress
If you and your partner both have different sleeping styles, there's a strong chance the balanced feel of the Lucid memory foam mattress will appeal to you both
Someone looking for a reasonable amount of contouring without feeling too restricted will appreciate the way this 10" mattress cradles the body
Anyone who wants maximum choice from a single manufacturer will be delighted with what's on offer from the highly reputable Lucid
Who Should Avoid The Lucid
If you're easily disturbed by your partner tossing and turning in the night, avoid this mattress. The stripped-down design does not contain and isolate movement. As a result, motion is likely to trigger a fair amount of noise
Sleepers looking for robust edge support on a mattress will come away disappointed. This is worsened for side sleepers who might feel like they're about to fall out of bed
So, with 10" of memory foam to ensure you get a pressure-relieving sleep, how is this mattress made?
Lucid Mattress Complaints
Jessika Duarte – March 30, 2020
1.0 out of 5.0 stars
Matress was infested with bedbugs, they send a replacement and the same issue. Waiting on them to pick up both matress. Now I'm freaking out about my home being infested with this bugs. I left the matress on my front porch waiting for pickup cus I don't even want to store them on my garage. Amazon just said that they were sorry and that an investigation will be open. I ordered another matress from a different brand and it was fine. I'm writing this review to save the hassle and headache to another customer. Super bad experience.
Dave – June 19, 2020
1.0 out of 5.0 stars
Had this mattress in our home just under 6 months. The bed became impossible to sleep on, the mattress sagged all over, waking up in the middle of the night was an aching back. We tried to flip it over, did help. The mattress was in a hot room and we noticed some type of black spores growing under the zippered pad. Amazon could do nothing and there is no way to return this bed, it's compressed by a machine.
No human could ever get it back in the box. At this point, we are taking down the dumpster later this week. If you take the zippered pad off, it's just two blocks of foam glued together, really nothing special. I think the heat and body sweat causes the foam to lose firmness and this is a really bad problem.

Michael Satter – January 5, 2020
1.0 out of 5.0 stars
My mattress is breaking down and is already starting to sag where I sleep. There is now also an awful smell coming from it.
I contacted customer support and they are not willing to do anything for me. I am now stuck with this awful mattress. Move on and look for another brand!
Construction
Cover
Comfort Layer
Support Layer
Cover
The Tencel cover is made from a common cotton substitute, wool cellulose. This ensures the cover is breathable and cooling while it also feels soft to the touch.
Comfort Layer
With 3" of gel memory foam in this layer, you get a slow response to pressure. This lets you sink right in enjoying instant pressure relief.
This mattress should appeal to hot sleepers who insist on memory foam but find it too hot for comfort. With the gel infused and a perforated surface to promote airflow, you shouldn't run too hot in the Lucid.
Support Layer
The foundational layer of this affordable and durable mattress is high-density polyfoam. This gives the Lucid its trademark feel and stiffness and complements the memory foam wonderfully.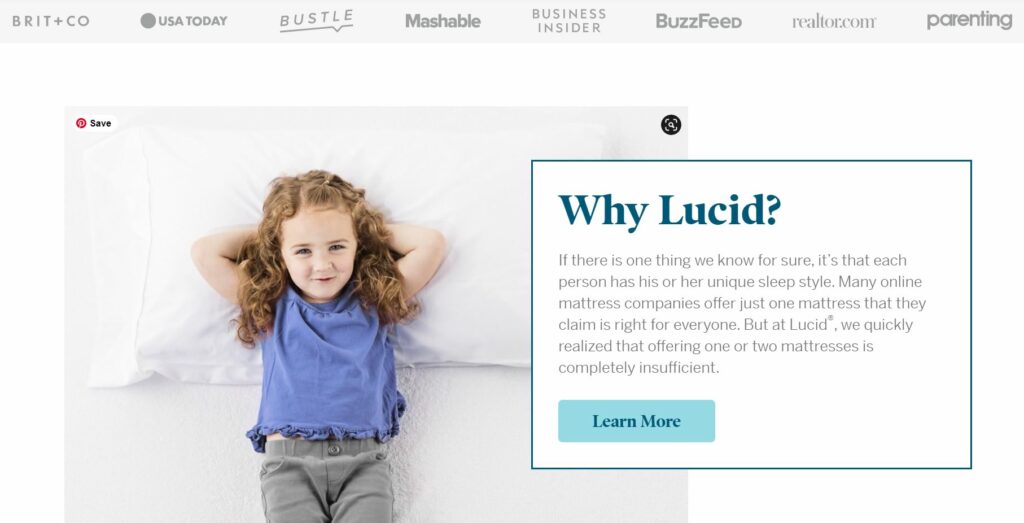 Firmness and Feel
This iteration of the Lucid mattress is rated medium-firm. As mentioned above, if this doesn't make the best fit for you, the range is broad with everything from soft (3.5) mattresses through to firm (7.5) if you want a more supportive sleep.
We would suggest this model is slightly firmer than the average medium-firm mattress. If you're looking for a super-soft sleep, this is not for you.
Mattress Height
This memory foam mattress is 10" thick so it's regular height.
The weak points, as outlined, are at the edges. Think closely about how much time you spend at the edges of the bed. For side sleepers in particular, this lack of edge support could be problematic.
Verdict
The Lucid 10" memory foam mattress represents exceptional value for money. Unlike many bargain mattresses, though, you won't be forced to compromise in terms of quality.
Sure, there are plenty of sleepers this model will not suit. Side sleepers could struggle due to the lack of reinforcement at the edges. Sleepers more accustomed to a soft and plush cocoon of a mattress will doubtless find the Lucid too firm. This is natural and the company has a wide array of alternatives if the 10-incher doesn't feel right.
The thick layer of memory foam gives you all the properties you'd expect with efficient contouring and sinkage. If you need a firmer sleep, and you need pressure-relief as you slumber, the Lucid makes a neat choice.
This mattress comes as a bed-in-a-box and will arrive compressed. You can expect some odor potential as the mattress degasses but this should rapidly dissipate.
If you're looking for a great bargain this year and you want a firm and supportive sleep, the Lucid memory foam 10" is well worth popping on your shortlist. You can benefit from all the advantages of memory foam without overheating for far less than you might imagine.
Clearone Advantage
,
Credit Associates
,
Credit 9
,
Americor Funding
,
Tripoint Lending
,
Lendvia
,
Simple Path Financial
,
New Start Capital
,
Point Break Financial
,
Sagemore Financial
,
Money Ladder
,
Advantage Preferred Financial
,
LoanQuo
,
Apply.Credit9
,
Mobilend
Lucid Mattress
Lucid Mattress Review
Although the Lucid Mattress is priced competitively, we have seen a variety of online complaints criticizing the short life of the mattress. Complaints typically focus on the bed breaking down, the difficulty in returning the mattress, and the lackluster customer support. For these reasons, we can not recommend Lucid Mattress to our readers.
Comments Rating
( reviews)