Ad Disclosure: We receive referral fees from advertisers. Learn More.
Like many bed-in-a-box companies, Purple sprang to life in 2015. For the past 5 years, they've been selling a trio of mattresses to customers worldwide.
Today, we'll be narrowing our focus to the flagship mattress. This is known as either the Original Mattress or Purple Mattress. What differentiates this mattress from a sea of competitors, then?
Well, with this pioneering mattress, Purple introduced the Purple Grid across the comfort layer. Using a proprietary blend of fabrics laid out in a grid pattern, you get the feel of memory foam and a similar hugging sensation. You'll find this material more responsive than memory foam, and it runs cooler, too.
So, before we look at the construction and overall feel of this medium-firm mattress, who is it suitable and unsuitable for?
Who Should Buy Purple
If you can't resist a bargain, you'll be amazed at the price point of this mattress considering the performance and comfort factor
Hot sleepers will benefit strongly from Purple Grid. Airflow is promoted and this leaves the sleeping surface temperature-neutral. You'll find their periods of sleep are much cooler than most mattresses with foam bases
With exceptional motion isolation, couples easily disturbed by movement in the night should experience no meaningful noise from this mattress
For anyone weighing less than 230 pounds, it works well regardless of sleeping position
Sleepers who prefer sleeping on a mattress to sinking down into it will appreciate the resilience of this medium-firm mattress
Who Should Avoid Purple
If you're a sucker for the trademark feel of memory foam, they will disappoint. There's some degree of cradling but not to the extent you get with memory foam
All heavier sleepers are likely to experience a bit too much sagging and sinkage with Purple
OK then, assuming you weigh less than 230 pounds, we'll highlight how this mattress is made and what that means for you in terms of comfort and support.
Construction
Cover
Comfort Layer
Transitional Layer
Support Layers
Cover
The cover of Purple mattress is made from an innovative blend of fabrics. With 67% polyester, 29% viscose, and 4% Lycra spandex you get everything you need in a cover: a soft, luxe feel and plenty of stretchiness.
There's a supplementary slip guard made from pure polyester.
You can't remove the cover for cleaning. To remove stains, spot-clean with mild detergent.
Comfort Layer
The comfort layer is what sets their mattress apart from the opposition. The proprietary hyper-elastic polymer bends to your body while the remainder of the surface stays uncompressed.
As noted above, this layer also helps you to sleep with less heat absorbed than most mattresses in-class.
Transitional Layer
3.5" of polyfoam serves as a transitional layer adding great overall stability.
This core is quite stubby compared to competing mattresses, but you don't lose out in terms of strength or support.
Support Layers
Below the transitional layer, you'll find 4" of high-density polyfoam. This material is quite dense and enhances stability further.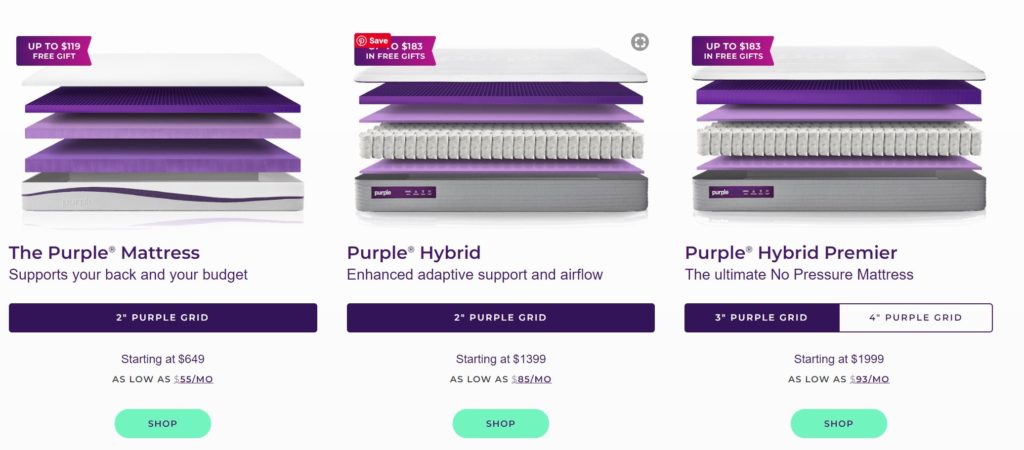 Firmness and Feel
Purple mattress is medium-firm.
If you like sleeping surfaces with ample contouring and aggressive cradling, you'll love the mattress. With 4 layers in total and an abundance of memory foam, you could find this mattress beneficial if you suffer from chronic pain. You'll feel cradled without sacrificing the support you need to prevent further aches and pains kicking in.
Purple Sleep rates the mattress as 6 on the firmness scale.
Mattress Height
At just 9.5" high, Purple mattress is shorter than average. This could be problematic if you struggle to get in and out of bed. For anyone with mobility issues, it's worth hunting out a high-profile mattress. You'll enjoy the extra helping hand a taller mattress provides.
For all other sleepers, what you lose in terms of the comfort layer, you gain when it comes to support.
Verdict
The Purple Grid is more than just hollow marketing hype. This proprietary fabric and arrangement give Purple Mattress a distinctive feel with excellent contouring supplemented by an overall feeling of floating. If you struggle to fall asleep, you could find this mattress is the hidden key.
Heavier sleepers might find Purple comes up short. For lighter and average sleepers, the medium-firm feel and that unusual sensation delivered by Purple Grid means this mattress is well worth popping on your shortlist. The best news? In spite of all that tech baked in and robust build quality, Purple Mattress costs far less than you might imagine.