Tempur-Pedic Flex Hybrid is a highly reputable selling mattresses since.
As well as all-foam mattresses, the company also produces a best-selling hybrid mattress in the form of the Flex. It's this we'll be doubling down on today.
The memory foam used in Tempur-Pedic Flex hybrid mattresses is designed to stay the distance. While these mattresses are certainly not cheap, you'll be getting fantastic overall value if you invest in this hybrid.
While you won't get the phase-change materials used in the memory foam Tempur-Pedic mattresses, you'll get an upscale mattress capable of returning a decade of dream-filled sleep.
Who is this mattress most suitable for, and who should give it a swerve?

3.0 out of 5.0 stars3.0
Who Should Buy The Tempur-Pedic Flex Hybrid Mattress
If you're unsure about the height or firmness you need, you'll benefit from plenty of choice. The same line of mattresses comes with multiple options to suit all sleepers
Anyone who wants their old mattress disposed of and the new one installed can take advantage of White Glove delivery with Tempur-Pedic mattresses. This costs just $25
The edge support on this mattress makes it a smart choice for side sleepers
For savvy consumers insistent on the very best build quality and a super-luxe feel, the Tempur-Pedic hybrid isn't cheap, but it's worth it
Who Should Avoid The Tempur-Pedic Flex Hybrid Mattress
Are you put off by the off-gassing smell of mattresses? If so, you'll likely find the odor issuing from this hybrid is unpleasant
Bargain-hunters are clean out of luck. These mattresses are outstanding, but you'll need to dig deep for the privilege
If you're tempted by this mattress, and you're not put off by the price tag, how is it made and how does it feel?
Tempur-Pedic Flex Hybrid Complaints
Cynthia Perroni – January 23, 2020
1.0 out of 5.0 stars
I purchased this item on a close out sale due to previous experience with Tempurpedic and testing current models in store. My assumption and experiences were that all tempurpedics had somewhat of a typical feel of memory foam (which I do like). This is a hybrid but I tested current hybrid models, all had the feel I was used to in my previous tempurpedics. I was very wrong about assuming this would be similar. This mattress feels like no other tempurpedic I have ever been on. In fact, it just feels like a standard innerspring mattress. It isn't comfortable and nothing like what I expected. I wouldn't recommend this mattress to anyone wanting a tempurpedic nor at the tempurpedic price point. Further, this was bought on a close out sale and tempurpedic won't be exchange or use funds toward another item. It is very disappointing, all around.
Samantha Grigolo – January 17, 2020
1.0 out of 5.0 stars
So far the mattress has not been a positive purchase in my LIFE. In fact, since the purchase I have NOT had a good night rest/sleep for the past month. The main issue has been the firmness of the mattress that provides no memory foam nor does it contour to our body. Sorry for such a bad review, but its the honest truth of my experience.
Brian Sanchez – December 2, 2019
2.0 out of 5.0 stars
Wake up with stiffness in our shoulders as it is like sleeping on rock
Construction
We can't go into the same detail with the construction of Tempur-Pedic mattresses as with most other manufacturers. The reason for this is that the company doesn't reveal too much about the densities of the foams used.
All versions of this mattress come with comfort layers of memory foam.
The cover, in all cases, is polyester.
Support coils are pocketed coils.
To reiterate, we're unable to flesh out the composition of this mattress too much more than that based on the available information.
What we can tell you from experience is that sleeping on this mattress is a super-soft feeling that won't have you begrudging that extra expenditure.
So, how about the firmness of the Tempur-Pedic Flex Hybrid mattress?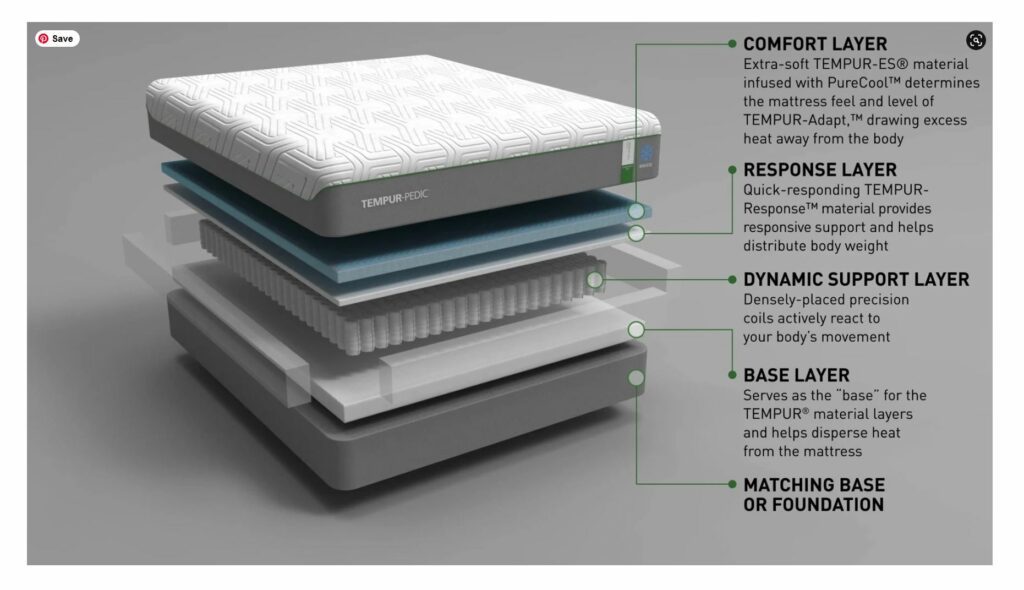 Firmness and Feel
There are multiple options for this Tempur-Pedic Flex hybrid mattress. They each come with different firmness levels as follows:
Prima: Medium-firm (6)
Supreme: Medium (5)
Elite: Medium-soft (4)
Supreme Breeze: Medium (5)
So, while we can't give you more specifics about construction, you should see that there's a different firmness level to suit most tastes with this mattress.
Mattress Height
The different models of this Tempur-Pedic Flex hybrid mattress come in at different heights:
Prima: 10"
Supreme: 11.5"
Elite: 12.5"
Supreme Breeze: 11.5"
If you find it tough to climb in and out of bed, opt for one of the thicker, higher-profile mattresses. The extra inch or two make a valuable difference if you have mobility issues.
Verdict
Tempur-Pedic mattresses are expensive but arguably worth every cent. When you're buying a new mattress you should consider two things…
Firstly, you spend fully one-third of your life in bed. Also, a great mattress could easily last for 7 to 10 years. When you budget thinking of these factors, suddenly even an expensive mattress doesn't seem like such bad value.
One of the key selling points of this Tempur-Pedic line is the way you can choose from multiple firmness settings with correspondingly different profiles. There truly is something for everyone with this line.
In the interests of transparency, we'd like to see the manufacturer become a little more forthcoming about the physical composition of the Tempur-Pedic Flex Hybrid mattress.
Overall, the Tempur-Pedic Flex hybrid should suit most body shapes and the vast majority of sleeping positions. Side sleepers along with anyone who spends time propped up reading on the side of the bed will appreciate the robust edge support. This also maximized the usable surface area of the mattress.
If you're looking for a cheap mattress, the Tempur-Pedic line is not for you. Anyone fortunate enough not to be motivated primarily by the bottom line when mattress shopping will find this hybrid mattress a great choice. If this construction doesn't seem to your liking, check out our other Tempur-Pedic review for a glimpse at some of the other options in this broad and deep range.
Compare Tempur-Pedic Flex Hybrid to the Best Mattress Companies of 2023
Clearone Advantage
,
Credit Associates
,
Credit 9
,
Americor Funding
,
Tripoint Lending
,
Lendvia
,
Simple Path Financial
,
New Start Capital
,
Point Break Financial
,
Sagemore Financial
,
Money Ladder
,
Advantage Preferred Financial
,
LoanQuo
,
Apply.Credit9
,
Mobilend
Tempur-Pedic Flex Hybrid
Tempur-Pedic Flex Hybrid Revirew
If you're looking for a cheap mattress, the Tempur-Pedic line is not for you. These mattresses are not the cheapest and also have many complaints regarding their firmness and feel. Many customers stated that this mattress feels like a standard innerspring mattress. It isn't comfortable and nothing like they expected. 
We will advise you to go visit a Tempur-pedic showroom before making any purchases. 
Comments Rating
( reviews)