If you are in need of a personal loan, Payoff might be one of your options. But is Payoff legit? Or is it a scam? In this Payoff Review, we will take a look at the company and see what they have to offer. We will also discuss the pros and cons of using their services so that you can make an informed decision about whether or not Payoff is the right choice for you.
Payoff is not a lender. They are a lead generator company. What that means is that they collect your information and then sell it to other lenders. So, if you are considering using Payoff to get a personal loan, you should be aware that your information will be shared with other companies.
There have been some accusations of bait and switch tactics towards this company. Some people have reported that they were promised one thing by Payoff but were given something completely different by the lender they were referred to. So, if you decide to use Payoff, read the fine print and understand precisely what you agree to.
There are also a lot of negative reviews about them online. Many people say that they had a bad experience with the company and that they would not recommend their services to others.
If you are considering using their services, be sure to do your research and understand exactly what you are agreeing to.

2.5 out of 5.0 stars2.5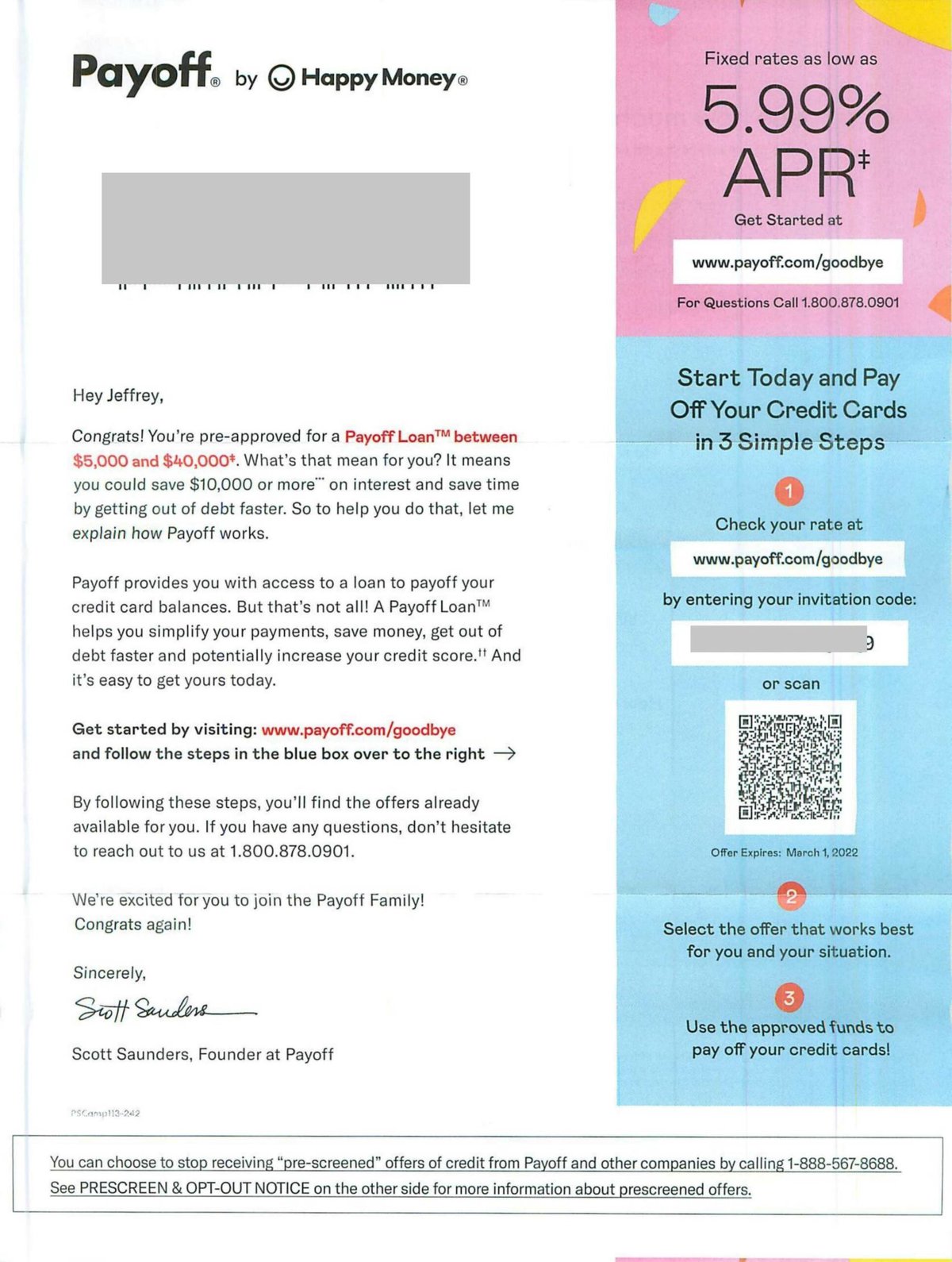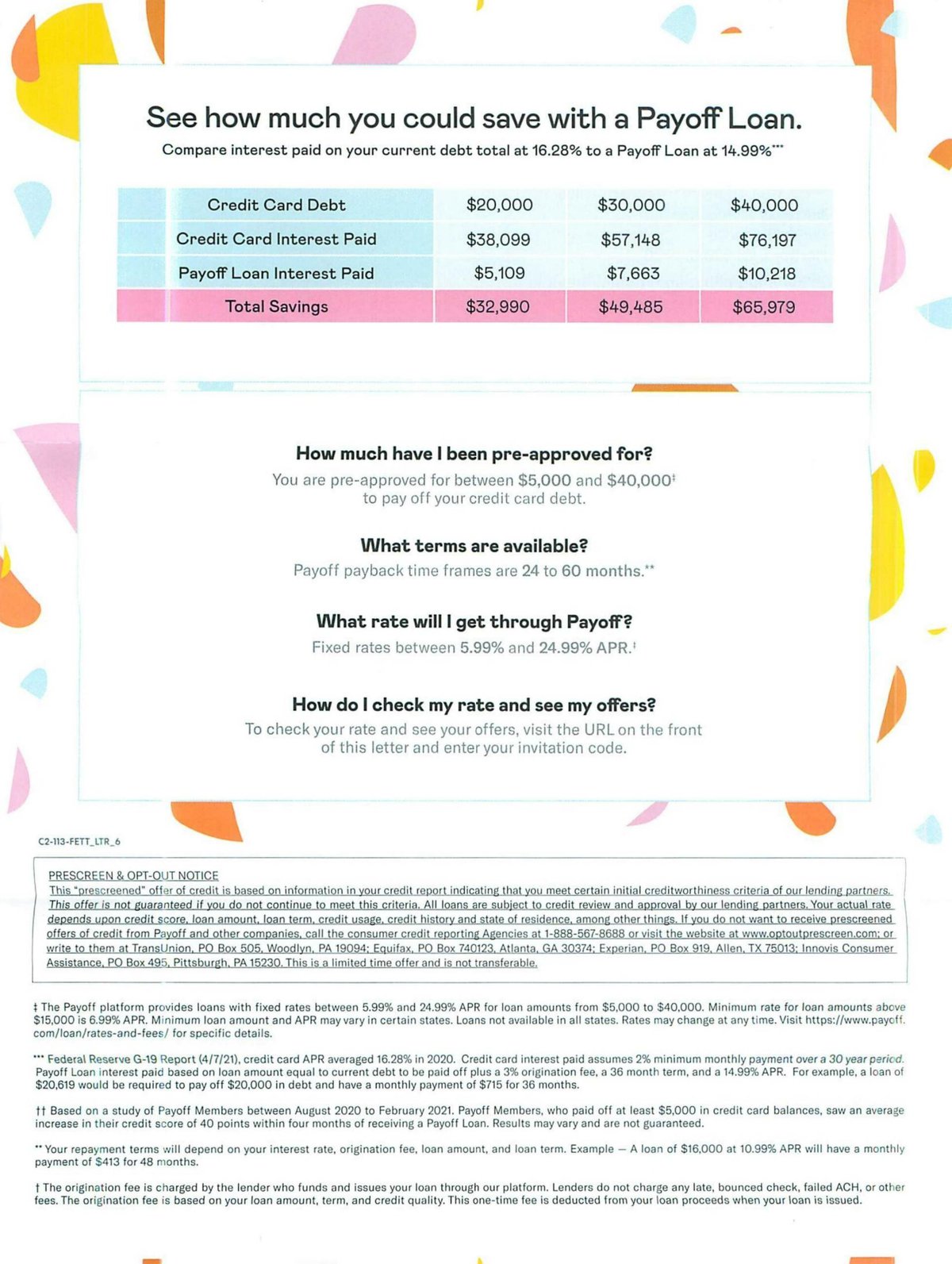 Fast Facts
Loan Amounts: $5,000 to $35,000
APR: 5.99% to 24.99%
Minimum Credit Score: 640 score
Loan Type: Multi-purpose personal loans
Repayment Terms: 24 to 60 Months
Direct Lender or Marketplace: Marketplace
Turnaround Time: 2 to 5 days
Best For: Anyone looking to improve their financial state
Payoff Inc. Pros & Cons
Pros
No prepayment fees
Monthly FICO score updates
Wealth of educational resources
No late fees
Cons
No joint applications
0% – 5% origination fee
For credit card debt consolidation only
As a DBA for Happy Money, we often hear people ask about the pros and cons of using Payoff. Many customers beilieve there are more cons than pros to using this service.
One of the biggest cons is that it sells your information to other lenders. This means that you may end up with more unsolicited offers and calls from lenders.
Another con is that they have been accused of bait and switch tactics. This means that they may tell you one thing to get you to sign up, but then change the terms after you've already signed up.
Their customer service has also been known to be unhelpful and unresponsive.
DBA for Happy Money
Sells your information to other lenders
Accused of bait and switch tactics
Has unhelpful and unresponsive customer service
What is Payoff?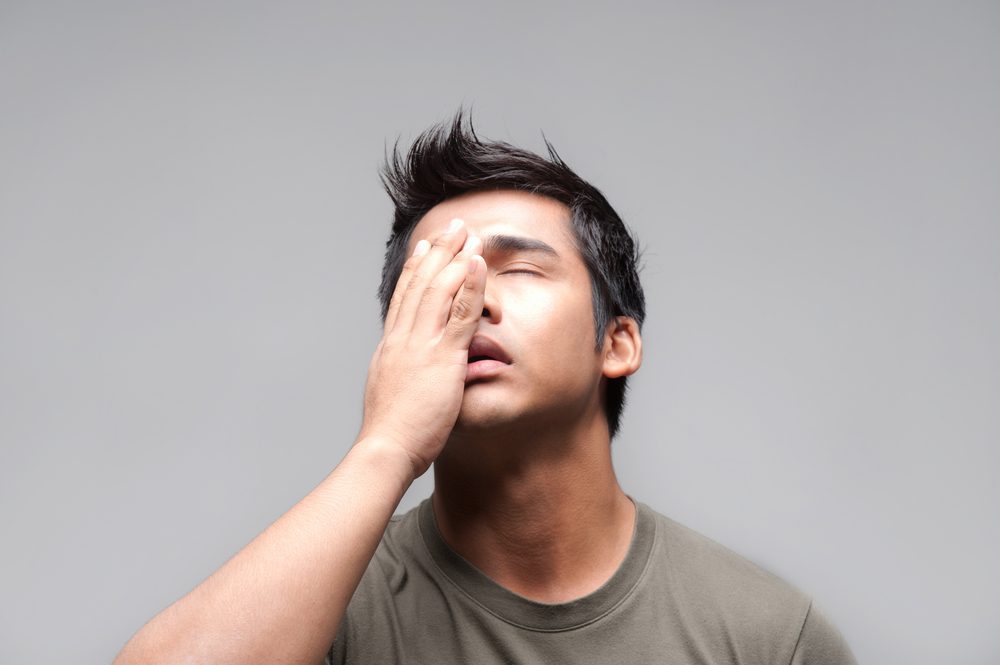 Payoff is a lead generator company, which is a company that sells your information to other lenders. This means that if you're looking for a loan, Payoff is not the company that will give you the money. Instead, it will sell your information to other companies, which may or may not give you a loan.
How does Payoff work?
It sells your information to other lenders, lures customers with direct mail, and baits and switches you with low-interest rates. So how does this work?
The first step is to lure customers with direct mail. Payoff will send you letters in the mail promising low-interest rates and easy monthly payments. However, when you call to get more information, most customers said they were often given a bait and switch.
The next step is to sell your information. Payoff will take your personal information and sells it to the highest bidder. They will also use this information to market directly to you.
The last step is the bait and switch. This is when you finally sign up for a loan with a lender and find out that the interest rate is much higher than what you were promised. The terms are also longer, which means you'll be paying more in the long run.
Payoff Cost of Loan
With their network of lenders, customers can consolidate up to $35,000 in credit card debt. They also offer rates ranging from 5.99% – 24.99%, and repayment options ranging from 24 to 60 months. They may also charge an origination fee to process the loan. This fee can be between 0% and 5% and depends on things like your credit history and the loan amount.
How to qualify for Payoff?
To get started, there is a list of criteria you need to meet:
Be a US citizen or Permanent Resident
You must be at least 18 years of age
Valid bank account
Minimum credit score of 640
To apply for Payoff you need to have access to the following information as well:
A government-issued ID
Debt-to income ratio of 50% or less
No delinquencies on any outstanding credit
At least three years of credit history
After you have met all the qualifications, you can get started by following these few steps:
Go to their website
Click Check My Rate. If you have an invitation code, you can enter it now.
Fill out basic personal information including your contact and financial information
Create an account and read their disclosures to submit your application
After you submit your application, they will get in contact with you. If you are approved and like one of your offers, select it, and verify your information. Make sure to double-check all your information before e-signing your loan documents. Once it receives your documents, your funds should be in your account within two to five business days.
If you aren't approved, you can reapply after 30 days.
What kind of loans does Payoff offer?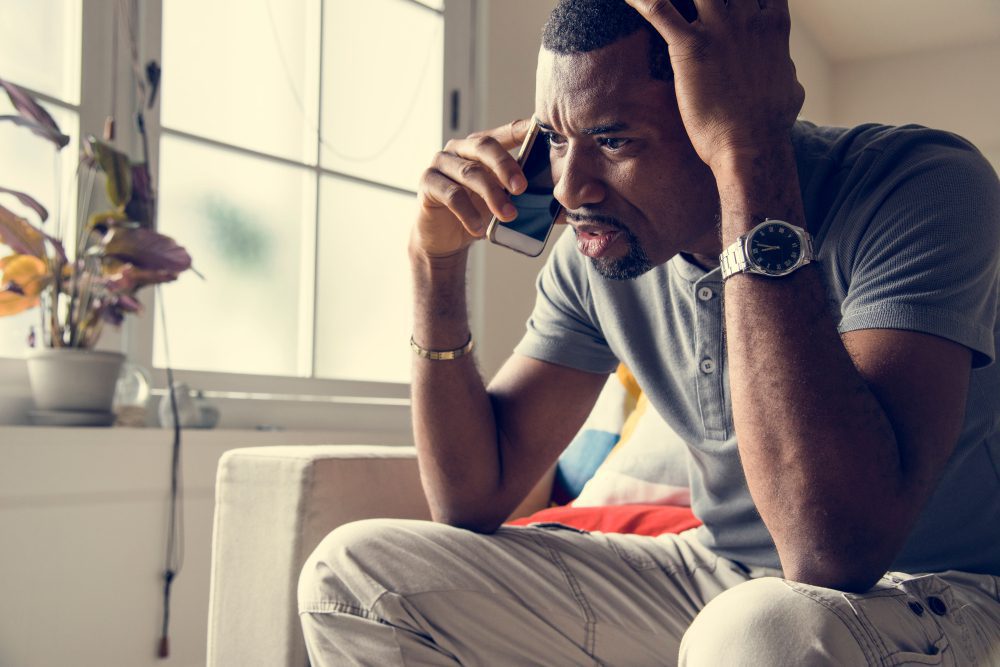 Payoff advertises personal loans, debt consolidation loans, and "life improvement" loans. But Payoff is not a direct lender. So what does that mean for you?
It means that if you're looking for a loan from Payoff, you'll actually be borrowing from one of their partner lenders. And that's not necessarily a bad thing. But it's important to know because it can affect things like the interest rate you pay on your loan.
So if you're considering a loan from Payoff, be sure to compare rates from their partner lenders before making a decision.
How do you pay back Payoff?
The answer is simple – you don't. Payoff is not a lender, so you will be paying pack the lender you chose to be matched with. Instead, Payoff sells your information to other lenders who may contact you and try to offer you a loan.
Of course, you are under no obligation to accept any loans that are offered to you, but it's important to be aware that Payoff's only goal is to make money by selling your information, so they will not hesitate to do so even if it means putting you in a difficult financial situation.
It's important that you understand exactly what you're getting into before you agree to anything. Otherwise, you may end up in a worse financial situation than you were in before.
What is the minimum credit score for a Payoff loan?
The minimum credit score for a Payoff loan is 640. This is for their network of lenders. If you have a lower credit score, you may still be able to get a loan, but it will likely have a higher interest rate.
If you're thinking about taking out a Payoff loan, make sure to shop around and compare rates from multiple lenders. You can use their personal loan calculator to see what kind of rates you could qualify for.
How does Payoff affect your credit?
If you're considering using Payoff to consolidate your debt, there are a few things you should know about how it will affect your credit.
First, it's important to understand that Payoff is not a traditional lender. It actually works with a network of lenders who work together to provide financing to consumers. As such, each of the lenders in the network will report information about your account to the credit bureaus.
Second, when you apply for financing through Payoff, it will result in a hard pull on your credit report. This can temporarily ding your score by a few points.
Finally, if you make any late payments on your loan, this will also be reported to the credit bureaus and could have a negative impact on your score.
Overall, it's important to be aware of the potential impact on your credit score before you apply.
How to cancel Payoff?
If you're not happy with Payoff, you can cancel your loan at any time. To do so, you'll need to contact your direct lender and request a payoff amount. This is the total amount of money you owe on your outstanding balance. Once you have this information, you can cancel your loan by following these steps:
Call your lender's customer service number and tell them you'd like to cancel your loan.
Give the representative your account number and the date of your last payment.
Tell the representative the payoff amount for your outstanding balance.
Request confirmation in writing that your loan has been canceled.
Make final payment to your lender for any remaining balance on your loan.
If you have any questions about how to cancel Payoff, feel free to contact their customer service team for more assistance.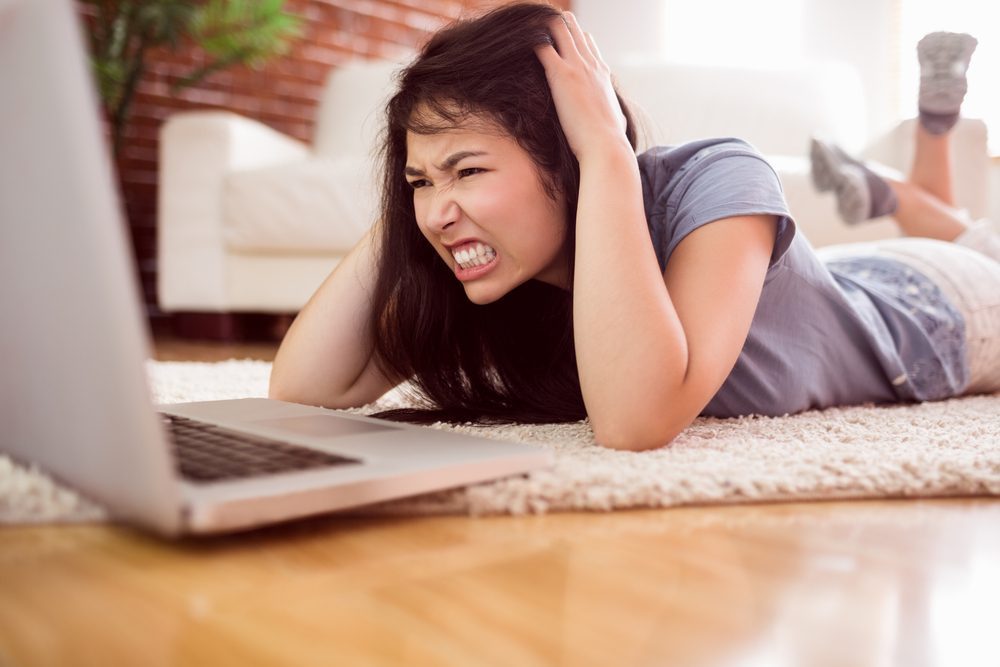 Payoff BBB Reviews
We were really surprised to see that Payoff has such a high BBB rating. We would have thought that with all of the complaints against them, their rating would be much lower.
And, looking at their complaint history, it seems like they're not getting any better. In the last three years, they've closed 62 complaints and 21 in the last 12 months.
Here are some Payoff BBB reviews:
Andrew B 08/04/2022
1.0 out of 5.0 stars
Horrible experience. absolutely no communication. submitted all documents as needed and shows status of 3-7 days and "preparing documents" this has been for over 2 weeks. i've used their chat message to get update only to be provided the exact same language as on the website. then i call them for update because my "offer" is expiring in 2 days. Mind you they have had everything they needed from me for 3 weeks.
Person on the phone says they'll escalate to manager and request extension to not lose the rate/offer and i will get an email right away. this was 2 days ago. log in today and shows offer expires in 0 days. never got my email from them stating what's going on, nothing. meanwhile they ask to connect to your bank to verify information and upload ID's. The most worst experience. Look elsewhere.
Sonia S 04/29/2022
1.0 out of 5.0 stars
PAYOFF.COM / HAPPY MONEY is the worst, most terrible, slow, incompetent company on earth. Please don?t do one mistake ( I did ) of NOT reading the 93 negative complaints on BBB and over 300 complaints against PAYOFF. PLEASE read ALL those complaints BEFORE YOU APPLY IT WILL SAVE YOU TONNES OF AGGRAVATION. They ask for endless streams of documents and their system keeps rejecting documents because they HAVE TO BE in jpeg or PDF form. BUT NOBODY tells you this until you have wasted one week.
They do not read documents carefully but keep repeating ? action required ? asking YOU to send more documents even BLANK PAGES OF EACH STATEMENT then they reply they need 3 to 7 days to verify those 2 blank pages. Every time you send a document a NEW agent joins the ENDLESS LAYERS of payoff agents who DO NOT TALK WITH EACH OTHER. To make matters worse For EVERY DOCUMENT their verification team asks for 3 to 7 days to verify and this 3 to 7 days is NOT total time BUT 3 to 7 days for EACH document.
So you waste over one month to receive a denial or some other waste of time ' ACTION REQUIRED " PLEASE DO NOT WASTE your time with this useless company. They are probably mining data/ personal information. I AM CONVINCED THIS IS A SCAM COMPANY. RUN AWAY FROM PAYOFF don?t walk and save yourself time. Money and peace of mind. Payoff / happy money is a horrible experience ? you have been warned ? keep away from payoff /happy money. There are many other loan companies with a 2-day turnaround from start to finish ? try OTHERS – I WILL.
Things to remember about Payoff Inc.
Payoff processes loans, they do not directly fund them. They work with five different lenders to fund loans: Alliant Credit Union, First Electronic Bank, First Tech Federal Credit Union, Teachers Federal Credit Union, and Technology Credit Union.
Their personal loans are only for people who want to consolidate credit card debt. It does not offer loans for any other purpose.
They do not charge you for paying off your loan ahead of schedule, and they don't charge a fee for late payments.
It features a series of quizzes and assessments that enable you to determine the state of your financial health.
Their Life portal includes articles related to credit and personal finances, the science behind the lending process, and other useful insights that can help you better understand loans and their impact on your finances.
Make sure to keep in contact with their customer service when you have any questions
Is Payoff Legit or a Scam?
If you're considering using happymoney.com to consolidate your debt, you may be wondering if the company is legitimate. Fortunately, they are a legitimate lead generator company but not a real lender .
The company has been accused of using bait and switch tactics, and there are a lot of negative reviews from customers who say they were misled about the terms of their loan. In addition, Payoff has only 1 out of 5 stars on the Better Business Bureau (BBB).
All of this evidence suggests that you should be very careful before doing business with Payoff. If you do decide to use their services, make sure you understand the terms of your loan completely to avoid having financial difficulties in the future .
Have you had any experience with Payoff? We'd love to hear about it in the comments.
Thank you for reading
Clearone Advantage
,
Credit Associates
, Credit 9,
Americor Funding
,
Tripoint Lending
,
Lendvia
,
Simple Path Financial
,
New Start Capital
,
Point Break Financial
,
Sagemore Financial
,
Money Ladder
,
Advantage Preferred Financial
,
LoanQuo
,
Apply.Credit9
,
Mobilend