Ad Disclosure: We receive referral fees from advertisers. Learn More.
Launched in 2017 and based in Roosevelt, Utah, PersonalLoans.com operates as a loan-connection service that offers you a simple way to get a suitable personal loan through its nationwide network of lenders. This will help you avoid the need to shop among numerous lenders, saving you many hours in time as well as effort.

PersonalLoans.com Fast Facts
Loan Amounts: $500 to $35,000
APR: 2.47% to 35.99%
Minimum Credit Score: 580 score
Loan Type: Peer to Peer, Installment Loans, Bank Personal Loans
Repayment Terms: 3 to 72 Months
Direct Lender or Marketplace: Marketplace
Turnaround Time: Varies by Lender
Best For: Anyone looking to get loan quotes from several financial institutions
PersonalLoans.com Pros & Cons
Pros
Access to a large network of lenders
Easy process
Lending network includes banks and credit unions
No hard credit pulls
Cons
Possible payments twice a month
Not a direct lender
Disclosing significant personal information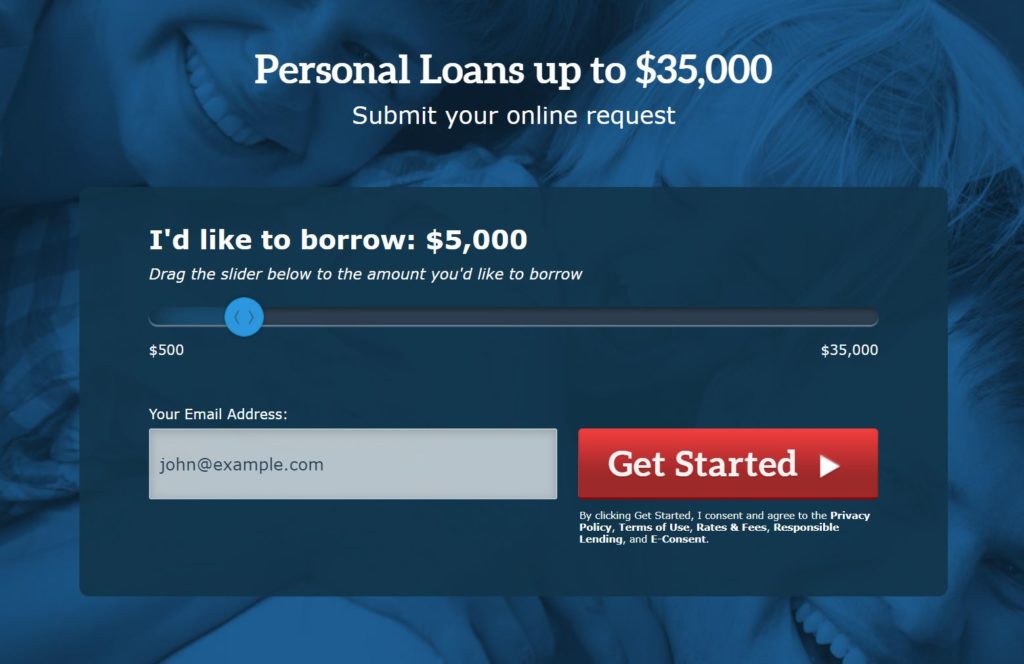 PersonalLoans.com Cost of Loan
It has some of the most flexible terms anywhere, with loans ranging from $500 to $35,000, APRs from 5.99% – 35.99%, and repayment options ranging from 90 days up to 72 months. The versatility PersonalLoans.com offers simplifies the communication between both parties (lender and borrower).
PersonalLoans.com Qualifications
To get started with PersonalLoans.com, there is a list of criteria you need to meet:
Be a US citizen or Permanent Resident
You must be at least 18 years of age
Valid bank account
Social Security Number
To apply for PersonalLoans.com you need to have access to the following information as well:
A government-issued ID
Proof of consistent income
Proof of residence
580+ credit score for installment loans or a bank personal loans or a 600+ credit score for peer-to-peer loans
After you've met all the qualifications, you can get started with PersonalLoans.com by following these few steps:
Enter your email address and hit Get Started
Fill out basic personal information and the amount you want to borrow before hitting Continue to Step 2
Complete the form with more details on you and your employer
Read the privacy policy, terms and conditions and e-consent form before checking the box and hitting Submit Your Request.
PersonalLoans.com will process your request, this could take a few minutes and should not affect your credit score. If you get approved by a lender, it will redirect you to a loan offer. Once you and the lender agree to work together, expect to see your money within the next one to five business days.
PersonalLoans.com Reviews and Ratings
PersonalLoans.com's BBB Rating is NR (NO RATING)
They are not accredited with the BBB and is not rated for reasons that include insufficient information about a business or ongoing review/update of the business's file. However, reviews on Trustpilot are very positive, it scores a good average rating of 4.2 stars out of 5. Most customers seemed to be satisfied with how fast they got their funds and the quality of customer service.
Things to remember before choosing PersonalLoans.com
PersonalLoans.com is an online personal loan marketplace and does not fund loans. It instead exists to aid you in searching and deciding on a suitable lender, as well as helping you compare loans.
They is not responsible for the actual loan agreement but rather the lender you chose. Be sure to read the fine print, looking over the repayment terms making sure you understand the repayment time frame.
Their website states that eligibility for personal loans requires that you do not have accounts more than 60 days late, recent or active bankruptcies, or demonstrate a pattern of late payments.
Completing the form on the website will not affect your credit; however, you should expect your lender to eventually do a credit check, which will temporarily lower your credit score.
Make sure to keep in contact with your lender when you have any questions
In conclusion
It is an excellent platform to shop for personal loans. The site offers different lender types, including peer-to-peer platforms and banks and credit unions. That gives you the best opportunity to get extremely competitive loan rates and terms.
Mix that with longer repayment terms and higher upper limits and it is easy to see why millions of consumers chose PersonalLoans.com for their personal loan needs.