If you've recently gotten a direct mail piece informing you that you're pre-qualified for a loan, you might be questioning:
Is this legitimate or a scam? Can debt be this easy to recover from?
Many offers for financial assistance and personal loans are available and it is essential to research any financial company you are going to work with.
After doing some research, we have concluded that Personify Financial is a legitimate company and gave them a three-star rating. In this article, we will take an in-depth look at Personify Financial and explore what they have to offer.
Personify Financial Summary
Personify Financial is a personal loan company that offers financial personal loans from $500 to $15,000. The interest rates on these loans may be fixed or variable, and you can choose a repayment term from 12 to 48 months. Applications are sent only through their website, and you will typically receive a decision within 24 hours. The money will be deposited into your bank account within 48 hours if you are approved for a loan.
Key Aspects of Personify Financial

Based in San Diego, California, they advertise their services through online ads and attract customers with direct mail offers. You may be one of the pre-qualified consumers who received a letter like this:
We're writing to let you know that you are pre-qualified for up to $7,000 from Personify Financial. If approved, your money will be transferred as soon as the next business day.
This offer seems attractive, especially for people experiencing financial hardship and feeling overwhelmed by debt. But is it honest or too good to be true? Here are some of the key aspects we found:
Loan amount: The Personify Financial personal loan amounts range from $500 to $15,000. This may vary mainly depending on your state and credit worthiness.
Loan programs: Their installment loans are funded by themselves or First Electronic Bank, a Utah-chartered industrial bank.
Funds transfer: They take up to 2 business days to deposit the money into your checking account.
Interest rate: They offer fixed and variable interest rates from 19% to 199.99%, depending on your credit score. They also provide the option to reduce it by 2% every six months if you make on-time payments.
Additional fees: They charge late fees and NSF fees if there's not enough money in your account. Origination fees depend on your state; if applicable, it is 5% of the loan amount.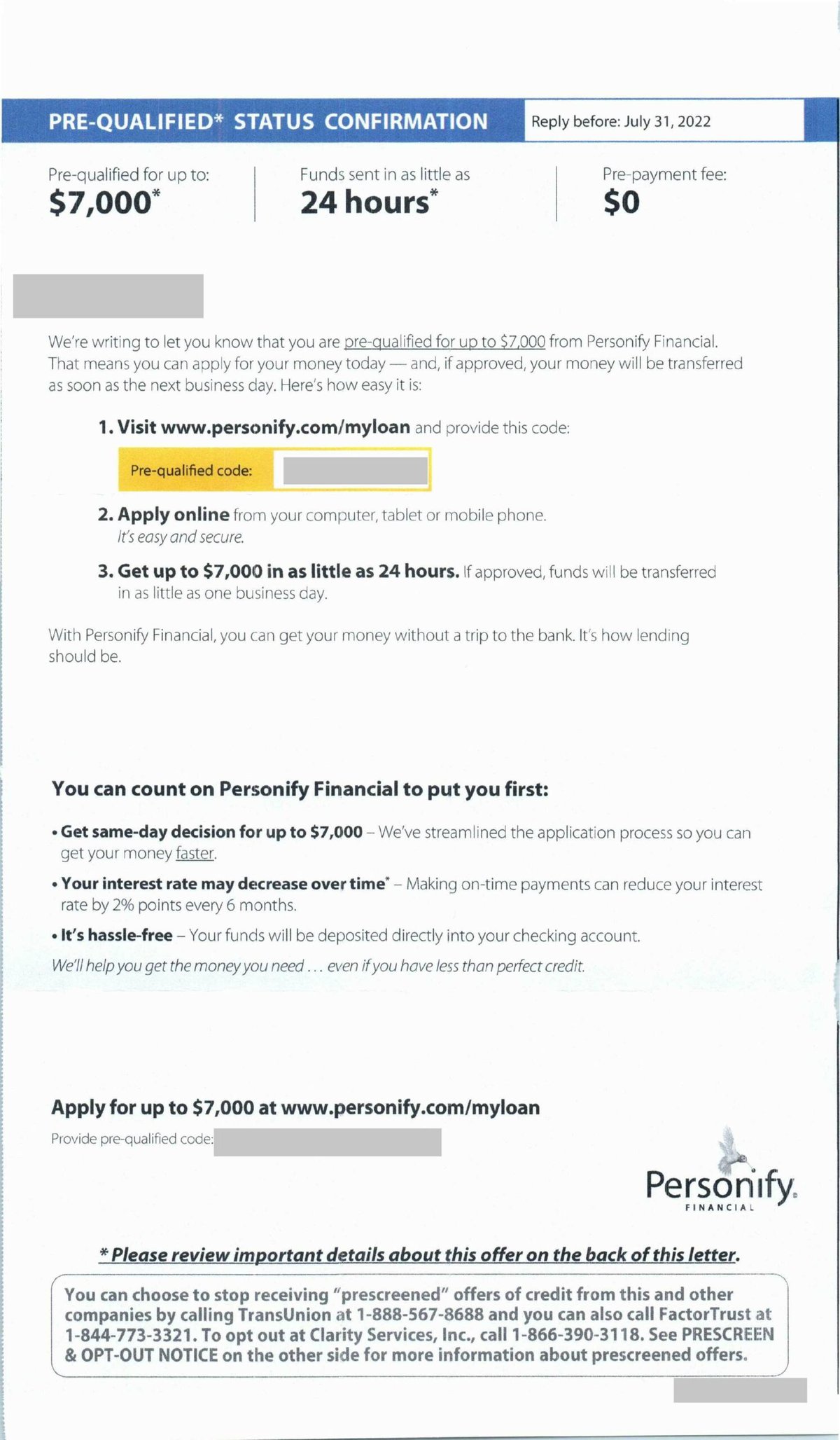 What is Personify Financial?
Personify Financial is an online personal loan company that offers unsecured personal loans, meaning they do not require collateral and are primarily based on your creditworthiness. These loans are typically approved and funded within two business days.
They have been doing business for over seven years and are headquartered in San Diego, California. They are accredited by the Better Business Bureau (BBB) and have an A+ rating. As of September 2022, they have an average of 1,099 customer reviews and 127 complaints closed in the last three years.
How does Personify Financial work?
They are an online platform that receives applications through their website and matches you with one of their two loan programs:
Installment loans are funded by First Electronic Bank, a Utah-chartered industrial bank.
Installment loans are funded by Personify Financial, which has a lending license in certain states.
Unsecured personal loans can be helpful for borrowers who have fallen behind on their monthly payments and may not have an asset to use as collateral. Interest rates on unsecured loans tend to be higher than on secured loans since they are considered riskier for the lender.
They also offer free credit monitoring.
Other than your credit score, Personify Financial takes factors such as your ability to pay, work history, and income stability into consideration when approving you.
What terms does Personify Financial offer?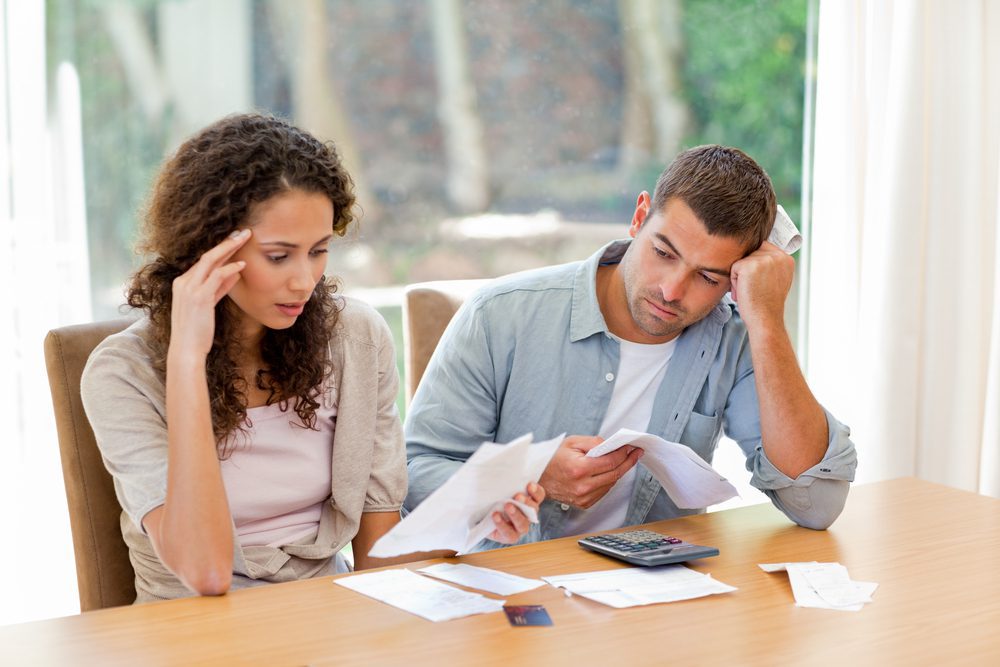 Regarding loan amounts, interest rates, and repayment terms, conditions may differ for borrowers depending on their state of residency and the program's parameters. The primary indicator of the rates and terms you may be approved for is your creditworthiness.
They will take your credit and loan repayment history, employment history, and other factors into account before making an offer.
For the loans made by First Electronic Bank, these are the states covered and the terms:
States: Alaska, Alabama, Arizona, Delaware, Florida, Idaho, Indiana, Kansas, Kentucky, Louisiana, Michigan, Minnesota, Missouri, Mississippi, Montana, New Mexico, Ohio, Oklahoma, South Carolina, Tennessee, Texas, Utah, Washington, Wisconsin
Loan Amount: $500 – $15,000
APR Range: 19% – 179.50%
Loan Terms: 12, 18, 24, 36, or 48 months
Origination Fee: 5% of the loan amount
As for loans made by Personify Financial themselves, they only have lending licenses in Georgia and South Carolina. The terms are the following:
Georgia: The loan amount ranges from $3,100 to $10,000. APR ranges from 19% to 59.99%. The repayment terms are 12, 18, 24, 36, or 48 months—no origination fee.
South Carolina: Loan amount ranges from $1,000 to $7,500. APR ranges from 35% to 199.99%. The repayment terms are 12, 18, 24, or 36 months—no origination fee.
Personify Financial Reviews
Personify Financial has been accredited by the BBB since August 14, 2015, 6 months after they started their business.
With an A+ rating, they have closed 127 complaints in the last three years and 54 in the last 12 months. Most of these complaints were answered and some of them were resolved.
As of September 2022, they have accrued 1,099 customer reviews, averaging 4.8 out of 5 stars. BBB Reviews can provide helpful insight into a company and its customer's experiences.
Here are some Personify Financial BBB Reviews:
Deborah G 07/21/2022
1.0 out of 5.0 stars
I received a certificate of pre-qualification from this company. I applied for the loan and was offered much less than the pre-qualification indicated. I provided the documentation they requested. I provided additional documentation as requested. Every time I uploaded the documents, I would get an email that the documents were still needed. I was given an invalid link, I used the original link given. I finally called and they verified all documents were received but they were unable to use my business bank statement to verify my self-employment income. Their "hassle-free" application process is a hoax. I do not recommend anyone applying with this company
Bethany S. 09/19/2022
5.0 out of 5.0 stars
These guys have been so awesome to work with! They really helped me out of the right situations and were affordable to pay off. I would highly recommend them to anyone. As long as you just communicate and do the payments you agreed to upon accepting the loan, they are awesome!
Dakota G 07/07/2022
1.0 out of 5.0 stars
Talk about a loan shark any company that will take advantage of your situation is evil. They charged me 50% interest when I just needed someone to help me get back on my feet and build my credit. Stay away from this loan shark. A $5000 loan will cost you $15000 after it's paid in full.
Glenice P 06/29/2022
3.0 out of 5.0 stars
payments and interest rates are way too high and unaffordable. Wish I would have rethought this one, but needed the money at the time.
Kimberly L 09/15/2022
5.0 out of 5.0 stars
This is my 2nd loan with Personify and I love how quickly the approval process is. I have a very low credit score and personify is the only place that approves decent size loans, so you can pay down your debt. They have helped me a lot and will continue to use them.
DL B 10/18/2021
3.0 out of 5.0 stars
Getting a loan was easy and was processed very quickly. The interest rate is outrageous. I only borrowed a small amount of money and will be able to pay it off in a short time. Otherwise, I would have figured out another option.
Personify Financial FAQs
How do I qualify for Personify Financial?
Personify Financial may be an option for you if you're looking for a personal loan. As with many other lenders, there are some qualifications that you'll need to meet to get approved for a loan from them. Borrowers with low credit scores may qualify.
First and foremost, you'll need to provide financial documents such as your corporate and personal financial statements as well as your recent pay stubs. With these documents, the lender can assess your finances and determine how much they're willing to loan you.
After you finish the application, you will get a copy to review and sign. You need to submit the signed application and income documents before they can make a decision.
Finally, you'll need to have a valid checking account. This is because they will deposit your loan funds directly into your checking account once you're approved for the loan. Personify looks at factors other than your credit scores and credit history to consider more of your financial situation. 
Why do they require me to log into my online banking?
Identity theft is a serious concern these days, so your online banking credentials can help protect you. Personify Financial uses these login details to verify your income and other financial information, ensuring that your money goes to the right place. This process helps keep you safe from identity theft and fraud.
Personify Financial uses a third-party service to keep your username and password safe. This company supports thousands of banks and credit unions around the world. Personify Financial does not have access to, or a record of, your personal information.
How do I pay back Personify Financial?
You can either pay them back by mail, ACH, or through their portal. However, there are a few things you should keep in mind.
If you pay by check, you will be responsible for the timely delivery of the payment. If there is a delay, you will be charged a late fee.
With the ACH method, you allow them to automatically transfer your scheduled loan payment directly from your checking account. This is usually done on the payment due date.
Additionally, you have the option to make one-time payments through their portal using your credit card or banking information.
What happens if I don't pay Personify Financial?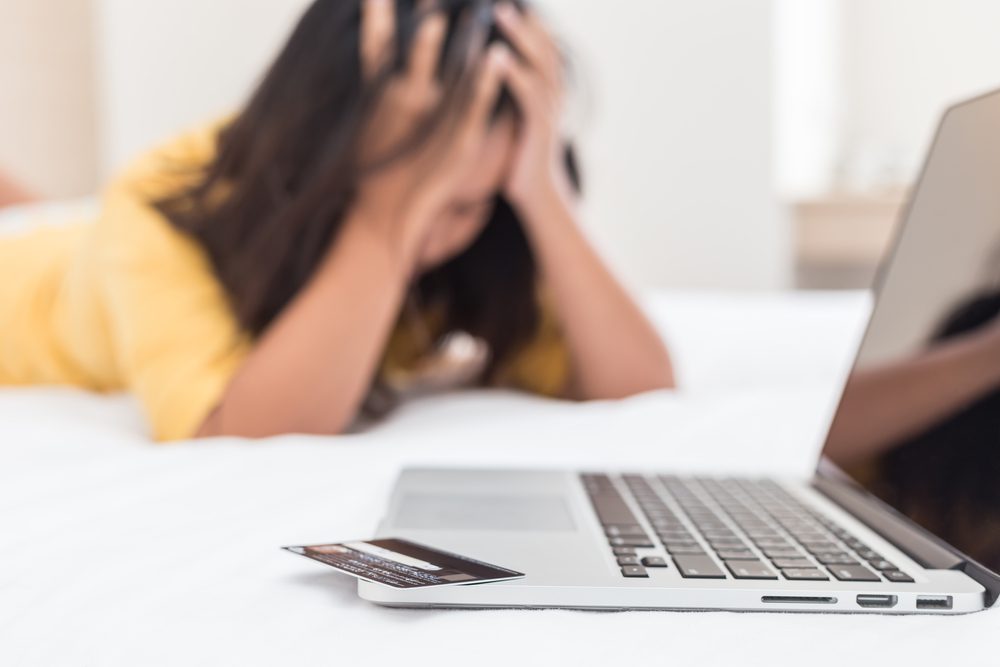 If you don't pay Personify Financial, you could be reported to the credit bureaus. This action can negatively impact your credit score and make getting approved for future loans more challenging. You may also be subject to late fees or penalties from Personify Financial.
Therefore, making sure you can afford your loan before taking one out is essential. Contact Personify Financial to discuss your options if you're having trouble making payments and they may be able to help you.
Are there any pre-payment penalties?
No fees or penalties are associated with repaying your loan early, either from them or First Electronic Bank.
What other fees do they charge?
Besides the 5% origination fee by First Electronic Bank, Personify Financial charges late fees and NSF fees.
Late Fee
Your loan servicer may charge you a late fee if you fail to make a timely payment. They do not disclose what this fee may amount to.
NSF Fee
If applicable, you may be charged an NSF fee if there's insufficient money in your account when the loan servicer attempts to collect payment. The amount of this fee is not specified.
How does Personify Financial affect my credit?
Personify Financial's application process will not have any impact on your credit score. They will do a full credit check or hard credit inquiry after you're approved for the loan, which will show up as an inquiry on your credit report.
If you're late on a payment, they may report it to the credit bureaus. And late payments can stay on your credit report for up to seven years. So, be sure that you're always making your payments on time, or you could significantly hit your credit score.
How to cancel Personify Financial?
If you're looking to cancel your Personify Financial loans and you have an outstanding balance, you'll need to pay that off before you can cancel the loan.
Once you've paid off your outstanding balance and spoken with a representative, they will send you confirmation that your loan has been canceled.
So, is Personify Financial legit?
PersonifyFinancial.com is a legitimate company that has been providing online personal loans since 2015. They have an A+ rating from the Better Business Bureau and a 4.8 out of 5 rating from customers.
However, some customers have reported discontent with their interest rates being very high. Be sure you read your loan's rates, terms, and conditions before signing a contract.
Have you had any experience with Personify Financial? We'd love to hear about it in the comments below.
Thank you for reading!