Homeownership in America brings out the systemic racism ingrained in the American institutions to the surface. Only 44% of African Americans own homes in comparison to 77% of white homeowners. This significant difference is troublesome for Black families who have to struggle much more than their white counterparts in the transition from rented homes to owning homes.
There are many Black families who have never owned homes throughout their lineage. Most young Black people admit that homeownership is a topic of hurt and unrealistic for many families.
With the ravaging coronavirus pandemic looming over America with all its might, the dream of homeownership for African Americans in these times has become even more farfetched. Coronavirus cases have disproportionately affected Black Americans. They have also much more vulnerable to lose employment in the recession that follows.
According to the U.S. Department of Labor, the unemployment of Black Americans has risen to 16.8%. Meanwhile, the unemployment of white Americans went down to 12.4%. Moreover, the recession has forced the mortgage lenders to increase the minimum credit score requirement for borrowers, which would further limit the aspiring Black homeowners.
The minimum credit score requirements have gone up from 620 to 660. This tightening of the parameters has left many Black applicants stranded during a deadly pandemic.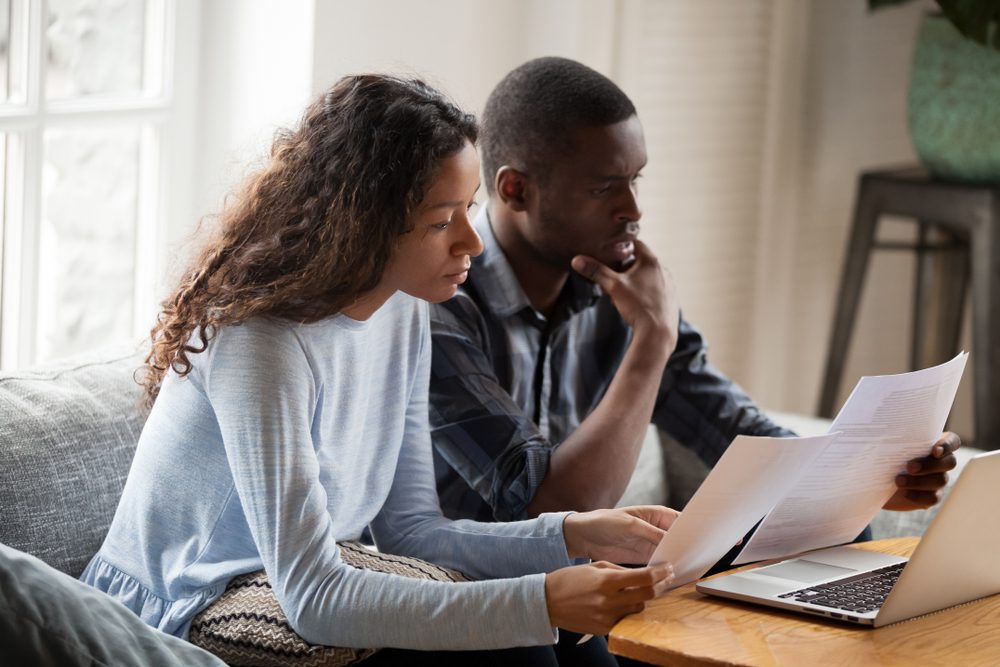 Why is homeownership a challenge for Black Americans?
The black ownership rate has been very low over the years. During the initial quarter of 1995, the African American homeownership rate was reported as 42.7%. In the next quarter of the century, this number rose to 44%. Meanwhile, the rate of Hispanic homeownership rose by a significant 7.5% in that same period.
In 1968, the Fair Housing Act was passed, which criminalized housing discrimination nationwide. More than half a century later, the neighborhoods are starting to seem more mixed-race, and housing discrimination is less upfront. However, Black Americans have still not caught up to their white counterparts in their economic struggle due to lower employment rates, lower wages, and higher home prices.
This major difference in homeownership stems from a massive wealth gap between the races. According to the U.S. Census Bureau, in 2015, a white American household had a median wealth of $139,300, while a black household only had a median of $12,780. This resulted in Black children receiving no inheritance from their parents or a financial kickstart. For that reason, Black Americans with bonds, stocks, and lands are very low in number.
The difference in homeownership is prominent in some states more than the others.Minneapolis reports the widest of this gap, with 51 points between Black and white Americans.
The lost generation of Black homeowners
Black homeownership rate almost reached 50% for a short period during the housing boom. But it didn't last long, and the burn was felt by the black borrowers. Most Black homeowners have longer terms divided into smaller payments, and because of that, they are the most massively affected by the financial disruptions like the Great Recession.
Although the homeownership rates have recovered and restored for white and Hispanic races, the Black homeownership is still going downhill. According to the Urban Institute, if the rate of black homeownership had stayed at a constant rate of 47% since 2000, then currently there would be 800,000 more black homeowners in the U.S.
Unfortunately, that isn't the case, and the Black homeownership rate continues to be lower than other races.Most Black Americans have to wait until their middle ages to be able to afford a home, with the average of homebuyers being 48. This puts Black Americans on the backfoot towards financial equity.
Prioritizing Homeownership
The National Association of Real Estate Brokers has initiated a program called "House then the Car," which primarily encourages Black buyers to prioritize investing in wealth-buildingassets rather than depreciating assets. This educational program focuses on 1.7 million millennials of African American heritage with a steady income. It pushed them t prioritize homeownership over buying a car.
The program coaches the Black workers and makes them aware of the importance of long-term financial stability goals. It doesn't necessarily implore you to not buy cars but emphasizes on making economic decisions like buying a second-hand car.
The program also discusses the role of debt in withholding Black Americans from buying homes and achieving financial wellbeing.
How to plan for homeownership
There are many measures by which you can prepare for homeownership. Take a look at the following four main steps you should take before searching for a home to buy:
Maintain a good credit score: A good credit score ensures a smooth homeownership experience — the higher your score, the greater the chances of you securing a good deal on financing with favorable terms and APRs. For a small fee, you can receive a history of your credit score from three of the major credit reporting companies, including Experian, TransUnion, and Equifax. You also have the option of free inquiry once per year from annualcreditreport.com. Another option could be your credit card company or bank; they sometimes offer free access to credit histories and scores.
Work on a housing budget: A well-planned budget helps keep track of your expenses, and makes it easy to gaugeall your expenses. It is also an excellent way to make long-term financial goals like house ownership, and hold yourself accountable for them.
Making savings for a down payment: One of the major hindrances towards buying a home is the hefty down payment requirement. The FHA offers loans that require 3.5% of the amount in down payments. For instance, if you buy a home worth $300,000, you would need almost $10,000 for a down payment. Therefore, it's necessary to save at least have 20% of the total amount.
Homebuyer assistance programs:Make sure you look for first-time homebuyer assistance programs when looking to buy your first home. Many states have grants and loans that are offered to new home buyers to help them with down payments and closing costs.
Clearone Advantage
,
Credit Associates
, Credit 9,
Americor Funding
,
Tripoint Lending
,
Lendvia
,
Simple Path Financial
,
New Start Capital
,
Point Break Financial
,
Sagemore Financial
,
Money Ladder
,
Advantage Preferred Financial
,
LoanQuo
,
Apply.Credit9
,
Mobilend
Comments Rating
( reviews)