AskNow: Overview
Experiencing a life dilemma? Is your love life at a crossroads? Or maybe you have a burning question about your career?
AskNow is a genuine, with quality psychics that can help you find those answers.
But, we don't want you to fall prey to scammers, or those with weak psychic powers, which is why we review psychic platforms so you get the best quality reading.
AskNow is one of the best online psychic directories out there.
How do we know that? We've sorted the wheat from the chaff of the many psychic platforms to guide you toward the wisdom your soul is seeking.
Only verified, genuine psychics are permitted to list on AskNow. You can be assured that you'll get an accurate reading on-demand when you search through only the best psychics.
AskNow has been going strong for 15 years, so you can be assured they've hired the best talent.

4.0 out of 5.0 stars4.0
AskNow: How it Works
Connecting with the right psychic for your question is easy. Before you part with any cash, the site offers a free 5-minute psychic reading when you sign up for an introductory package.
Browse through the profiles of thoroughly scrutinized psychic mediums on this intuitively designed platform either from your computer, laptop, tablet, or phone.
Every AskNow psychic receives ratings after every call or online chat. The listings are sorted in order of ratings from highest to lowest.
When you find your guide, sign up for an account online by providing your phone number and 4-digit passcode. You can also call 1-800-2-ASK-NOW to sign up.
Psychics are available to chat in English or Spanish.
AskNow psychics are specialized in a wide variety of topics such as career, love, money, past lives, relationships, guardian angels, and much more.
If you're dissatisfied with your reading, the platform will refund you in credit, but not in cashback to your account. This is pretty standard with all psychic platforms.
You can add funds to your account using Visa, Mastercard, American Express, or Discover.
AskNow will collect your personal data. Their privacy policy explains what information they hold and may use it for marketing purposes, although they do offer an opt-out if you wish. A good thing about this platform is that they won't sell your data on to third parties.
When your reading is complete, the cost will be taken from the funds in your account.
The AskNow platform is well-designed, with strong graphics and clear, concise information.
So, what's our take on the pros and cons of AskNow?
Pros
Only a few psychics make it onto the platform
Every psychic is thoroughly vetted for their accuracy and commitment to helping others
Satisfaction guarantee
Helpful customer service
You don't need any special software
Ratings system means you can find the very best psychic for your needs
Discreet and confidential
Cons
The company collect potentially sensitive personal data for marketing.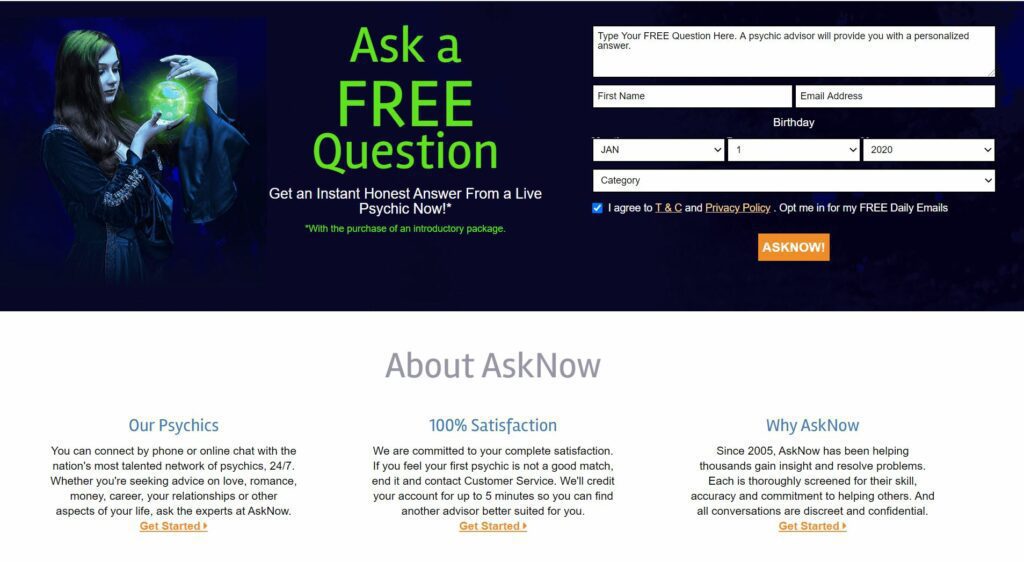 Types of Psychic Services
Ask Now features psychics with a range of specialist powers including:
Pet Psychic: A pet psychic can connect you with a pet that has previously passed for advice, wisdom and comfort.
Psychic Adviser: A gifted psychic has the ability to see your life situation and give you accurate answers to difficult life questions.
Tarot Expert: An adviser trained to use tarot cards to gain a metaphysical insight into your life circumstances and advise you of opportunities and pitfalls.
Medium: A medium can channel advice from the spirit world. Using trance or Ouija, a medium communicates with spirits and conveys their messages.
Clairaudients: Clairaudients can hear sounds and voices beyond the physical world.
Clairsentients: Clairsentients experience subtle energies not felt by most.
Clairvoyants: Clairvoyants have psychic powers that enable them to 'see' into your life situation and guide you accordingly.
Empaths: An empath can feel your feelings and those of your loved ones. They are able to feel the foundations of relationship dynamics that may be causing emotional distress.
Trustworthiness of AskNow
Judging by the high ratings and feedback are given on AskNow, it would appear that it's a totally legit operation. After all, the proof is in the pudding. Great feedback means great service.
Psychic Biographies on AskNow
Each psychic has a profile with their picture and biography.
Each biography details their experience, credentials, area of specialism, length of service, and an About section, followed by ratings from people who've used their services.
Pricing
Unfortunately, if you're after a good quality psychic service it's quite pricey. But, you get what you pay for.
You're entitled to one introductory offer of $20 for 20 minutes, or $30 for 30 minutes with a free 5-minute reading included.
The most talented psychics can charge as much as $13 a minute, meaning you can quickly rack up a bill going into the hundreds if you go for a detailed reading.
The Verdict
While AskNow isn't cheap, at least you know you're getting the real McCoy. Judging by the many 5-star ratings AskNow psychics get, you can rest assured you'll receive an accurate and genuine reading.
We highly recommend AskNow.