California Psychics Overview
California Psychics offers psychic readings around the clock.
This company has been operating since 1995, and they've completed 5 million psychic readings.
You'd hope that an organization of such long-standing would deliver on its promise to provide only the best psychics.
As we're in the business of making sure you don't get scammed, we've done a bit of digging around California Psychics to see if they do provide a quality service with genuine psychics.
After all, this industry attracts a lot of charlatans.
California Psychics loudly proclaim they are the best psychic platform. They are so confident, they will give you your reading for free if you're not satisfied.
We decided to check them out and see if their service matches up to their claims.
3.0 out of 5.0 stars3.0
California Psychics: How it Works
There are three steps to hiring a psychic for a reading call on California Psychics.
First you browse through the many adviser profiles. Profiles are organized according to:
Reading topics
Psychic Abilities
Psychic Tools
Psychic Style
You can also search on:
Customer favorites
Premier psychics
Staff picks
Rising stars
New psychics
When you've decided on the psychic that's a right fit you then create an account. Top this up with funds and then you're away.
Pros
Easy to get started
Plenty of choice
Intuitive website
Plenty of special offers
Cons
The satisfaction guarantee does not refund your money but gives you California Psychics credits
Vetting service is subpar
Significant amount of negative user feeback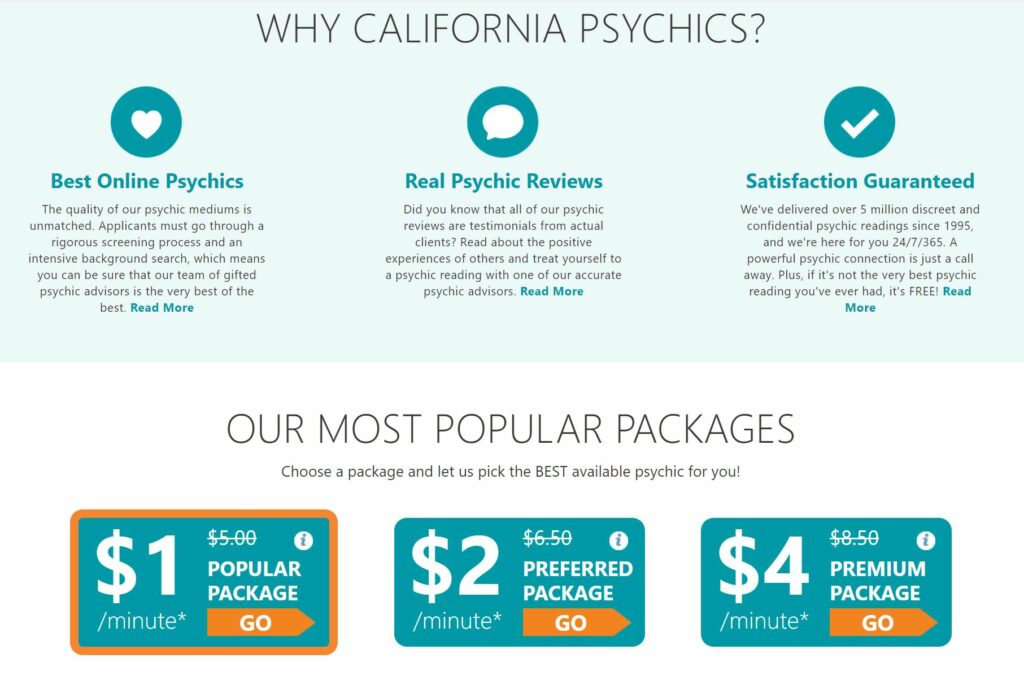 Type of Psychic Services
Here are some of the main types of psychic services you may wish to engage. The service you decide on may depend on your personality and what resonates with you the most.
Clairvoyant: Many people decide to engage with a clairvoyant because they have an uncanny ability to foresee potential hazards and opportunities. If you're having a life dilemma a clairvoyant can help put you on the right path.
Psychic Adviser: Psychic advisers can 'see' beyond the physical realm via a variety of mediums. Astrology, palm reading, crystals, runes, and oracle card readers all use their psychic power in different ways.
Clairaudient: For advice from the spirit world an exceptional clairaudient can connect with spirits who send messages and signs through voice and noise. They can hear things that are beyond the physical realm.
Empath: If you're going through a tough emotional time an empath will connect with you on an emotional level. A talented empath is adept at zoning in on subtle energies and has the gift to clarify confusing or distressing situations.
Clairsentient: A clairsentient is a bit like an empath but they have a stronger connection with spirit. They are deeply sensitive and can feel different entities and souls around them. They often communicate messages from the spirit world.
Trustworthiness of California Psychics
Unfortunately, California Psychics has 22% bad reviews on TrustPilot.
Dana Ryvin, Jun 13, 2020
1.0 out of 5.0 stars
"This is a fact. The psychics write down the information they've provided the callers with during the reading. When you return they remember who you are, try signing up to a new account, they will have no clue who you are. This isn't right. And a psychic does not need a DOB if they have a real gift. California psychics, please stop robbing your clients and be more transparent and truthful. In addition, a reading for more than $5 per minute, what a rip off. Some psychics are $15/per minute, this is ridiculous and shameful!!!"
Frank Varchetto, Apr 16, 2020
1.0 out of 5.0 stars
"Do not use this company they will take your money and you will get no satisfaction from them try Keen psychics they are way better I didn't even want to give a 1 Star!"
Jordan, Jul 9, 2019
1.0 out of 5.0 stars
"iv spent over 4000$ on this site, I keep giving them chances but after realizing its a bunch of fakes i will never use this site again, They give you false hope and tell you what you want to hear or give you such horrible info about your situation that your physically sick. i will be reporting this site."
Psychic Biographies on California Psychics
Each biography includes:
A photograph
Self-written profile (written in the third person)
An appointment calendar
Total readings
Topics
Tools
Abilities
Style
Rate
The bio pages are well-designed and easy to use and read.
Every adviser has testimonials and a rating for each client to give you reassurance.
Pricing
There are three tiers of psychic depending on their popularity:
Popular psychics are advisers that have passed their vetting procedure but haven't yet done many readings.
Readings by Popular psychics cost $1 a minute for new customers then $5 a minute once the introductory rate has been used.
Preferred psychics' readings cost $2 a minute but the rate rises to $6.50 a minute.
The introductory rate for a Premium adviser is $4 a minute rising to $8.50 a minute.
However, when you browse through the profiles, many advisers offer a reduced rate, suggesting they're potentially short on customers.
Customers can sign up for the Karma reward program and receive $20 free credit and earn points on purchased minutes.
The Verdict
Overall, the site itself isn't bad. Clients can leave testimonials and they offer a satisfaction guarantee. This doesn't mean you'll get your money back, though. Instead, they will credit your account.
The site mentions that their advisers go through a strict selection process, but judging by the reviews on Trust Pilot it seems that not all what they purport to be.