Horoscope: Overview
When you're looking for answers during those tough times, watch out for con artists who may try to exploit your vulnerability.
A psychic can help to work out those difficult life situations, provided they are genuinely psychic, of course.
There are hundreds of psychic platforms springing up on the internet. To help you make an informed choice of the best platforms out there, we've reviewed a broad cross-section so you don't get scammed.
We want you to get the right type of help from genuine psychics who have your best interests at heart. We've assessed hundreds of these platforms based on credibility, integrity, price, and ease of use.
Today, we'll be looking at Horoscope.
3.0 out of 5.0 stars3.0
Horoscope: How it Works
Horoscope is an astrology site with 14 million satisfied customers.
The platform has been operational for 20 years and has featured in Cosmopolitan, Women's Health, Yahoo, Brit & Co, Refinery 29, and Bustle.
The site has so much content, it's overwhelming, even a little confusing.
Site sections include horoscopes, articles, free online tarot, tarot games, and zodiac signs. The last section is for psychic readings.
It's a bit unclear, but it becomes apparent that the psychic reading section of the site is called Keen. Or, there's a psychic section AND the Keen section…?
To kick off, you can opt either for an introductory tarot reading or psychic reading priced at $5 for 5 minutes.
Reading sessions are conducted either by call or online chat.
To get a reading, you have to sign up first. Next, add funds to your account then select the psychic adviser you want a reading from.
Pros
Clear pricing on each advisor's page
No subscription available
A lot of informational content available on website
Cons
Site is loaded with annoying adverts
You can't dispute any deductions from your account beyond 7 days
Their "100% satisfaction guarantee" doesn't mention anything about refunds
Slightly overwhelming and confusing website
No mention of how advisers are vetted
Type of Psychic Services
The type of psychic you choose to engage may depend on your temperament and motivation for hiring one.
Here are a few of the main types of psychic on Horoscope.
Empath: Empaths are gifted with the ability to feel others. They can guide you through relationship, career, and money difficulties.
Clairvoyant: Clairvoyants are seers. Their gift is extra sensory perception that enables them to glimpse the future and warn of potential life hazards and opportunities. A good option if you're at a crossroads in life.
Clairaudient: If you're seeking advice from the spirit world you may want to hire a clairaudient. A clairaudient uses their unique ability to hear voices and noises from the spirit world to convey their messages of advice.
Clairsentient: If you're experiencing a mixture of confusing emotions a clairsentient can tune into your feelings and help you to make sense of them. They are talented at gauging emotions. This type of psychic is ideal for learning how to manage difficult relationships.
Psychic Adviser: There are many different types of psychic adviser. What unites all psychic advisers is their ability to intuitively understand the bigger picture which is not obvious in the physical realm.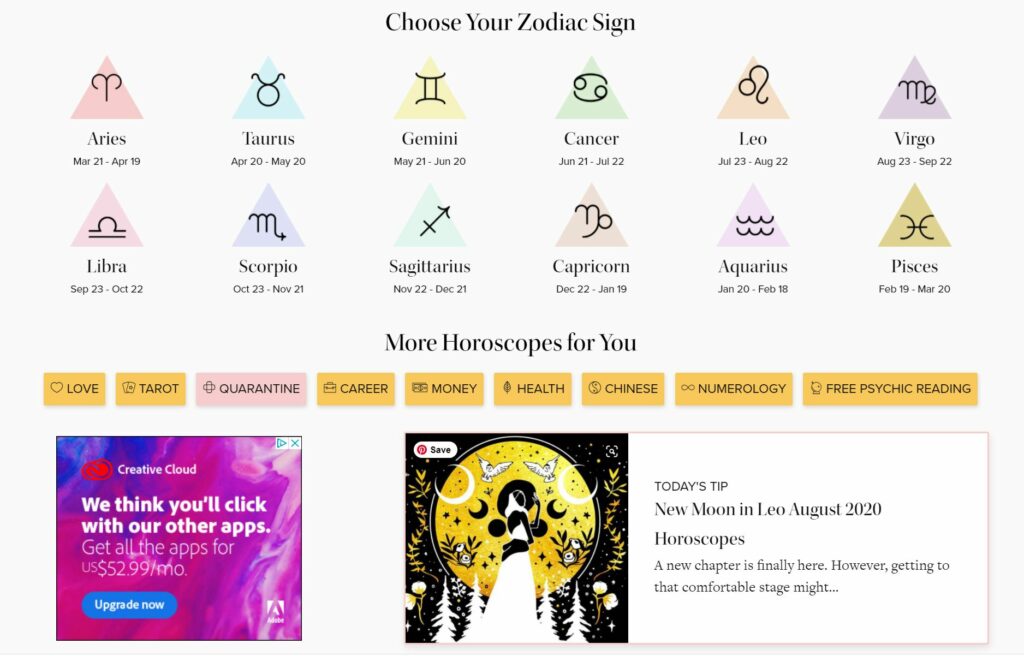 Trustworthiness of Horoscope
We headed over to Trust Pilot to get a feel for Horoscope services. Their feedback is not good at all. 80% of reviews give a one-star 'bad' rating.
Here's what people have to say about Horoscope:
Lily, Dec 3, 2019
1.0 out of 5.0 stars
"I used to watch videos on their site, but now they're so loaded with ads that its impossible to watch them. A 5-minute video has 6 ads in them! And thanks to all those ads, it makes it almost impossible to navigate that site without an ad blocker. It never used to be this bad. Not worth the hassle."
Jonathan Parker, Oct 9, 2019
1.0 out of 5.0 stars
"Divination…. your money, their pocket and nothing achieved!
Horoscope.com, in fact all divination/star sign and tarot practitioners and the like. Having engaged in a three month study I have determined as an evidence base and not the usual anecdotal reports they're are all charlatans. As psychologists we established a working model to determine their accuracy. Ignoring the barnumism's the which tended to be ambiguous generalized statements there existed no evidential validity in any of the mediums used. Both astrology and tarot yielded no substantiated
Outcome other than mere coincidence of the generalized statement. I was open minded on commencement of this study, my mind is now firmly closed however my concern is that in moments of need, desperation we all seek answers, usually whilst we are in a state of hope and vulnerability, divination exploits this, but ultimately offers no tangible solution. My advice, a positive mental attitude, talking to those whom we love, trust and respect for their counsel along with facing the issues will yield a far better outcome… spending what little hope or money on someone who tells you they have the answer is not, I challenge any medium to prove that I'm wrong… I by prove, I mean something tangible that can be evidenced! Save your money, talk to your friends and if you don't have a friend, talk to one of the many free helplines."
Elizabeth Roberts, Updated Oct 2, 2018
1.0 out of 5.0 stars
"Don't waste your money
This company is now known as Psychic Center. They recently upgraded their website, got new customer service reps and added new Psychics. The changes have not been good. I get cut off before the time I have purchased has been used. When I complain to customer service I get a rude answer. There is one Advisor I call now and if something happens to him I will never use this company again. Don't bother calling, 99 percent of the 'Psychics' are frauds.
Now they are recording all phone calls. Your private details are being recorded for others to snoop and use your info for extortion."
Psychic Biographies on Horoscope
The biography pages are well designed and provide a profile picture and a self-written bio. Feedback is available for all to see.
Each psychic's rate is clearly listed and the biographies are easy to read and use overall.
Pricing
On Horoscope, each advisor sets their own price depending on their overall rating.
New customers can get 3 free minutes or 10 minutes for $1.99. When those minutes are used up, you can continue the call at the advisor's advertised rate.
Some advisors are charging as much as $6.99 a minute.
The Verdict
The site is jammed with content. This might be good for some, but we find it a little OTT.
There's no mention of a money-back guarantee, although customer feedback and ratings are well presented.
Judging by the reviews on TrustPilot, however, you should take care with this site. There's no mention of vetting, so you'll have no idea whether you're getting a genuine psychic or a clever manipulative scam artist.