Ad Disclosure: We receive referral fees from advertisers. Learn More.
ItsPsychic: Overview
Looking for a genuine psychic to guide you to the right information can be a minefield.
We don't want you to get conned by charlatans posing as spirit guides, we want you to find the real deal.
That's why we've reviewed hundreds of psychic platforms based on their trustworthiness, value for money, and price.
There are some great platforms out there, while others are not so good.
To save you the bother of wasting time and energy on con artists or psychics with below-par psychic powers, we've reviewed the good, the bad, and the ugly.
Whichever burning question you need answering, trust us to guide you towards the right psychic for you.
Today, we're examining ItsPsychic.
ItsPsychic: How it Works
When you first arrive at ItsPsychic's website, you're presented with fresh and clean graphics.
You can jump straight into a reading by selecting one of the available psychics that wait online for clients.
You can also scroll down further and select a topic pertinent to your current situation, such as:
Psychic readings
Love and relationships
Tarot readings
Life questions
Psychic readings
Spiritual readings
Once you've signed up and added funds to your account, you can chat live with any psychic you choose by clicking on the profile that speaks to you the most.
Calls are made via an online telephone marketplace called verifiedcall.com so your payment and call are both secure.
Call lengths vary between 5 minutes and 60 minutes. The first 3 minutes are free.
Pros
Transparent pricing structure
No subscription
They won't sell your personal data to third parties
Cons
No mention of a money-back guarantee
No mention of the vetting process, just that advisors are screened.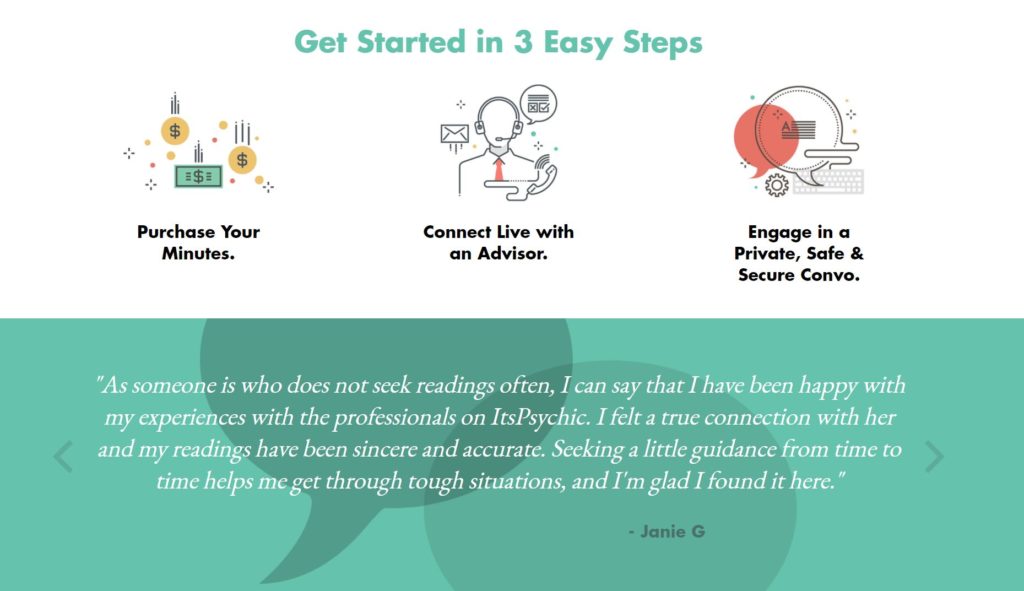 Type of Psychic Services
Empath: Due to their ability to intuit the feelings of others, empaths can ascertain the nature of relationship dynamics between you and your loved ones then provide an accurate appraisal of a current situation.
Clairvoyant: A clairvoyant's gift is they can "see" into the future and beyond the physical realm. Clairvoyants are particularly useful for warning of potential disasters and good opportunities and life events.
Clairaudient: Clairaudients channel the spiritual world by using their ultra-sensitive hearing powers. As they can hear voices and noises not audible to a regular person's ear, a clairaudient can convey messages from the spiritual world.
Clairsentient: A clairsentient is enormously gifted with the ability to feel the emotions of the people around them. Well-meaning clairsentients use their gifts to guide those who are struggling to make sense of a challenging situation.
Psychic Adviser: You can consult a psychic adviser to help you make sense of a difficult life situation. If your soul searching still has you wondering what to do, a psychic advisor can use their extrasensory perception to help guide you on the right path. Types of psychic advisers include aura readers, numerologists, palm readers, and past life advisors.
Trustworthiness of ItsPsychic
There are no online reviews on review sites or Itspsychic' biographies.
This is cause for concern as you get the feeling they're hiding something.
There's no mention of how the vetting process is conducted, and none of the advisors get feedback ratings.
You're expected to use blind faith.
At $1.99 a minute with no reviews, we suggest you tread very carefully with your money here. You could end up on a call with an advisor who just keeps dragging out the conversation to earn your credits.
As there are no customer reviews at all to be found within or off the site, you might want to try a platform with a bit more transparency.
Psychic Biographies on ItsPsychic
The biography pages are quite well presented. The website is designed nicely but there's nothing special about it.
Each psychic advisor writes their profile and you click on the profile that appeals to you based on their profile picture and write-up.
Pricing
The one good thing about ItsPsychic is that you don't have to pay for a subscription. Just purchase your credits using debit, credit card, or PayPal and then just use your minutes.
It's quite pricey at $1.99 per minute, although psychics on other sites charge as much as $13 a minute. You get 3 minutes free, but our guess is you wouldn't get much information in those three minutes.
The Verdict
We're not overly impressed with this platform.
While the pricing structure is transparent and they won't sell your data on, there's no mention of a money-back guarantee. There is no information on how they vet their advisors either. Crucially, there's no feedback on any advisor.
Compare ItsPsychic To The Best Psychic Reading Networks of 2020