Kasamba: Overview
In these strange times, we are faced with more uncertainty than ever before Kasamba can help give you guidance. Financial worries, career dilemmas, and money problems all take a toll on our relationships and love lives.
Sometimes we want clarity on our situation amongst this chaos. You may be tempted to consult a psychic for some direction and reassurance. If so, we want you to conscious of the many scam artists operational right now.
Many have had their whole life savings swindled after being sucked in by manipulative charlatans posing as genuine caring psychics.
This is bordering on criminally insane in a legal framework and we don't want you to get caught out.
So, we've sifted through hundreds of psychic platforms to assess whether any of them are any good. Unfortunately, many are downright awful.
It's heartbreaking to read how so many vulnerable people are scammed of their savings, or end up racking up huge debts.
To save you being exploited by wily con merchants, we've been checking out the good, the bad, and the ugly.
Today, we're putting the spotlight on Kasamba.

4.0 out of 5.0 stars4.0
Kasamba: How it Works
Kasamba offers psychic readings from 281 advisers via phone or live chat.
This site has spent 20 years acting as a middleman between trusted psychics and people seeking answers.
To obtain a reading is simple. You can either browse through the profiles intuitively and see which ones appeal to you the most, or you can search for specific topics, skills, or tools.
Once you've selected your adviser, you then create an account by inputting your personal details before adding funds to your account.
You're then ready to go ahead and start your reading or schedule an appointment.
Pros
20 years in the industry
3 free chat minutes with each new psychic you try
Satisfaction guarantee
Private, anonymous, secure payments
You can view past transcripts
Mobile phone app available
There's a "contest fee" function
Refund is possible if not satisfied
Cons
You must input your personal details to gain access to their terms and conditions
Pre-authorizes payments (which are reversed after 1 hour)
Part of a minute is classed as a full minute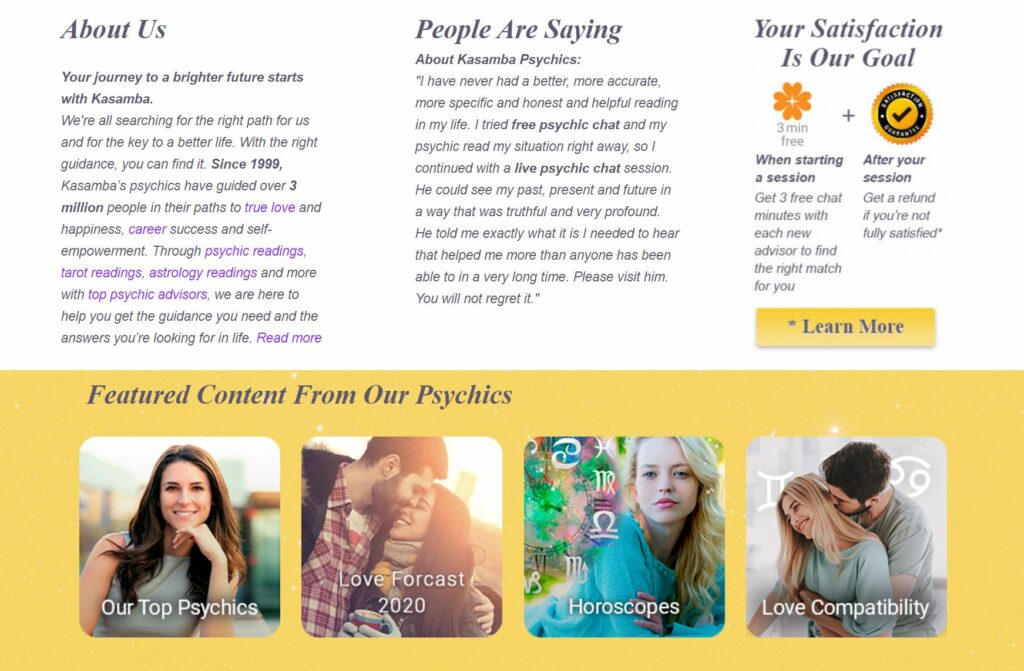 Type of Psychic Services
There are many different types of psychic service available to help guide you on your path. Here are just a few common services you're likely to come across:
Empath: Empaths have an extreme sensitivity to others' emotions. They can literally feel other peoples' feelings and emotions. A well-meaning empath has the ability to empower people to manage their emotions effectively.
Clairvoyant: Clairvoyants have extra-sensory perception that enables them to pick on other realms of existence and dimensions. They can see spiritual entities, and they can see into the future.
Clairaudient: Clairaudients have the ability to hear voices and sounds from the spirit world. They can decipher messages from ghosts of the since departed.
Clairsentient: Clairsentients can see a person's aura or energy field. They can also use this skill to see ghosts.
Pet Psychic: Pet psychics have an uncanny ability to communicate telepathically with animals. This is useful if you wonder what happened to your pet before they entered your life.
Trustworthiness of Kasamba
Kasamba has a pretty high overall score of 3.8 on Trustpilot.
The majority of the reviews are extremely positive suggesting a high standard of service. Comments on Trustpilot typically mention the reviews have strong accuracy and advisers have a kind attitude.
This platform appears to be one of the more trustworthy sites we've looked into.
Psychic Biographies on KASAMBA
The psychic biographies are clearly designed with plenty of information at your disposal.
Each profile starts with a photograph of the psychic with an indication of whether they are online or offline.
Every adviser creates a self-written synopsis of their skills, abilities, background, and any other pertinent information.
Every biography lists every review they've ever received suggesting the platform has a good level of transparency. Some psychics have received tens of thousands of 5-star ratings hinting at strong and accurate psychic powers.
Many psychics on this platform are described as accurate, wise, kind, and to-the-point (unlike charlatans who will drag out a conversation to bleed your credits).
Pricing
Pricing on Kasamba is transparent with no subscription. It's a purely pay-as-you-go service.
New customers receive 3 free minutes, and every user gets 3 free minutes for live chat with every new psychic they try.
Each adviser sets their own rate. This can vary from $1 per minute to $30 per minute for super-talented psychics.
You can add funds to your account using a debit card, credit card, or PayPal.
The Verdict
On the whole, this is one of the stronger psychic platforms in existence today.
The platform has a high satisfaction rate on Trustpilot as well as on individual adviser's profiles.