Keen: Overview
Keen is one of the strongest online psychic reading platforms in a crowded space.
If you checked out Psychic Source, our number one recommendation, and you didn't like what you saw, why not give Keen a chance?
First thing's first, how does this online psychic reading work?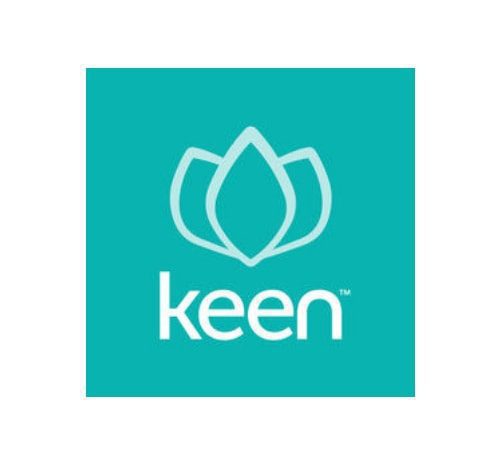 4.0 out of 5.0 stars4.0
Keen: How it Works
All online psychic readings take place fundamentally the same way as face-to-face readings.
While some people might find this a less effective delivery method, others prefer the ease and convenience of readings by email, live chat, phone, or video call.
You can access psychics on this site around-the-clock. You can use a website browser or a mobile app.
Take your time browsing the selection of psychics and readings available before making your pick.
Creating an account with Keen is quick and easy even if you're not a great tech lover.
All you need to do then is load your account with some funds and you can start your virtual reading.
Once you're done, the amount of your reading is automatically deducted from your balance.


Keen does not keep customer information on file.
With a brisk, user-friendly website or an intuitive mobile app to choose from, you're spoiled for choice with Keen.
Next, let's quickly highlight the chief pros and cons of Keen psychics…
Pros
Major and highly reputable online psychic
Huge body of user reviews
Get readings on multiple comms platforms
All psychics are scrupulously screened
Customer service is responsive and helpful


Cons
Quality of psychic bios is inconsistent
Restrictions in place with refunds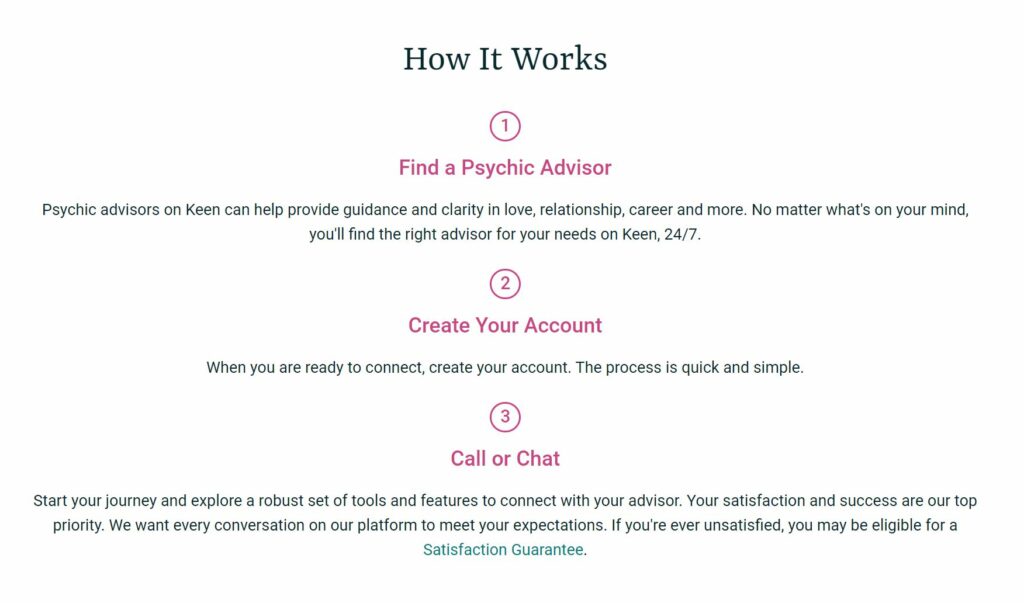 Types of Psychic Services
With Keen, you can choose from a broad spread of readings, both structured and unstructured.
Here's a glance at what's on offer…
Angel card readings: Much like tarot card readings, angel cards can be used by a psychic to give you insights into various areas of your life. The difference? The cards used are from your guardian angel rather than from a tarot deck.
Cartomancy: This type of card reading is made using cards randomly picked from a deck of cards.
Dream Interpretations: Discover what your dreams mean with this form of reading.
Numerology: These readings harness the special numbers in your life – your birthday and anniversary, for example – to help you determine a life path or course of action.
Past Life Readings: If you're disturbed by feelings of déjà vu or you have any irrational fears, probing the possibility of a past life with an online psychic could offer some illumination.
Psychic Love Readings: With these readings, the psychic will tap into the energy you project to make suggestions about your love life or sex life.
Tarot: Tarot is a form of Cartomancy using a 78-card deck.
With the possible exception of Psychic Source, you'll struggle to find a virtual psychic offering a wider range of services. Once again, this platform earns our respect and trust.
How about the respect and trust of customers, though?
Trustworthiness of Keen
Finding a genuine psychic is not easy in the best of circumstances. When you're hunting for an online psychic, it's even harder to determine whether you'll be ripped off or get an insightful reading.
Whatever you're doing online, you should always do your due diligence.
The screening process ensures that only authentic psychics make it onto Keen. Instantly, you're off to a strong start.
We lasered in on user opinion across multiple platforms. The majority of testimony concerning Keen is positive.
Perhaps the best snapshot of user opinion comes on Keen's website. Here, you'll encounter more than 13,000 reviews. Take as long as you want to establish an idea of how the psychic service you're seeking with Keen was received by others.
The website is rich with informative and non-sales content so you're getting a great overall package with an industry-leading online psychic service.
Psychic Biographies on Keen
All psychics on Keen come with biographies. The only real concern is that the quality of these varies wildly.
As a user experience, it can make for rough reading at times. On the flip side, though, it adds further authenticity. After all, if you read page after page of immaculately constructed prose, that could ring alarm bells and have you questioning whether the bios were personal, or whether they were written by someone else.
Next up then, the usual sticking point for online psychics…
Pricing
Starting at $1 per minute, this base rate is in line with most of the competition. We can't say Keen is cheap, but it's no more expensive than the opposition.
You can expect better value if you buy a package deal with multiple minutes.
The Verdict
Over 35 million calls to Keen and an enormous number of satisfied customers mean we have no hesitation in recommending this online psychic platform unreservedly. Aside from the cost, there's nothing much to knock about this virtual service.
Compare Keen To The Best Psychic Reading Networks
Clearone Advantage
,
Credit Associates
,
Credit 9
,
Americor Funding
,
Tripoint Lending
,
Lendvia
,
Simple Path Financial
,
New Start Capital
,
Point Break Financial
,
Sagemore Financial
,
Money Ladder
,
Advantage Preferred Financial
,
LoanQuo
,
Apply.Credit9
,
Mobilend
Keen
Keen Review
Keen is one of the strongest online psychic reading platforms in a crowded space. Over 35 million calls to Keen and an enormous number of satisfied customers means we have no hesitation in recommending this online psychic platform unreservedly.
Comments Rating
( reviews)