Kooma Psychic: Overview
Do you have a burning question you want to ask a psychic?
It's normal to feel like this in these uncertain times.
That's why there's so many online psychic platforms now. People are capitalizing on people's vulnerabilities by charging extortionate rates for a load of flim-flam and hogwash.
Some of the individuals posing as 'readers' on these sites are duping thousands of people into parting with huge amounts of cash.
People lose thousands to shady tricksters who extort cash for lies and deception. It's like legal criminality.
Some companies don't vet their advisers at all. Other companies say they put their readers through rigorous assessment, but they don't expand on how. It makes you think they don't want to expand because it will reduce their credibility.
To save you the heartache of grief of not only losing large sums of money and realizing that you weren't really put in touch with your lost relative we've reviewed pretty much every psychic platform out there.
So before you part with any cash do your research. Here's a snapshot of what we found about Kooma Psychic.
2.5 out of 5.0 stars2.5
Kooma Psychic: How it Works
Kooma Psychic is a British psychic platform offering reading calls or IM readings.
There are three steps to gain a reading from Kooma Psychic. First select a reader's profile that interests you and note down their PIN.
Next, select the method of connection. You may choose either a call or an IM reading.
If you're a new user you need to register online. You can also call them to register and purchase credits with Kooma Psychic. Be warned though, their privacy policy states they "may" pass your info to third parties (which could potentially fall into the wrong hands).
You may either register online or by calling the UK freephone number. Remember, everything is priced in UK pounds.
Pros
Refunds available with the satisfaction guarantee
Detailed interviews on bios
Cons
They say they "may" pass your data onto third parties
More negative reviews on Trustpilot than positive
Type of Psychic Services
The right type of psychic service for you will depend on the nature of your question and what type of person you are.
Clairvoyant: Clairvoyants have heightened extra sensory perception and are able to channel the spirit world through objects, people, and places. They can help to locate lost items, and intuit the past, present, and the future.
Pet psychic: Do you ever wonder what your pet is thinking? A pet psychic can help you here as they can telepathically relay a conversation between you and them.
Clairsentient: Clairsentients zone in on a person's vibrational energy, muscle memory, and emotional memory. They absorb the energies of spiritual presences and others around them.
Empath: Empaths are so sensitive they can feel physically unwell when surrounded by negative energy. They feel others deeply, and help you work through tricky conflicts.
Clairaudient: Clairaudience is the ability to hear noises in the metaphysical world. They're often mistaken for schizophrenics.
Medium: Mediums communicate with spirits from other planes. They use objects, people, and places to divine information not found in the physical world.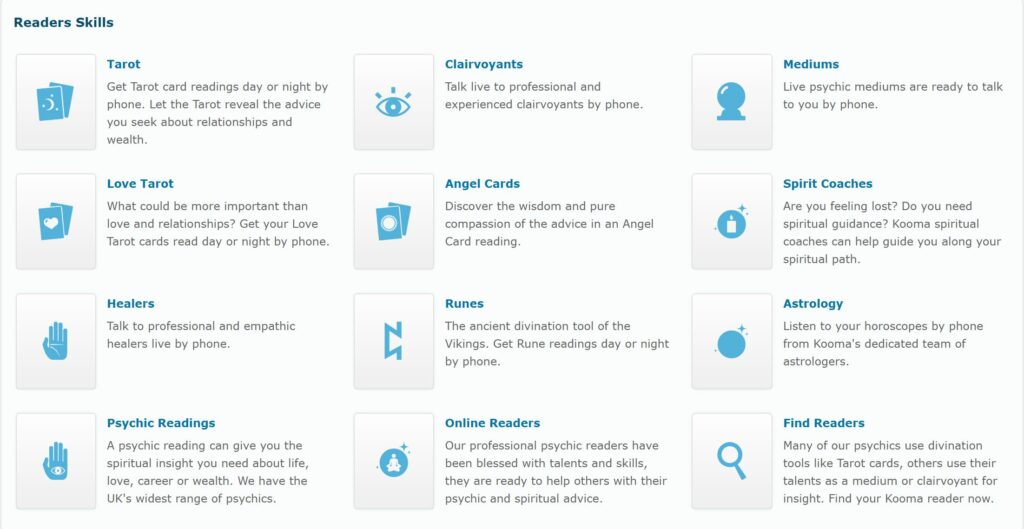 Trustworthiness of Kooma Psychic
Kooma Psychic has more negative reviews on Trustpilot than positive reviews. Here are the most recent ones on Trustpilot.
Lucy Lou, 7th August 2020
1.0 out of 5.0 stars
"Kooma Psychic is complete and utter rubbish it's a scam. I paid for their readings online requested a reading call back for paying online no available psychics called me back. I called in myself and asked a few questions the psychic told me nothing and looked like he was just nosey and wanted to know my business with out giving me guidence and psychic insight. And then I asked him if I was gonna move this year. He asked me where I was moving I told him. And then told him he is a psychic and to tell me when I would be moving. He told me no sorry your gonna have to speak to another psychic and hang up on me. I mean how rude this weird dude. Anyway I was referred to kooma Psychic through a online YouTube psychic reader too who is probably a phoney herself and getting money for supporting rubbish and misleading people and her followers. It or she was called gem goddesss and is a complete mean for referring people. I may not know or have insight into my future but I have other gifts. And I will curse them and their business and stop all forms and ways of them making money. People this is a lesson do not under no circumstances waste your money on these weirdos and fools they know nothing about your future. You've been warned."
S, Jun 29, 2020
1.0 out of 5.0 stars
"pathetic company. All lies. No refund.
It is such a pathetic company. They will not be able to tell you anything and are only interested in looting your money. it makes me cringe that in one day, they make millions of pound from tricking vulnerable people into believing completely false stuff. Their refund scheme is a complete scam. You will not get anything back. They have no trust bond with their customers. They are going by the policy of duping everyone once at least, even if you don't come back again, they don't lose a lot because they have already earned 50-100£ from you in one day. I have learnt my lesson. Do not waste money here. I don't know who of all will be able to take benefit from this, but if you are reading this message, consider it an omen to avoid this site at all costs. Imagine, people who can indulge in unethical practices, what kinds of human being they are, what "genuine" welfare-thinking you should expect from them? Please, if you need guidance, go buy your own decks and practice your own healing, do not at any cost go to these scam websites. It is so much hassle and in the end you will stand exactly where you began."
Julie, May 15, 2020
1.0 out of 5.0 stars
"Trading standards are really poor. Unethical. The reviews are fake. They only allow good reviews for some readers. They delete the bad reviews. Trading standards needs to investigate this business practice. This is a lie. The readers reviews are not correct. Kooma delete the negative reviews. Please report this business to trading standards."
Psychic Biographies on Kooma Psychic
When you head over to a bio page you see a profile picture, a "call" button, a "queue" button, a self-written description, and an extensive "questions and answers."
This section is followed by testimonials from customers with ratings. Nearly every profile has 5-stars, a handful have 4-stars. It raises the question of whether they edit their ratings.
Pricing
For call readings it costs 75p per minute if you purchase a block of 20 minutes for $15. Or you can pay 80p per minute for pay as you go.
If you pay by phone it'll cost you 80p per minute plus the network charge.
New members can purchase an introductory 20 minute package for £4.99, as well as a 20 minute online IM reading for £4.99.
Payment is made by debit or credit card.
The Verdict
Judging by the reviews, Kooma Psychic isn't so popular. Nearly every bio has a 5-star rating, which we think is too good to be true.
You might be better advised keeping hold of your money and not believing everything you read.
Clearone Advantage
,
Credit Associates
,
Credit 9
,
Americor Funding
,
Tripoint Lending
,
Lendvia
,
Simple Path Financial
,
New Start Capital
,
Point Break Financial
,
Sagemore Financial
,
Money Ladder
,
Advantage Preferred Financial
,
LoanQuo
,
Apply.Credit9
,
Mobilend
Kooma Psychic
Kooma Psychic Review
Judging by the reviews, Kooma Psychic isn't so popular. Nearly every bio has a 5-star rating, which we think is too good to be true. You might be better advised keeping hold of your money and not believing everything you read.
Comments Rating
( review)