Psychic VOP: Overview
So you're in the market to hire a psychic? We're glad you got here before handing over any cash.
Before you jump straight in and start inputting your credit card details, we can't urge you strongly enough to thoroughly research the platform.
Why? Because the terms and conditions are more important than the copy where your money's concerned.
The terms will help you to determine whether a platform is legit or not.
Because sites that reserve the right to edit ratings should ring alarm bells because it suggests that they could be manipulating you to think there are less negative reviews than there are.
Some companies might charge for hidden extras such as for "inactivity" or "other" activities. So, if you do sign up to a psychic platform make sure you check your bank account regularly for unusual deductions.
And beware of all readers. Some are clever manipulators, or maybe they've got access to your social media and can glean information about you secretly.
People have fallen prey to fake psychics and lost thousands of dollars. We think you should think critically before you start to hand over huge amounts of cash.
Ask yourself, is this company completely transparent about its ratings? Do they edit their ratings? Do they offer refunds? If so, are they cash refunds?
3.5 out of 5.0 stars3.5
Psychic VOP: How it Works
Psychic VOP is an Amsterdam based business (VOP stands for Voices of Psychics). This platform offers psychic readings via chat.
All of the psychics offer new customers free minutes so you can try them out in the free chat room before paying their typical rate.
Live chat readings are available or you can wait 24 to 72 hours for a reply to a message.
Pros
Feedback included on profiles
No mention of editing ratings in terms and conditions
Cons
No mention of refunds
Scant information on terms and conditions and privacy policy
Type of Psychic Services
Here's a list of the type of services you might engage with a psychic for.
Clairvoyant: Clairvoyants can help to find items you've lost, and can look into the past, present and future.
Clairsentient: Clairsentients engage their ability to sense energies of other people with a heightened awareness. They can even absorb another person's muscle memory, and emotional memory.
Clairaudient: Clairaudience is the unique ability to hear signs in noises and voices from the spirit world. Many have often mistaken clairaudients for schizophrenics.
Pet psychic: Sometimes you may wonder what the heck goes through your pooch or cat's mind. A pet psychic can find out for you as they can communicate by telepathy with animals.
Medium: Mediums can get in direct contact with spirits from the other side. Mediums can glean energetic intelligence and help to heal your hurts.
Empath: Empaths are deeply sensitive. They're so sensitive they react physically such as feel suddenly unwell when surrounded with negative energy. Empaths can help you to process your pain and emotions.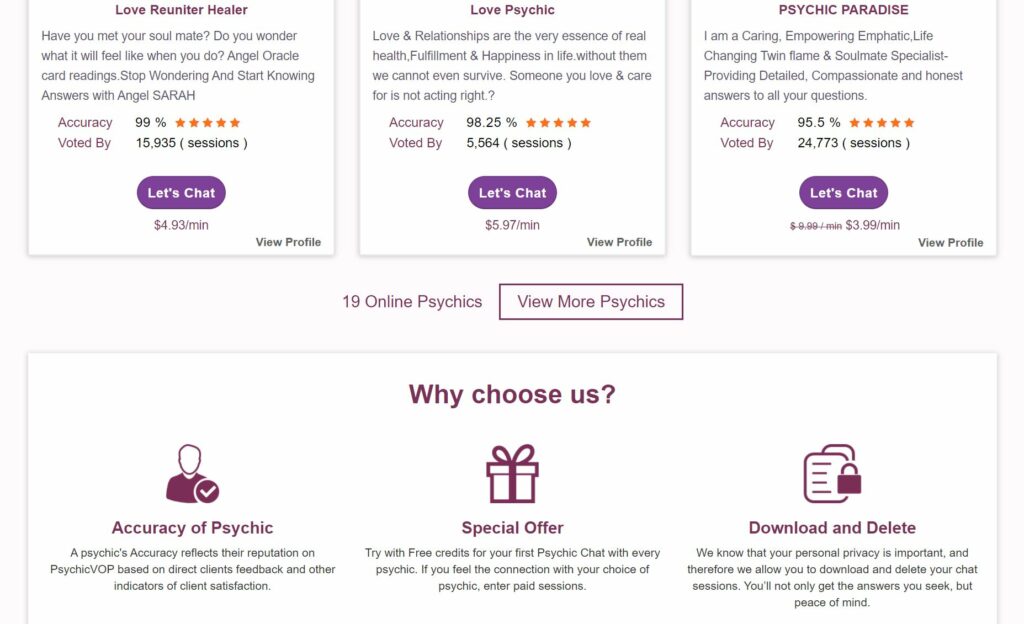 Trustworthiness of Psychic VOP
We couldn't find any negative ratings anywhere on the web. We only have the feedback on each adviser's profiles to go by.
There's no mention of the vetting process, so you have no idea how any of these people have been verified.
Anyone with a bit of creativity could probably write one of their biographies by regurgitating the crap that some of these advisers spout.
We have no way of knowing if the high ratings of each adviser are genuine. We can never know if they edit the ratings to make it look like they don't receive negative reviews.
Psychic Biographies on Psychic VOP
The psychic biographies on Psychic VOP are quite well designed, but they follow pretty much the same format as other psychic platforms. They work a bit like a dating site.
Each bio contains:
A profile picture
Work history
Reading sessions
Country
Rate
Message fee
A self-written profile blurb
Overall star rating
Feedback
Each profile is also graded according to accuracy.
Pricing
Psychic VOP advisers set their own rate. Rates vary between $2 a minute to $16 a minute. We think $16 is a brazen amount of money to ask. You wonder whether a genuine psychic would charge so much.
New customers can sign up for free, but only if you pay $25 (which means it isn't actually free after all). Once you've paid up, you can chat to each adviser for free for 3 minutes before being charged their actual rate.
The Verdict
The terms state that this psychic service is for entertainment purposes only. If you're only using it for entertainment that's fine, but with the huge sums involved maybe you'd get more out of a pair of brand new shoes, or even a new car!
Clearone Advantage
,
Credit Associates
,
Credit 9
,
Americor Funding
,
Tripoint Lending
,
Lendvia
,
Simple Path Financial
,
New Start Capital
,
Point Break Financial
,
Sagemore Financial
,
Money Ladder
,
Advantage Preferred Financial
,
LoanQuo
,
Apply.Credit9
,
Mobilend
Psychic VOP
Psychic VOP Review
The terms state that this psychic service is for entertainment purposes only. If you're only using it for entertainment that's fine, but with the huge sums involved maybe you'd get more out of a pair of brand new shoes, or even a new car!  
Comments Rating
( reviews)