The Circle: Overview
It may be tempted to consult a person's psychic powers for those particularly difficult life questions. Life is full of uncertainty, and when in times of distress or confusion answers can mean peace of mind.
But, the rise of online psychic platforms has created a playground for cheats, fraudsters, and charlatans who want to capitalize on your vulnerability and make a quick buck.
Anyone with a mouth, two eyes and a deck of cards can pass themselves off as psychic if they put up a celestial themed background and shove a crystal ball under their chin for a profile picture.
There are some genuine caring people who want to help, but how the heck are you supposed to know? We're concerned that the practices of these psychic sites lack integrity and transparency.
Any savvy digital marketing expert knows how to manipulate an organization's online reputation. So a site may say they receive glowing reviews, but the only way to know is to read their small print, their privacy policy, and reviews off the site.
We understand that it takes time to research so we've honestly appraised heaps of these sites to prevent you getting scammed.
People have lost hundreds and thousands of dollars to unscrupulous fraudsters. That's why we do what we do so you this doesn't happen to you.
Today we're checking out The Circle.
The Circle: How it Works
The Circle platform has the typical online dating style format.
You browse through profiles of psychics and when you find one you like you register for an account, add funds and connect.
The Circle offer readings via call or live chat 24 hours a day, 7 days a week.
The company has been operating since 1997. Just like every other psychic platform, they claim to hire only the most gifted and credible psychics.
We note that the terms and conditions state that the company reserve the right to delete or edit ratings. We think this is highly unethical.
The terms also state they'll do anything with your data, which means it could quite easily end up in the wrong hands.
Pros
Flat pricing structure
Transparent pricing structure
Cons
May delete or edit ratings
By signing up you give them free reign to do anything with your data which means they could sell it on to third parties
Type of Psychic Services
To help guide you to the right psychic service for your personality and enquiry here are some descriptions of different types.
Clairvoyant: If you're at a crossroads in your career or relationship a clairvoyant may be able to provide answers to those burning questions. Clairvoyants use their extra sensory perception to channel messages from the spirit world using objects or places.
Pet psychic: Some psychics can communicate telepathically with animals. This skill is particularly useful if you're wondering what kind of life your pet had before you become their pet parent.
Clairsentient: Clairsentients can help you to overcome knotty issues in relationships with family and loved ones. They can tune in to a person's emotional and vibrational energy and advise you on relationship dynamics.
Empath: Empaths have a unique ability to internalize a person's vibrational field. This enables them to read subtle energies and guide you towards more peaceful and harmonious life paths.
Clairaudient: Clairaudients tend to be confused with schizophrenics due to their ability to hear sounds and voices from other dimensions. If you're hoping to receive wisdom from the spirit world, a clairaudient can channel messages from those since departed.
Medium: Mediums communicate directly with the spirit world. They use objects, people, and places to intuit information not accessible in the physical realm.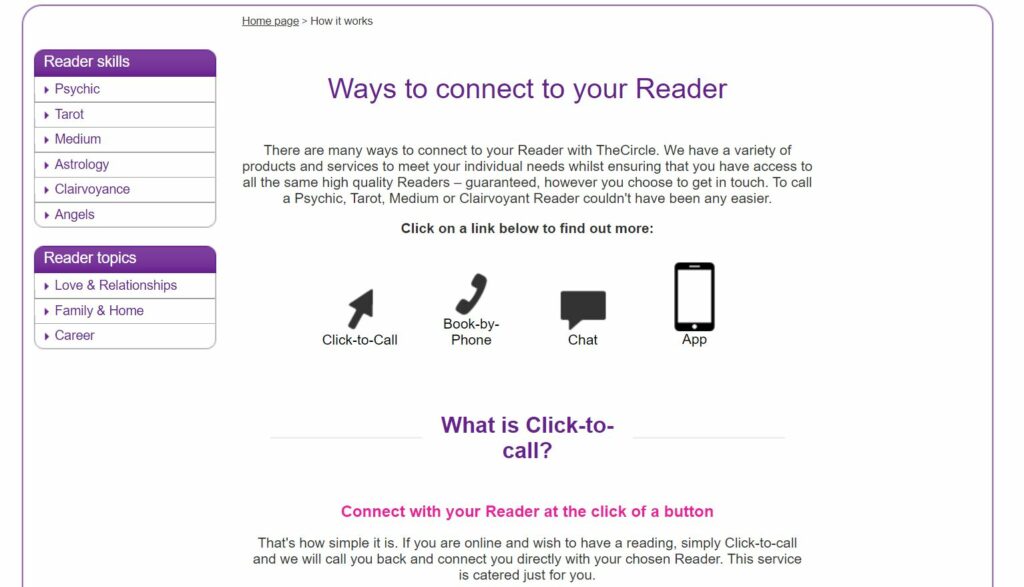 Trustworthiness of The Circle
The Circle has received 44% negative reviews on Trustpilot. Here are some of the more recent ones:
Tania Rosato, Jul 31, 2020
1.0 out of 5.0 stars
"I'm completely disgusted with how I'm being harassed over £34!!
This is how your company deals with victims of domestic violence!!!
Most recently due to the current Covid pandemic, the media and most social media platforms have highlighted the seriousness of domestic violence in homes.
BUT THIS IS WHAT REALLY HAPPENS WITH VICTIMS OF DOMESTIC VIOLENCE!!!!
Last year I was brutally attacked in my own home. Since then I have been on anti-depressants, signed off by my doctor, and most recently made redundant from my job as a teacher!!
Witchy, Jul 6, 2020
1.0 out of 5.0 stars
"Suspicious! I rang the circle and the 'psychic' kept asking me to repeat my birth date several times (over and over) and asked if I had had a reading with her before. She was looking on her computer to find my details/date of birth. Lets get this straight, a real psychic does not need your date of birth. Considering that a callers details are recorded in their circle account including their credit card details, it is obvious the caller is over 18. The fact is it is suspicious behaviour to repeatedly ask for a persons date of birth while along with the psychic fumbling around. I have read other reviews on here and I am not the only one who think the callers details are being recorded as to refer back to. Surely we cant all be wrong?"
AN, Mar 19, 2020
1.0 out of 5.0 stars
"STOP LYING! Negative reviews on the website are DELETED!
This review is in response to the reply left by The Circle to my previous review!
I really wish I could upload images on Trust Pilot, as I took a screenshot of the review that I left for Isidora! It did NOT have a single word of abuse. Just a genuine honest review – written very politely! The Circle clearly has a set of Template responses! The very same reply has been left on a preview review submitted by a different user who combined about the same issue! Clearly a copy paste job!
Stop Lying to your customers The Circle!!"
Psychic Biographies on The Circle
The Circle's site claims that all advisers go through a rigorous screening process, but we could find no detail on this process.
Each biography includes a profile picture, a voice recording, and a description of their style, gifts, specialties, and tools.
Each bio also includes their availability and an overall star rating (from 1 to 5) and lists testimonials from customers.
Pricing
New customers can receive an introductory rate of 29p per minute for the first 10 minutes.
Readers are graded according to Gold, Platinum, and Diamond:

Gold: 99p a minute for call or chat.
Platinum: £1.50 a minute for a call and 99p a minute for chat
Diamond: £1.80 a minute for calls, and £1.20 for chat
They also offer Pay Per Minute rates depending on how much you top up.
Payment is made using all debit or credit cards.
The Verdict
We think this is a highly unethical company.
They edit or delete ratings. Judging by the negative reviews this company works hard to conceal the truth. The truth that they will do anything to maintain a positive online reputation, even if this isn't true.
The phrase "buyer beware" springs to mind.
Compare The Circle To The Best Psychic Reading
Clearone Advantage
,
Credit Associates
,
Credit 9
,
Americor Funding
,
Tripoint Lending
,
Lendvia
,
Simple Path Financial
,
New Start Capital
,
Point Break Financial
,
Sagemore Financial
,
Money Ladder
,
Advantage Preferred Financial
,
LoanQuo
,
Apply.Credit9
,
Mobilend
The Circle
The Circle Review
We think this is a highly unethical company. They edit or delete ratings. Judging by the negative reviews this company works hard to conceal the truth. The truth that they will do anything to maintain a positive online reputation, even if this isn't true. The phrase "buyer beware" springs to mind.
Comments Rating
( reviews)