Back taxes are a major problem for many Americans, totaling more than $114 billion each year. Unfortunately, not everyone has the finances available to settle their outstanding debt right away, and avoiding the problem may feel like the only solution at the moment.
Larson Tax Relief is a tax relief company that helps individuals and businesses in 50 states (and Washington, DC). Read here our review of this company.
LarsonTaxRelief.com: Overview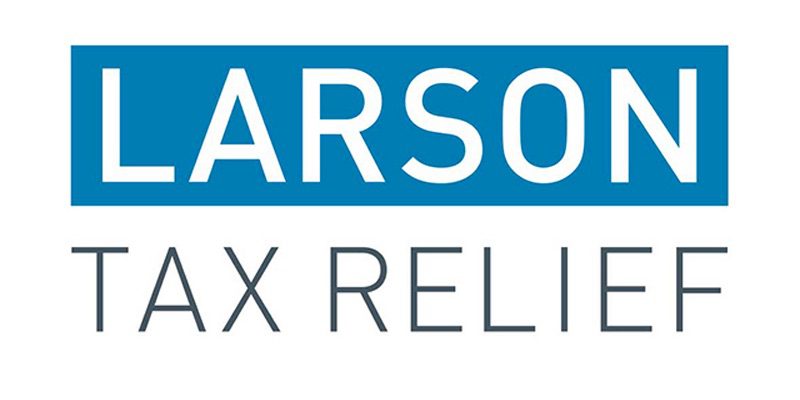 LarsonTaxRelief.com is a company that helps people with their taxes. They are based in Westminster, Colorado, and were founded in 2005. They offer services to people in all 50 states of America, as well as Washington, D.C.
Pros
Family-owned and operated
Free consult with a licensed rep
15-day money-back guarantee
Cons
Pricing information is not public.
A higher-than-average minimum tax debt is required.
What Type Of Services do They Offer?
They specialize in providing emergency tax relief and long-term tax solutions for both businesses and individual taxpayers. This company offers some IRS and state tax relief services.
Here are some of the offered services:
Long-term tax relief
Income tax relief
State tax relief
Business tax relief
Installment agreements
Tax liens
Missing tax returns
Wage garnishment
Is Larson Tax Relief A Scam?
Is Larson Tax Relief a scam? Overall, Larson Tax Relief is a reputable company that helps people with tax problems in a good way. Their team of experienced professionals will work hard to ensure that your taxes are taken care of quickly and efficiently so that you can move forward without worrying about your financial future.
Tax Relief: What Is It?
Tax relief is a reduction in your tax burden. This can come in many forms, such as deductions, exemptions, and credits. There are many ways to get tax relief, but you need to know where to look and what you qualify for.
There are many ways for governments to raise funds, but taxation is one of the most important. Tax collection involves special financial schemes so that every taxpayer pays their fair share. This can be done through tax credits and deductions, which take into account a person's financial, familial, and personal circumstances. By paying their fair share of taxes, people help to finance vital public services like healthcare, education, security, and infrastructure.
Tax relief is a government discount or reduction on the amount of taxes you owe. This type of relief can apply to employed or self-employed individuals and usually requires meeting certain requirements set forth by tax law. To claim tax relief, you will need to provide documentation to support your case.
If I don't pay my tax debts, what happens?
Not paying your taxes can have some pretty severe consequences. For one, you'll rack up additional penalties and interest charges, making your total owed balance grow larger over time.
The IRS can also garnish your wages (i.e. taking a portion of your paycheck each month) or file levies and liens against your property. That could put your car, home, and other assets at risk, and it could damage your credit score significantly. In some cases, you could even have your passport or driver's license taken away.
Larson Tax Relief: BBB Reviews
Larson Tax Relief is a tax relief company that has been accredited by the Better Business Bureau since 2006. It has an A+ rating with one customer complaint.
The latest customer complaint was received on 09/28/2021. The issue pertained to billing or collections, and the status of the complaint is now resolved. Unfortunately, no further details are available at this time.
FAQs
How Much Does Larson Tax Relief Charge?
How much does Larson Tax Relief charge? Due to the fact that each case is different, the public does not have access to pricing information for each one.
What Type Of Guarantees Do They Offer?
They only offer a 15-day money-back guarantee in case you're not happy with our work.
Do They Charge Retainer Fees?
They don't charge any type of retainer fee for their services. There is no need to pay anything upfront in order for them to start working on your case.
Will Larson Tax Relief Hurt My Credit?
Will Larson Tax Relief Hurt My Credit? The answer to this question depends on a variety of factors, including the type of tax relief you are seeking and the amount of debt you have. It's important to remember that any tax relief service can potentially affect your credit score if not appropriately handled. It's best to speak with a qualified professional before making any decisions about which type of tax relief is right for you.
Is Larson Tax Relief Legit?
Is Larson Tax Relief Legit? The Better Business Bureau has accredited the company since 2009, and it currently holds an A+ rating. They also have over 300 reviews on Trustpilot with an average rating of 5 stars. This shows that customers are generally satisfied with their services.
Overall, it appears that Larson Tax Relief is a legitimate company that can help you resolve your tax issues quickly and efficiently. They may be worth considering if you're seeking professional assistance with your taxes.
Company Information Of Larson Tax Relief
| | |
| --- | --- |
| Company Name | Larson Tax Relief |
| Year Founded | 2005 |
| Formerly Named | Larson Tax Relief |
| Address | 10170 Church Ranch Way, Suite 450 |
| City | Westminster |
| State/Province | CO |
| Website | consumeraffairs.larsontaxrelief.com |
Larson Tax Relief
Larson Tax Relief Review
Choosing a company that can help you with tax relief can be the best choice you can make. With so many options out there, you want to choose one with a proven track record. The Larson Tax Relief website provides redacted results showing exactly what settlements they've negotiated for their clients. If you choose to work with them, you'll have a good idea of what to expect from them.