Sacha Baron Cohen recently announced that a sequel to Borat; Borat 2 is coming out this year. Now, in a surprising announcement the film is set to debut in just a few days on Amazon Prime Video. Like most low-budget films which aren't part of a massive franchise, Borat 2 is going to come out on a streaming service. Whether it will be as great as its predecessor remains to be seen.
Borat 2 Hopes To Be A Sequel Success
While Ali G pre-dates Borat, the latter is what made Sacha Baron Cohen famous throughout the world. The character was first conceived by Larry Charles, alongside Cohen and Jay Roach from Da Ali G Show. The character was extremely popular and got his own film in 2006.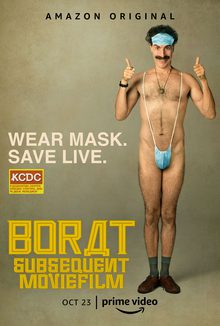 The film, titled, "Borat: Cultural Learnings of America for Make Benefit Glorious Nation of Kazakhstan" was a huge hit. The immigrant from Kazakhstan that came to America to benefit his "glorious nation" became an overnight sensation. Not only was the film lauded for its satire on America's culture and politics, but for its visual style. The film earned 262.6 million at the box office on a budget of just $18 million. There were talks of a sequel back in 2007, and so Borat 2 was said to be in the works. However, there were several hurdles in the way.
Of course, the film courted a lot of controversy when it first came out. In fact, two years prior to its release, the film generated controversy when some people in the film spoke out against it. Some even sued its creators. It was also banned in all Arab countries and the governments of Kazakhstan and Russia discouraged its showing.
Yet, the film was also a critical hit. It was nominated for the Golden Globe for Best Motion Picture-Musical or Comedy, and for the Best Adapted Screenplay Oscar. Sacha Baron Cohen took home the Golden Globe for Best Actor in a Motion Picture-Musical or Comedy.
However, after that, Sacha Baron Cohen seemed to have moved on. He made several new films that introduced other characters like Bruno (2009) and General Aladeen in The Dictator (2012). So it was a surprise when the sequel to Borat was announced earlier this year. The film's name, like its predecessor, is overly long and funny. However, this time, it's much ruder than before. In fact, it takes a shot at former Vice President, and current Presidential Candidate, Joe Biden.
The film is called "Borat Subsequent Moviefilm: Delivery of Prodigious Bribe to American Regime for Make Benefit Once Glorious Nation of Kazakhstan". So you'd be forgiven for simply abbreviating the title to "Borat 2".
Writers Guild of America Leak
A recent leak occurred at the Writers Guild of America website, where the listing for Borat 2 appeared. It was quickly taken down, but since everything lasts forever on the internet, people took screenshots. The title that appeared was much ruder in comparison to the one originally announced. The original title was "Borat: Gift of Pornographic Monkey to Vice Premiere Mikhael Pence to Make Benefit Recently Diminished Nation of Kazakhstan".
As with the title of the predecessor, there's no knowing what the film might contain. The first seemed completely improvised and off the cuff. Who knows what the anti-semitic Kazakhstani has up his sleeve this time?
Filming in Secret
Sacha Baron Cohen has been known for his elaborate makeup and secretive filming techniques. Very recently, he did a show called "Who is America" in which he disguised himself as various characters. He very famously interacted with Jason Spencer, Republican State Senator from Georgia, without him knowing who the interviewer really was. As a result, he got the Senator to perform some extremely lewd acts on camera which resulted in his resignation. These included saying racist words, speaking in a stereotypical Asian accent, and baring his buttocks to would-be extremists.
Cohen has demonstrated himself to be a master of disguise and theatricality in this case. That's going to serve him well since Borat 2 was filmed secretly apparently. Since the character is easily recognizable and something of a cult favorite, secretly filming the movie was much more difficult this time around.
An insider has described the film as "Cohen playing Borat playing Cohen". However, another source reached out and refuted this description.
What Will Borat 2 Be About?
The first Borat confronted a lot of issues in America. Most notably, it shed light on the War on Terror and America's obsession with being a consumerist society. It also shed light on the absurdity of life in America and how people from foreign lands view life there.
The sequel is going to comment on various issues which are prevalent in America today, and have affected the world. Reportedly, the film will comment on Jeffrey Epstein, as well as his relationship with various world leaders including Donald Trump. The film is also reportedly going to focus on the global coronavirus pandemic.
Borat 2 Trailer
The trailer for Borat 2 was released in October and features the anti-Semitic Kazakhstani revealing that his first film brought great shame to his country. He has now been instructed to return to "Yankee Land" to carry out a secret mission.
The trailer shows that when he gets back to America, people instantly recognize him. Hence, he takes great pains to disguise himself. However, the trailer shows that he's not alone. This time, Borat has brought his daughter to marry her off to someone powerful and rich.
Other scenes in the trailer show Borat dressing up as Trump and crashing a Michael Pence speech. It also shows him crashing in the home of a conservative family and learning their political views.
All in all, the Borat sequel seems to contain everything that people would want from a follow up. Whether it's going to be digestible for a much more politically correct audience remains to be seen.
Borat Subsequent Moviefilm: Delivery of Prodigious Bribe to American Regime for Make Benefit Once Glorious Nation of Kazakhstan releases October 23rd, 2020.
Clearone Advantage
,
Credit Associates
, Credit 9,
Americor Funding
,
Tripoint Lending
,
Lendvia
,
Simple Path Financial
,
New Start Capital
,
Point Break Financial
,
Sagemore Financial
,
Money Ladder
,
Advantage Preferred Financial
,
LoanQuo
,
Apply.Credit9
,
Mobilend