Have you ever seen an Audi Q7 and wondered what driving one could be like? This SUV packs in a lot of performance—from its commanding yet efficient powertrain to its impeccable interior amenities. From the second you sit in the driver's seat, it takes luxury car ownership to a whole new level. Take a closer look to get all of the details about owning and driving an Audi Q7 so you can decide if this is your dream ride.
Performance Capabilities of the Audi Q7
Just like any other vehicle, the Audi Q7 is made to be a powerful vehicle that offers impressive performance. Knowing that having a powerful engine is just as important as looks, Audi has created an SUV with both. By having an understanding of these capabilities, you'll know how the Q7 can help make your daily drive more enjoyable and efficient.
Here are some of the performance features that make the Audi Q7 a top-notch luxury vehicle:
1. Powertrain
The powertrain of the Audi Q7 is one that will garner plenty of attention. Its turbocharged four-cylinder engine not only produces 261 horsepower, but its eight-speed automatic transmission delivers a seamless. It captivates rides for those who are looking for an agile yet powerful drive. With its standard all-wheel-drive system, you will never miss a turn or be restricted from fully experiencing the power of the Audi Q7. So, whether it's a daily commute or a weekend tour, the Audi Q7 has a powertrain that's up for anything.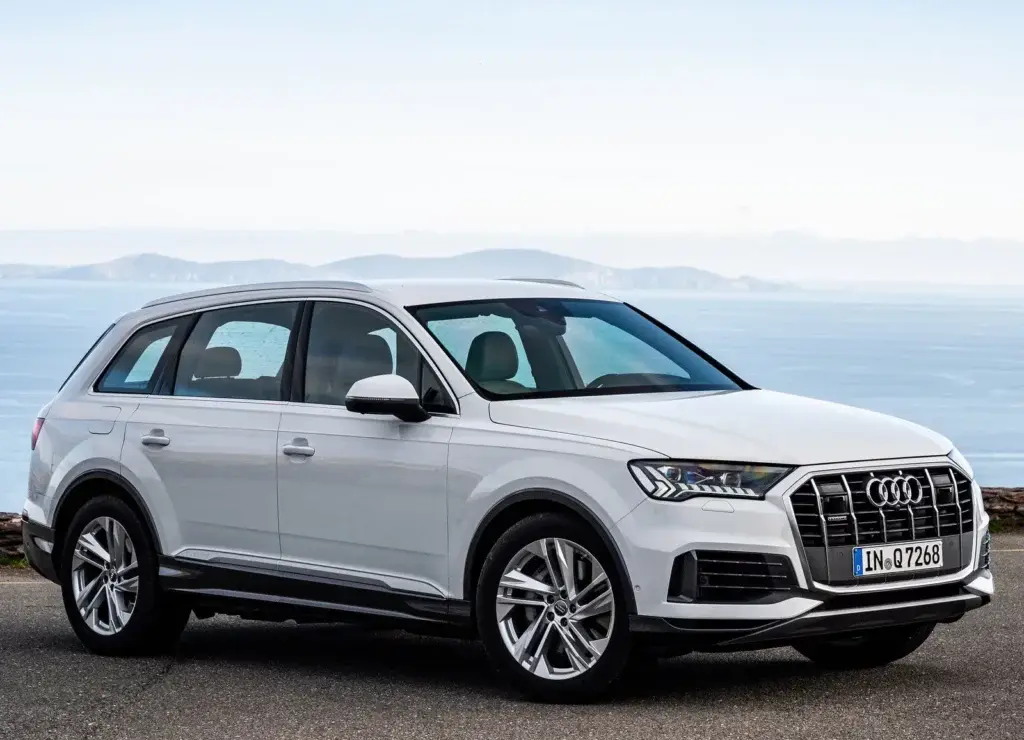 2. Fuel Economy
The fuel economy of the Audi Q7 is an impressive feat, with the EPA estimating it to get 19 miles per gallon in the city and 25 miles per gallon on the interstate. These figures make it one of the more fuel-efficient luxury SUVs on the market today, granting a noticeable fuel saving over many rivals. Few cars can match its fuel economy performance and excess size-scaled features. This makes it a viable choice for anybody who wants a luxurious vehicle without much effect on their pocketbook due to fuel costs.
3. Towing Capacity
No matter what you plan to tow with your Audi Q7, it won't disappoint. With its stock engine, the vehicle can tow up to an impressive 4,400 pounds. This is enough to bring a boat or camper on road trips and adventures. And if you're looking for even greater capacity, you'll have no trouble finding it since the Q7 is also offered with two powerful engine options. This gives it an impressive towing ability of 7,700 pounds.
Safety Features That Come Standard on the Q7
Safety is a priority for any driver, and the Q7 doesn't leave you in the lurch. Instead, it comes with an impressive array of safety features to help keep you and your passengers safe on the road.
Here are some of the standard safety features that you can count on with the Q7:
Advanced Braking System
The Q7 comes standard with an advanced braking system. This includes brake assist, electronic brake-force distribution, and hill descent control. This system helps to ensure that your vehicle can stop quickly and safely in a variety of conditions.
Adaptive Cruise Control
Adaptive cruise control is a safety feature that adjusts the speed of the vehicle to maintain a safe distance from the car in front of it. This feature is especially useful in stop-and-go traffic or on long road trips.
Lane Departure Warning
This is also equipped with a lane departure warning system. This system uses sensors to detect when the Q7 is veering out of its lane and will provide an audible and visual warning to the driver. This feature can help to prevent accidents caused by driver fatigue or inattention.
Blind Spot Monitor
This vehicle comes standard with a blind spot monitor, which uses sensors to detect when another vehicle is in the Q7's blind spot. When a car is detected, an audible and visual warning will be displayed on the mirror on the corresponding side of it. This feature can help to prevent accidents when changing lanes or merging onto highways.
Conclusion
Audi Q7 is a luxury SUV that delivers on performance and style. It offers excellent features, advanced technology, and a sleek design that truly stands out from the competition. With its combination of power and luxury, it's no surprise this vehicle has become one of the most popular choices among luxury SUV shoppers. However, by having a good understanding of its features and design, you'll be better able to make an informed decision when looking for a reliable car.