Running a small manufacturing business is no easy feat. Between managing inventory, scheduling production runs, and keeping track of finances, it can be difficult to find time for strategic planning and growth. That's where manufacturing software comes in. With the right tools at your disposal, you can streamline your operations, improve efficiency, and make data-driven decisions that help take your business to the next level.
In this blog post, we'll explore everything you need to know about manufacturing software for small businesses – from different types of solutions available to how they can benefit your bottom line. So buckle up, grab a cup of coffee (or tea), and let's dive in!
Manufacturing Software is Important for Small Businesses
Manufacturing software is an essential tool for small businesses that operate in the manufacturing industry. With such software, you can automate various aspects of your business and streamline operations. For example, you can use it to manage inventory levels, schedule production runs, track orders, and monitor quality control. One of the major benefits of using manufacturing software is that it helps eliminate errors resulting from manual data entry or other human mistakes. This saves time and money while increasing accuracy and efficiency in your business operations. For example, the MRPeasy manufacturing software can help you track shipping labels, product specifications, and other important data. It's important to keep up with the latest manufacturing software trends in order to remain competitive and ensure long-term success.
There Are Many Types of Manufacturing Software
Manufacturing software comes in various forms, each designed to cater to the different needs and requirements of small businesses. The range of manufacturing software options available can be overwhelming for those who are not well-versed with the technology.
One type of manufacturing software is Enterprise Resource Planning (ERP) systems that integrate all aspects of a business's operations into one system. This type of software provides complete visibility across all departments including inventory management, production scheduling, finance, and accounting.
Another popular option is Manufacturing Execution Systems (MES), which focus on real-time monitoring and control of production activities on the shop floor. MES integrates seamlessly with other enterprise systems like ERP to give users better visibility across their operations.
Inventory management systems help small businesses manage raw materials, and finished goods inventory levels while tracking orders from customers via sales order processing functionality. It helps manufacturers track everything from purchase orders through receipt documents ensuring that nothing falls through the cracks when it comes time for invoicing or production planning.
Manufacturing Software Can Help Your Business Grow
Manufacturing software can be a game-changer for small businesses. With the ability to automate processes, track inventory levels, and analyze data, manufacturing software gives business owners more control over their operations. One way that manufacturing software helps businesses grow is by improving efficiency. By automating tasks such as order processing and inventory management, employees can spend more time focusing on other important areas of the business. Another benefit of using manufacturing software is better decision-making. With access to real-time data and analytics, business owners can make informed decisions about production schedules, pricing strategies, and resource allocation.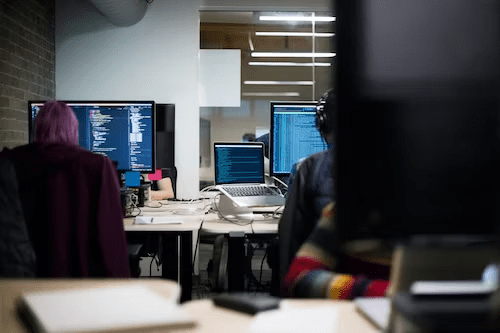 Manufacturing software can be incredibly beneficial for small businesses in the manufacturing industry. It can help streamline processes, increase productivity and efficiency, reduce costs, and ultimately lead to business growth. With so many different types of software available on the market today, it's important to carefully consider your specific needs and choose a solution that best fits your business goals.