The perfect gift for your child's financial future can be a debit card. Remember that providing guidance and having open conversations about money management is essential when introducing a debit card to your child. Regularly discussing financial topics and setting expectations will maximize the educational value of the gift and help your child develop healthy financial habits.
Reasons Debit Card is an Excellent Choice
Financial Independence
A debit card empowers your child with a sense of financial independence. They can manage their own money and make responsible spending decisions within the available balance. This fosters financial autonomy and helps them develop essential money management skills. Some of the best kids debit cards have tools for learning financial literacy, chores, duties, and responsibilities.
Budgeting
A debit card encourages your child to develop budgeting and money management skills. They can allocate funds for different purposes, set saving goals, and make conscious choices about their spending. These skills promote financial discipline and the ability to make informed financial decisions.
Financial Responsibility
Introducing a debit card to your child teaches them about financial responsibility from an early age. They learn to prioritize their expenses, understand the consequences of their financial choices, and develop accountability for their financial actions. This paves the way for responsible financial habits in the future.
Safety and Control
Debit cards provide a safe and controlled way for your child to spend money. As a parent, you can set spending limits on the card and monitor their transactions, ensuring they stay within reasonable boundaries. This offers peace of mind while allowing your child to gain financial experience.
Financial Literacy
Using a debit card exposes your child to various financial concepts, such as budgeting, tracking expenses, and understanding electronic transactions. They become familiar with financial terminology, processes, and responsibilities, laying a strong foundation for financial literacy.
Preparing for Adulthood
By using a debit card, your child learns the financial skills necessary for adulthood. They become adept at managing their finances, handling digital transactions, and making informed financial choices. These skills are invaluable for their transition to independent living and financial well-being.
A Fun Way for Kids to Learn About Finance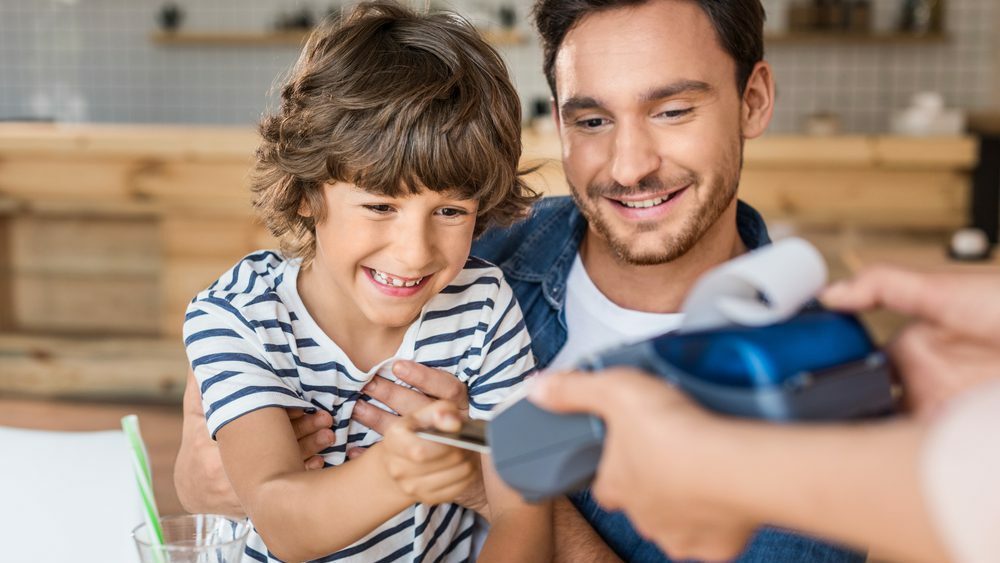 A fun and easy way for kids to learn about finance, saving, and investing for a better future is by turning it into a game. Here's how you can make finance education enjoyable for kids
Board Games and Apps
There are numerous board games and mobile apps specifically designed to teach kids about finance. Games like "Monopoly," "The Game of Life," or finance-themed apps provide an interactive and entertaining way for kids to learn about money management, saving, and investing. They can learn important concepts while having fun with friends or family.
Play Store and Budgeting
Set up a play store at home where kids can "buy" and "sell" items using play money. Assign prices to different items and let them make purchasing decisions within a given budget. This activity helps them understand the value of money, budgeting, and making choices based on limited resources.
Stock Market Simulation
Introduce kids to the concept of investing by creating a stock market simulation. Assign different companies or industries to them and track their performance using real stock market data. Discuss the factors that influence stock prices and encourage them to make informed investment decisions. This activity teaches them about risk, patience, and the potential rewards of long-term investing.
Entrepreneurship and Small Businesses
Encourage kids to explore entrepreneurship by starting small businesses. Help them brainstorm ideas, create products or services, and sell them to family, friends, or neighbors. This experience teaches them about pricing, profit, marketing, and the value of hard work.
Financial Challenges and Rewards
Create financial challenges for kids to complete, such as saving a certain amount of money within a specific time frame or finding ways to reduce expenses. Offer rewards or incentives for accomplishing these challenges, such as a special treat or privilege. This motivates them to develop good financial habits and reinforces positive behaviors.
Family Financial Discussions
Involve kids in family financial discussions to expose them to real-world financial situations. Talk about budgeting, saving for goals, and making financial decisions. This helps them understand how financial choices impact the family and provides valuable insights into personal finance.
Conclusion
By incorporating these fun and interactive activities into their learning experience, kids can develop a solid foundation in finance, saving, and investing. They will gain practical skills and knowledge that will serve them well throughout their lives, setting them up for a better financial future. Because something that children adopt as a habit from an early age develops into a commendable skill for the future.