Best Online Therapy Sites of 2020
Online Therapy Is Exploding In Popularity
By Gerard DePaul – June 15, 2020
While online therapy has been growing for years, the coronavirus and social distancing have caused a surge in popularity. Online therapy is now recognized as an affordable, convenient, and confidential way to get the mental health support you need in the privacy of your own home.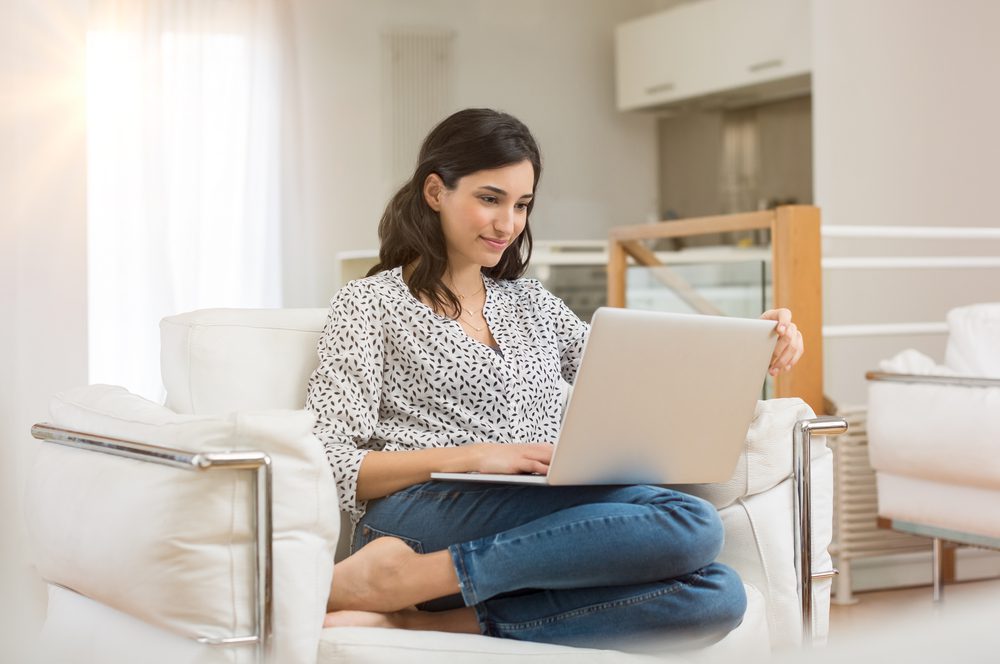 BEST OVERALL: Betterhelp
BEST FOR COUPLES: ReGain
BEST FOR CHRISTIANS: Faithful Counseling
BEST LONG TERM: Talkspace
BEST FOR TEENAGERS: Teen Counseling
BEST FOR LGBTQ: Pride Counseling
BEST FOR NON-URGENT ANXIETY: Online-Therapy.com
Largest Online Counseling Program Worldwide

Online Couples and Marriage Counseling

Christian-Based Online Counseling 

Counseling for Teens and Young Adults

Counseling for LGBTQ Community

Online Cognitive Behavioral Therapy Toolbox

Online Tools For Dealing With Anxiety & Panic Attacks

Online couples counseling and online marriage counseling is on the rise.  In addition, anyone dealing with stress, ADHD, anxiety, depression, anger, sleep disorder, eating disorder, bipolar, or addiction have been able to benefit from online therapy. Treatment is conducted via video chat, text messaging, or phone. Online therapy is recognized as an affordable, convenient, and confidential way to get the mental health support you need in the privacy of your own home.
Online therapy is trending. If the coronavirus pandemic has taught us anything, it is that we live in a new virtual world. The loss of jobs along with social distancing guidelines have put an enormous strain on the American family.  The financial and emotional pressure continues to be unbearable for some.
Betterhelp
Editor's Choice – Best Overall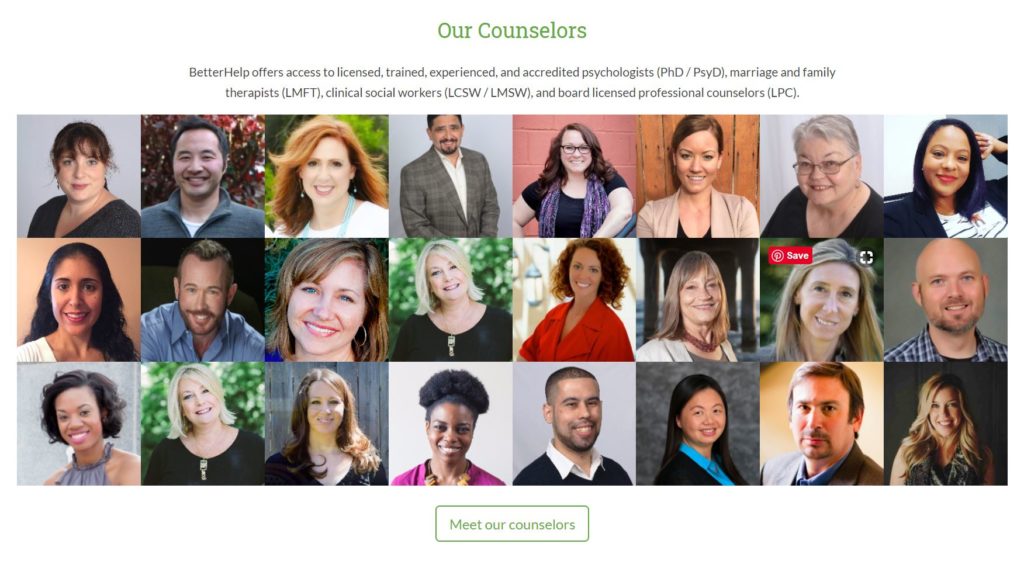 Read Better Help Review
Services
Betterhelp offers a range of treatments: 
Counseling
Mindfulness-based therapy
Family therapy
Cognitive-behavioral therapy
Supportive family therapy
Psychodynamic therapy
Couples therapy
Webinars "groupinars"
Who is Betterhelp Ideal For?
Busy professionals dealing with anxiety or emotional problems.
Betterhelp offers therapy catered to any adults seeking counseling. Due to the nature of the online format, it's very suitable for all those who are restricted by time or money and aren't able to visit a therapist in person. During the sign-up process, all members must take part in a questionnaire in order to assign them a therapist.
They are then asked to answer questions about their recent mood, and their reason for wanting to see a therapist, for example. Whereas as they aren't permitted to choose from a list of individuals, they can specify to have a therapist older than 45, choose their gender, race, religion, and sexual orientation. The reasoning behind this is to create a rapport between therapist and patient by enabling them to share similar life experiences, but it's not compulsory to select these preferences. 
Betterhelp Pros & Cons
Pros and Cons
PROS
Unlimited sessions with highly qualified therapists
Free evaluation to assess your needs
You can change counselor
Tailored service with a specialized counselor
Financial aid offered
HIPAA compliant and very secure
Easy to use interface
Plenty of information offered and therapy sessions fully explained before you start
CONS
No message only subscription option
You can't choose your counselor, only matched by questionnaire
No set response time, but counselors usually reply the same day
Not covered by standard medical insurance.
---
ReGain
Online Relationship Counseling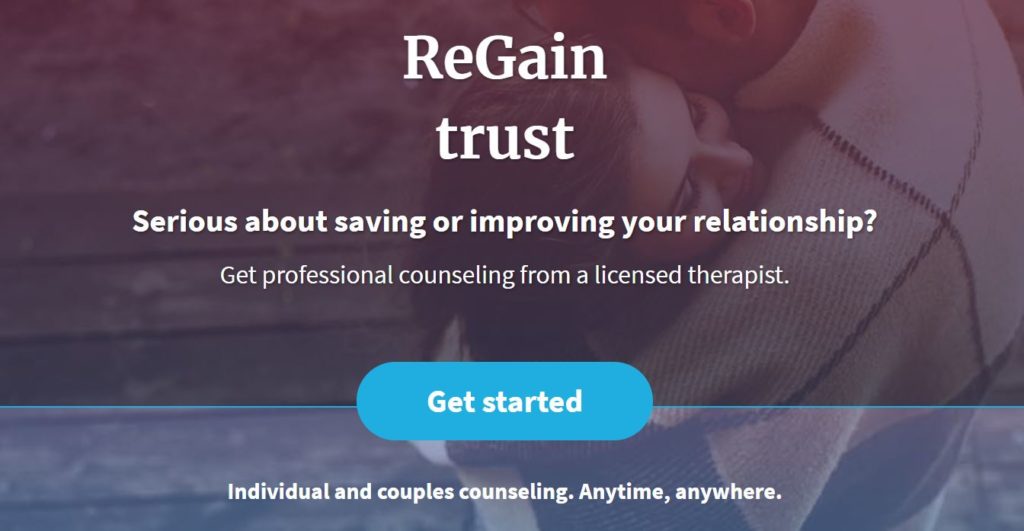 Services
Regain makes professional counseling available anytime, anywhere, on any device
Two users share a joint account where they communicate with the counselor together. All written communication is visible to both users and the counselor. If either partner would like to speak with the counselor privately, an individual live session can be scheduled.
Members can receive support and guidance on issues ranging from relationship challenges, conflict, marital issues, overcoming adultery, intimacy issues, communication within a relationship, preventing and guidance with separation or divorce.  
Regain is Ideal For
ReGain is a perfect solution for couples experiencing relationship challenges, whether in a new partnership or a marriage. This service also includes separation and divorce healing. 
Regain Pros & Cons
Pros
Therapists specialized in relationship counseling
Extensive questionnaires for both partners provide an in-depth view of the relationship
Couples are charged as a single client, rather than as two
Easy access to therapy on any device via text, video calls, private messaging available to both partners.
Cons
No free trial
No 3-way video or phone sessions
Matching with a therapist is done by the system without human interaction
---
Faithful Counseling 
Christian-based counseling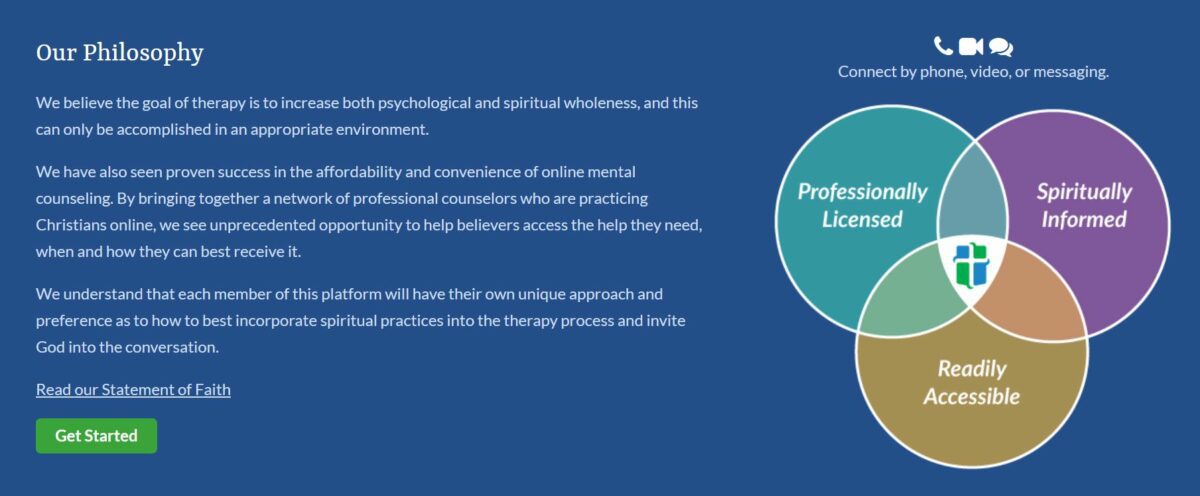 Read Faithful Counseling Review
Faithful Counseling Services
Here are some examples of therapies available:
Mental health counseling from a Christian perspective
Spiritual counseling on primarily faith-based matters
Holistic counseling addressing both psychological and spiritual components
If these don't quite fit the requirements, there is always an option to select "other" and explain further your own personal needs.
Who is Faithful Counseling Ideal For?
Modern-day Christians who seek counseling that incorporates core Christian beliefs into therapy to help them get through psychological, emotional and/or social struggles. Faithful Counseling can address any challenges you may be facing, in every aspect of your life, including, but not limited to:
Depression
Anxiety
Grief
Family issues
Parenting
Addiction
Workplace stresses
Social anxieties
Feelings of Guilt
Betrayal
Divorce and separation
Anger Management
Chronic stress
Eating disorders
Conflict Resolution
Sleep Disorders
Couples Counseling
Trauma counseling
PTSD
Self-esteem
Applying Biblical principles to day-to-day life and business
Faithful Counseling Pros & Cons
Pros
Anonymity – you can use a nickname when you sign up
Therapists share your faith and values
Ability to choose the degree to which you want religion to be incorporated into your therapy
Judgment-free environment
You can message your therapist anytime you like
Option to make the message "URGENT"
Cons
Matching up with the therapist is done automatically without an ability to speak with someone
Therapists can initially be slow to respond
---
Teen Counseling
Therapy and Support for Struggling Teens.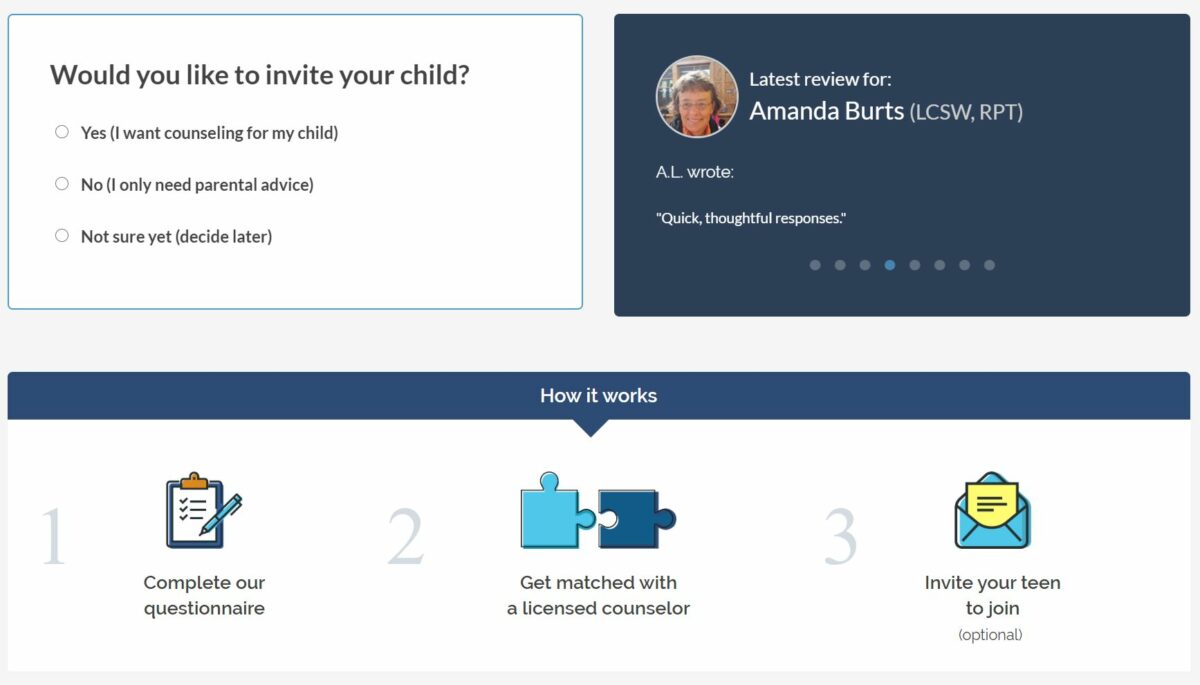 Services
Teen Counseling specializes in dealing with teens and helping them not only deal with issues at hand, such as anger, grief, intimacy issues, peer pressure, bullying, eating disorders, sleeping disorders, substance abuse, addiction, self-esteem and confidence issues, anxiety, trauma, life transitions, parents divorce, social-behavioral challenges, and school issues but also help your child be more successful in developing coping skills and provide them with resources to help them when they need guidance and support, as well as a judgment-free environment where they can open up and share their true thoughts feelings and fears.
Who is Teen Counseling Ideal For?
Teens aged 13-19 who need help from a licensed therapist.
Teens who prefer to have remote access to a therapist
Target's issues such as Anger, Grief, Eating Disorders, Anxiety, Stress, Bullying, Family Issues, and many more.
Parents and Guardians looking for professional help for their teens.
Teen Counseling Pros & Cons
Pros
A flat fee of $40-70/week covers unlimited counseling
One fee covers a child and a parent
The convenience of remote access to therapy via any internet-enabled device
Sessions are kept private between counselors and teens.
24/7 text-messaging
Includes Chats, Phone, and Video sessions
Cons
Therapists are unable to prescribe medication
Therapists cannot fulfill court orders for therapy
Therapists do not reply immediately
---
Pride Counseling
Professional Online Counseling for the LGBTQ Community.

Specialties And Areas Of Expertise
While the main distinction of Pride Counseling is their expertise in issues facing LGBTQ+ community, areas of practice are all-encompassing and your therapist can assist you with a number of psychological issues and concerns, including, but not limited to
LGBTQ+ Issues
Intimacy Related Issues
Motivation, Self Esteem, and Confidence
Anxiety
Depression
Parenting
Relationship issues
Chronic Abuse
Trauma
Stress
Anxiety
Relationship Issues
Career
Grief & Mourning
Life Changes
Sleep Hygiene & Health
Religion
Substance Abuse & Addiction
What's Unique About Pride Counseling?
It's true that LGBTQ+ therapy can seem somewhat insular and one-note, but the truth is that Pride Counseling sees you as more than just a person with a sexual orientation or particular gender identity, but a human who happens to identify in this way. This way, the label does not define you, yet can help you expand as a person.
However, it is true that these labels do influence our lives and how we are treated, so it is important for therapy to be sensitive to issues and challenges unique to the LGBTQ+ community. As a dedicated outlet for this kind of therapeutic assistance, Pride Counseling holds the highest concentration of LGBTQ+ aware and even familiar professionals ready to take on your queries and help you to the best of your ability.
Pride Counseling is part of a larger online therapy platform and our editor's choice, Betterhelp.
Pride Counseling Pros and Cons
Pros
Pride Counseling therapists are uniquely equipped to deal with LGBTQ issues and thus can delicately handle a range of sensitive, suitable topics related to your experience
You will be matched with your therapist within 24 hours
Cancel anytime
HIPAA Compliant and discreet- Ability to use a nickname
Cons
No free trial
Therapists may not be able to issue recommendations for hormone replacement therapy (HRT) 
Services are not covered by health insurance
---
Online-Therapy.com
Cognitive Behavioral Therapy (CBT)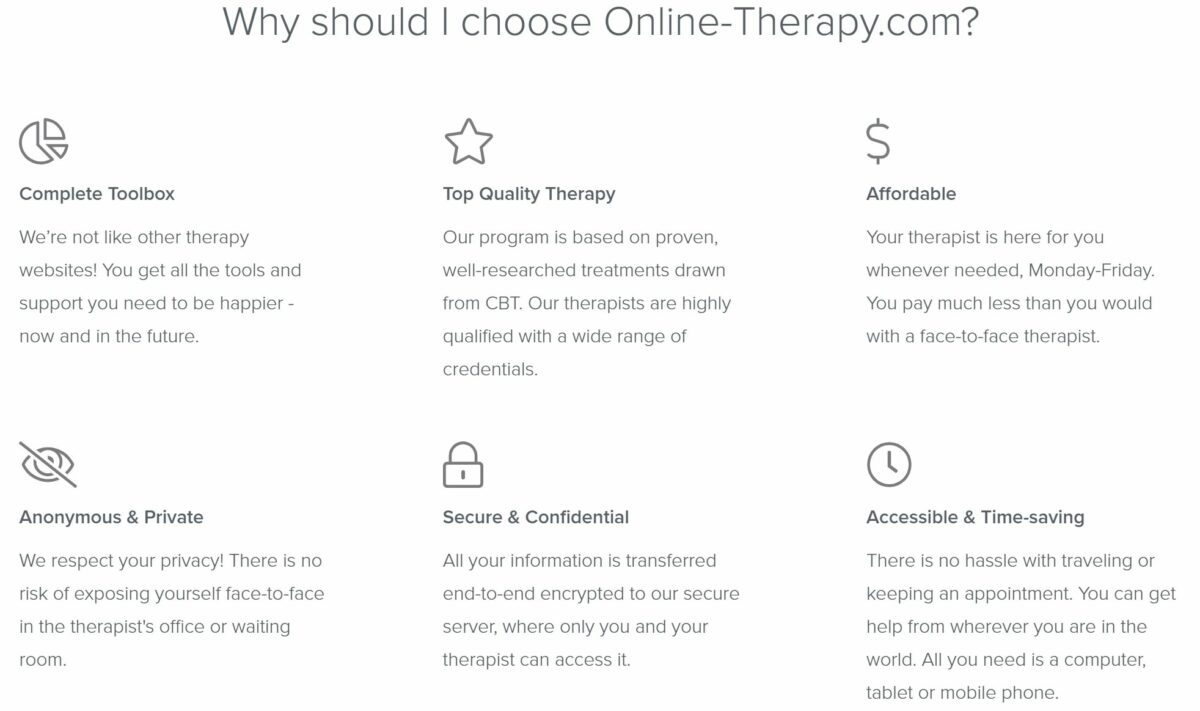 Read Online-Therapy.com Review
Services
The Online-Therapy.com signup process will ask you for information that will outline your goals and current emotional state, which will enable the system to match you with a therapist that will be assigned to you for the entire duration of your therapy program.
The therapy program is the same for everybody, but it allows you to address particular issues that are relevant to you and thus targets your specific conditions.
The program itself consists of 8 sections, each representing a step in learning how to identify, challenge, and overcome your dysfunctional thinking patterns, behaviors, and emotions.
Each section contains different worksheets for you to work through on your own by answering specific questions that address your individual challenges. Your therapist will then provide daily feedback Monday through Friday. You can opt for a plan that includes messaging support or even weekly chat sessions, which will enable you to benefit from real-time interaction with your therapist and get even more value from your therapy.
Currently, there is no option for video or phone sessions, but the company is working on getting those added to their service package.
There is also currently no couples therapy option, but the company is reportedly working on launching that soon as well.  
Who is Online-Therapy.com Is Ideal For?
Online-Therapy.Com is ideal for those who are interested in the wholesome approach to their mental health and well-being by effecting a long-term change using Cognitive Behavioral Therapy (CBT).
Online-Therapy.com Pros & Cons
Pros
Free plan includes a comprehensive toolbox, including worksheets, yoga and meditation videos, journals, activity plans and tests
Several different subscription plans to choose from
Transparent pricing
14-day money-back guarantee
Service available from around the world
Cons
Therapists not available on weekends
No video or phone chats available as of now
No Mobile App but site is mobile friendly
Must be at least 18 years old to use the service
Subscriptions are billed monthly
---
Panic Away
Panic Attack and Anxiety Therapy and Guidance.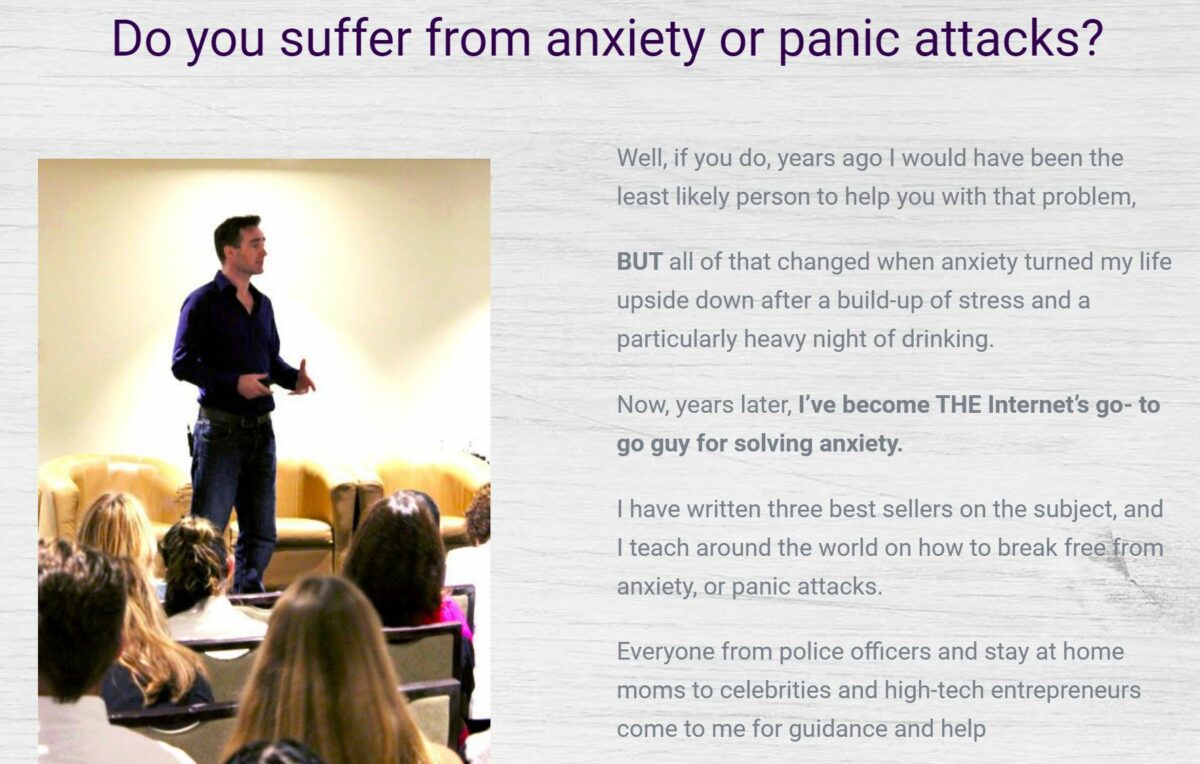 Qualifications, Areas of Expertise – Who is Barry McDonaugh?
Panic Away was created by Barry McDonaugh in 2001. One day during the year he was about to start college, he suddenly experienced a panic attack that felt like a heart attack – heart pounding, feeling of suffocation – it is like nothing else, a completely crippling feeling that hijacks you and leaves you terrified long after the actual attack is over. Like anyone who has experienced a sudden panic attack, he never felt safe again, feeling that he had no control over when and where the sudden episode will catch him again. The fears of experiencing a panic attack are themselves sufficient to bring about the next episode of the attack, and the entire cycle quickly results in developing a general anxiety disorder, keeping its victim in a fight or flight mode 24/7.
If you don't know how this feels – you're lucky, and if you do – well, then you know exactly what it does to the quality of your life, relationships, career, not to even mention your health and overall immune system that relies on our emotional well-being for functioning properly!
Desperately looking for a solution, Barry turned to every available resource to end his panic attacks and anxiety but has found that most self-help resources were giving nothing, but a distraction, providing the same deep breathing techniques and other distraction based tools that NEVER HELP DURING THE ACTUAL PANIC ATTACK. It is then that he set out to find the solution that works – and he did…
Who is Panic Away Ideal For?
Anyone suffering from panic attacks, anxiety, and other fear-based issues.
Those who want self-care at home without the need to visit a therapist in an office.
Those who are ready to be proactive and follow the program on their own
Panic Away Pros & Cons
Pros
No-questions-asked, 8-week money-back guarantee.
The therapy specifically targets anxiety, panic attacks, and other fear-based disorders.
Stellar reputation for successful treatment and multiple celebrity endorsements
You'll be given all the tools you need to help deal with a panic attack
Access to the forum to connect with other course participants
Cons
This therapy requires a proactive, self-starting approach from the user
No one-on-one support
Only addresses the limited scope of issues
Comments Rating
( reviews)