BitWine: Overview
If you're bored with your life and need a change seeing a psychic could help to inspire some fresh ideas. Or, perhaps you're lonely, and need a way out?
While there are genuine psychics out there who really care, online psychic platforms create a huge opportunity for con merchants to exploit your vulnerabilities and take your money.
If you recently lost a loved one without the chance to say goodbye it may be tempting to contact a medium to soothe your grief.
But with these platforms, it's so easy to get duped.
Emotional trauma can make us vulnerable to scammers who claim to be able to connect with deceased people when in fact they're clever manipulators.
Before you part with any more it pays to take a step back and do your research.
That's where we come in. We've done most of the hard work for you. We've done a bit of digging to determine which many of the online psychic platforms are genuine, and which ones just want to take your money.
We want to save you the grief of losing hundreds or thousands of pounds to fraudsters who are preying on your grief or dissatisfaction with life.
Today, let's talk about BitWine.
3.0 out of 5.0 stars3.0
BitWine: How it Works
BitWine works a little differently to other platforms in that you use the online chat area and the voice/video chat to identify a psychic of your choice. You don't need to register at this stage.
New clients get 3 free minutes with the adviser they choose. Then when those minutes are up you then add credit to your account to continue the reading.
BitWine is the only platform that we've come across where you can haggle the rate with advisers.
When you add funds to your account it doesn't credit your account. Instead you pre-authorize a maximum amount from your PayPal account. At the end of the call the amount of time you used is debited.
Pros
Don't need to register to chat online with advisers
Free introductory psychic chat
Can negotiate a psychic's rate or accept their advertised rate
Refunds are available at the psychic's discretion
They don't sell your personal information
Includes user feedback
Cons
May share your data with affiliates
Type of Psychic Services
If you don't know already psychic skills and abilities come in various forms. The type of psychic you decide to connect with will depend on your communication style, the nature of your question, and your personality.
Here are just a few.
Clairvoyant: Clairvoyants can "see" into the past, present, and future by holding an object, going to a place, or being with someone. They receive signs and messages and can convey messages from the spirit world.
Pet psychic: Do you ever wonder why your cat or dog behaves in a particular way? A pet psychic can help you here by communicating with your pet psychically on your behalf. They can ask animals questions and relay the messages to you.
Clairsentient: Clairsentients feel the emotions and energies of other people and animals so much that they react physically. Negative energies may cause them to feel ill or nauseous, positive energies will energize them. A clairsentient can help you make sense of difficult relationship dynamics.
Empath: Empaths energetically internalize the feelings of others and can intuit their emotional residue and muscle memory. Empaths can understand the depth of someone's emotional pain just by being around them.
Clairaudient: Clairaudients are acutely aware of the vibrational energies around them through sound. Often mistaken for schizophrenics, clairaudients can decipher signs and messages sent to them from different planes and dimensions.
Medium: A medium does readings that are channeled and connected to a person's energy. They pick up on smells, tastes, words, feelings, names, and images.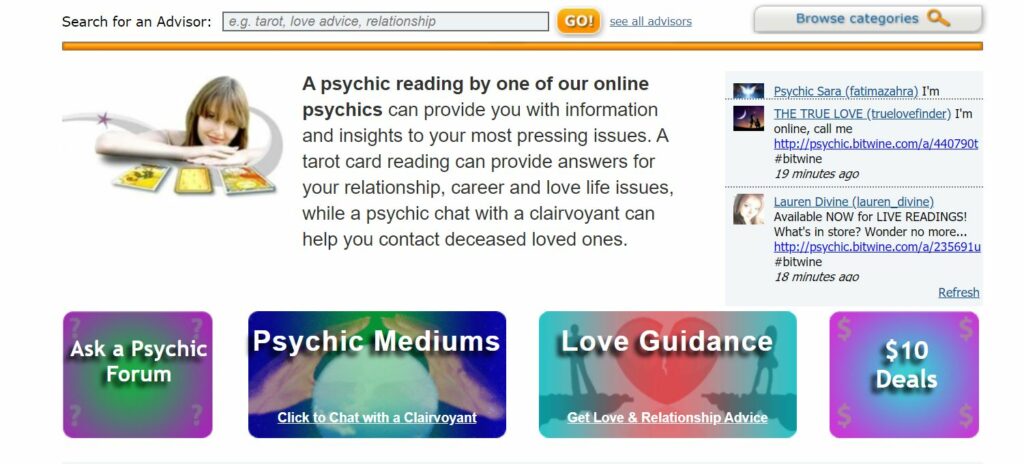 Trustworthiness of BitWine
We dug around on the internet for some reviews. We couldn't find any reviews on Trustpilot, but we did find a raft of negative reviews on sitejabber.com.
Here's a few of the most recent reviews we found:
Elizabeth E. May 18th, 2020
3.0 out of 5.0 stars
BitWine is Terrible
"I have suffered of PTSD and anxiety. I came to them for advice and a good talk. They crushed me even more giving me false expectations. They lied to me for over two years, I think they are good with advice, but don't trust what they say. They might be right after all or not, but if you're religious rely on GOD instead. They are out there to get your money and make your lives miserable. Every guy that I have dated and talked to about on this website is apparently my soulmate, maybe one of these guys is my soulmate or maybe I haven't met him. It's something for the future to explore. So please if I Can safe any one from BitWine or other psychics. I know it's a addicting, but try your best to put grow it. As I am learning too!!"
Olga V. August 10th, 2019
3.0 out of 5.0 stars
"As a reader, I have never in my life had clients reach out for freebies and give you misinformation. I'm sure there are readers on BitWine that are not genuine readers, but the customers they have on BitWine are just as bad. I work on other sites and never ever had the issue of negative reviews due to not providing free readings. I have never been so drained from this site and clients who are looking for free readings.. psychic addicts will find a way to get a refund. BitWine also uses a free 3 minute intro.. this is where those vampires come in and if you are new.. they will teach you quickly on how not to use this feature. OMG!!! I have yet to come across a decent client on this site. :("
Brock W. September 2nd, 2019
3.0 out of 5.0 stars
"Most feed you BS so you leave a good review. Two are the real Deal and Astrea has been spot on with everything for me see def sees what up ahead and she will use the time to make sure you have a connection before she charges. EffieK is the real deal she sees more of the current situation and whats going on in the now. Effie is also very kind and sweet and its more then just money to both these readers. The only reason im giving 3 stars is because Astrea and EffieK are there. If they werent I woulf give negatives."
Psychic Biographies on BitWine
Each biography includes a photograph and video recording of the psychic followed by a self-written explanation of their skills, qualifications, and experience.
If you like the look of what you see, you can initiate a chat at the rate they specify by clicking on the chat button.
To the right of the screen is a chat box which lets you chat for free with the psychic. If they're marked as available, you can chat right away or leave a message if they're not.
Every profile has their overall star rating (from 1 to 5) and past reviews are listed, so you can see all feedback that's been left since they joined the platform.
Pricing
Every psychic on BitWine sets its own rate which can vary between $0.50 and $3 a minute. The site offers $10 deals that advisers offer.
All payment is made through PayPal.
The Verdict
On delving into a few of the psychic profiles we notice that feedback often complains of inaccurate readings and people feeling as though they've been ripped off.
On balance, there are also many positive reviews.
But, if you're paying as much as 3 bucks for a 30-minute reading is it really worth risking being fed a crock of BS? We're talking 90 bucks for a stranger to tell you about your own life.
Judging by the reviews on BitWine and off the site we think you should think twice before spending hundreds or even thousands of dollars.