Ad Disclosure: We receive referral fees from advertisers. Learn More.
Psychic Source: Overview
Psychic Source is the longest-established online psychic reading platform with over 30 years in the trenches.
If you don't have the time or inclination to scour our collection of psychic reviews, do yourself a favor and try Psychic Source first. In head-to-head comparisons with the competition, this company stands head and shoulders above the rest.
What makes us feel this platform is so strong, though? We'll double down on that right now.

Psychic Source: How it Works
There are 2 main routes to an online reading with Psychic Source:
Phone reading
Reading through online chat
You'll be exposed to a network of vetted psychics with all reading backed by a satisfaction guarantee. Unfortunately, this comes in the form of site credits not a cash refund. This is just about the only drawback we can find with this service (other than the cost, but that's the case with all online psychics).
Before anything, you need to create an account with Psychic Source. You can top up the account using a credit or debit card, PayPal, money order, or gift card.
Choose the advisor you'd like to give you a reading, and see what's revealed about your love life or your future prospects.
At the end of your reading, the amount will be automatically deducted from your account.


No information is kept on file.
Where many online psychic companies have awkward or sluggish websites, the responsive platform of Psychic Source is a pleasure to use. So, if you want reading from trusted psychics – more on that below – you're in safe hands here.
A quick glimpse at the leading benefits and drawbacks of this stellar psychic service now before we explore the range of services more fully.
Pros
Leading online psychic with rock-solid reputation
All psychics are rigorously screened
Satisfaction guarantee offering site credit
Membership rewards of 3% per reading
Responsive and helpful customer care department
Cons
You might find some unusual specialties unavailable
Readings from the best advisors cost $12 per minute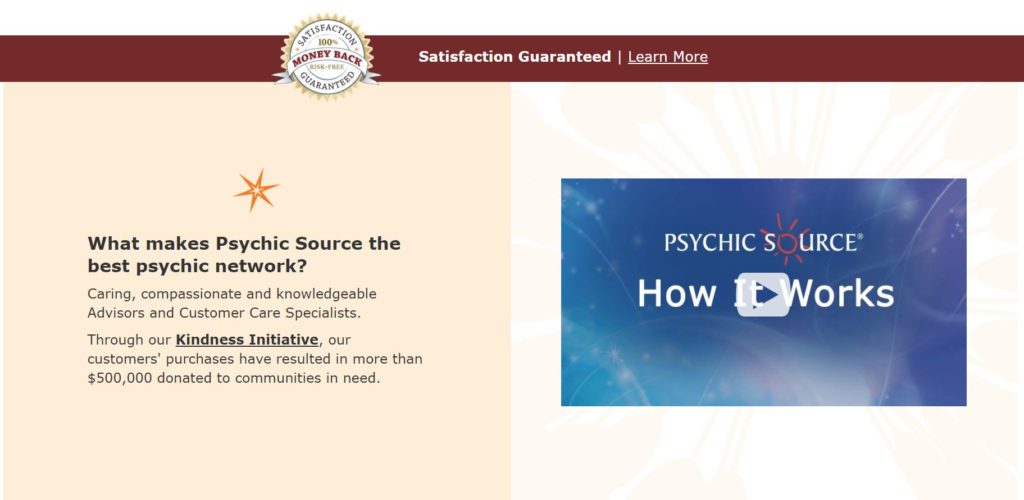 Types of Psychic Services
Psychic Source gives you the choice of a range of readings. The advisor you choose should reflect the life questions you want answering.
Careers: With work taking up so much of our time, it's vital to eliminate stress at work where possible. Whether you're looking to make the best of your current situation at work, or you need advice on a career move, you're in luck with Psychic Source.
Clairaudients: Clairaudients have an intensely powerful sense of hearing, and the ability to hear things not audible to most people.
Clairsentients: Clairsentients' ability comes from the way they can feel and intuit the intangible.
Clairvoyants: Clairvoyants are the type of psychics able to "see" into your life, and to make suggestions and inferences.
Empaths: An empath is able to tap into your emotions and the emotions of your loves ones. If you're looking to resolve conflict in interpersonal relationships, this is the ideal reading.
Love: Problems with your love life? Need guidance on future relationships? Opt for a reading from a psychic specializing in this field.
Mediums: Mediums communicate directly with the departed.
Pet Psychics: If you've lost a pet, try using a pet psychic to communicate with them.
As you'd fully expect from a highly reputable service like Psychic Source, the suite of services is class-leading. You won't find an online psychic with a deeper bench of specialists on hand.
Trustworthiness of Psychic Source
When you're shopping for online psychics, you need to be confident you're dealing with a legitimate outfit.
Is Psychic Source trustworthy, then?
The first qualification we'll make is that quantifying something as ethereal as psychic readings is tough. This is not like going to see a dentist. They'll either fix the pain, or they won't. With a psychic service, though, it's harder to determine what makes a successful reading.
With that disclaimer in place, we studied a broad cross-section of user reviews. Most of these are overwhelmingly positive.
The small amount of negative feedback we found was from users who claim some psychics on this platform seem reluctant to dispense bad news.
The screening process all advisers go through is another way you can be confident of speaking with someone eminently qualified to give you a reading.
Psychic Biographies on Psychic Source
If you're looking for complete transparency, Psychic Source once again proves why it should be your go-to choice.
Each adviser has a detailed bio written in the third-person. This allows you to make a reasonably accurate assessment before any money changes hands. We only wish every platform gave you as much background information.
Pricing
Here's the only area where Psychic Source falls down really. It's certainly not cheap.
You'll qualify for an introductory rate of $1 per minute up to 30 minutes with 3 free minutes thrown in.
From that point, choose from 20 minutes for $15 or 10 minutes for $10.
If you're prepared to pay $1 a minute, though, you'll benefit from the best psychic service on the market.
The Verdict
If you need some psychic input to resolve some knotty questions in your life, we would strongly suggest you start your search with Psychic Source.
With 30 years of experience and satisfied customers the world over, you might not necessarily get the answers you were looking for, but you'll certainly get an accurate reading. When you're looking for this kind of service, there's really not much more you can ask for. Only for it to be slightly cheaper!