Best Weight Loss Plans of 2020
You know what you need to do to lose weight but it doesn't always fit into your lifestyle. You need outside motivation.  When you feel overwhelmed, it is easy to give up. The simple fact is that losing weight is not convenient and finding excuses are easy to find.
It's time to look at some different weight loss plans that take a different approach and can and do work.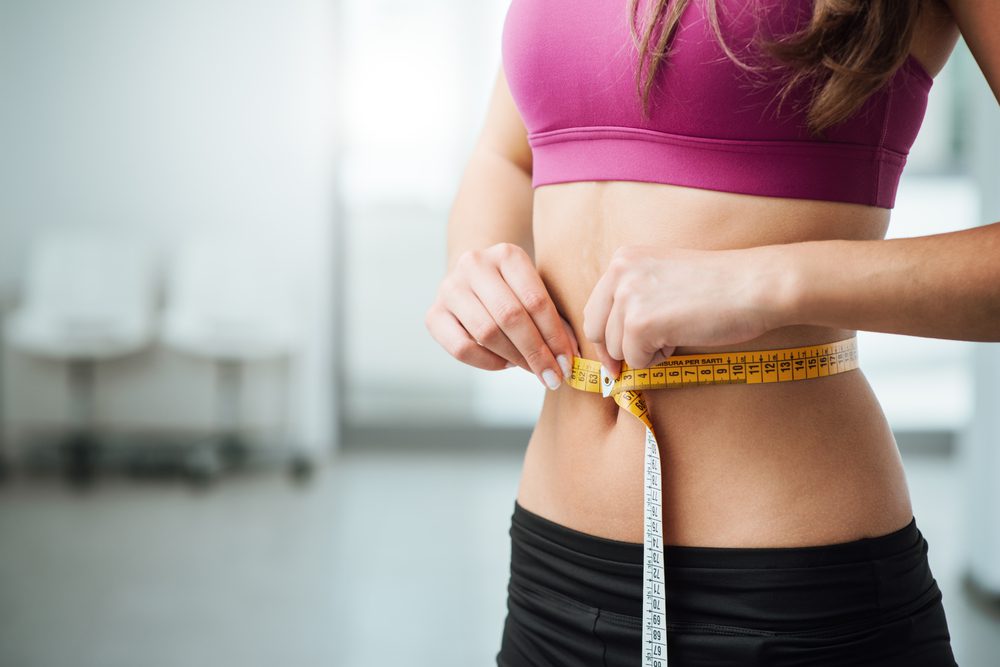 BEST OVERALL: Nutrisystem
BEST FREE TRIAL: Noom
BEST SCIENTIFIC APPROACH: Noom
BEST FOR KETO DIETERS: South Beach Diet
BEST FOR VEGANS AND PESCATARIANS: Purple Carrot
BEST FOR PREPARED MEALS ON CALL: Diet-To-Go
$30 Off Your First Box


Use Promo Code "CARROT30"



Try for only $2.99 per meal &
20% off another two boxes ($80 value)


Features
The aim of Nutrisystem is to provide balanced, healthy and delicious meals for men, women, diabetics, and vegetarians, all conveniently pre-prepared and delivered to your door.
The Nutrisystem diet features meal plans with breakfast, lunch, and dinner along with a nutritious daily snack. Each meal is nutritionally balanced and cooked professionally.
You don't have to worry about counting calories or macronutrients as this is all done for you.
Just do your best to eat only what Nutrisystem sends you and you should lose start losing weight in short order.
Nutrisystem offer the following four-week plans:
Basic: 5 breakfasts, lunches, dinners, and snacks
Nutrisystem Your Way: Combine breakfasts, lunches, snacks, and dinners according to your taste.
Uniquely Yours: 5 days of breakfasts, lunches, dinners, and snacks
Uniquely Yours Ultimate: 7 days of breakfasts, lunches, dinners, and snacks
Foods Included In The Plan
Nutrisystem's meal plans include:
Pre-prepared snacks: including some comfort food options like chocolate muffins, pizza, bars, and shakes
Protein: Nutrisystem has a list of what they call power fuels. These include seafood, meat, plant-based foods, low-fat dairy, and nuts. Each portion-controlled serving provides 5g of lean protein and 80 to 120 calories
Carbohydrates: Nutrisystem's "smartcarbs" are carbs with a low glycemic index which includes wholegrains, legumes, beans, starchy veg, and fruit
Vegetables: The company's meal plan prescribes that you eat four portions of non-starchy veg a day. If you can't, they urge you to call the help center
Spices, Seasoning and Condiments: "Free condiments" are limited to 10 calories per serving so you can use them to add flavor to your meals. "Extras" like ketchup, mayonnaise or honey have more calories so should be used more sparingly
Beverages: Alcohol is permitted on Nutrisystem plans, but only two servings a week. Black coffee, herbal tea, and unsweetened tea are all allowed
Pros
Money-back guarantee (within 14 days)
Meal plans for men, women, diabetics, and vegetarians
Clear website that's easy to navigate
Clear pricing structure
Affordable
Counseling support from trained and certified staff
High quality customer service
Cons
You have to prepare some meals yourself
Some issues with delivery of melted frozen food and chocolate
Features
Noom is a weight loss coaching app based on cognitive behavioral therapy. Cognitive behavioral therapy is a psychotherapy that gets you to identify and question your negative core beliefs driving your eating habits.
The app encourages you to lead a healthy lifestyle and eat healthful food by getting you to track your food intake, blood sugar, blood pressure and fitness levels in-app.
There are notes and quizzes designed to help you keep on track with your exercise and food choices.
The program is designed by scientists and psychologists, and it's scientifically proven to help people lose weight. A particular bonus of this diet plan is that no food is considered completely off-limits. Instead, you'll be encouraged to limit your intake of these unhealthy options.
The app also features chat rooms you can join to give or receive emotional support.
Foods Included In The Plan
There's no meal plan as such with Noom. Instead, they advise you to follow what appears to be a typical Mediterranean diet.
The app urges you to eat mainly healthy vegetables and fruits with plenty of healthy proteins like dairy and lots of whole grains.
Foods are graded as mentioned above with no foods blanketly forbidden.
You don't follow a plan as such, but the app educates you about portion control, calorie intake, and carb intake.
Pros
Online coaching
Non-restrictive diet
Goals are all achievable
Scientifically proven to help you lose weight
Cons
You must enter an email address even to view the site
Tedious set-up process
App grades healthy fats like those found in avocado in the red zone
Incomplete food database
Inconsistent coaching
Tracking everything you eat and do can get tiresome
Features
The South Beach Diet is a meal delivery service that's designed to help you burn fat and get your heart healthy. 
There are five plans on offer – the One-Week Reboot Kit, Silver plan, Gold plan, Platinum plan, and Diabetes Gold Plan.
One-Week Reboot Kit:  For people with less than 7 pounds to lose
Silver plan: 4-week kit including the One-Week Reboot Kit
Gold plan: Everything included from the Silver plan plus more menu choices and snacks
Platinum plan: Everything from the gold plan along with 15 probiotic shakes and more menu variety
Diabetes Gold plan: Designed to help people with type-2 diabetes lose weight
Foods Included In The Plan
South Beach Diet meals include foods high in protein and low in carbs and sugar while packed with heart-healthy fats.
Breakfasts: Breakfasts might include a delicious and filling salsa omelette, ham and cheese scramble, or high-protein pancake mix.
Lunches: The lunches like chicken broccoli, riced cauliflower, or grilled chicken sandwiches all look mouth-watering.
Dinner: For dinner, you could order a pizza, shrimp and chicken stir-fry, or steak and asparagus.
You can also find health bar options like coconut vanilla almond entrée bars or espresso nut entrée bars. There's no need to deprive yourself of the occasional treat just because you're following a diet. Not when you choose the right diet anyway!
Each meal has a star rating and review so you can see what others think. You can also leave your feedback for each meal item as you try them.
Pros
Meal items are all reviewed by customers
Well designed, easy-to-use website
Members qualify for unlimited diet counseling
Meals are professionally prepared and nutritionally balanced
No prep required except for the few additional fresh ingredients
Cons
Some find it tough to stick to a low-carb diet
Features
When you receive your meal kit box by mail, you also get a recipe booklet bundled. This includes eight weekly vegetarian Purple Carrot recipes. The recipe booklet also includes bonus recipes you can try with shop-bought produce.
Purple Carrot also offers a gift option. You can enter the amount you would like to gift someone so they can redeem it themselves and place an order.
The meal kits arrive in eco-conscious cardboard packaging that can be broken down and recycled. The company does, however, use plastic wrapping for cold foods to keep them fresh during transit.
Plans are fully customizable. There are no set meal plans at all.
You can order breakfast, lunch, dinner, and snacks which arrive as either 2 or 4 servings so you can potentially cater for all the family.
All recipes featured on the site include their nutritional value, calorie content, and cooking time. The stunning photos of the meals make them look absolutely mouth-watering. The recipes are so delicious they will show the most committed carnivore that vegetarian food is about much, much more than a limp salad.
Some of the ingredients in the recipes are hard to source unless you live in a city with a diverse range of stockists. For example, sumac can be hard to find outside major cities.
Foods Included In The Plan
Each recipe has a grade according to the type of food you want such as gluten-free, soy-free, or high-protein.
Recipes are delicious and globally-inspired, and include ingredients you can find at your local grocery store along a few ingredients that are tougher to source.
Choose from recipes such as Palestinian stuffed peppers, kimchi quesadillas, or Caribbean sweet potatoes.
The breakfast menu has some exciting options like white bean melts and caramelized pear oats.
If you've always considered vegetarian food to be boring, Purple Carrot meals might make you rethink that.
Recipes are original and exciting and you get complete flexibility, too. If you need to cancel for one or two weeks, you can suspend your order then resume when you're ready to roll.
Pros
Exciting, healthy recipes
High-protein, gluten-free, and soy-free options
Flexible ordering system
Eco-friendly packaging
Bright colorful website
Easy-to-use ordering system
Delivered weekly
Cons
Privacy policy admits that they share your data
Features
Diet-to-Go provides you with pre-prepared frozen meals direct to your doorstep.
Healthy dishes are low in carbs and, of course, low in fat. The front of each meal is emblazoned with a comprehensive nutritional breakdown.
Choose whether you'd like your meals delivered on weekdays only or every day of the week.
Boxes for women contain 1200 calories while men benefit from 1600 calories. This is industry standard for weight loss purposes.
This is a subscription-based plan. Cancellation is slightly tedious, and you'll be forced to phone or email the company. This kind of things annoys us, so make sure you're aware of this before committing to a contract. You'll be able to easily skip weeks if you need to, though.
Foods Included In The Plan
The choice of menu items with Diet-to-Go is reasonably broad. Like with any diet plans designed for weight loss, you need to expect some sacrifices.
Meals rotate every 5 weeks.
A sample Balance menu includes Blueberry Pancakes and some Turkey Sausage to get your day started on the right footing. Lunch of Tuna Salad or a Mediterranean Pizza won't leave you feeling deprived while Penne Pasta or Italian Chicken should leave you satisfied at dinner time.
With the plan designed to support the ketogenic diet, you'll have the carb content of your meals strictly limited.
Diabetic plans make the necessary concessions so your blood sugar stays calibrated.
Go vegetarian and you can enjoy a light breakfast of Waffles, a Vegetable Quesadilla for lunch before rounding out with some Shepherd's Pie as comfort food.
Pros
All meals are calorie-controlled for weight loss
4 diverse meal plans
Fully customizable menus
Quality of ingredients is impressive
No need to plan or prep meals
Cons
Shipping costs high
Low-carb plans calculated using net carbs
You might feel hungry
Might not be a long-term option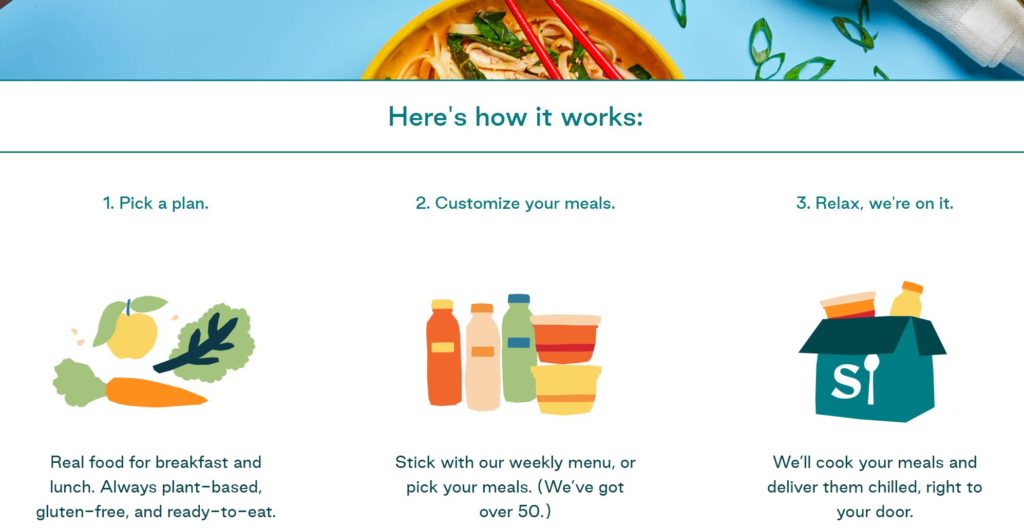 Features
Splendid Spoon aims to deliver a satisfying, plant-based meal program.
Their diet plans come with calorie-controlled, pre-portioned, ready-to-eat meals. Every combo of Splendid Spoon is either a soup or a smoothie or a balanced mix of healthy grains like brown rice.
Everything they get on your plate is vegan, gluten-free, and non-GMO. You can heat up these meals in less than 2 minutes, and you can consume the smoothies straight away.
The food provided by Splendid Spoon is rich in taste as well as nutritionally sound.
You get the freedom to choose your diet plan from Splendid Spoon's list of more than 40 items. Once you sign up, they deliver the meals right to your doorstep.
 Splendid Spoon offers the following plans, all customizable:
Breakfast: 5 smoothies delivered weekly.
Breakfast and Lunch: 5 smoothies and 5 bowls of food delivered weekly
Breakfast and Lunch and Reset: 5 smoothies, 5 bowls, and 1 full-day reset
Once you choose your plan, Splendid Spoon asks for your input. You can adjust the diet plan according to your body type and health goals. They will also guide you on choosing the most suitable plan for your needs.
Splendid soon delivers meals in recyclable and insulated packaging. Ingredients come frozen, chilled, or partially frozen.
The bowls they send are all microwave-friendly for your complete convenience.
Remember to mention any allergies you might have at the point of signing up. Their menu then flags any products that may contain potential allergens.
Food Included In The Plan
Splendid Spoon's ready-to-eat diet plans include:
Smoothies: A mixture of low-sugar superfoods, fruits, and veggies
Soups: These are all made from nutritious veggies and served in microwave-safe bowls
Resets: A balanced mix of veggies and superfoods helps you stay energized, hydrated, and sleep-ready. They come in a pint you can drink right from the bottle
Grain Bowls: Grain bowls are packed with healthy grains like brown rice, sorghum, and quinoa. They have recently included the Moroccan Spiced Buckwheat Bowl and Coconut Curry Rice Bowl on the menu.
Pros
Environmentally-friendly packaging
Great flavors
Incredibly convenient
Delicious soups
Food is plant-based, gluten-free, and non-GMO
Cons
Smoothies are expensive
Some foods have room for improvement on the taste front
Features
Sun Basket delivers balanced meals to your doorstep. They serve organic food with options to choose a revolving variety of recipes every week.
All food arrives fresh. They do not send any frozen food at all with this diet plan.
There's a broad range of recipes to choose from including the following:
Mediterranean
Paleo
Vegetarian
Dairy-Free
Lean & Clean
Chef's Choice
Quick & Easy
Diabetes-Friendly
Carb-Conscious
Foods Included In The Plan
Sun Basket diet includes a variety of options to satisfy all your dietary needs.
Mediterranean: This is great for a measured fat intake sourced from seafood and meat
Paleo: This protein-rich food has no dairy, gluten, soy, corn, or grains
Vegetarian: These meals contain no seafood or meat. All recipes are inspired by global cuisine
Gluten-Free: Looking for an alternative to wheat? This is the best plan for you
Lean & Clean: This plan includes whole foods with calorie content of less than 600 per serving
Chef's choice: This gets you organic fresh food with meat and seafood-sourced nutrition
Pescatarian: This is great anyone who dislikes meat or poultry. You'll get vegetarian meals and wild-caught seafood
Quick & Easy: The meals on this menu can all be prepared in less than 20 minutes
Diabetes-Friendly: All the food on this menu is safe for people with diabetes. The American Diabetes Association approves these recipes
Carb-Conscious: Every serving comes with less than 25-35g carbs. All the recipes are rich in protein to compensate
Pros
It requires little time or effort to prepare these meals
They provide organic, fresh, and sustainable food
You have many options for add-ons, albeit at extra cost
Their menu is very impressive due to a vast range of recipes and meal plans
The packaging is compostable and recyclable
Cons
It's more expensive than the competition
The packaging may involve plastic
If you have specific allergies or meal restrictions, this diet plan is not suitable
Features
Jenny Craig is a weight loss entrepreneur and guru. She created a weight loss and fitness regime with her husband in Australia then rolled this plan out across the US, too.
Today, Jenny Craig is a famous weight loss brand in the US. The three cornerstones to Jenny Craig's ethos are food, body, and mind.
To lose weight and maintain that weight loss, you need to eat a healthy and balanced diet while staying as fit and active as possible.
Many people have successfully lost weight with a Jenny Craig program after attending one of their centers. Today, the company also provides pre-prepared meals designed to help you lose weight and eat more healthily.
Jenny Craig menu plans are available to purchase either online or at any Jenny Craig center.
There are three set menu plans with Jenny Craig:
Simple meal plan: Includes 7 breakfasts and lunches
Essential meal plan: Includes 7 breakfasts, lunches, and dinners
Complete weight loss plan: Includes 7 breakfasts, lunches, and dinners, 7 snacks and desserts, plus free coaching
If none of these plans appeal, you can also create your own completely customized menu.
You'll also be entitled to  a money-back guarantee if you're not entirely satisfied with your first week's supplies.
Foods Included In The Plan
Foods on the Jenny Craig plan consist of a healthy balance of protein, carbs, and healthy fats. There are over 100 meals to choose from, and each meal is described as "chef-crafted."
Breakfasts: Popular breakfasts include breakfast burritos, or frittata egg white sandwiches
Lunches and Dinners: There's a wide range of dishes such as Thai-style curry with cauliflower rice, chicken piccata with spaghetti, and even unexpected treats like pizza. All foods are healthy and low in calories
Snacks: Choose from both sweet and savory snacks including cheddar and parmesan chips, chocolate chip cookies, or chocolate lava cake
There's a heavy emphasis on portion control with this diet. When you start the plan, you may find the smaller portions take some getting used to. This is mitigated by the frequency of meals, though, so you shouldn't end up wanting for food.
Pros
Money-back guarantee with first order
Live chat support available
One-on-one personal counseling
No need to count calories or portions
Cons
No menu replacements are allowed
Expensive compared to the opposition
Transitioning off the plan can be tough
Features
The best thing about Every Plate is the super-low starting price of just $4.99 per meal. If you have a limited grocery budget, Every Plate is the most suitable option for you.
Choose from 8 new menus each week to stay stimulated with your food as well as eating better.
Due to the rotating meals, it's not possible to tell you the exact food you'll get. However, when we tried out this plan, we got the following options:
Chicken Sausage Penne Italiano with Long Green Pepper & Parmesan
Jammy Mustard Pork Chops with Mashed Potatoes & Green Beans
Garlic Rosemary Chicken with Roasted Root Veggies
Gooey Stuffed Pork Burgers with BBQ Onion & Crispy Potato Wedges
Sweet 'n' Tangy Cherry Meatballs with Roasted Zucchini & Garlic Mashed Potatoes
Cowboy Skillet Pie with Long Green Pepper & Jalapeño
Creamy Chimichurri Chicken Bowls with Rice & Pickled Jalapeño
Cheesy Stuffed Poblanos with Pico de Gallo, Spiced Rice & Lime Crema
Pork & Pineapple Tacos with Pickled Veggies & Lime Crema
Charred Zucchini & Tomato Melts with Fresh Mozzarella & Sweet Potato Rounds
Lemony Shrimp Penne with Silky Tomato Sauce & Parmesan
Food Included In a Plan
Every Plate food is healthy for the heart, and rich in proteins and good fats while low in carbohydrates and sugar.
You get limited choices with this diet plan. Every week has a new menu with a single vegetarian option.
Most meals are prepared using affordable protein sources like beef, pork chops, or skinless chicken breasts.
If you choose any meal with steak, you'll pay a premium of $2.99 extra per serving.
Pros
Many interesting flavors and delicious dishes
The most affordable meal delivery service on the market
Provides allergen notices
8 different recipes each week
Pre-portioned kits
Subscriptions can be easily modified or canceled
Use recyclable packaging
Provide live customer support
Cons
Charge $8.99 for shipping
You have to place an order first to get the information about nutrition
Ingredients are very simple
Comments Rating
( reviews)