Mariner Finance is a consumer finance company that offers different types of loans, such as personal loans, car loans, and home loans. They advertise their services to potential customers through marinerfinance.com and direct mail offers.
If you're in the market for a personal loan or debt consolidation loan, you might have come across this company. We researched Mariner Finance's services and have given them a one-star rating.
Our goal is to provide our readers with in-depth information about the lender to help them get a full picture of the company's loans, interest rates, repayment terms, and more.
Mariner Finance Summary
You may be one of the customers who received a letter from Mariner Finance in the mail saying you were prequalified for a personal loan. It might have said something like this:
Do you need to consolidate your debt? We want you to know you are prequalified for a loan from $1,000 to $6,000.
You might be wondering if it's a legitimate offer or what this company is about.
We concluded that Mariner Finance is a legitimate company. Here is a breakdown of what we found:
They provide personal loans, car loans, and home loans.
Loans range from $1,000 to $25,000 depending on your state of residence.
Loans between $1,500 and $15,000 may be funded by them, while loans greater or less than those amounts are funded through their branch network.
APRs are determined mostly by your state of residency and credit score.
Not all applicants qualify for the lowest interest rates or larger loan amounts.
Interest rates and fees are determined by state laws, loan amount, terms, credit history, income, and availability of collateral, among others.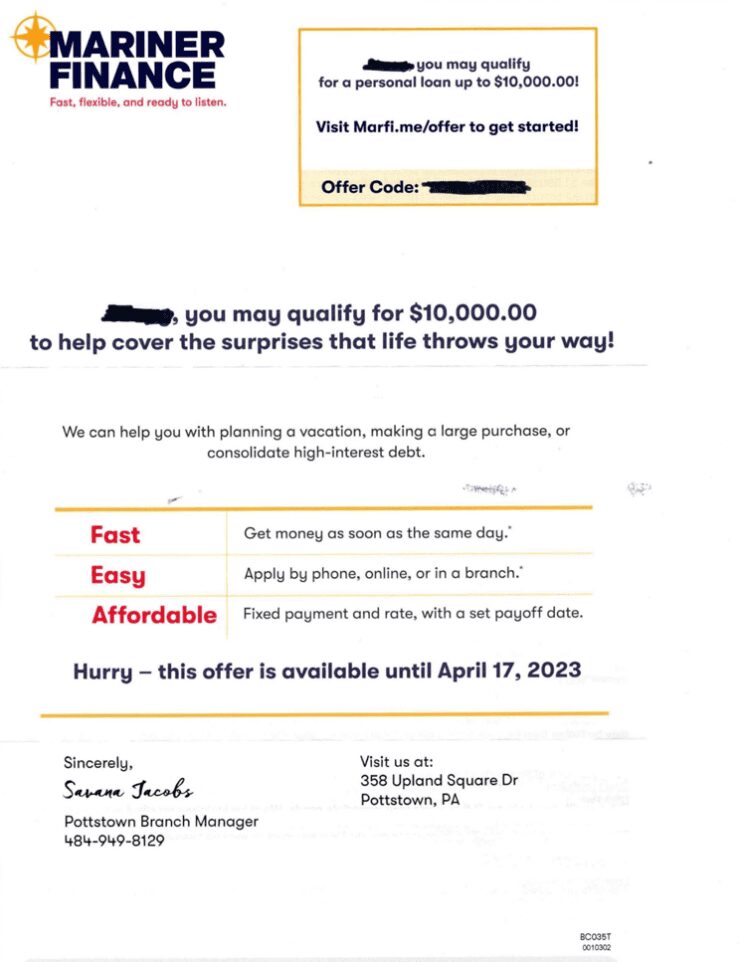 What is Mariner Finance?
Mariner Finance is a loan company that provides personal loans, including debt consolidation loans, home loans such as mortgage loans, and car financing loans. Their loan amounts, rates, and terms will vary depending on your state of residency.
They are based in Nottingham, Maryland and have been in business for 20 years. Mariner Finance used to be a wholly owned subsidiary of 1st Mariner Bancorp until 2010.
Although they are not accredited by the Better Business Bureau (BBB), they have an A+ rating in their platform. However, they have 105 customer reviews with an average of 1.25 out of 5 stars. Additionally, they have 327 complaints closed in the last 3 years, 123 in the last 12 months.
How does Mariner Finance work?
At Mariner Finance, the application process can be done by phone, online, or in-branch. You need a government-issued photo ID and proof of income, like pay stubs or bank statements. They prefer pay stubs to verify income but will also accept W-2 or 1099 forms, personal tax returns, or Social Security award letters.
Their online process uses a soft inquiry that won't impact your credit score to determine your eligibility. However, if you choose to continue with your application, they will perform a hard inquiry which could temporarily lower your score.
You can usually expect to hear back about your loan application the same day you apply. If you're approved, you'll then be able to review personalized loan offers that may work for you. Mariner Finance personal loans can be secured by an asset or co-signed, or you may qualify for an unsecured personal loan based on your credit history and other factors.
If you choose to accept their offer, Mariner Finance will take some time to verify your information. Once that is done, the money can either be sent to your bank or you can pick it up at one of their branches.
What fees and terms does Mariner Finance offer?
APRs on their loans range from 18% to 35.99%, and you can choose repayment terms of 12 to 60 months. To qualify for the lowest rates or larger loan amounts, you may need to put up an insured vehicle as collateral.
Not all rates and loan amounts are available in every state.
Loan offers may come with additional fees that must be covered along with your regular payments. Some of these fees may be treated as prepaid finance charges by your state.
You can make payments on your loan online, by phone, or by mail. You can also visit a Mariner Finance branch to make your payment in person.
Mariner Finance BBB Reviews
Mariner Finance has an A+ rating from the BBB, but they are not accredited. In the last three years, they have closed 327 complaints and 127 in the last 12 months. The most common complaints are about billing and collections, customer service, and problems with the product or service.
Regarding customer reviews, their average rating is 1.25 out of 5 stars. Here are some Mariner Finance BBB Reviews:
Charl W 08/19/2022
1.0 out of 5.0 stars
I received horrible service from Spartanburg Branch Manager, Patti. I was behind on payments due to being out of work/sick. I called to make a payment for $100 (which wasn't my minimum payment but was sure to inform them I would call to bring my account current on 9/1/2022. I was transferred to her and she picked up the phone and stated, "We don't have time to deal with delinquent accounts, We'll see you in court" and hung up in my face.
I wasn't rude, yelling or anything. Hopefully conversations are recorded so that conversation can be heard. I then called customer relations and was told she documented that she informed me that she couldn't accept my payment unless I schedule another payment by 8/31/2022.
That's false documentation because not once did she say that to me but documented she did. I was able to make a payment and called to inform her that I was aware of the false documentation she immediately stated, "I'm ending the call ma'am because I don't want to be yelled at by you." That's hilarious because not once did I yell at her during our first encounter. I'm a healthcare worker and documentation is important, but false documentation is illegal. She needs additional training on how to treat customers and documenting the truth.
TB B 08/16/2022
5.0 out of 5.0 stars
The best company I've ever worked with! The ladies in the office were very patient, kind and worked hard to give me the finances I needed in a hardship. I'd highly recommend this business to my family & friends. They've earned a lifelong customer.
Keith P 08/08/2022
1.0 out of 5.0 stars
Mariner finance is thieves and they need to be shut down tried to get a loan on top of the loan already have and went from 4,400 to $9,000 thieves thieves thieves nothing but thieves they need to be shut down for good
Harley C 07/27/2022
1.0 out of 5.0 stars
I started the loan process online and some of my information needed to be verified so I was told to call my local branch. I have called everyday for two weeks trying to get ahold of someone, leaving continuous voicemails. I have not spoken to a single real person. I don't even think this is a real company??? They put a hard inquiry on my credit report and then ghosted me?? I'm not able to speak to anyone about getting my loan processed. The line disconnects every time you call it. Do yourself a favor and stay away from this company.
Mary Ellen S 07/28/2022
1.0 out of 5.0 stars
I paid religiously every month until had financial difficulties due to covid and taking care of a sick parent. Called and left messages asking for help with payments told them it was difficult for me to talk during business hours and to just leave me a message with what i could do. They have no way to contact other than phone or actual mail. Website doesnt allow you to make a partial payment which i tried to do. They dont seem willing to work with a customer they have had for almost two years. Very disappointing. Would not recommend
Mariner Finance FAQs
In which states does Mariner Finance operate?
Mariner Finance operates in 27 states and has more than 480 branches nationwide.
You can apply for a Mariner Finance personal loan if you live in one of the following states: Alabama, Arizona, California, Delaware, Florida, Georgia, Illinois, Indiana, Kentucky, Louisiana, Maryland, Michigan, Mississippi, North Carolina, New Jersey, New Mexico, New York, Ohio, Oregon, Pennsylvania, South Carolina, Tennessee, Texas, Utah, Virginia, Washington, or Wisconsin.
What types of personal loans does Mariner Finance offer?
If you are looking to consolidate debt or finance a large purchase, a personal loan might be the right solution for you. Personal loans offer fixed rates and monthly payments, making it easy to budget for your repayment schedule. And depending on your credit history and other factors, you may be able to qualify for an unsecured personal loan, which requires no collateral.
Mariner Finance offers the following types of personal loans:
Debt consolidation
Home improvements
Wedding expenses
Vacations
Unexpected expenses
Finance car loans
Car refinancing loans
Home purchases
Home refinance
Who is Mariner Finance affiliated with?
Mariner Finance LLC is affiliated with Personal Finance Company LLC. They acquired the company in 2017 and unified their brands and services.
Does Mariner Finance require collateral?
It depends. They offer both unsecured and secured personal loans. Secured personal loans require some sort of collateral such as a vehicle or propery.
Does Mariner Finance report to credit bureaus?
Yes, Mariner Finance reports directly to Equifax, TransUnion, and Experian.
It's important to be aware of how your repayment history could affect your credit score. Make sure you can afford to make your payments in a timely manner to avoid a negative impact on your credit score.
How to pay Mariner Finance online?
Here is a step-by-step guide on how to pay Mariner Finance online.
First, log into your account on the Mariner Finance website. Once you're logged in, click on the "Make a Payment" tab. This will take you to the page where you can enter your payment information.
Next, enter the amount that you would like to pay and select your payment method. You can choose to pay by check or electronic funds transfer (EFT). If you choose to pay by EFT, you will need to enter your bank account information.
Once you have entered all of the required information, review your payment details and click "Submit." Your payment will be processed and you will receive a confirmation email.
If you have any questions about the payment process, or if you need help making a payment, Mariner Finance customer service might be able to help.
How to cancel your Mariner Finance?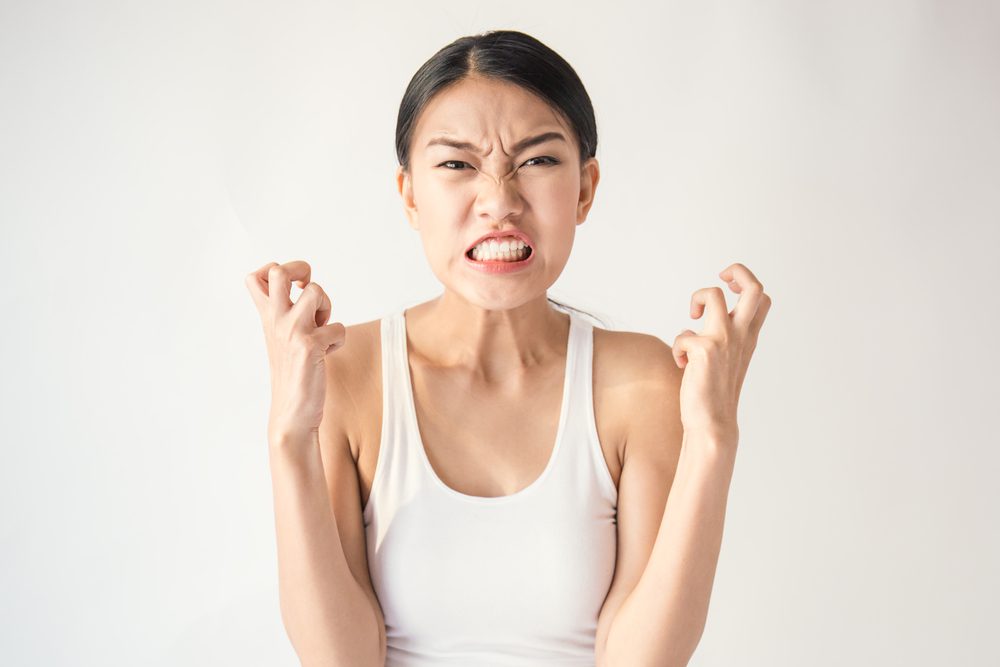 If you decide to cancel your loan within the first few months, you will likely incur significant fees.
In addition, any outstanding balance on your loan will become due immediately. If you're having trouble making your payments, reach out to Mariner Finance directly to discuss your options. It's possible to restructure your loan or make alternative payment arrangements.
Is Mariner Finance legit?
MarinerFinance.com is a legitimate company that may be able to assist you in finding a loan that suits your financial needs. They offer multiple types of personal loans, home loans, and car financing loans.
The BBB gave them an A rating. However, they have an average of 1.25 out of 5 stars rating from 105 customer reviews which are mostly negative. They have accumulated 327 amount of complaints in the past 3 years.
Have you ever done business with Mariner Finance? Tell us about your experience in the comments.
Thanks for reading!