Social Finance, Inc (SoFi) is a fintech company founded in 2011 by students at Stanford Business School. Since its inception, the company has made a name for itself by offering student loan refinancing and has since expanded its services to include mortgages, personal loans, investing, and crypto trading. Their commitment to offering quality financial products has enabled them to grow to over four million members, and in 2021, they became a publicly traded company.
In October 2018, SoFi was under investigation by the Federal Trade Commission (FTC) for allegedly making false statements about its student loan refinancing program. According to the FTC, the company misled borrowers by overstating how much they could save by refinancing their student loan payments with loans through the lender. As a result of the investigation, the company was required to pay a fine and was instructed to stop making such false statements.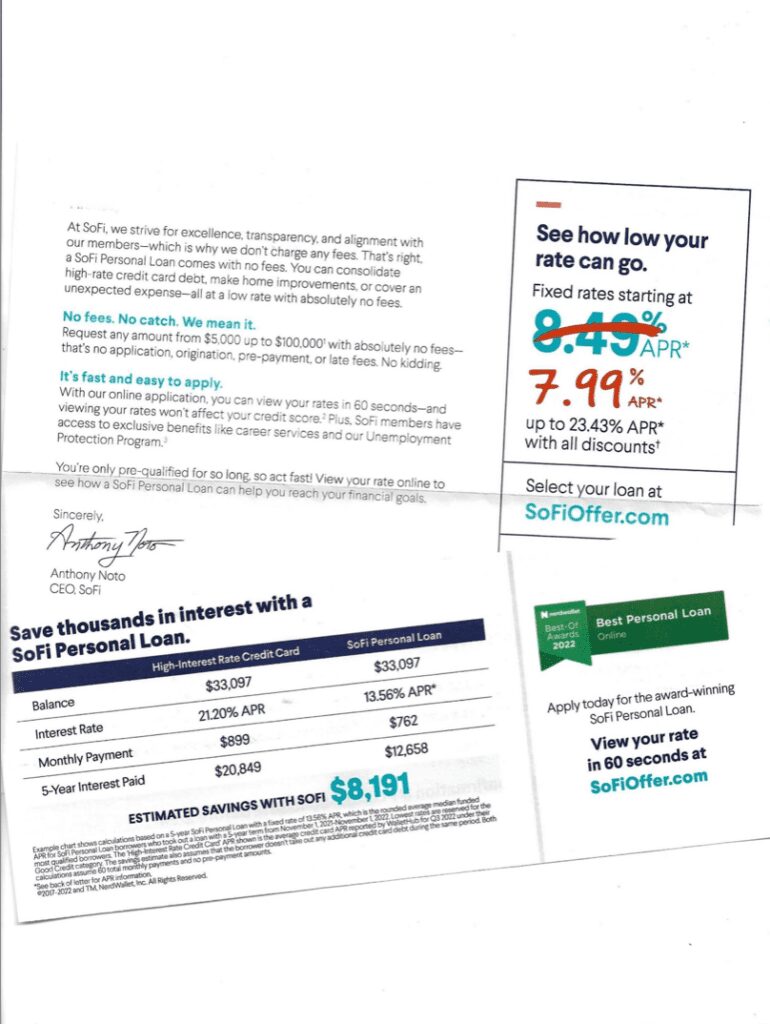 SoFi Fast Facts
Loan Amounts: $5,000 to $100,000
APR Range: 8.99% to 23.43%
Minimum Credit Score: Not disclosed
Loan Type: Multipurpose personal loans
Repayment Terms: 2 to 7 Years
Turnaround Time: 24 Hours or more
Pros & Cons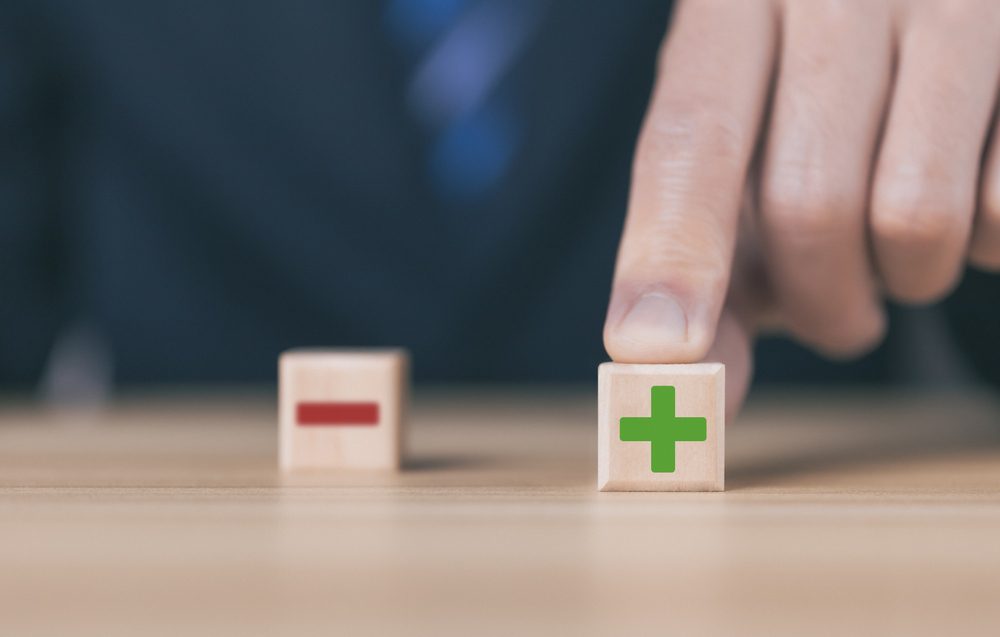 Pros
No loan fees: SoFi offers loans without any kind of origination fee, which is a great money saver in comparison to other providers who might charge up to 10%. Furthermore, there are no charges for applications, prepayment or even late payment fees.
Low rates: SoFi offers a competitive rate of 8.99% on unsecured personal loans (after the autopay discount). This is one of the most affordable rates available for online personal loans, so people with good credit can benefit from lower interest rates when consolidating their debt or making a large purchase.
Loans up to $100,000: Qualified borrowers can receive up to $100,000 from SoFi, unlike other loan companies that only provide up to $50,000.
Unemployment protection: SoFi offers a unique feature on their personal loans, where borrowers may pause payments for a maximum of three months if they become unemployed. Furthermore, they provide career counselors to assist individuals in finding a job while they are out of work.
Cons
Co-signers not available: SoFi does not permit co-signers to assist in securing a personal loan. Co-signers provide extra assurance to and will be accountable for the loan in the event of default. You can apply with a co-applicant, which is similar; a co-applicant is someone who applies with you and is jointly responsible for the loan.
Minimum loan amount is $5,000: SoFi requires a loan amount of no less than $5,000, whereas other lenders may offer loans with a minimum of $1,000 or less.
High credit credit required: SoFi does not make public the least amount of credit score you need, however, you (or your co-applicant) will usually require a high credit score to be eligible.
What types of loans does SoFi provide?
SoFi provides unsecured loans for a variety of purposes, including:
Home improvements
Medical bills
Vacation expenses
Paying for a wedding
Paying for a new or used car
It goes without saying that loan proceeds from taking out a loan cannot be used for any kind of post-secondary tuition fees or any illegal activities. Furthermore, it is not applicable for business expenses.
What is SoFi's turnaround time?
Some borrowers may be eligible to receive the loan funds on the same business day that the loan is approved, with same-day funding being offered on select applications.
SoFi proclaims that for the majority of ordinary Personal Loan applications, except for Direct Pay Personal Loans and those for refinancing, submitted from the start of 2021 to December 1, 2021, and which were signed before 7 p.m. ET on a business day were funded the same day."
Eligibility requirements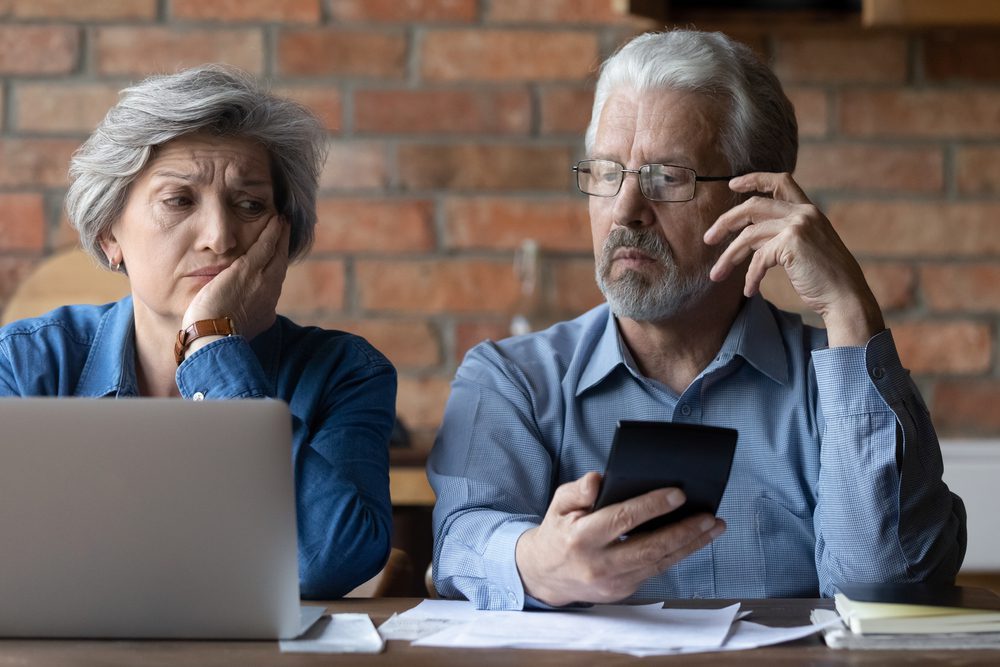 In order to be eligible to receive a SoFi personal loan, you must fulfill the qualifying criteria:
You are at least the legal age in your state to enter into a legally binding agreement.
You must either be a US citizen, permanent resident, or non-resident alien (including those with DACA and those seeking asylum). Proof of identity may be required.
You live in one of the fifty American states or the District of Columbia.
In order to begin, you must have a job, have stable income from other sources, or have a job offer that will start within the next 90 days.
Assess eligibility based on prior financial records, credit rating, and other credit factors.
SoFi Personal Loan Features
Use your loan for (almost) anything: In addition to college costs and business expenditures, your loan can be used to cover almost any expense.
Direct Pay: If you select to do so, SoFi can take care of your eligible credit cards for you. This process may take up to three working days after the loan is finalized.
Unemployment protection: If you are out of a job, SoFi will temporarily stop your payments for up to three months. During the lifetime of the loan, you can receive a maximum of 12 months of unemployment assistance.
Member benefits: SoFi has numerous perks for its members, such as referral rewards and lower interest rates. Particularly, anyone with a Money account can get a 0.125% decrease in the rate of personal loans.
Access to financial advisors coaches and career coaches: Customers can take advantage of the free services provided by career coaches and financial advisors. They can schedule an individual call or communicate via email to get expert advice on financial and career-related issues.
Does SoFi accept co-signers or co-applicants?
Currently, SoFi does not accept co-signers, but it is possible to add a co-applicant to your loan. The co-applicant will be jointly responsible for the monthly payments on the loan and must reside in the same residence as the main applicant, unlike a co-signer.
Can you refinance a SoFi personal loan?
It is possible to refinance a SoFi personal loan. Your rates and payment plans may differ when you reapply and it may not result in cost savings in comparison to your original loan.
If you are looking to refinance your SoFi personal loan, there are a few aspects to take into account:
All SoFi personal loans must be kept up to date
It is not possible to refinance a personal loan with a joint borrower
You must have had three consecutive payments that were all made on time
You must still meet the criteria for a personal loan
It is possible to refinance a SoFi personal loan through one's own account. It is important to look over the terms and specifics of the loan before refinancing.
How to contact SoFi's customer service
SoFi offers assistance to customers through email, telephone, or online chat during business hours. Personal loan support is available from Monday to Thursday, between 5 am and 7 pm Pacific Time, and from Friday to Sunday, between 5 am and 5 pm PT.
Customer ratings
SoFi has earned a spot in the top ten of personal loan lenders in the latest J.D. Power Consumer Lending Satisfaction Study, taking eighth place. Consumers on Trustpilot have given the company a 4.4 star rating out of 5, with more than 4,000 reviews backing this assessment. People praise the exemplary customer service and fast application process as their motive for the high rating.
How to apply for a SoFi personal loan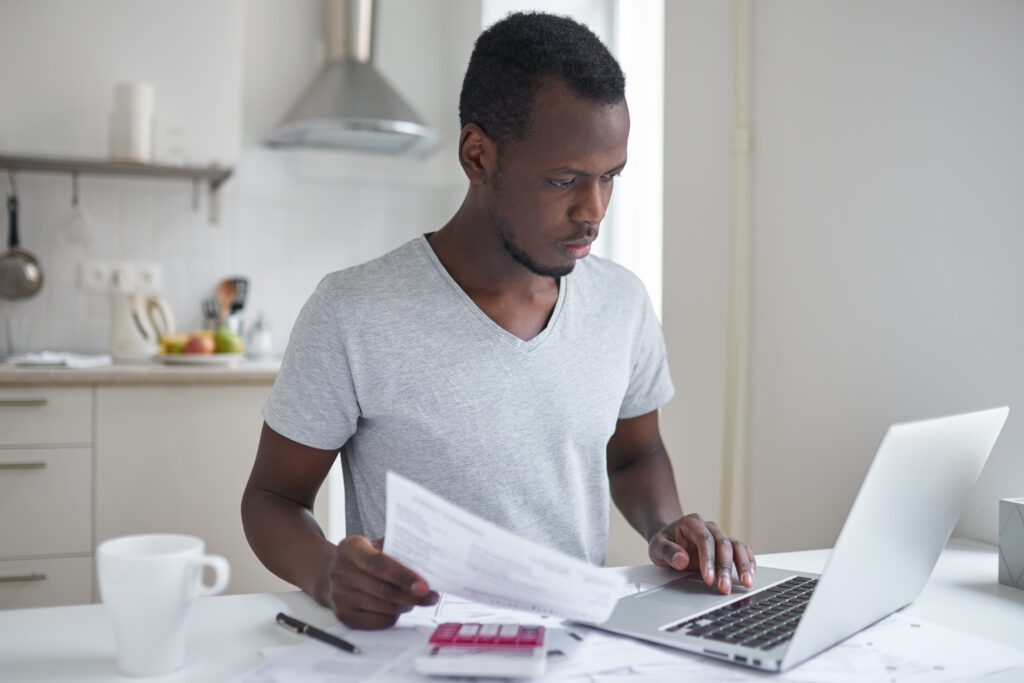 To apply for a SoFi personal loan, one can do so online by going through four steps:
1. Pre-Qualification
SoFi offers a convenient pre-qualification process that can be completed online. With this process, you can check your rates and loan terms without affecting your credit score. In order to complete the applicationm, you must provide the following information:
Full name
Current address
Income information
Date of birth
2. Selecting a loan
SoFi will present you with loan choices based on your eligibility, with details such as the rate of interest and the loan period. Loan durations range from 2 years to 7 years, and the interest rate or rates may be different depending on the loan period and the amount you decide to borrow. Select a loan to start submitting your application.
3. Submit the application
After picking a loan, you will have to fill out the online form. You may need to provide financial and personal documents, such as:
Tax forms
Bank statements
Pay stubs
Driver's license
Other documents
4. Sign the documents
You will have to sign the loan contract to finalize your loan request. After you have signed the loan agreement, your loan could be ready to use the same day. The money will be transferred to your bank account through ACH, except for Direct Pay loans that are sent straight to creditors.
Final Thoughts
SoFi provides an extensive selection of personal loan options to its borrowers without any origination fees, reasonable interest rates, and several excellent member benefits. People taking out loans may receive lower rates for extra loans and have access to career advisors and financial advisors to help with inquiries about personal loan companies.
Those with good credit scores can benefit from SoFi as it offers competitive rates for qualified applicants. The minimum loan amount is somewhat high, but if you have good credit history and require a loan of at least $5,000, SoFi is one of the top choices for personal loans.
Sofi Review
Sofi Summary
SoFi offers personal loans with competitive terms, no fees, and the option of pre-approval. However, applicants should note that the approval process can take up to two weeks, and credit requirements may be steep. This means that those with lower credit scores may not be eligible for a loan. Despite this, SoFi is still an attractive option for those looking for a competitive loan with no fees.